Last Updated on: 12th October 2022, 10:58 am
Are you wondering how much it costs to travel the world full-time? Then you are in luck. It's that time of year when I summarize and share our full-time travel costs for the previous year.
Because of the pandemic, we spent all of 2021 in Hungary. Even though our 2021 costs are not representative of our usual travel costs, I decided to share them in the interest of continuity, just as I did for 2020.
A Little Background
My husband Steve and I are from Jacksonville, Florida. We are retired and travel full-time. We began in 2018. You can see a list of the cities and countries we have visited here. Before the pandemic, we would usually spend four weeks in each location.
How Did We End Up in Hungary?
We began 2020 with a ski trip to Bansko, Bulgaria. Not only was the skiing disappointing, but instead of staying one month, we were there for nine weeks while Steve recovered from a serious skiing accident. You can read about that experience in "Hospitalized in Bulgaria."
You may also enjoy "Bansko, Bulgaria: Not the Trip We'd Hoped For" and "The Pros and Cons of Skiing in Bansko, Bulgaria."
Steve was able to travel by mid-March. The pandemic was in its early stages, and we had to decide whether to stay in Europe or return to the U.S. We decided to stay in Europe since the long trip back to the U.S. would have been difficult for Steve. We headed to Budapest, the next destination on our itinerary. We've been here ever since.
SSDY (Same Stuff, Different Year)
By the end of 2020, we were hoping the pandemic would end in the early part of 2021, and we could all return to normal. Well, things didn't quite work out that way. As the pandemic held tight, we renewed our residence permits for another year. This allows us to stay in Hungary until July 2022.
Hungary shut down all but essential services from November 2020 through April 2021. Being locked down for the first four months of 2021 meant lower food, transportation, and activity costs. Once the country opened up and we were vaccinated, we made up for lost time by exploring Hungary.
Are We Glad We Stayed in Europe?
As we wait for the world to open, I often think about our decision to stay in Budapest instead of returning to the U.S. at the start of the pandemic. Both Steve and I have repeatedly said that if we are going to be "stuck," it's a great place to be stuck.
In Budapest we can live less expensively than in the U.S. and don't need a car. If we had returned to Jacksonville, we would have had to rent a car and probably would have ended up buying one when it became apparent we would be staying a while. And when it is time to resume our travels, we are already where we want to be. No Transatlantic flights required.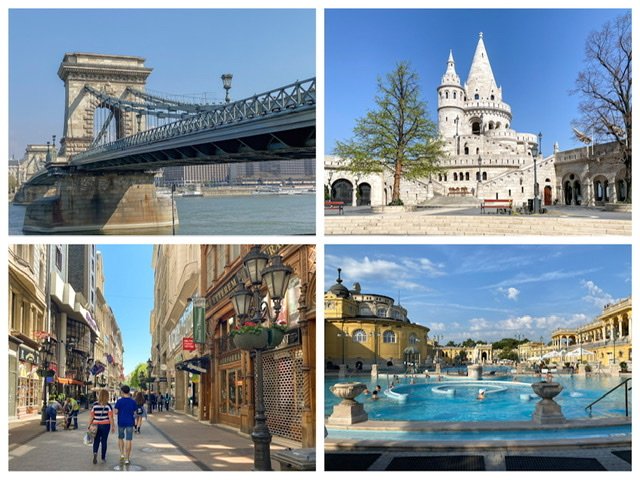 It's easy to fall in love with this beautiful city on the Danube (clockwise from upper left: the Chain Bridge, Fishermans Bastion, Vaci Street, Szechenyi Baths)
As hard as this pandemic has been on everyone, I think Steve and I will look back to our time in Budapest fondly.
Here are some posts about this beautiful city:
"The Beauty of Budapest in 50 Photos"
"The Funky Side of Budapest"
"20 Quick and Cool Things to See and Do in Budapest"
"Budapest's Marvelous Margaret Island"
So let's get to it. What did we budget, and what did we spend?
Money Stuff
Our 2021 Costs by Category
Here it is: we budgeted $47,900 for travel and spent $42,300. Our cost per day was $116.
| Category | Cost | Budget | Over (Under) Budget |
| --- | --- | --- | --- |
| Lodging | $18,700 | $16,800 | $1,900 |
| Food | $13,000 | $14,400 | ($1,400) |
| Insurance | $3,200 | $2,700 | $500 |
| Transportation | $2,900 | $6,000 | ($3,100) |
| Activities | $1,000 | $5,500 | ($4,500) |
| Visas | $900 | 0 | $900 |
| Medical | $700 | $1,200 | ($500) |
| Office Related | $600 | $300 | $300 |
| Telephone | $500 | $500 | 0 |
| Website | $500 | $300 | $200 |
| Other | $300 | $200 | $100 |
| Total | $42,300 | $47,900 | ($5,600) |
Don't let these numbers scare you. Our style of travel is higher than backpacker level and lower than luxury level. I would classify it as three-star. If you are considering full-time or long-term travel, you can do it for much less. There are tools and posts that can give you more insight into the cost of travel in the Ways to Travel for Less section.
A Few Notes About This Data
* all costs are in U.S. dollars
* all costs are for two people
* it only includes expenses directly related to travel
The following items are not included:
* stateside medical insurance
* routine prescriptions
* base cost of our AT&T cell phone plan
* storage of our possessions in the U.S.
* clothing (unless purchased for a specific reason like ski wear)
Budget Variances
Where We Were Over Budget
Lodging – by $1,900. We were able to stay under our $1,400 per month budget for our accommodations in Budapest. We ate up that savings and then some by spending $2,900 on hotel stays during our side trips (more on that below) and $1,400 for a place for our daughters to stay while visiting us for two weeks since the four of us would have been crowded in our apartment.
The living room of our daughters' Airbnb
Insurance – by $500. This includes any insurance we purchase related to travel.
There are two items in this category: our annual evacuation policy from Medjet and travel health insurance from SafetyWing.
The Medjet policy costs us $1,100 per year.
We added SafetyWing Nomad Insurance for Steve in 2021 since he had turned 65 and had to go on Medicare. That meant that he no longer had coverage outside of the U.S. as he did with his Florida Blue policy. A condition of our residence permits is that we have medical insurance that will cover us in Hungary.
Our budget was $1,600 for this. The total cost was $2,100 because we added a policy for me at the end of 2021 in anticipation of losing my Florida Blue coverage since I am turning 65 early in 2022.
The good news is if you are younger than us, you will pay less for SafetyWing. Coverage for people under forty is only $42 for four weeks as of this writing.
You can learn more about the ins and outs of medical care while traveling in "Medical Care on the Road."
Visas – by $900. We did not budget for this. When we applied for our first residence permit in 2020, we did it ourselves. It was stressful and required three trips to the government office, where we sat for hours and hours. This time we hired a firm to expedite the process. We used nVisa and were very happy with them. We were in and out of the office within an hour. Were we happy spending an unplanned $900? No. But in this case, it was worth it to save our sanity.
Office Related Items– by $300. $150 was for a printer for our daughter so she can scan mail for us. $90 was for the mailing of items like new credit cards. The remaining $60 was for miscellaneous copies, photos, and supplies.
Website – by $200. I have added two tools that are helpful while working on this website. They were not budgeted but are worth the additional expense. They are the premium version of Grammarly, which catches all sorts of errors and makes helpful suggestions ($140 per year), and the premium version of Rank Math Pro for SEO guidance ($59 per year). Both of these have a free version.
Other – over by $100. This includes things like currency exchange charges and laundry. Both are items we avoid whenever possible.
Where We Were Under Budget
Food – under by $1,400 since we ate at home for the first half of the year.
Transportation – under by $3,100. Being unable to travel the first half of the year saved us tons. The $2,900 spent on transportation includes $1,800 for our daughters' round trip flights from Orlando, $1,000 on bus, train, and metro tickets and $100 for lounge access when our daughters' flight was delayed twelve hours.
Activities – under by $4,500. Again, because of the lockdown.
Medical – under budget by $500. This is the hardest category to budget. We estimated costs of $1,200.
Our actual costs were $1,600:
$1,300 on annual medical plans for both of us with FirstMed, a private health care provider with English-speaking staff and $300 for Covid testing for our daughters' visit.
These were offset by reimbursements of $900 from Florida Blue for some of our 2020 overseas expenses, resulting in a net expense of $700.
The FirstMed plan covers primary and specialty visits, annual exams including a dental exam and an eye exam, and some vaccines. When it became apparent we would be here long-term, it made sense to get the plan. It is definitely less costly than paying for each visit.
If you need medical care in Budapest, we recommend FirstMed. They offer all their services in one location. Our doctors have been excellent, and communication has been flawless.
Side Trips And A Family Visit
Side trips can be a lot of fun, especially after you've been cooped up. But they can be budget busters, too.
This table shows our daily cost while in Budapest, on side trips to five Hungarian towns, and during our daughters' visit:
| Location | Total Cost | Days | Cost per Day |
| --- | --- | --- | --- |
| Budapest | $31,700 | 329 | $96 |
| Aquaworld Resort | $1,700 | 9 | $189 |
| Hévíz | $500 | 2 | $250 |
| Veszprém and Székesfehérvár | $1,100 | 5 | $220 |
| Eger and Lillafüred | $1,600 | 6 | $267 |
| Daughters' Visit | $5,700 | 14 | $407 |
| Totals | $42,300 | 365 | $116 |
| Budget | $47,900 | 365 | $131 |
As you can see, we spent more than twice as much per day on side trips than we did while in Budapest.
These trips put us over budget for lodging since we were paying rent in Budapest and also paying for hotel stays. We also chose more luxurious hotel rooms than we usually do.
Once we were vaccinated, we quickly discovered a love of the thermal baths prevalent in Hungary. We visited Aquaworld Resort Budapest in July and enjoyed it so much we went back three more times. You can read about this awesome resort in "Aquaworld Budapest: Tons of Fun in Hungary."
We also took side trips to several Hungarian towns where we enjoyed sightseeing, more thermal baths, luxurious lodgings, and fantastic food. You can read about one of those trips in "Eger and Egerszalók: A Great Hungarian Getaway."
We loved exploring Bory Castle, an art-filled private home turned museum in Székesfehérvár.
Bory Castle in Székesfehérvár, Hungary
In December, we had the pleasure of spending two weeks with our daughters, Stephanie and Laura. We hadn't seen them in two years, so every moment together was special.
Our time with our daughters included a two-night stay at Aquaworld, a visit to the Szechenyi Thermal Baths, and a lot of good food. The dining highlight was an Advent brunch at Lang Bistro and Grill in the Budapest Hilton Hotel.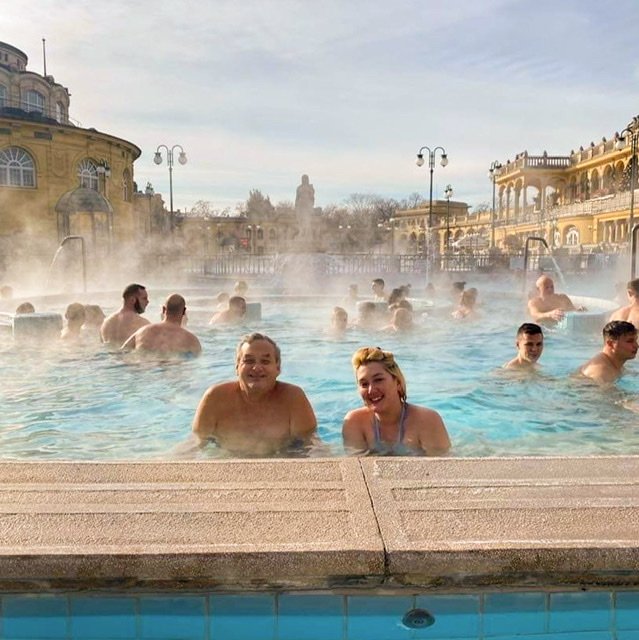 Steve and our daughter, Stephanie, in the Szechenyi Baths on a winter day
Comparison to Previous Years
Here is a look back on our expenses since we started traveling full-time in 2018.
| Year | Annualized Cost | Days in Year | Cost per Day |
| --- | --- | --- | --- |
| 2018 | $58,400 | 365 | $160 |
| 2019 | $52,900 | 365 | $145 |
| 2020 | $41,700 | 366 | $114 |
| 2021 | $42,300 | 365 | $116 |
We spent the most per day in 2018 because of a 15-day cruise and a pricey three-day trip to London for four people. Our inexperience led to some costly choices as well.
I feel that the $145 we spent per day for 2019 is the most representative of what we should expect when we are not in a pandemic.
2020 and 2021 daily costs were low at $114 and $116, respectively. As hard as shut-downs and pandemics are, there is no denying they are kind to the wallet.
Click here for more information on our 2018, 2019, and 2020 travel costs.
How We Travel
Lodging – We rely on Airbnb to provide us with temporary homes at affordable prices. After a few less-than-lovely accommodations in 2018, we upped our lodging budget from $1,000 per month to $1,400 per month. You can read about our rough start with Airbnb and how we learned to find wonderful accommodations in "5 Tips for Finding the Best Airbnb Rentals."
We stayed in two apartments in 2021. Both were clean, comfortable, and stylish. Both had a kitchen, two bedrooms, a dishwasher, and a clothes washer.
The first was an Airbnb that we renewed monthly. For less than $1,000 per month, we had a living room, kitchen, dining room, two bedrooms, and one and a half baths. It also had more storage space than any apartment we have ever stayed in.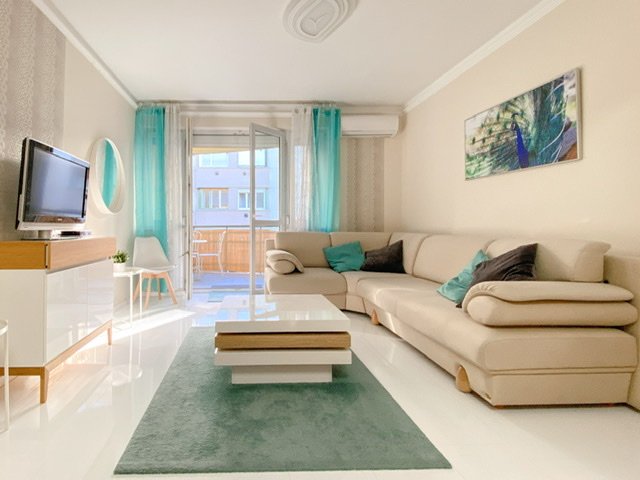 The living room of our first apartment of 2021. Every room was spacious.
We had to move in the spring because we needed a long-term rental in order to get residence permits. We moved smack dab into the center of the city. This apartment costs a bit more because of its desirable locations but is still under our $1,400 per month budget.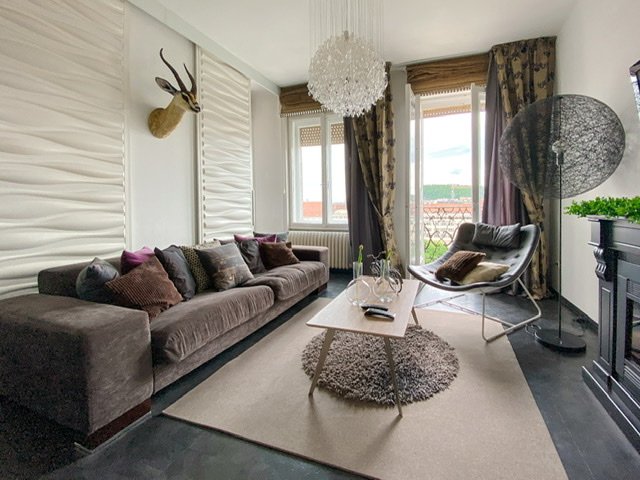 Our home until July 2022.
And you can't beat the views from our 8th-floor windows.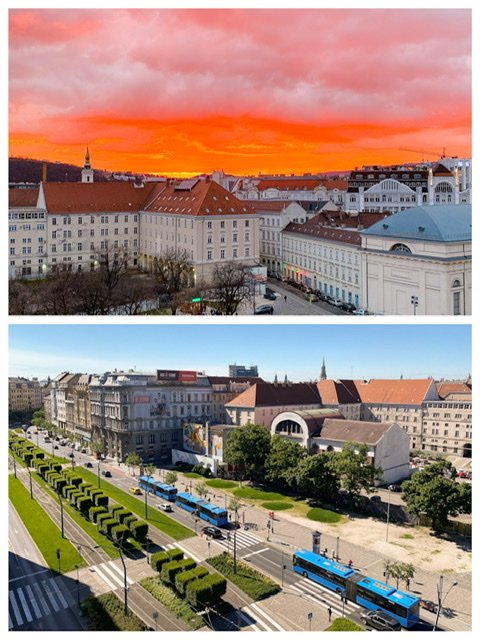 We love our sunset and city views
You can see that you get a lot of bang for your buck in Budapest. Of course, you can spend less and still get a clean, comfortable, and safe place to stay.
Food – I'll be frank, we eat well. Once we were free to visit restaurants, we ate about a quarter of our lunches and dinners out.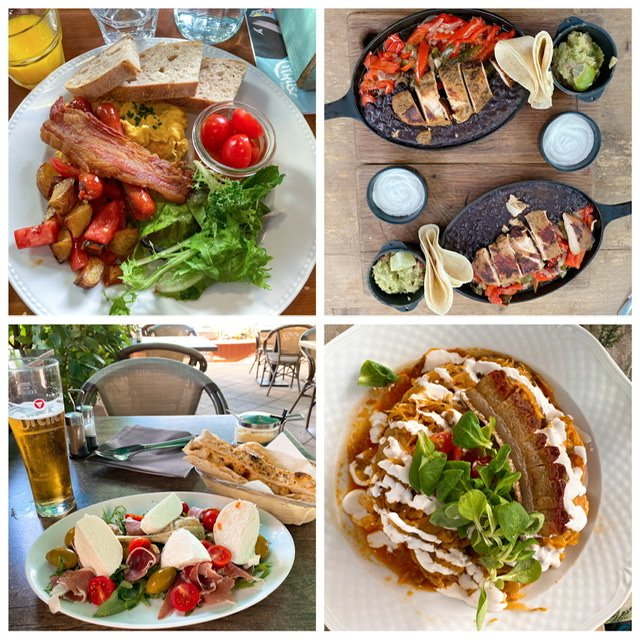 Clockwise from upper left: recovery breakfast at Circusz, fajitas at Tereza, appetizer at Okay Italia, and stuffed cabbage at Kiskakukk
Transportation – We take advantage of public transportation whenever we can. In four years of travel, we have only needed to rent a car outside of the U.S. for two weeks. We have found it easy to get around without a car, especially in Europe.
Insurance – The only travel-related insurance we always have is evacuation insurance from Medjet. Getting other insurance depends on the specific situation, such as when it is required to get a visa.
Ways to Travel for Less
There are many ways to travel for less than we do and still have an amazing trip.
Cut accommodation costs – Airbnb is a good option. Even more economical options include housesitting, hostels, and staying with friends and relatives. Couchsurfing is often mentioned when discussing budget travel, but the leading player, Couchsurfing.com, is going through some growing pains. You can read about that here.
Travel slowly – This keeps the transportation costs down and allows you to take advantage of discounts on Airbnb for long-term stays. It also gives you a chance to immerse yourself in a place.
Use public transportation whenever possible – It isn't glamorous and can sometimes be uncomfortably crowded, but in many places, it is a quick, convenient, and inexpensive way to get around.
Visit less expensive places – The two links below can help you find the places that will help stretch your dollar (or euro, or peso, or whatever). If you don't want to do all-budget travel, you can balance expensive places like France and the Galapagos Islands with less costly places like Romania and Croatia, as we have.
Plan side trips wisely – You can limit the number of side trips you take, consider day trips when possible, or tack a short trip on the end of a longer one to avoid paying lodging costs at two places at once.
Budgeting Resources
Here is a website that can show you what you can expect to spend while visiting various countries and cities. Budget Your Trip lets you choose your destination, trip duration, and travel style.
My Funky Travel has a detailed post titled "Backpacking Costs in Different Countries." It lists countries from the cheapest to the most expensive, and many countries have more detailed information available.
So What Does It Cost to Travel Full-Time for One Year?
There is no one-size-fits-all answer to this question. To complicate matters, travelers now have to deal with Covid testing and the possibility of a quarantine. And I would caution that having medical coverage while traveling is important, particularly for those who can't afford to pay out of pocket.
Here are two blog posts in which travelers share their full-time travel costs:
Earth Trekkers discusses their costs for their 13-month trip in "How Much Does It Cost to Travel Around the World?"
Shannon at A Little Adrift did an impressive job of detailing her costs for full-time travel in "How Much Does it Cost to Travel the World for a Year? (2022 )."
Here is an excerpt from her post:

"Generally, $20,000 is the baseline cost for a trip around the world for one person for one year. This estimation falls in line with popular recommendations that budget travelers can spend an average of $50 a day on the road, and allows additional budget for flights and vaccines."

So there you have it. Could you do it for less? Probably. It all depends on how you plan and what you are willing to sacrifice.
There are some far-out suggestions on how to save money while traveling, such as sneaking into hostels (NO!) and eating other people's leftovers (EEW!). It also means there isn't as much room for errors and unexpected problems.
What's In Store for Us in 2022?
Life seems to be slowly returning to normal. Like everyone else, we are anxious to get moving again. Once our lease is up in July, we hope to resume our original travel routine of spending four weeks in each location. Where will that be? We have no idea.
Until then, we will take side trips while keeping a home base in Budapest. One possibility is a trip to Vienna, which is just two and a half hours away by train. Another possibility is Bratislava, the capital of Slovakia. It is also two and a half hours away by train. There are several more towns in Hungary to explore, too.
Until Next Time
I hope that this has been helpful. If you have any questions about full-time travel costs or what it's like to travel full-time, please don't hesitate to ask.
If you are a frequent or full-time traveler, Steve and I would love to hear how the pandemic has affected your travel plans and your travel expenses.
Stay safe and healthy,
Linda
Featured image by FotoEmotions on Pixabay.com