Last Updated on: 15th January 2023, 09:18 am
One of the things I enjoy when exploring a city is discovering unique and colorful street art. The more eccentric, the better. Quite frankly, I think Budapest is lacking in street art (at least in the form of murals), but it makes up for it with a multitude of quirky novelties.
Street art
Even though street art is lacking in Budapest, here are a few that I found entertaining.
Fancy Face at Tereza Mexican Restaurant (District VI)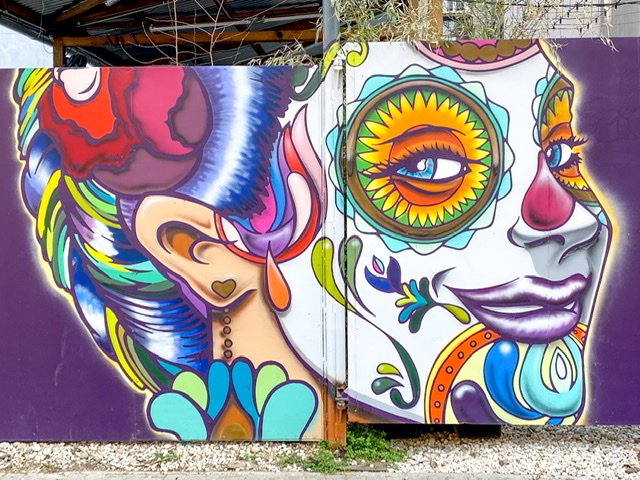 You can see this colorful face outside of the Tereza Mexican Restaurant on Nagymező utca, not far from Andrássy utca.
A Woman and a Monkey (District VII)
This woman and her monkey liven up the side of a large building on Kazinczy utca.
What a Door (District VII)
And how about this cool door on Kazinczy utca, which is just a few doors down from the Szimpla Kert ruin bar (discussed below)?
Llamas in a Tunnel (District XIV)
Even though it is common to see graffiti in tunnels, the graffiti we saw in a tunnel connecting two Mexikoi metro station stops was a pleasant surprise. In addition to these llamas, the entire tunnel was filled with drawings of cute animals.
Budapest has much less graffiti than many of the cities we visited. Public places seem to get a lot of respect.
Big Statues
As you would expect, Budapest has a wealth of historical statues and monuments. But they also have quite a few lighthearted ones. Many can be found in District V, which runs along the Danube River on the Pest side of the city. Here are a few of my favorite:
Columbo (District V)
At the north end of District V, not far from the Margaret Bridge, you can find a statue of the TV character Columbo. He stands in his rumpled clothes, scratching his head while holding a cigar. His dog, Dog, sits nearby.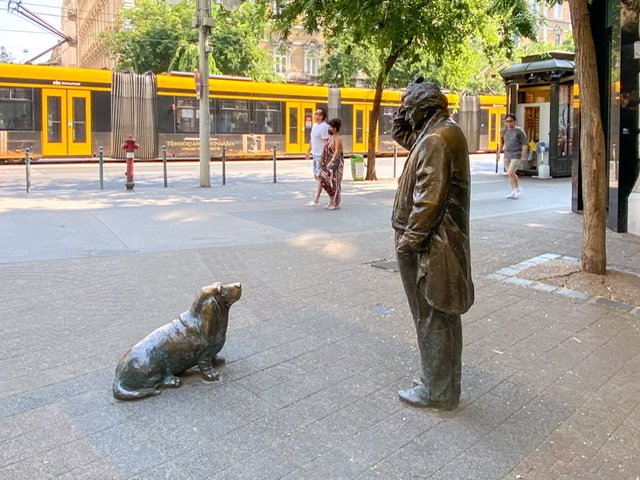 Why is a statue of an American TV character in Budapest? The main reason is that Peter Falk, the actor who played Columbo, was of Hungarian heritage. It is also possible that he was related to a Hungarian political figure and writer named Miksa Falk. For this reason, the statue is at the end of Falk Miksa Street (Hungarians write names with the surname first).
If you want to know more about the delightful oddity, check out this site and the video it contains.
Girl With Her Dog (District V)
This girl has a lovely place along the Danube River in which to play ball with her dog. They can be found south of the Chain Bridge.
Little Princess (District V)
Just north of the Girl With Her Dog statue sits the Little Princess. The sculptor, László Marton, was inspired to create this statue by his daughter because she loved to dress up as a princess. The princess is perched on a railing along the Danube River.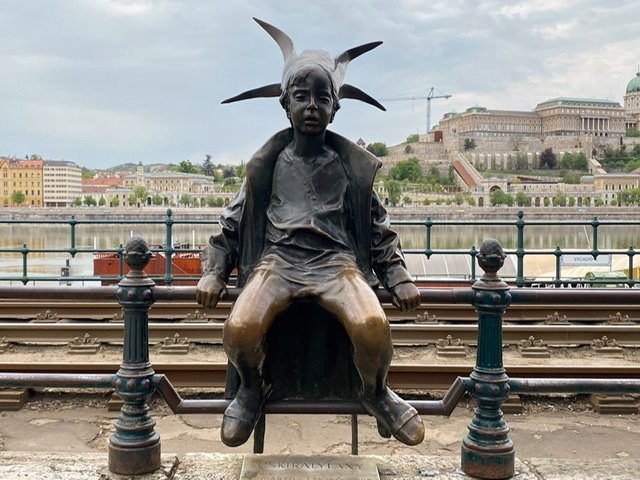 The Fat Policeman (District V)
You can meet this guy not far from St. Stephen's Basilica. It is said that if you rub his belly, you will have good luck. Note his ceremonial headgear, which is called a Zrinyi Helmet.
Man on a ladder (District VIII)
While walking to the Kerepesi Cemetery one day, we came across this statue in Teleki Lászlo tér. I have not been able to find out what it signifies but found it charming nonetheless.
Mini Statues
In addition to the statues mentioned above, the city is graced with quite a few mini statues. If you have eagle eyes, you may just spot some of them on your own. Since the statues are tiny (generally less than 1-foot square), we had to use this cheat sheet to find them.
The mini statues are the work of a sculptor named Mihály Kolodko. Some of the statues were commissioned, but others were placed around the city Banksy style by Kolodko. Kolodko's mini statues grace several other cities as well.
According to the list above, there are twenty statues in Budapest. Of course, that number could change at any time.
Checker-Eared Rabbit (District 1)
This little spy can be found near Buda Castle. It is based on a character from a Hungarian children's TV show.
Kermit the Frog (District V)
You can see the always popular Kermit in Liberty Square. (Szabadság Square) not far from the U.S. Embassy.
Diver (District VII)
This statue of a diver was the first mini statue we saw in Budapest. That was before we knew of the other mini statues. It is outside of the elegant New York Palace Hotel and Café. It illustrates a legend that a Hungarian author named Ferenc Molnár tossed the café's key into the river to prevent it from ever closing.
While the café is still around, it is currently closed because of the pandemic.
Tank (District I)
Some of the mini statues have historical meaning, like this tank. It commemorates the failed 1956 revolution against Soviet occupation. The tank is on the Buda side of the Danube across from Parliament. The gun is facing downward to signify the end of the revolution.
Dead Squirrel (District V)
This unfortunate creature lies just behind the Columbo statue on Falk Miksa Street. To illustrate how small the mini statues are, we passed by the Columbo statue many times, stopped to photograph it at least twice, and never spotted the squirrel.

Ruin Bars
Ruin bars are unique to Budapest. They were originally underground bars set up in abandoned or decaying buildings. Since District VII (the Jewish Quarter) had been neglected since WWII, this was the logical place to find these buildings.
The bars were decorated with cheap, free, or even discarded furniture and novelties, eclecticism in the extreme.
Ruin bars still exist but have lost their alternative vibe since they got on the radar of tourists. Even so, it is worth checking out one or two of them, even if you aren't a drinker/partier.
You can read more about Budapest's ruin bars in this article by Nomatic Matt.
Szimpla Kert (District VII)
The first, most famous, and yes, the funkiest ruin bar is Szimpla Kert (Simple Garden in English). In addition to the nighttime activities, they host a farmers' market every Sunday. That is when we took the opportunity to see what the fuss was all about.
Like two of the examples of street art (above), Szimpla Kert is on Kazinczy utca.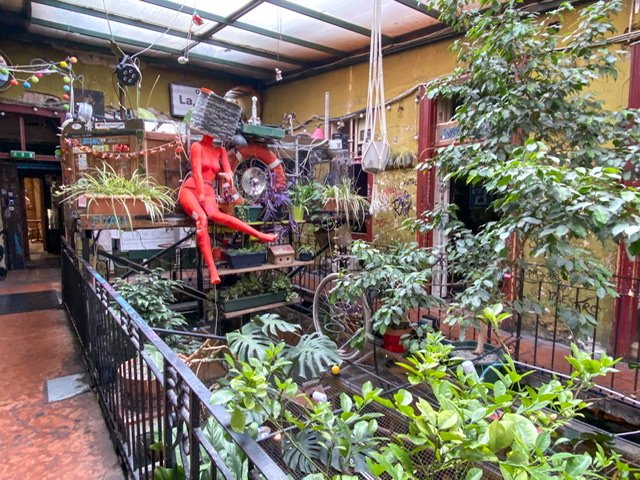 liebling (District VII)
We haven't visited this place yet, but we definitely need to. It is a roof-top bar on Akácfa utca that is part of the Instant-Fogas Complex. This complex has seven clubs at one site.
Mazel Tov (District VII)
As of this writing, the only other ruin bar Steve and I visited was Mazel Tov, also on Akácfa utca. It is less zany, more classy than the above two bars. With an open feeling and some trees growing among the tables, it is a pleasant place for a light meal.
A Few More Funky Things
The Michael Jackson Memorial Tree (District V)
No, it isn't a tree that was planted in the late pop star's honor. The Michael Jackson Memorial Tree is a tree that stands in Elisabeth Square near the Kempinski Hotel Corvinus Budapest. It is covered with photos paying tribute to Jackson.
Jackson only visited Budapest three times. Once in 1994, to shoot a promotional video for his HIStory album, once in 1996 to check out a concert venue, and again in 1996 for the only concert he ever gave in Budapest (part of his HIStory world tour). Prior to 1989, Hungary was controlled by the Soviet Union, and acts like Jackson's were not welcome.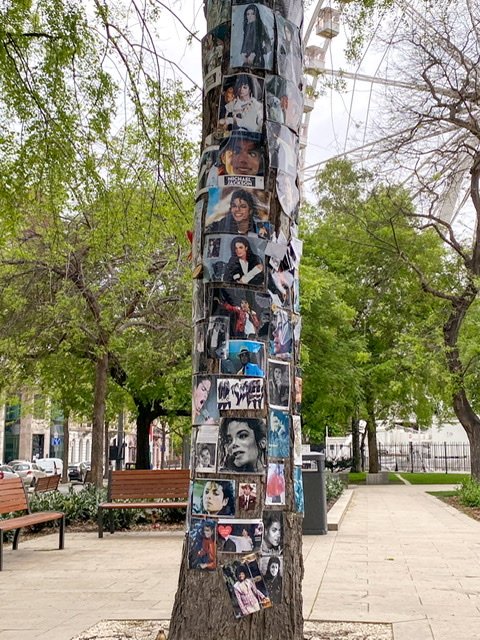 Here is more detail about the tree from We Love Budapest.
Púder Bárszínház (District IX)
If you stroll down Raday Street in District IX, you may come across this golden bear. He sits in front of the Púder Bárszínház restaurant.
Raday Street is in the historic Ferencváros district and boasts many restaurants, including Costes, Budapest's first Michelin-starred restaurant.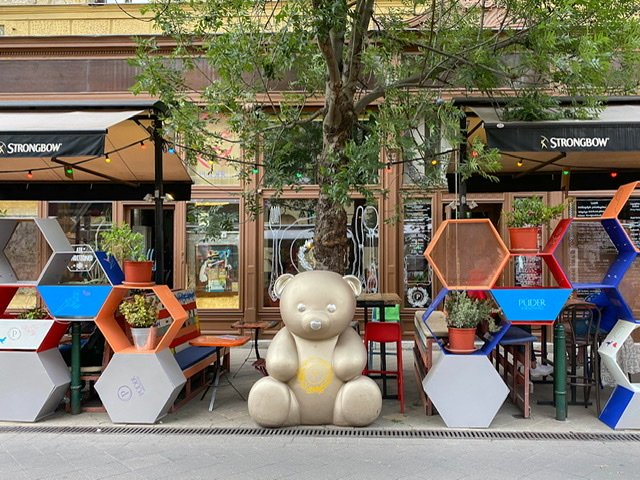 Bela Lugosi Bust (District XIV)
Since he died in 1956, you may not be familiar with Bela Lugosi. He was a Hungarian actor who became a naturalized U.S. citizen. He is most famous for his portrayal of Dracula.
If you visit the Vajdahunyad Castle in City Park, you can see a bust of Bela Lugosi. It was placed in an empty nook on the castle in the dark of night (how fitting) by the German artist who created the bust. You would be unlikely to notice it unless you were looking for it. You can read more about this bust and the artist's escapades in other cities in this Atlas Obscura article.
Closing
Budapest is divided into 23 districts. As you can see in this list, there is a lot to see in District V. This is no surprise since it is the downtown/tourist area.
District VII is the former Jewish Quarter and is heavy on nightlife. The three ruin bars mentioned here are in District VII.
The mini statues have been placed throughout the city and make for fun exploring if time permits. Personally, I love this city and can find entertaining delights no matter where I go.
I hope you enjoyed reading about some of the off-beat sights and activities in Budapest. Of course, Budapest is chock full of elegance as well. You can see some of that in The Beauty of Budapest in 50 Photos.
And check out 20 Quick and Cool Things to See and Do in Budapest for even more ideas.
As always, Steve and I would love to hear about the funky sights you have seen in Budapest!
Stay safe,
Linda
If you enjoyed this post, please consider sharing it and joining our email subscription list: