Last Updated on: 15th January 2023, 09:08 am
Are you planning a ski vacation this winter? Are you trying to get the most for your money? If so, you may be considering the Bulgarian ski resort of Bansko.
Steve and I chose Bansko for our January 2020 ski trip because of the low cost of accommodations and skiing and the fact that we wouldn't need a car.
In this post, I will tell you what we loved about skiing in Bansko and what we didn't. Even though our experience was negative, I must stress that we love visiting Bulgaria. In addition to Bansko, we've enjoyed visiting Sofia, Plovdiv, and the Black Sea Coast and have met wonderful people there.
Understanding the Bansko Resort
Ski-in, ski-out is not an option since there are no accommodations near the lifts. So before you can hit the slopes, you need to get up the mountain to the lifts. There are four ways to do this: by gondola, shuttle bus, driving yourself, or taxi. Most people take the 3.9-mile (6.3 km) gondola ride.
The gondolas
You have the option of getting off the Gondola in two places, but most people go to the second stop.
When you are ready to call it a day, you can return to town by gondola or vehicle, or you can ski back on Ski Road #1.
Bansko has 30 miles (48 km) of slopes and 14 lifts, including two 6-seat chairlifts. There are several places to eat throughout the resort.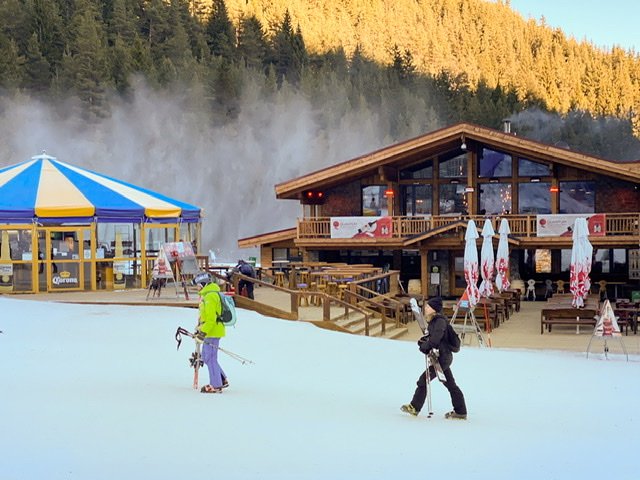 Morning on the slopes
Learn more about skiing in Bansko on their website here or access the ski map.
All money is in U.S. Dollars.
What Is Good About Skiing In Bansko
You can walk practically anywhere
This charming town is compact, but if you need a vehicle, taxis are readily available.
You can't beat the cost
Our daily lift ticket was $38. Ski rental, including a helmet, was $30 per day. We rented from Traventuria. The current cost for a lift pass, skis, poles, and boots for an adult is $123 for two days (their shortest package).
We each had an hour-long private lesson at about $70 each.
Lodging is also a bargain. We booked an Airbnb for three weeks for less than $900.
Good infrastructure
As you can see in the photo above, the gondolas are in great shape. The lifts were also in great shape, and the runs were well-groomed.
What Wasn't Good About Skiing In Bansko
Unfortunately, there was a lot we didn't know about skiing in Bansko. If we had known these things, we would have looked for another place to ski.
As a disclaimer, all my previous skiing had been on the East Coast of the U.S. on small mountains. It may be that what I found in Bansko is common in Europe. Either way, these are the things that made the experience less than ideal:
Getting on the gondola is a hassle
If you choose to take the gondola up the mountain, you will have a few challenges. You have to go up a long set of stairs to get to the loading area. Not easy to do in ski boots.
The line is orderly until you get to the top of the stairs and try to get into a gondola car. At this point, it becomes a contact sport.
Getting on the lifts is also a hassle
The rudeness continues at the entrances to the lifts. There are no lines, only surging crowds. To make matters worse, the entrances to the lifts are raised, so everyone is trying to move up and into a slot while being pushed and crowded.
As I was trying to get on one lift, I found that I couldn't move one of my skis. It was so crowded that someone behind me had his ski over mine.
Safety isn't a priority
I did not see any information on ski conditions. The only way to see the conditions is to go up the mountain. This led to a serious accident for Steve. We started down the Ski Road on what should have been an easy run. Suddenly I was speeding down an ice-covered slope. It took all my skiing skills to stay upright until I reached the bottom.
Steve was not so lucky. He fell on that ice and fractured his pelvis. You can read about his horrific hospital stay in our post "Hospitalized in Bulgaria."
Several people stopped to help Steve and put up skis to warn other skiers. However, an instructor was skiing backward and ran into Steve. And he didn't even apologize.
As Steve's accident showed, there is no warning of dangerous conditions, and runs were kept open even when they had a lot of ice.
The slopes are overcrowded
I went skiing another day, and between the ice and the large number of inexperienced skiers, I felt unsafe and cut it short. Bansko is very popular with new skiers from Europe and the U.K. partly because of the low cost. That means the slopes get very crowded.
Getting a lift pass is inefficient
The last thing that was frustrating was how lift passes were handled. The company I rented from only sold passes for two or more consecutive days. SInce I was only planning to ski one day, I was told to buy one at the bottom of the gondola station.
The gondola starts running at 8:30 a.m. The ticket booth also opens at 8:30, so by the time the ticket booth opens, the line can get very long.
But that isn't inefficient enough. A sign said they accept VISA, so I chose to pay that way. The clerk rang up my purchase, and I paid. Then she asked if I had cash for the deposit on the lift card. I did, but it was tucked away in my money belt under several layers of clothes. During this, the line to get on the gondola was growing longer. Why they don't charge it all at once is beyond me.
My intention isn't to hate on Bansko skiing but to give you information that can help you decide if this is a good choice for you.
Bansko is a charming town worth visiting any time of year, whether or not you choose to ski there.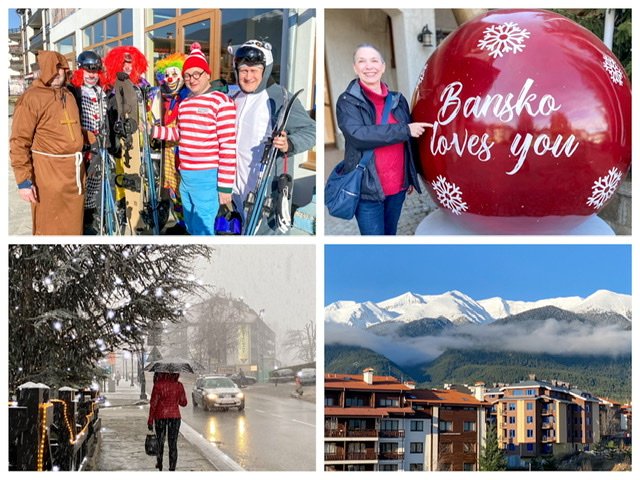 A few scenes from Bansko
Moving On
Steve has skied his last slope. I, however, intend to try again this winter. I will be considering the availability and quality of medical care near the resort.
We would love to hear about your experiences skiing Bansko and welcome any suggestions about ski resorts that don't require you to have a car.
Stay safe and healthy,
Linda
Our featured photo shows the ski mountain in Bansko.