Last Updated on: 15th January 2023, 09:12 am
Are you visiting Budapest? If so, you are probably aware of the thermal baths the city is famous for, but for something a little different, give Aquaworld Budapest a try.
At Aquaworld, you can relax and be pampered in the spa, soak in warm thermal pools, or be a kid at the indoor water parks.
Steve and I were enduring a prolonged heatwave in Budapest in the summer of 2021 when we discovered Aquaworld. We enjoyed it so much that we ended up visiting five more times.
Read on to see what Aquaworld is all about and if you should make it your next getaway.
What Is Aquaworld?
Aquaworld is a large hotel, water park, and spa complex in Budapest. You can visit for a day or stay at the hotel and extend your fun.
The Aquaworld complex has two sections. The aquatic adventure park is called Aquaworld Budapest. The hotel with its own bath area is called Aquaworld Budapest Resort Hotel. Hotel guests have access to the entire complex.
Aquaworld Facts
* It is one of Europe's largest indoor water theme parks.
* The complex has 21 pools.
* There are 11 water slides.
* The hotel has 309 rooms.
* There is a spa for massages and treatments.
* And a fitness center for workouts or a game of tennis or squash.

The pools are fed from a natural well with a bottom temperature of 35 degrees Celsius (95 degrees Fahrenheit).
Pool temperatures range from 26 degrees Celsius (78.8 degrees Fahrenheit) in the outdoor lap pool to 38 degrees Celsius (100.4 degrees Fahrenheit) in the jacuzzi.
Aquaworld is in the far northern part of Budapest on the Pest side. It can be reached by public transportation in about an hour from the tourist areas of Districts V, VI, or VII.
Who Is It For?
Anyone who loves being in or around water. You can choose to relax or get a little adrenaline fix.
I imagine any child entering the water park would think he had died and went to Heaven. No matter what age a child is, there is plenty to do in and out of the water.
There were also many adults without children. Like us, they took the children's rambunctiousness in stride.
What We Did
On our first visit, Steve and I booked a standard room for three nights. We took advantage of the hotel's 2+1 Hello Summer Deal; book two nights, and get the third one free. The booking included half board (breakfast and dinner each day) and access to all areas of the complex. On subsequent visits, we were also able to book two nights and get a third one free.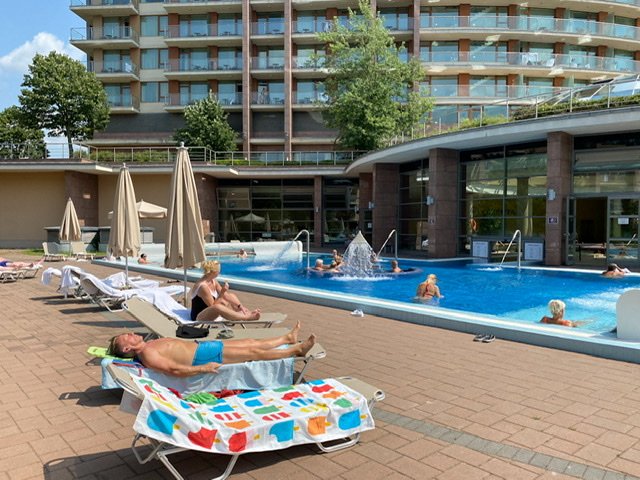 The outdoor pool in the hotel section
We also spent time in the water park section, where I tried out the slides, and we both had a little too much fun in the current pool.
What We Liked
The food. Both breakfast and dinner were served buffet style. You can only do so much with breakfast food, but there was an incredible variety. There was also a lot of variety for dinner, and the food was delicious.
The staff. Everyone was polite and helpful. When we first got to our room, Steve noticed that the shower door did not shut properly. We immediately informed the front desk, and it was fixed within the hour.
What Could Have Been Better
We wanted a light lunch one day, so we stopped at an outside kiosk. We both ordered a hot dog. We each got three mini hot dogs in a dry roll. The roll crumbled as soon as we bit it. It wasn't on par with the rest of the food.
Good To Know
Robes are provided for guests to wear to and from the pool. Slippers are not, so be sure to have flip-flops, as street shoes are not allowed in the pool areas.
Our room did not have a balcony, and the towel warmer we would have liked to use to dry our swimsuits and robes was not working because it relied on hot water. Being summer, the boiler was off. Since there was only one hook in the bathroom, there wasn't enough space to dry our swimsuits and robes. We could see clothes drying racks on the balconies of other rooms. If you visit in warm weather, you would be well-advised to get a room with a balcony.
I didn't pack shampoo and conditioner because they have always been available in hotel rooms. There was shampoo and body wash in the shower, but no conditioner. You can buy it in the gift shop if you need it. Better to bring your own.
The hotel has two shops that sell swimwear, flip-flops, toiletries, toys, etc., but their hours are limited.
Overall Impression
Aquaworld is listed as a four-star resort. Nothing was dirty or in disrepair. As you can see from the photo above, the hotel is lovely, but the room we were in was close to needing an update as the carpet and furniture looked a little worn. I would give the water facilities high marks, but consider the hotel room a three-star.
Our first visit was in July, and as you would expect, the park was bustling. Since all areas allow kids, it was not a tranquil setting. There were fewer people when we visited at other times of the year, making for a more peaceful, adult experience.
What Does It Cost?
Aquaworld is a great value for visitors from the U.S. Our total cost for our first visit of three nights was $555. It breaks down as follows:
| | |
| --- | --- |
| Room, breakfast buffet, dinner buffet, water park entrance for 3 days | $490 |
| 2 lunches and drinks with 3 dinners | $65 |
| Total cost | $555 |
Not bad for a decent room, great food, and fabulous entertainment.
For information on current prices, visit Aquaworld's website.
Conclusion
Aquaworld's slogan is "check in, chill out," and it lived up to that promise. We highly recommend Aquaworld when you are in Budapest.
If you love the idea of a thermal bath/water park complex, check out our post "Therme Bucuresti: The Most Beautiful and Relaxing Place in Bucharest."
Safe and happy traveling,
Linda