Last Updated on: 15th January 2023, 08:53 am
Happy New Year! Is it just me, or did 2022 go by faster than a Parisian pickpocket can grab your wallet?
I hope last year has left you with wonderful memories and new friends. Steve and I have been fortunate on both fronts.
Sometimes when we are having a low-key day or two (or seven), I feel guilty that we aren't doing enough or seeing enough. Then I look over our photos and decide we're doing okay.
These are the memorable moments from our 5th year of full-time travel.
Budapest
The year got off to a slow start. We were still living in Budapest long-term because of the pandemic. In the early months of the year, we only took side trips in Hungary because we didn't want to deal with Covid restrictions in other countries.
We filled our days with exploring Budapest. The city is full of beautiful sights and cool things to do. It will always have a special place in my heart.
We also went to many comedy shows and made new friends at the Stay Sane Social Club's quiz nights while we waited for Covid to complete its retreat and spring to make its appearance.
Our Final Visit to Aquaworld
During our two-plus years in Budapest, we enjoyed five visits to Aquaworld Budapest. We love this thermal bath, spa, and waterpark complex. A visit there means lazy days lounging in warm spring water, swirling around in the lazy river, and stuffing yourself silly.
It turns out that thermal baths are one of our favorite things, and Budapest is full of them. I wish every city were.
Read our impressions of Aquaworld here.
Chilly Days in Szeged
In March, we took a five-night trip to Szeged, Hungary's third-largest city. One of the draws was the thermal baths at Sunshine Aquapolis Szeged, which are connected to the Hunguest Hotel Forrás, which is where we stayed.
The second draw was the Art Nouveau buildings. The city had a devastating flood in 1879 that wiped out most of its buildings. The rebuilding continued into the early part of the 20th century when the Art Nouveau style was popular.
It was colder than expected while we were there, which hampered our sightseeing, but we did tour the New Synagogue and the Votive Church, both of which are splendid. We also enjoyed art in the Reok Palace, an Art Nouveau building decorated with irises.
Read more about visiting Szeged in "The Best Things to do in Szeged, Hungary."
A Rainy Trip to Vienna
Several people suggested we visit Vienna since it is only two and a half hours by train from Budapest. In April, we finally did.
This was during the evacuation of Ukraine. Both the train terminal and the train were teeming with refugees. It was sobering to see people carrying everything they had, and it was tough to see the children.
We had combined our Vienna trip with a visit to Salzburg. However, it was so cold and rainy in Austria that we postponed the Salzburg leg. Because of the weather, we limited our sightseeing to museums, of which there are plenty. And they are phenomenal.
We saw art, history, and the Lipizzan Stallions at the Spanish Riding School. We visited a multi-story aquarium and had to leave a crypt tour in St. Stephen's Cathedral because we didn't have enough euro to pay. The tour guide was not amused.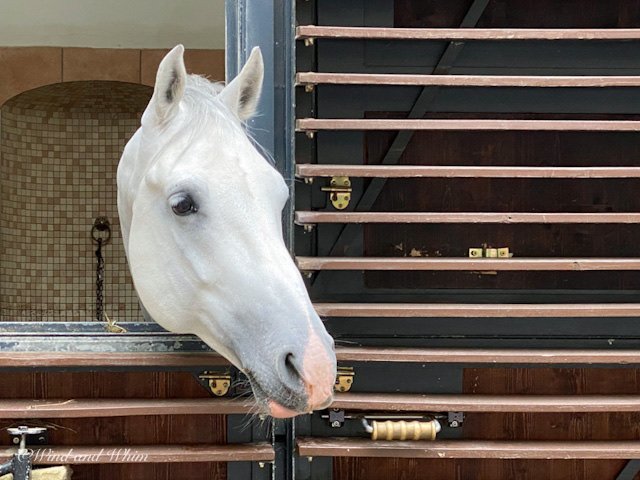 I wasn't excited about going to Vienna, as I wrongly assumed it would be like Budapest but larger. There are similarities because of the shared history of the Austro-Hungarian Empire. But as much as I love Budapest, I found Vienna grander, the museums a cut above, and the buildings in better condition.
When we arrived home, we had a message from the hotel where we stayed. They accused us of stealing a high-end makeup mirror worth $115. There were supposed to be two of these curved mirrors in the bathroom. Our bathroom only had one, and we didn't give it a thought. Luckily, a forceful email put an end to that.
A Visit to Visegrad
In April, we visited Visegrad, Hungary, for the second time and finally had some good weather.
Visegrad is a small town only forty minutes from Budapest by train. Its main attraction is the Citadel, a 13th Century castle set on a hill overlooking the Danube. You can also tour the 14th-century Royal Palace, which has twenty rooms open to the public and a good-sized garden.
Since we love cemeteries, we enjoyed the Visegrad Cemetery. It is the best-kept cemetery I have seen.
We also enjoyed some fun on the summer bobsled and alpine coaster at Bobsled Visegrad.
We stayed at Hotel Visegrad. Despite some problems with our toilet, it was good. Our stay included half-board and dinner one night at the Renaissance Restaurant. The hotel also has decent pool and spa facilities.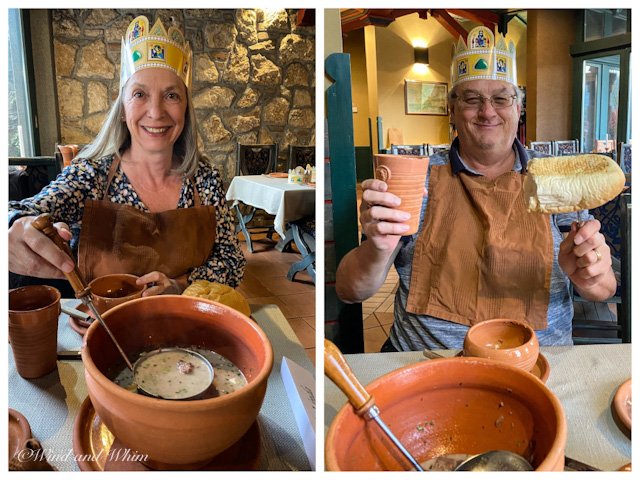 May Visit to Prague
Since we were still in Budapest in May, we took the opportunity to visit Prague for ten nights. We split our stay between two hotels: one in District 1 and the other in District 3, and learned that staying in District 1 is the way to go. It is where most of the sights are and is very walkable.
We hit all the top tourist sights, including the Charles Bridge, Prague Castle, and Vysehrad Castle. However, one of the most memorable things we did was visit the KGB Museum. Our guide, a Soviet native, was the only employee, and we were the only customers. He delighted in telling gruesome stories, complete with thrashing and horror-film sound effects. He seemed to enjoy this a bit too much.
Another favorite was the Troja Chateau. This 17th-century chateau's walls and ceilings are covered with ornate frescos. The grounds are pretty impressive, too.
Read "12 of the Most Interesting Things to Do in Prague" for more information.
Four Cities in Austria and Slovenia
Vienna
Since we had wet and cold weather on our April trip to Vienna, we decided to give it another try in June. We combined this with stops in Salzburg, Lake Bled, and Ljubljana.
Fortunately, the weather was much better this time, so we saw Vienna beyond the museums. It is beautiful and easy to get around. It has been named the most livable city in several polls and is one of my favorite cities.
We spent a day at the 270-year-old Schonbrunn Zoo, the oldest zoo in the world that is still in operation. We also enjoyed the grounds of the Belvedere Palace with their beautiful statues and joined in the revelry of the Pride parade.
The Rollercoaster Restaurant in the Prater amusement park was a lot of fun, too. Your food is delivered on a rollercoaster (surprise, surprise), and a light show plays periodically.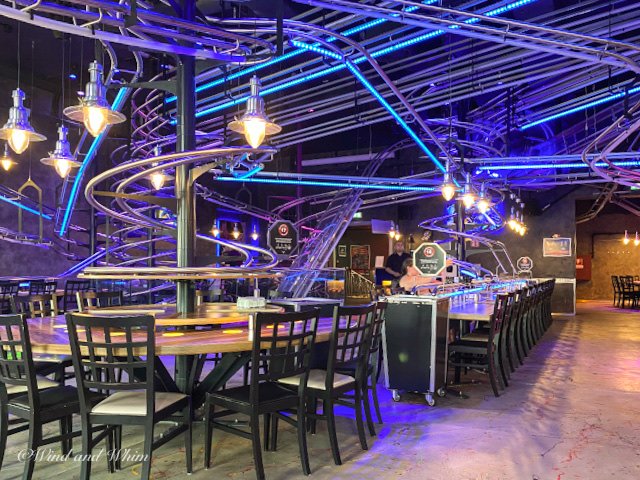 Salzburg
Salzburg was as charming as you would expect. The highlight was a visit to the Schloss Hellbrunn. The 400-year-old Baroque villa is lovely, but the real attraction is on the grounds. They are full of water features and trick fountains that surprise guests as they wander through the gardens.
We also checked out the Mirabell Palace grounds. I wanted to see the Dwarf Garden. This garden contains seventeen marble statues of dwarfs in various poses. The statues are over 300 years old and were recently restored.
The rest of our short visit was spent wandering the picturesque streets and trying to pronounce the Austrian names.
Bled
You've undoubtedly seen photos of Lake Bled with the Assumption of Mary church standing on an island. It is as magical as the photos suggest.
From the minute we arrived in Bled, we were captivated. And we had a lot of time to be captivated because we caught the wrong bus and spent 45 minutes dragging our luggage around the lake to our hotel.
Besides enjoying the lake, there is some good hiking in the area. Unfortunately, our hiking plans fell through because of my upset tummy, but that just gives us a reason to return.
Ljubljana
The last stop on this trip was the capital of Slovenia, Ljubljana. Of the four places we visited on this trip, this was my least favorite. The city center is pretty, and the dragon is the symbol of Ljubljana, which I think is pretty cool, but it didn't seem like there were many things to do there. Perhaps we didn't look hard enough.
Ljubljana had the most unusual public art I have ever seen. I just don't get it.
One of the things I like best about traveling is learning about unusual places. In Ljubljana, Metelkova fit the bill. Metelkova is an autonomous culture zone populated by squatters since 1993. It is sometimes compared to Christiania in Copenhagen.
It isn't very big, and we were a bit uneasy because we didn't know what to expect, but no one bothered us. Metelkova is based on the principles of equality and acceptance. Because of this, it has been targeted by hate groups, including neo-nazis.
Read more about Metelkova in this article by Adventurous Miriam.
And for the really adventurous, how about an overnight stay at Hotel Celica? It is a former military prison in Metelkova that is now an art-filled hostel.
Walking the Dales Way in England
In July, we finally got to do the eight-day Dales Way walk we had initially planned for 2020. We walked the 81 miles and then some since we got lost frequently and had to retrace our steps.
When we weren't busy dodging cattle and their leavings, we marveled at the beauty of the Yorkshire Dales.
We highly recommend this adventure. You do not have to be athletic, although there is some climbing over stiles and navigating rocky inclines. Read more about walking the Dales Way here.
We spent several days before and after the walk in Manchester, a city full of the friendliest people we've ever met.
A Month and a Half on the Turkish Riviera
This was our first time in Turkey. Before then, the only places I knew of in Turkey were Istanbul and Cappadocia. Discovering all the beach towns along the western and southern coasts of the country was a happy surprise.
In six weeks, we visited six coastal towns. Each one had a different vibe, but all were relaxing and beautiful.
We enjoyed the super touristy town of Marmaris, admired the amazing scenery in Dalyan, and had fantastic food in Fethiye, including pizza with filet mignon and hollandaise sauce.
We also mistook a nighttime party boat cruise for a romantic moonlight cruise and spent three hours willing the pounding music to stop.
We only saw six of the many, many towns on the Turkish Riviera. No matter which you choose, you can't go wrong.
Learn more about the places we visited on the Turkish Riviera here.
Bucket List Destination: Cappadocia
Since we were in Turkey, we couldn't miss the opportunity to visit Cappadocia. I'm sure you've seen plenty of photos of the dramatic rock formations and the sunrise hot air balloon rides.
Cappadocia is as intriguing as the photos suggest, and our balloon ride was incredible. I was surprised and pleased when Steve said he would do it since he avoids all thrill rides. As he will tell you, there was nothing scary about it.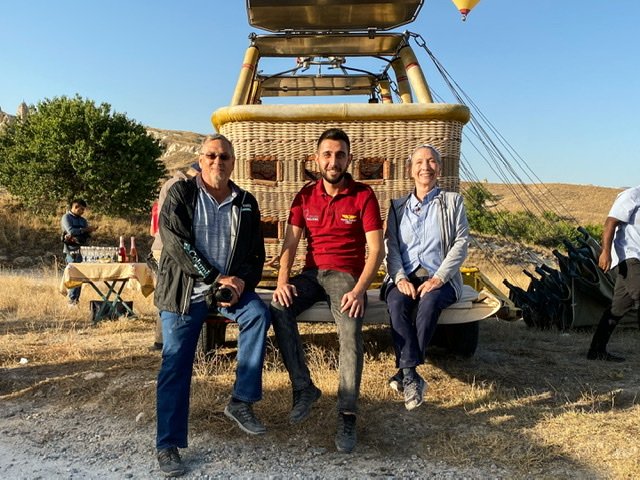 Be sure to check out our post "18 Things to Know Before Visiting Cappadocia." Instagram does not tell the whole story.
Four Weeks in Istanbul
Istanbul was our final stop in Turkey. The city is full of contrasts: beautiful buildings among slums, kind people who turn into maniacs on the road, and an efficient metro system but undependable bus service.
Visits to fascinating places like the Topkapi Palace, the Basilica Cistern, and the Dolmabahce Palace contrasted sharply with walking through rundown neighborhoods. Even our modern Airbnb rental looked out over a litter-filled dump.
The highlight, if you can call it that, was a fire in the building where we were staying. Fortunately, it was limited to the exterior, so no one was hurt or lost belongings.
You can read all the details about our Istanbul stop in "Visiting Istanbul: The Good, The Bad, and The Startling"
Off to Thessaloniki, Greece
Greece was a welcome change from Turkey. The first city we visited was Thessaloniki, the second-largest city in Greece.
Life was so much easier there. It is much less crowded than Istanbul, and English is more common, which we don't expect, but do appreciate.
There aren't loads of things to do in Thessaloniki. The Archaeological Museum of Thessaloniki was very well done, with excellent English translations. The War Museum was also worthwhile. Strolling the seaside promenade and spotting random ruins throughout the city were also enjoyable.
The highlight of our time in Thessaloniki was a side trip to Meteora. This area rivals Cappadocia for stunning rock formations, which can be almost 600 meters or 2,000 feet high. Some of these rocks have centuries-old monasteries on top. You can tour the monasteries, and they are beautiful.
Then to Athens
After Thessaloniki, we headed to Athens. We stayed in the Plaka neighborhood, which is the best option for tourists as it is close to most of the sights. We walked by the Acropolis daily.
There was plenty to keep us busy. In addition to touring several ruins, we spent time in the Panathenaic Stadium, the only stadium in the world built entirely of marble. The stadium was originally built in the 2nd century and was excavated and renovated in the late 1800s. It is definitely worth a visit. Be sure to get the audio guide; it adds a lot to the experience.
Another cool sight is the Psyri neighborhood. It is full of antique shops and restaurants, including the over-the-top Little Kook.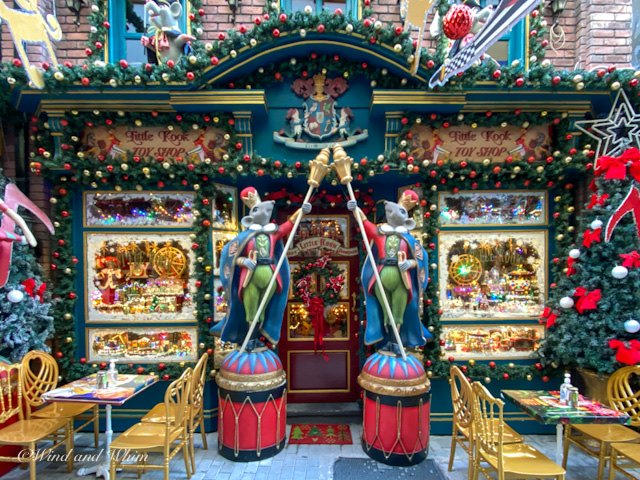 Our First Time in Africa
The last city of 2022 was Tangier, Morocco. It is the first stop on a two-and-a-half-month stay in Morocco before we return to the U.S. for a short visit.
After the chaos of Istanbul and the busyness of Athens, Tangier is a welcome break. There aren't a lot of sights or museums, but the medina and the promenade along the Straight of Gibraltar are must-sees.
Everything is easier here. Traffic is light and respectful of pedestrians. Shopping is convenient. The official languages are Arabic and Berber. French is also widespread, and Spanish and English are sometimes spoken.
What's Planned for 2023?
It's unusual for us to plan too far ahead, but we made an exception this time. We'll be spending March in Jacksonville, Florida. While there, we can spend time with friends and family and attend a wedding in Key West.
Then it's back to Athens for us, this time for two weeks with our daughters, Stephanie and Laura. We hope that Laura's boyfriend Nick and his mom will join us.
After that? Time will tell.
Until Next Time
I hope you have enjoyed our walk down memory lane. Hopefully, some of them have tickled your travel bug. Steve and I would love to hear about your experiences in the places we visited.
We wish you health, happiness, and prosperity in 2023.
Happy traveling,
Linda
The featured image was taken on Lake Bled.