Last Updated on: 15th January 2023, 09:03 am
When you think of visiting Turkey, you probably think of Istanbul or Cappadocia. But did you know that there are many seaside cities and towns that also make for great trips?
Steve and I spent six weeks in the summer of 2022 in six cities, one on the Aegean coast and five on the Mediterranean coast. We loved a few, liked a few, and disliked one, but each had something different to offer.
In this post, I will share our experiences in these six cities on the Turkish Riviera so you can decide which are best for your next trip.
All money is in U.S. dollars.
The Aegean Coast
There are several towns on the western coast of Turkey that make for wonderful seaside vacations. We visited Cesme for one week and Alacanti for a day. Other popular destinations include Kusadasi, Guzelcamli, and Bodrum.
Cesme
Pronounced: CHESH meh
Population: 20,000
Vibe: Small town
Cesme is a seaside resort town on the Cesme Peninsula. It is 54 miles (87 km) from Izmir, Turkey's third-largest city.
The marina and the surrounding area are beautiful. The marina opened in 2010 and has room for hundreds of yachts. There are many shops and restaurants around it.
Don't miss the Cesme Castle, a 16th-century Ottoman castle that overlooks the marina.
Scenes of Cesme Castle
Cesme Old Town is adjacent to the castle. It is not large, but it is charming with its strong Greek vibe.
There is a small beach and a beach club near the seafront. There are other beaches in the area, but I would not consider this a beach town.
Old Town, the marina, and Tekke Beach
One of the things you will notice right away is the large number of cats and dogs on the streets. Many of the cats are friendly. The dogs wish to be left alone but are not aggressive.
Not since we visited Paracas, Peru, have we seen so many free-range dogs. I cannot call them strays, as they appear well cared for. They are fed, and there is surprisingly little dog waste on the streets. They lie wherever they want, including in the street, and the residents respect their choices.
Just a 5-mile (8.8 km) drive away is the town of Alacati (Alaçatı in Turkish, pronounced ah LA cha tuh). Like Cesme, Alacati is not a beach town per se, but there are beaches to the north and south. The main part of town is in the center of the peninsula.
The two best things to do in Alacati are to wander the picturesque streets of Old Town or spend time at one of the spas.
Fun sights in Alacati
Steve and I had difficulty deciding whether to visit Cesme or Alacati. Cesme won because it is on the sea. Even after staying in Cesme and spending a few hours in Alacati, it would still be a tough choice.
The Mediterranean Coast
As you turn along the coast and start traveling along the southern edge of Turkey, you will be on the Mediterranean Sea. This area has been nicknamed The Turquoise Coast.
Here, you will find many towns offering diverse experiences. In addition to the towns we saw, popular vacation places include Oludeniz, Kas, Finike, Kemer, Belek, Side, and Alanya.
Datca
Pronounced: Rhymes with cha cha
Population: 25,000
Vibe: Low-key resort town
The second town we visited was Datca (Datça in Turkish). It lies on a peninsula of the same name. The peninsula has the Aegean Sea to the north and the Mediterranean Sea to the south. Datca is on the Mediterranean.
Visiting Datca is all about the waterfront. The beach is not very wide and was always full of people. There were also many windsurfers. The marina is large and lovely, as are the waterfront restaurants near it. If you head along the beach away from the marina, you can find a short hiking trail with some great views, too.
Scenes from Datca's waterfront
There is a long seaside promenade with some resort-style hotels and many reasonably priced hotels. I tend not to make hotel and restaurant recommendations because business quality can change over time, and people have different tastes, but sometimes a place is so good that I want to share it with you. That is the case with the hotel we stayed at in Datca. The Datca Beyaz Ev Otel. And yes, that is the correct spelling. The Turkish word for hotel is otel. You will see both options throughout Turkey.
Datca Beyaz Ev Otel is a small, family-run hotel with exceptional service. The rooms are spacious, the pool is perfect, and there are several places around the property in which to relax. My favorite place was the dining area, which is covered but open to the pool. Besides being a comfortable spot for the daily breakfast buffet, it is a great place to relax out of the sun and perhaps have a drink.
Like Cesme, Datca isn't full of sights, and it isn't a party town, but it is a good place to chill near the sea.
Marmaris
Pronounced: MAA muh ruhs
Population: 28,000
Vibe: Party town
If you want to lie on the beach all day and party at night, Marmaris is the place for you. Its 6-mile long (10 km) beach curls around Marmaris bay and is surrounded by mountains.
The seafront promenade runs the length of the beach and is lined with one hi-rise after another and many restaurants. Much of the beach is commandeered by hotels or restaurants that fill them with sun loungers, umbrellas, and cabanas. You either pay to use them or use them for free, provided you buy food or drinks. There are a few public beaches without amenities.
In the evening, the beaches close, bright lights fill the seafront, and music pumps out of many restaurants. A little later in the evening, you can see shows at some restaurants, with drag shows appearing to be popular judging from the number of advertisements for them.
There are three marinas in Marmaris. One, the Albatros Marina, is chock full of charter boats with annoying touts trying to lure in customers. You can take different types of day trips or an evening cruise.
Marmaris views
Don't make the same mistake we did. We were tempted by a moonlight cruise around the bay. The vendor said it was "romantic." It wasn't.
Our ship was chock full of people, and music blared on two of the three decks. I can't call it a cruise because the ship sailed into the bay and then dropped anchor for a few hours. During this time, guests could buy drinks. A light dinner was served towards the end of the evening.
Steve and I were on the middle deck. When the music got to be too much, we went to the lower deck, where it was quiet. At least it was until a few people there started dancing and someone turned up the music. There was no escape!
Perhaps we should have expected what we got on a ship called the Davy Jones. Next time we want a cruise, we will ask a lot of questions.
Besides taking cruises, you can stroll through the Grand Bazaar. It is a large covered area filled with stores selling souvenirs and clothing you could buy anywhere. I didn't live up to our image of a bazaar.
We ate at two restaurants that we recommend. The first is Deniz Cafe & Restaurant. It is on the waterfront overlooking the Nestel Marina. You can enjoy flavorful food and excellent service while admiring some beautiful yachts.
On our first visit, Steve had fajitas (very Turkish, no?). He said they were fantastic, so I had them on our second visit, and yes, they were great. Steve had a lamb and tomato dish that he also enjoyed.
We didn't find this other gem until the end of our stay. If we had found it earlier, we would have paid it several visits. The restaurant is part of the Yeshill Beach Hotel & Restaurant, and quite frankly, we chose it because we were hungry and it looked inviting.
After we ordered our food, our waiter brought a tableful of meses (Turkish appetizers). Steve and I told the waiter we hadn't ordered them, and he replied that they were on the house. We were confused, as we had been to restaurants where appetizers were placed on the table. If you ate them, you had to pay for them. Even so, we enjoyed the tasty treats, figuring that the price of food in Turkey is low enough that even if we were charged, it would not be a big deal.
After the meses, we ate our main dishes and asked for the check. Instead, our waiter arrived with a large plate of fresh fruit. Again, we were unsure about what was going on, but we went with it. After that, two plates of dessert arrived, but we were too full to enjoy them. Then we were offered coffee or tea, which we also declined.
By this time, we had no idea what our bill would be and were blown away when all this food, along with fabulous service, only cost $21.
Since we are not lie-on-the-beach or party people, Marmaris isn't a place we would revisit, but it was a nice change of pace from the quiet towns of Cesme and Datca.
Dalyan
Pronounced: Like it looks
Population: 8,000
Vibe: Laid-back river town
Dalyan was an unexpected delight. It lies on the Dalyan River, 7 miles (12 km) inland from the Mediterranean Sea. Rocky hills and mountains run along the western side of the river, and the town lies to the east.
Dalyan has amazing views wherever you are.
We stayed north of town in a quiet area lined with riverfront hotels. Many of the hotels had waterfront restaurants that were open to the public. It was a short walk along a stone-paved path to get to town.
We spent much of our week there relaxing at our hotel pool but ventured into town to eat at some of the many waterfront restaurants.
The riverfront in town is chock full of boats offering tours to local attractions, including visits to the mud baths and Turtle Beach (also called Iztuzu Beach), a protected breeding ground for loggerhead sea turtles.
You can visit Turtle Beach by taking a public water taxi for the bargain price of $3.30 per person round trip. We thoroughly enjoyed both forty-minute rides as each turn revealed more stunning beauty.
Our visit to Dalyan was the first time we had seen rock tombs. These are tombs the Lycians ( 15-14th centuries BC to 546 BC) carved into rock. Here is a bit of information about the rock tombs. Unfortunately, you can not get up close to the tombs, but they are an impressive sight.
Dalyan rock tombs at dusk
There are a few other things to do in the Dalyan area, including visiting the Ancient City of Kaunos, taking a mud bath, hiking, and learning about loggerhead turtle conservation at the Kaptan June Sea Turtle Conservation Foundation.
Dalyan's unexpected beauty made this one of our favorite stops on the Turkish coast.
Fethiye
Pronounced: FEH tee uh
Population: 70,000
Vibe: Poor man's beach town
Our next stop was the town of Fethiye. It was our least favorite of the six places we visited.
Calis Beach is the big tourist draw in Fethiye, although it didn't impress us. The beach is long but not very wide. However, we did have some of the best food we've had since arriving in Turkey. We particularly liked the moussaka at Hotel Idee and the pizza with slices of filet mignon and bearnaise sauce at Bella Mamma's. Steve and I thought the pizza sounded unappealing, but we trusted our waiter, who said it was great. He was right!
Calis Beach at sunset
We spent much of our time relaxing by our hotel pool, but one day we took a water taxi from Calis Beach to the Ece Marina. From there, we walked around Old Town, which was not very impressive. One exception was the Paspatur Market. This market was smaller but more authentic than the Grand Bazaar in Marmaris.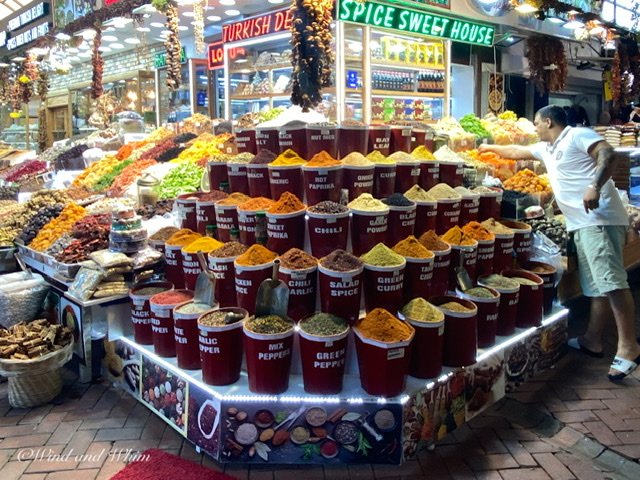 So many spices at the Paspatur Market
Like Dalyan, Fethiye has Lycian rock tombs, but here you can go inside one, the Tomb of Amyntas. There are about 200 steps up the cliff, but before you reach the tomb, you have to navigate some rocks and three high stairs. Once you've managed all that, you can step inside a plain, small space, which is anticlimatic compared to the tomb's exterior.
The Fethiye rock tombs
Antalya
Pronounced: Like it's spelled
Population: 1.3 million
Vibe: Upscale (yet affordable) resort town
Hands down, this was our favorite stop on the Turquoise Coast. We stayed in the tourist area of Konyaalti, which has many hotels, resorts, and apartments overlooking Konyaalti Beach and the Mediterranean Sea.
By the sea, by the sea, by the beautiful sea
Steve and I knew this was a more upscale city when we arrived at the bus terminal. I didn't get photos of it since we had to get to our Airbnb, but you can see it here. We also saw many gorgeous modern buildings in Konyaalti.
Modern buildings in Konyaalti
To get an idea of how big the city is, take a ride on the cable car (Tünektepe Teleferik Tesisleri). You will be treated to wonderful city, mountain, and sea views.
Antalya has the largest Old Town of the six places we visited. We didn't spend as long as we would have liked there because it was a hot and particularly humid day. However, we did spot several hotels that would make for a lovely stay if you choose not to stay seaside.
Two sights in Old Town Antalya
Antalya is home to the Antalya Aquarium. Not only is it one of the largest aquariums in Europe, but it also has one of the longest aquarium tunnels. The tunnel is 429-foot (131 m) long.
Despite the size, the aquarium was a disappointment given the price of $40 per person. While it had some well-done displays, the photos and names of the sea life on the signs didn't always correspond to what was in the tanks. In addition, the tunnel was full of interesting undersea objects but lacking in sea life. There were some sharks and rays, but far from the number of sea creatures one usually sees in a sea tunnel.
On the plus side, the descriptions of the environments that were represented were informative and presented in English as well as Turkish and Russian.
Transportation in Antalya was surprisingly easy. Buses are easy to find using Google Maps, and once on board, you pay with a bank card. Each ride cost us 45 cents.
Unfortunately, Uber is not available in Antalya, but the taxis are inexpensive. The meter is in the rearview mirror. If you don't see it, remind the driver to turn it on. To make it even easier to get around, there are call buttons on major streets that allow you to call a taxi. Just push the button, and a taxi will come for you.
Why Turkey?
Turkey wasn't even on our radar until the spring of 2022. We were getting ready to leave Budapest, our home for two years because of the pandemic. We had taken advantage of our location to visit Vienna, Salzburg, Prague, Lake Bled, and Ljubljana. We also had an eight-day walk in northern England in July. You can read all about that experience in "Walking the Dales Way: 81 Miles of Beauty and Charm."
Between our side trips to the cities mentioned above and our Dales Way walk, we were spending a lot, so we wanted to pick an inexpensive place.
Because of the Russian invasion of Ukraine, we wanted to avoid countries too close to Ukraine. And to complicate matters further, we wanted a country that isn't in the Schengen Area since we are planning to spend three months in Greece in early 2023. As U.S. citizens, we can only spend 90 days out of every 180 days in the Schengen Area.
Nobody said travel planning was easy, but we worked through it and decided that Turkey filled the bill.
Getting to Cesme
Since our first stop was Cesme, we flew to Izmir, Turkey's third largest city. We did not land until after midnight and spent the night at the TAV Airport Hotel Izmir. The hotel is in the airport, just a short walk from the baggage claim area.
Our room was spacious and modern, and a buffet breakfast was included. We used it to get some rest before heading to the coast, but I wish we had more time there to enjoy it.
Havas has a shuttle from Izmir Adnan Menderes Airport to Cesme many times every day. Here is information about that route. The bus stops in Alacati. It is best to pick up the bus at the domestic terminal, as it will not stop for pick up at the international terminal if it is full.
When riding this and other shuttle buses, you don't buy tickets in advance. You simply get on the bus and pay the fare, which is surprisingly inexpensive.
Getting Around the Turkish Riviera
We used buses to move from city to city. All the buses we rode on were modern and comfortable, if not spacious. Using the buses was easy, even though there isn't much information online. Locals are quick to answer any questions. Be aware that many people who work in the bus stations (otogar in Turkish) don't speak English.
Our transfer from Cesme to Datca was the longest, with more than six hours of driving time. First, we took a shuttle bus from Cesme to the Izmir bus station. From there we took a long-distance bus to Datca.
The long-distance buses do not run as frequently as the shuttle buses and require you to have a ticket before you board the bus. Obilet.com is a good website for getting information about long-distance bus routes.
Steve and I were amazed when we arrived at the Izmir bus station. It was huge. There were over seventy buses lined up. Once we had tickets, we needed to find bay number 9. None of the bays we saw had numbers that low. I went searching for our bay while Steve watched the luggage. That's when I discovered there was a second level of bays with another seventy or so buses.
The rest of our travel between cities was by intercity buses, which run frequently (every half hour or every hour). You just show up at the bus station, look on the windshields of the buses for the destination you want, get on board, and pay.
Drivers will stop for short restroom and smoke breaks on longer journeys. On the drive from Izmir to Datca, we had one twenty-minute break. The following three transfers were all a little over an hour long, so there weren't any breaks. The drive from Fethiye to Antalya had a driving time of two and a half hours. That driver also stopped for a twenty-minute break, so be sure to factor that in on longer drives.
What Did Six Weeks Cost?

| Item | Cost in USD |
| --- | --- |
| Lodging | $4,300 |
| Flight from Manchester to Izmir | $700 |
| Local transportation | $300 |
| Food | $2,000 |
| Activites | $200 |
| Visas | $100 |
| Total | $7,600 |
| Number of days | 45 |
| Cost per day | $169 |
Until Next Time
I hope you have enjoyed learning about this lesser-known part of Turkey as much as Steve and I enjoyed discovering it. Drop a comment below and let us know your thoughts about the Turkish Riviera.
Happy traveling,
Linda