Last Updated on: 15th January 2023, 09:03 am
Thanks to Instagram, we all know about the enchanting Cappadocian landscape and the epic balloon rides. Like many places that are presented as ideal, there is more to the area than you see on the Internet. To help you plan your trip to this magical region, here are 18 things to know before visiting Cappadocia.
All costs are in U.S. dollars unless otherwise noted.
Our Experience
Steve and I spent six nights in Cappadocia in September 2022. We enjoyed our time there and had a great balloon experience because we researched the area and planned ahead.
We stayed in Goreme and did not have a car, which somewhat limited our travel around the area. Despite not having a car, we were able to do most of the items on our list.
If you choose to drive, you will find it easier to reach the outlying attractions. Be warned that driving in Goreme can be difficult due to poor road conditions, heavy traffic, and hilly, narrow roads.
What to Know
1. Cappadocia is a region, not a city
The region of Cappadocia is in the center of Turkey. Cappadocia includes the towns of Urgup and Avanos and the villages of Goreme and Uchisar.
The Goreme National Park and the Rock Sites of Cappadocia are a UNESCO World Heritage Site.
Goreme is the most touristy of the towns and is best for travelers without cars.
Like 97% of Turkey, Cappadocia is in Asia.
2. Cappadocia is not close to anything
If you are traveling in Turkey, adding Cappadocia to your itinerary seems like a no-brainer. But be aware that it is not close to other cities that are popular with tourists.
This chart shows the shortest number of hours it takes to travel from four popular cities in Turkey to Goreme. Data is from Rome2Rio.com.
| Traveling by | From Istanbul | From Ankara | From Antalya | From Bodrum |
| --- | --- | --- | --- | --- |
| Car | 8.5 | 4 | 7.5 | 12 |
| Bus | 13.5 | 4.5 | 8.5 | 15 |
| Train | 14 | 7 | NA | NA |
| Plane | 2.5 | 3.5 | 1.25 | 5.25 |
3. You will not fly into Goreme
If you choose to fly, you will fly to either Kayseri or Nevsehir. It takes one hour to drive from Kayseri to Goreme. The drive from Nevsehir to Goreme takes twenty minutes.
We were heading to Goreme from Antalya and did not want to spend eight hours on a bus, so we decided to fly. We wanted a direct flight. This meant flying to Kayseri.
The flight itself was fine. Unfortunately, our shuttle ride from the airport to Goreme was horrible. We had booked our transfer with Goreme Transfer through our hotel. Our driver was careless. If we had been near a town, I would have gotten off and found other transportation. Any company could have a bad driver, but I recommend avoiding this company.
When we headed back to the airport at the end of our trip, we used a shuttle service through Cappadocia Express. This was a better experience, but the shuttle didn't leave as early as we would have liked since we like to be at the airport with plenty of time to spare.
Both of these transfers cost $10 per person. A private transfer for $80 was also an option.
4. Goreme is not a particularly pretty village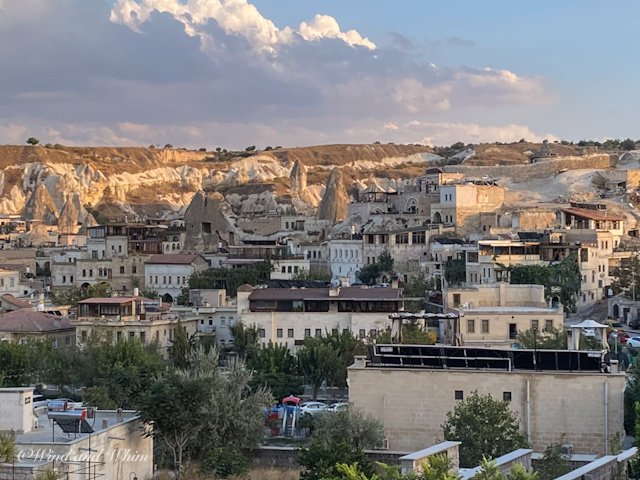 Goreme at dusk
Goreme is a study in contrasts. The town is built around the other-worldly beauty of the rock formations yet has a decidedly unattractive side.
Many of the streets were only partially paved, which caused a lot of dust. The dust was so bad that trucks drove around spraying water on the streets to keep the dust down.
How most of the streets in Goreme looked when we visited
We found out that the roads were in bad shape because the town was laying gas pipes underground. According to the woman who told us this, the work had been going on for two years, but she didn't know when it would be finished.
5. Many of the attractions and activities are easy to reach from Goreme
The village of Goreme is small and walkable. However, you will need more than your feet to see many of the highlights. You can find taxis readily enough. There are also local buses, but finding information about them is not easy.
From Goreme, it is easy to visit several stunning valleys full of fairy chimneys:
Love Valley – where you will see phallic rock formations.
Monk's Valley – also called Pasabag Valley, great for hiking
Red Valley and Rose Valley – for ATV and horseback riding tours
Pigeon Valley – a great place to take an easy hike (see #12)
DerventValley – also called Imagination Valley because of the rock formations that resemble animal and human figures.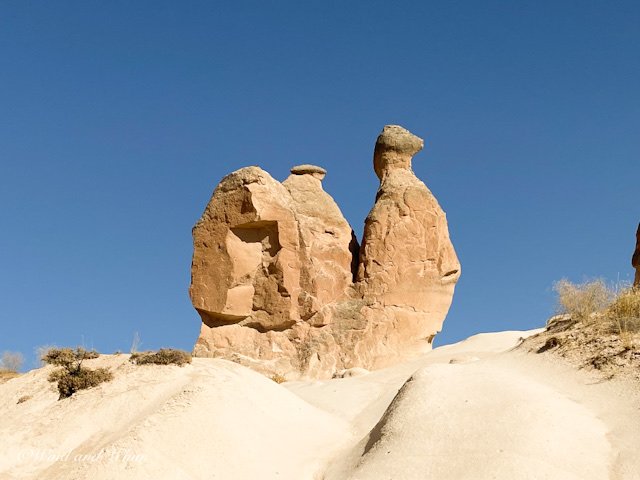 "The Camel" in Dervent Valley
You will also be close to the two open-air museums, the Zelve Open Air Museum and the Goreme Open Air Museum. See #14 to learn which one is worth your time.
A short taxi ride or a bus ride and walk can get you to Uchisar Castle. It is interesting, but in my opinion, not a must-see.
The balloon companies provide transportation to and from your hotel. If you stay far from Goreme, you might want to verify that they are willing to pick you up at your hotel.
Our ATV tour included hotel pick-up, but since the storefront was just a five-minute walk from our hotel, we decided to skip the pick-up. I assume the Jeep and horseback riding companies provide the same service, but of course, you should verify this.
6. A few of the attractions are further away
If you love exploring underground, there are two underground cities you can visit: the Derinkuyu Underground City and the Kaymakli Underground City. This article from Hello Jetlag does a good job of comparing the two.
Both underground cities are around a half-hour drive south of Goreme. It is recommended that you either drive there or visit with a tour as they are difficult to reach by public transportation.
Visiting the tunnels of these cities may be challenging for the taller among us and are probably not a good choice for the claustrophobic.
The Soganli Valley is a one-hour drive south of Goreme. Learn about visiting the Soganli Valley in this article from Cappadocia History.
The Ihlara Valley is a one-hour drive southwest of Goreme. It has been referred to as a green Grand Canyon. Learn more about the Ihlara Valley in the article from the Venere Travel Agency.
Also southwest of Goreme, not far from the Ihlara Valley, you will find the Selime Monastery. Here you can marvel at the largest religious building in Cappadocia and learn about its more than 1,000-year history. Here is more information about the Selime Monastery.
We chose to skip these attractions since we had plenty to do closer to Goreme.
7. You probably won't want to drink the tap water
Goreme was the seventh city we visited during our three months in Turkey, and we were advised not to drink the tap water in each of them. Here is an overview of the tap water situation in Turkey by sipsafer.ca.
Bottled water is inexpensive, but the waste caused by all the people drinking bottled water is concerning.
8. You should book your balloon flight early, really early
If you have researched Cappadocia hot air balloon flights, you have probably seen advice to book your flight as early as possible. Heed this advice!
If you are worried about booking early and losing money should your plans change, check the FAQs for your chosen company. We flew with Voyager Balloons, and they allow cancellations without a fee up to one week ahead of the flight date.
We booked our flight two weeks ahead and couldn't get our first or second choice. Our first choice was Royal Balloon, but they were fully booked for the entire duration of our trip. We then looked at Voyager Balloons. Our first choice here was the 60-minute flight. This was fully booked for our dates, so we chose the 75-minute flight. Our flight cost $270 per person, compared to $220 for the 60-minute flight.
9. You should schedule your balloon flight early in your trip
The second piece of advice is to book your flight early in your trip. Since the balloons can only fly when conditions are right, trips can be canceled up to flight time. By booking to fly early in your trip, should your balloon flight be canceled, you may have a chance to do it another day.
There was a honeymooning couple at our hotel who didn't follow this advice. They booked their flight for the last day of their stay, and it was canceled.
10. Cappadocia balloon flights are safe and not scary at all
Steve and I loved our hot air balloon experience. Even for non-daredevils like us, there was nothing scary about it. We had two pilots, as one was still in training. We felt safe for the entire ride and were amazed at the pilots' skills. When it was time to land, our pilot gently placed the balloon on a trailer bed the same size as the basket.
Steve and me with one of our pilots after our flight
Regardless of who you fly with, the industry is highly regulated. Here is information about hot-air balloon safety in Turkey from Turkey Travel Planner.
11. Information about the balloon flights is readily available
Sailing over Cappadocia's jaw-dropping landscape is a bucket list item for many travelers. Between the time spent to get to Cappadocia, the price of the balloon flights, and the effort to get the flight you want, it surprised me that many flyers had no idea what to expect.
If you check Voyager Balloons' website, it does a great job of explaining what to expect.
Royal Balloon's website isn't quite as user friendly, but they do a nice job with their FAQs.
I mention this because of comments Steve and I heard from other flyers while having breakfast at the Voyager Balloon headquarters (the Voyager service includes hotel pick-up, drop-off, and breakfast).
One woman wanted to know if we would be sitting or standing in the balloon (standing).
Another woman wanted to know if there were restrooms on the balloon (there are not).
A third woman wondered if they would be serving cocktails (they do not).
I can't imagine spending so much on an activity and not knowing what will occur, but maybe that's just me.
12. Hiking in Pigeon Valley is easy and picturesque
There are a lot of places to hike near Goreme. Steve and I had gone to the Uchisar Castle and then walked to the Pigeon Valley Overlook. The overlook was teaming with tourists taking selfies. Only a few people were walking in the valley. We found a staircase to a lower level. From there, we were able to get to the valley floor.
We walked the trail back toward the castle. It was an easy walk on which we saw several caves and many fruit trees and bushes. Steve loved picking and eating the grapes.
Once we got closer to the castle, we headed back to our starting point.
We spent around two hours in the valley, with plenty of photo stops.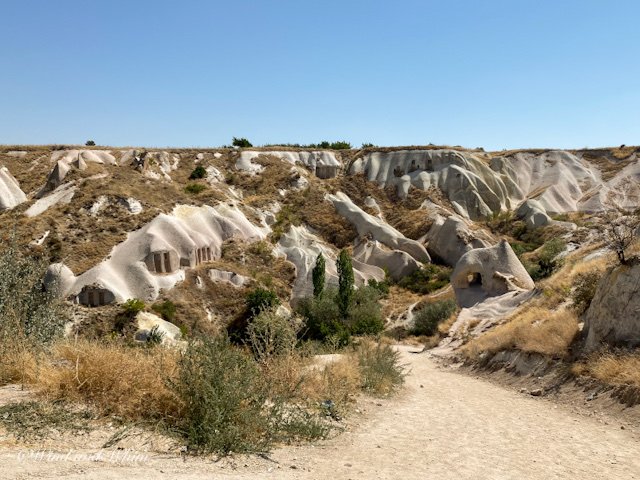 The start of our Pigeon Valley hike
Here is information about hiking Pigeon Valley (of course, you should double-check the information, as things may change).
13. Hiking in Love Valley is more challenging but equally amazing
Steve and I also hiked Love Valley, so called because of the many phallic-shaped rock formations.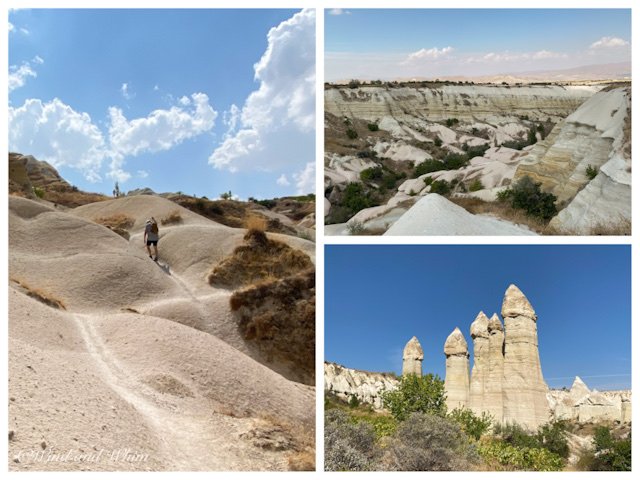 Love Valley views
This hike goes from Goreme to Uchisar. We started from the Goreme end and enjoyed an easy walk for most of the trail. We found the Uchisar end of the trail a bit challenging with its steep inclines and parts of the trail laying on the edges of high rocks.
We each used a hiking pole, which helped a little, but the hard ground, which was often covered with gravel, made this hike more challenging than our Dales Way walk in England.
14. The Zelve Open Air Museum is worth your time; the Goreme Open Air Museum is not
There are two open-air museums in Cappadocia, the Zelve Open Air Museum and the Goreme Open Air Museum. The Zelve museum is in Avanos, a town next to Goreme and the Goreme museum is in Goreme.
The Zelve Open Air Museum is four times as large as Goreme's. We visited it first and enjoyed exploring the homes and churches that had been carved into the rocks. Some of them date back to the 6th century. We highly recommend you spend a few hours there.
On our last day in Goreme, we decided to check out the Goreme Open Air Museum. It was a disappointment. Not only is it small, but there are several areas where repairs have been made in the past and need additional maintenance.
One of the rock formations in the Goreme Open Air Museum
Check out this article about the museum by kapadokyadayim.com. The article has several photos of the church frescos. Photos weren't allowed in the churches when we visited.
In addition to being better kept and larger, the Zelve museum was also a better value at about $3.50 per person. The Goreme museum cost us over $8.00 per person.
15. You may want to rethink the ATV tour
ATV tours through the Red and Rose Valleys are popular. You can book this tour for about $30 per person.
Steve and I took a sunset tour. I was looking forward to it since it was my first time on an ATV. Steve had taken a private ATV tour in Jaco, Costa Rica, and loved it. Because this was a group tour, it was a much different experience.
If you decide to do this, know that you will be one of many people riding through the valleys. Our group had about sixteen ATVs that traveled in tandem, and our group was one of several.
The upside is that we got to see some lovely dusk views when we stopped to enjoy the scenery as the sun set.
Four photos from our ATV tour
This is one of those things I'm glad I did but wouldn't do again. Several things took away from the enjoyment.
First, because we were in a large group, we had to stop frequently because of problems some riders in our group had or to let other groups pass.
Second, it was hard to enjoy the scenery while riding. It was everything I could do to keep up with the group, although the frequent stops gave me a chance to catch up.
And third, it was very dusty. A mask and sunglasses are a good idea. I took my sunglasses off near the end of the ride so I could see the trail at dusk, and regretted that move.
Two better options are hiking and horseback riding. Both allow you to enjoy the scenery and not be a pain in the butt to other people because of the dust and noise you are creating.
16. Dervish shows aren't exciting or cheap
Perhaps you've heard the term "whirling dervish." For many of us, this is used to describe frantic activity. But the whirling dervishes are real and are not frantic.
The dervishes follow a branch of Islam called Sufism. You can read about the beliefs of Sufism in this article by The Threshold Society.
The dervish ceremony, also called sema, symbolizes "… the rising of the human soul by releasing the ego to become enlightened, and thus to become united with God…" (from the article "Ancient Sufi Dance: Rumi's Whirling Dervishes by Culture Trip).
Steve and I made arrangements through our hotel. The $40 per person fee included transportation to and from the show.
This is not an actual religious event but a show for tourists. Even so, it was solemn and, to my ignorant eye, appeared authentic. Since it isn't a religious event, women do not have to cover their hair.
The show begins with music and prayer. Knowing nothing about Islam, this held little meaning for us. Then the dervishes come out and partake in a ritual of bowing and walking slowly in a circle for quite a while. After this, the whirling begins.
The show lasted about 45 minutes, during which photos were prohibited. There was a chance to take photos after the show.
The Dervishes are a-whirling
17. You may be asked to pay in cash or euro
During our travels along the Turkish coast, we used our Visa card for everything except tips, which we paid with lira. Then we arrived in Cappadocia.
Our hotel arranged the airport transfer and the Dervish show for us. In both cases, they would only accept cash and preferred euro. Since we were in Turkey, we had Turkish lira, not euro.
The manager did agree to accept the payment in lira, but that meant we had to go to an ATM to get more lira. This wouldn't normally be a problem, but the cost of 100 euro converted to 1,850 lira. We had to pay a $9 fee to get 2,000 lira from the ATM.
The hotel lost our business for the ATV ride and the transfer back to the airport because of this policy.
18. ATMs in Cappadocia charge hefty fees.
The best one we found to use with our U.S. credit union was QNB bank. If you take the cash in lira and don't choose the bank's conversion, you will only pay $5.
Until Next Time
Even though Cappadocia isn't perfect, it is a magical place and is well worth visiting.
As always, Steve and I love to hear from our readers. Drop us a comment below with your thoughts and experiences in Cappadocia.
Happy traveling,
Linda