Last Updated on: 11th September 2023, 11:11 am
Are you thinking of visiting Budapest? Go for it. This Hungarian city in Central Europe is chock full of beauty and history.
Steve and I arrived in Budapest in March 2020 for a four-week stay. Because of the pandemic, we ended up staying for more than two years. During this time, we have explored every corner of the city and are happy to be able to share what you need to know when visiting Budapest.
I have highlighted the main tips and shared a few top tips. Be sure to read to the end for a bonus tip. You can thank me later.
Layout of the City
1. The Danube River divides the city into two sides: Buda and Pest. The west side is Buda. The east side is Pest.
2. Buda is hilly. Pest is flat.
3. Pest is the touristy, party side. Buda is the quiet, stately side. As a tourist, you will probably stay in Pest.
4. The two sides weren't connected until 1849, when the iconic Chain Bridge was built.
5. The Chain Bridge is currently closed for renovation. The work is expected to be completed in August 2023.
6. There are 23 districts in Budapest.

7. Street signs are plentiful. They usually have the district on the sign. This sign tells us that it is district 9. Utca means street.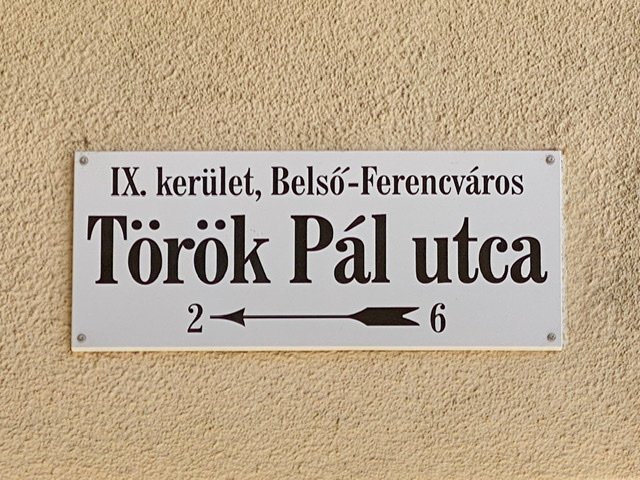 Culture
8. During the first Covid lockdown, Steve and I often commented on how clean the streets and sidewalks were. We thought it was because there were so few people out. Once the lockdown ended, we were happy to see that the streets were still very clean. Street sweeping machines and people sweeping and washing the sidewalks are common sights.
9. Tourism in Budapest has grown steadily over the last decade. According to Statistica.com, the annual number of tourists doubled from 2.3 million in 2009 to 4.6 million in 2019.
10. Most stores, restaurants, and attractions will be closed during holidays. These are the holidays that are celebrated in Hungary:

| | |
| --- | --- |
| New Year's Day | January 1 |
| Memorial Day of the 1848 Revolution | March 15 |
| Good Friday | Date varies - a Friday in late March or early April |
| Easter | Date varies - a Sunday in late March or early April |
| Easter Monday | Date varies - a Monday in late March or early April |
| Labour Day | May 1 |
| Whitsun | Date varies - a Sunday in late May or early June |
| Whit Monday | Date varies - a Monday in late May or early June |
| State Foundation Day | August 20 |
| 1956 Revolution Memorial Day | October 23 |
| All Saint's Day | November 1 |
| Christmas Day | December 25 |
| 2nd Day of Christmas | December 26 |
11. Easter weekend can be especially challenging since most stores and many restaurants are closed on Good Friday, Easter Sunday, and Easter Monday. As you would expect, the stores are especially crowded on the Thursday before the weekend and the Saturday in the middle.
12. Dates are written with the day, then the month, then the year. So Christmas Day, 2019, would be written 25/12/2019.
13. Names are written last name first. When they are translated into English, the first name is first. So I am Gerbec Linda in Hungarian.
14. When a woman got married, traditionally, she not only took her husband's last name, but she also changed her first name to his with "ne" added to the end. So a woman marrying a man named Istvan would become Istvanne. Modern women generally keep their own first name and may keep their maiden name if they wish.
Visas
15. Hungary is in the European Union (EU) and the Schengen Area. Visitors from the U.S. can spend up to 90 days out of 180 in the Schengen area, so you could spend up to 90 days in Hungary without procuring a special visa, providing you do not visit any other Schengen area country for the subsequent 90 days. Citizens of all other countries should be sure they understand the visa rules for their country.
Money

16. Even though Hungary is in the EU, it does not use Euro. The official currency of Hungary is the forint (HUF).
17. Some stores accept Euro and you might even see a sign telling you the exchange rate.
18. Paper bills start at 500 forints and go to 20,000 forints. Coins range from 5 forints to 200 forints.
19. It can be disconcerting when you first use forints because of the large numbers. In addition, commas are used where Americans use periods, and periods are used where we use commas. So a charge of 18.000,00 would equal about US$50.
20. As of this writing, 1 USD = 367 forints. 1 Euro = 394 forints
21. ATMs are readily available, but you may want to try a few to get the best one for you. As a holder of a U.S. bank account, I found the Sopron Bank ATM at Bajcsy-Zsilinszky útca 12 was the best deal.
22. A standard restaurant tip is 10-15%. However, a service charge is often added to the bill, so you should check before calculating your tip. If there is a service charge, it will usually vary from 10-12.5%. We often tip a little extra directly to the server, which should be handed to him, not left on the table.
23. Credit cards are widely accepted, but it is wise to carry some forints.
24. The value-added tax, which is similar to sales tax, is 27%. This is the highest in the world.
Language
25. The official language of Hungary is Hungarian (Magyar).
26. The Hungarian alphabet has 44 letters, including 14 vowels.
27. Some letters have more than one character. Seven letters have two characters, and one has three characters.
28. Each letter only has one sound, so once you learn each letter's pronunciation, you can easily pronounce words. Here is a fun video on how to pronounce the letters of the Hungarian alphabet.
29. The letter sounds may not be what you think. For example, the letter S has the sound SH in Hungarian. So Budapest becomes Budapesht, and the grocery chain Spar is pronounced Shpar.
30. Hungarian is one of the hardest languages to learn for native English speakers. This is because the syntax is different, and often words that are separate in English get added to the end of the subject word.
31. English is widely spoken in businesses that cater to tourists. It is not so widely spoken in other places. We have found that most younger Hungarians are fluent in English, but older people are not since they grew up during Soviet rule when learning Russian was compulsory.
32. English translations are prevalent on public transportation and in museums and other tourist attractions. The translations are better than many of those we have found in other countries.

33. Here are some words that can help you while you are in Hungary courtesy of MyEnglishTeacher.eu. We use Hello – Jó napot! [yo nah-pot], Thank you – Köszönöm [koh-soh-nohm], and You're welcome – Szívesen [see-ve-shan] the most.
Transportation
The Public Transportation System
34. Budapest is easy to get around. There is an extensive metro, tram, and bus system, and it is also a very walkable city.
35. We found the transportation system easy to use and very clean.
36. The transportation system is run by BKK. Here is their website.
37. The metro, tram, and bus systems within the city all use the same ticket. They are easy to buy at machines found at many stops. As of this writing, an individual ticket is 330 ft (less than US$1), but you can lower the cost to 300 ft per ticket by buying a group of ten.
38. A part of Metro Line 3 is currently under renovation and being replaced by buses. It is expected to be completed in March 2023.
39. There is a bus that runs between the airport and the city center (Deák Ferenc tér). It is easy to use and takes a special ticket. Here is more information on that bus.
40. Be sure to validate your ticket. Here is the BKK information on how to validate your ticket.
41. Top Tip
If you take nothing else away from this article, be sure to hold onto your ticket until you're completely off the vehicle or out of the metro station. It is common for ticket checkers to screen passengers in the metro stations. The charge for traveling without a ticket is 8,000 ft. (about US$22) if you pay on the spot. It doubles if you can not pay immediately.
Three Cool Things About the Transportation System
42. Metro Line 1 was the first underground in mainland Europe and has been in constant operation since 1896. It consists of only 11 stops.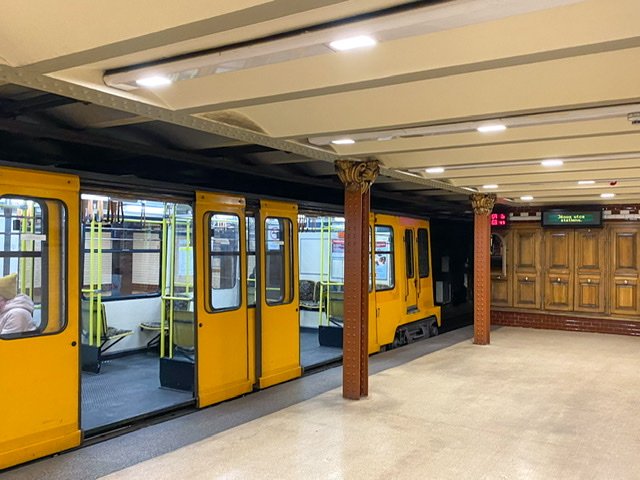 43. You can take a funicular up the hill to Buda Castle and the Castle District. The Budapest Castle Hill Funicular (Budavári Sikló) is a 150-year-old funicular railway that will take you from Adam Clark Square at the end of the Buda side of the Chain Bridge up to the Buda Castle and back down again. It requires a special ticket. Learn more about it here.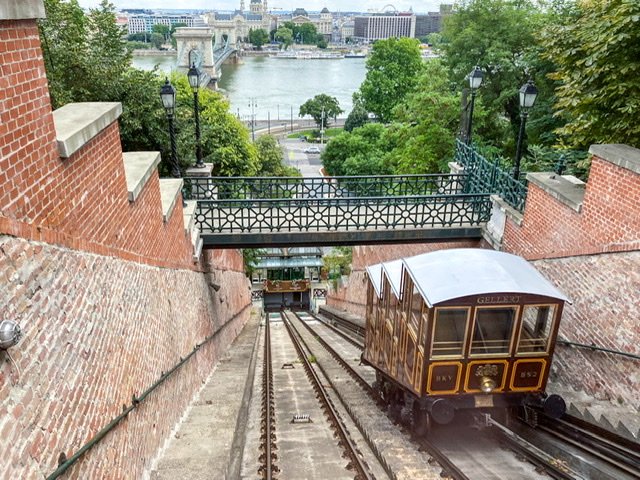 44. There is also a chairlift run by BKK. This takes you up to János Hill and back down. János Hill is the home of the Elizabeth Lookout tower. It also has hiking trails, and the Children's Railway runs through it. Like the funicular, this requires a special ticket. Here is the chairlift information.
Other Ways to Get Around
E-Scooters
45. There are currently three e-scooter companies operating in the city: Lime Bike, Bird, and Tier. We have only used Lime Bike, and it works great. It is all done via an app, and it is the best sharing app we have tried so far. The scooters are easy to find and in good condition. After my second e-scooter accident, I gave up riding them. But that doesn't mean you shouldn't enjoy them. You can read about that experience here.
Taxi's and Ride Sharing
46. Uber is not allowed to operate in Hungary.
47. There are plenty of taxis, but it is often suggested that you should either hire one through a hotel or negotiate the price before you get in. They have been known to rip off tourists.
48. I have noticed a taxi service called Bolt on Google Maps but have not tried it.
Bike Sharing
49. The MOL Bubi Budapest bike-share system works well. You can find bikes all over the city. You will need to register on their app before you ride.
Walking
50. Most streets have crosswalks painted on them. If there is no traffic light, all you have to do is step off the curb, and traffic is required to stop. Still look both ways; bikes and scooters don't always stop.
51. If there is a traffic light, obey the walk/don't walk signs.
52. While it is common for traffic in many cities to stop if a pedestrian sets foot in a crosswalk, in Budapest, many cars stop even if you are still on the curb.
53. Cross bike lanes like you cross a street. Look both ways.
54. Top Tip
Be extra careful on the sidewalks. Scooters, bikes, and even motor scooters and motorcycles often ride on them. The worst part is that you seldom get a warning when one of the riders wants to pass you. It is best to walk like you drive; look over your shoulder before moving to the left or right.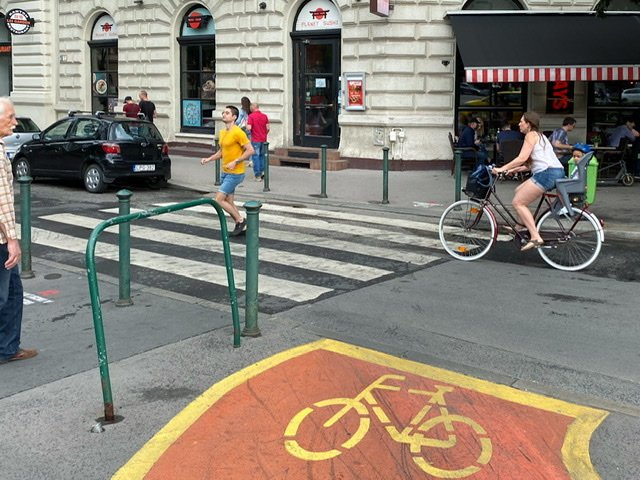 Communication
55. If you are looking for a local SIM card, the three main providers are Telekom, Yettel (formerly Telenor), and Vodafone. We used Vodafone when we first got to Budapest, but their customer service was horrible: it was not uncommon to wait for an hour or more to talk to a clerk at the store. We switched to Telekom, which has been great.
56. The European emergency number is 112. The operators speak English, which I learned when I had to call after getting stuck in an elevator in Bulgaria.
Food (and Water)
57. The tap water in Hungary is safe to drink.
58. Langos are huge slabs of fried dough with toppings. Some of the most popular toppings are sour cream and cheese or Nutella.
59. As someone from the U.S. who grew up with goulash made from ground beef and macaroni, I was surprised to learn that Hungarian goulash is traditionally served as a soup. We have seen it served on a plate in a few places.
60. Paprika is popular in Hungary. You will see it everywhere. Chicken paprikash makes good use of it. Steve cooks this delectable version.
61. You will also see (and smell) chimney cakes. Chimney cakes are made with a sweet dough that is wrapped around a cylinder and baked. The dough can be coated with different things like cinnamon or walnuts, and they can be eaten empty or filled with any combination of ice cream, whipped cream, or Nutella.
Shopping
62. Bags are not provided at grocery stores. You can either buy them at check out or bring your own.
63. Groceries will not be bagged either. Most grocery stores have an area where you should bag your groceries. Simply put them back in the cart or basket as they are rung up, and move to the counter to bag them.
64. Pharmacies are indicated by a green cross. In addition to prescription medicine, you buy over-the-counter medicine here, too.
65. Over-the-counter medicines (OTC) are sold in small quantities and are pricey compared to what you can buy in the U.S. As of this writing, 20 200mg Advil capsules cost over $7.00. It is best to bring any OTC medicines you may need.
66. Drug stores, such as Rossmann and DM, sell toiletries, household cleaners, and personal care items.
Unique Things to See and Do
Thermal Baths
67. Budapest has 123 thermal springs, some of which feed the city's thermal baths. Here is information about six of the baths along with tips for your visit.
68. The most well-known bath complex in Budapest is the century-old Szechenyi Baths. A bright yellow neo-baroque building surrounds the outdoor pools.
69. Another iconic bath complex is the Gellert Baths. Along with the companion Gellert Hotel, the baths are closed for renovation.
70. For something more modern, consider Aquaworld. You can visit their waterpark for the day or stay in the attached hotel and enjoy both the waterpark and the hotel's wellness center. As our six visits will attest, we love Aquaworld. You can read more about it here.
71. Top Tip
Make sure that in addition to your swimsuit and towel, you bring flip flops, the kind made of a rubbery material, not street shoes.
Ruin Bars
72. Ruin bars were originally underground bars set up in abandoned or decaying buildings. The bars were decorated with cheap, free, or even discarded furniture and novelties, eclecticism in the extreme. You don't need to be a partier to enjoy them, as they are now open for lunches and dinners. Read Nomadic Matt's take on ruin bars here.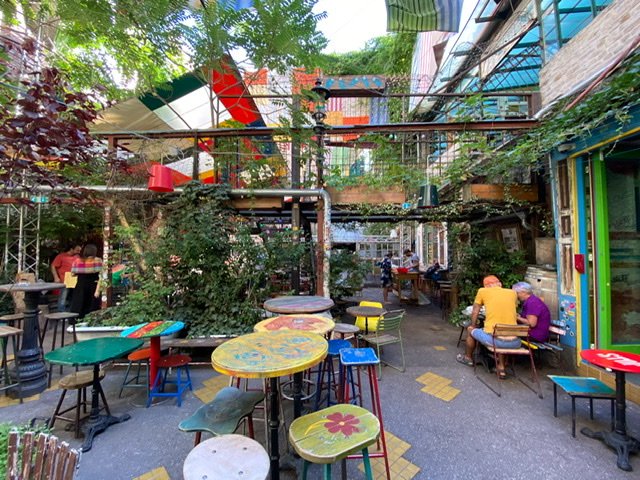 Kolodko Mini Statues
73. The mini statues are the work of a sculptor named Mihály Kolodko. Some of the statues were commissioned, but others were placed around the city Banksy style by Kolodko. Some are whimsical, some are historical, and some are social commentary. There are Kolodko statues in a few other cities, but Budapest has the most. Read more about them here.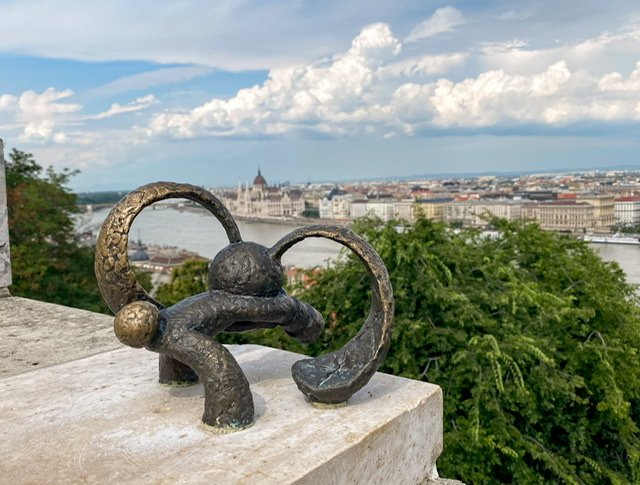 A Few More Things
74. Hopefully, you will not need medical care while visiting Budapest, but if you do, I recommend FirstMed. The entire staff speaks English, and they provide excellent medical care.
75. If you need to print something, here are two good print shops:
In District VII:
Hi Res Digit(All)
Wesselényi utca 16
https://www.digit-all.hu
In District IX:
Copy & More
Ferenc körút 43
https://solotag76.wixsite.com/copyandmore
Bonus Tip
For a fabulous breakfast, stop in at
Cirkusz Cafe
. They serve breakfast and brunch from 8 a.m. to 4 p.m. everyday. Be warned, the lines can get long in the morning, so if you are interested in breakfast, it is best to get there early.
More About Budapest
Just in case this isn't enough information, you can read more about Budapest in these posts :
The Beauty of Budapest in 50 Photos
20 Quick and Cool Things to See and Do in Budapest
The Funky Side of Budapest
10 Must-See Holocaust Memorials in Budapest
Budapest's Marvelous Margaret Island
Unique Architectural Ornaments in Budapest
Until Next Time
I hope you have found these tips for visiting Budapest helpful and inspiring. Drop a note in the comment section and let us know your thoughts on Budapest and your top tips.
Happy traveling,
Linda
Featured image by Dan Freeman on Unsplash.com