Last Updated on: 5th September 2023, 04:08 am
Come on. Admit it. I bet you've dreamt about chucking it all and traveling full-time. And I bet those dreams were full of jaw-dropping experiences, sunshiny beaches, and endless smiles.
Like most things in life, the reality doesn't always match the fantasy.
With almost five years of full-time travel under our belts, Steve and I are here to share the surprising truth about full-time travel with you.
That's right. We'll tell you what happens between those jaw-dropping experiences and the lazy, hazy days of sunshine.
A Little Background
We started traveling full-time in the spring of 2018. Since then, we have returned to the U.S. twice, for a total of nine weeks. The rest of the time has been spent in Europe, Latin America, Asia, and now, Africa. Our "traveling" included two years in Budapest during the pandemic.
We have enjoyed many of the tourist standards like climbing the Eiffel Tower, taking a balloon ride in Cappadocia, and exploring Machu Picchu.
We've also had memorable experiences that don't necessarily top the must-see lists, including visiting the tiny German-inspired hamlet of La Cumbrecita in Argentina, spending a few nights on Taboga Island in Panama, and for Steve, riding ATVs in Cappadocia and Puerto Viejo, Costa Rica.
Both of us are happy with our decision to travel full-time and hope to continue for several more years. Even so, the truth is that "living the dream" isn't always dreamy. Here's why.
13 Truths
1. This is not a permanent vacation
It should come as no surprise that we have to do many of the mundane things we did when we lived a conventional life in the U.S.
We have to clean, cook, shop, do laundry, handle finances, and take care of our medical needs, all in unfamiliar places where English may not be widely spoken.
Check out our posts about the challenges of nomad life:
Laundry on the Road
Medical Care on the Road
Too Many Languages
This leads to item number two.
2. We take mini-vacations
Since we discovered that full-time travel does not mean full-time vaca, we have gotten into the habit of taking short side trips. These give us a chance to be tourists. We stay in hotels, eat all our meals in restaurants, and spend our days exploring new locations.
Some of our favorite side trips include ten days in Prague, several stays at Aquaworld in Budapest, where we lulled the days away in their thermal baths, and indulging in luxurious hotels in Eger and Lillafured, Hungary.
Check out our posts: "Aquaworld Budapest: Tons of Fun in Hungary," and "Eger and Egerszalók: A Great Hungarian Getaway."
3. We spend a lot of time travel planning
All of our moving around and taking side trips means we spend a lot of time analyzing Airbnb listings and hunting for affordable flights. Not our idea of fun.
The good news is that we've learned what works for us, so the planning has become easier.
Airbnb has been a godsend. It has allowed us to live in apartments with kitchens, washing machines, and separate bedrooms. And we rely on Booking.com for great deals for the times when a hotel makes more sense.
Find great tips for your next Airbnb search in "5 Tips for Finding the Best Airbnb Rentals."
4. It can be hard to decide where to go
Cue the violins. I know this is a first-world problem taken to the extreme. You may think that when you can go practically anywhere in the world, it would be easy to decide.
Well, it isn't. Besides pulling out the bucket list and booking a flight to dream location number 7, there are many things to consider.
Cost is a big one. Like you, we have to work within a budget, so balancing costly places with less costly ones is important.
Of course, the weather matters too. Depending on your desired activities, this can seriously narrow down the ideal time for visiting a location.
Now add safety and logistics concerns. You don't want to fly to Argentina, stay for two months, then shoot over to Asia for a bit before returning to the U.S. And you certainly don't want to visit a place that is experiencing unrest.
5. Visa restrictions are a pain in the b**t
Every country has rules about how long visitors can stay. In South America, all the countries we traveled to allowed us to stay for 90 days, making this aspect of planning a breeze.
Not so for Europe. As U.S. citizens, we can only stay in the Schengen Area for 90 days out of every 180 days. That might not sound like a big deal until you realize that the Schengen Area includes 26 European countries.
Steve and I spent three months in the Schengen Area in the spring of 2018. We then had to leave it for 90 days. We ended up spending three months in Croatia, Romania, and Bulgaria.
This was a silver lining situation as we had never considered visiting these countries. Now, they top the list of our favorite places. Steve's favorite country to date is Croatia, while Bulgaria is one of my favorites.
6. We've become hard to impress
When you've been fortunate to have seen countless marvels, it is easy to become numb to them. Churches all start looking the same, and in my opinion, few places can match the architectural impressiveness of Paris, Vienna, or Buenos Aires.
We call this the Versailles effect.
At the beginning of our travels, we spent time in Paris. This included two trips to Versailles. The first visit was with a tour. We were so impressed with the palace and grounds we revisited them on our own.
Since then, whenever we tour a palace or other majestic building, Steve will say, "It's not Versailles."
You can read all about the incomparable Estate of Versailles in this post.
7. Dream places will disappoint you
I know I'm not the only one who dreamed of visiting the Galapagos Islands. In 2019, I got my chance.
Steve and I stayed there for a month. It was the only place we had ever stayed where we were counting the days until we left.
Don't get me wrong, I am glad we both got to experience the marvels of the Galapagos Islands. But a month was way, way too long.
Yes, the islands are full of natural wonders, and we have some fond memories. But it is hot and expensive, and nothing on social media or in tourist ads gives you a true picture of what the towns are like. Hint: they aren't great.
Find out more about our Galapagos trip in "Is a Land-Based Galapagos Trip Right for You?"
8. The world is full of fantastic places you've never heard of
As you travel, you will discover amazing places that were unknown to you.
While in Lisbon, we discovered Sintra, Portugal. This municipality has several palaces with attraction-filled grounds and a large Moorish castle ruin. Read more about Sintra here.
The tiny village of Huacachina, Peru, was also a delightful surprise. We spent a few nights there while touring Peru.
Huacachina is basically a small lake surrounded by huge sand dunes. There are two things to do in Huacachina; party and sand surf. Our party days are behind us, but we did give sand surfing a try.
In 2018, we also spent several days in Lagos, Portugal. This laid-back town on the Atlantic Ocean boasts impressive rock formations along the coast.
9. Friendships will change
We have found that traveling has had two effects on our relationships with the people we knew in the U.S. Either they are interested in what we are doing, and our relationship strengthens, or they are disinterested, and the friendship dies.
We have lost a few friends but also reconnected with old friends, and even made new ones through word of mouth. And of course, we have met countless inspirational people while traveling.
10. You will miss out on things back home
Weddings and funerals are the biggies. Each time one occurs, you must decide if you will make the journey home. This is not always an easy decision.
My sister's ex-husband passed away in New York State while Steve and I were boarding a plane to the Galapagos. It was a tough decision not to attend, but the logistics were against us. Not only would we have to take at least three long flights to get there, but all our possessions are in Florida. Travel time combined with either stopping in Florida to get the appropriate clothes or shopping for them in New York were the things we considered when we decided not to attend.
11. No Airbnbs hit all the marks
There are a lot of great Airbnbs, and we have stayed in a few that were top notch. But none are perfect.
Some things are constant in the Airbnbs we've stayed in: vacuums have to be emptied before we can use them, appliance filters never seem to be clean, and knives usually need to be sharpened.
We have also found that not everyone is particular about the cleanliness of their cooking utensils. We believe guests put things away without cleaning them properly, and neither the hosts nor the cleaning people seem to check them.
Fortunately, we've never had a horrible bed; conversely, we've seldom had a great sofa.
12. You will deal with many cultural differences
There are two types of cultural differences: the ones you embrace and the ones you detest.
For Steve, the Muslim call to prayer, which we first heard in Turkey, was one he embraced.
The ones we detest include motorcycles driving on sidewalks, which we've seen pretty much everywhere we've been, prevalent nose picking in South America, and public urination and sometimes more in Barcelona and Paris.
In Buenos Aires, we saw daily protests that often caused streets to be blocked and metro stations to be closed.
You can't flush toilet paper in Greece or drink the water in Turkey or Morocco.
The widespread graffiti in Thessaloniki, Greece, and to a lesser extent in Athens, shocked us. I love me some street art; this is not street art.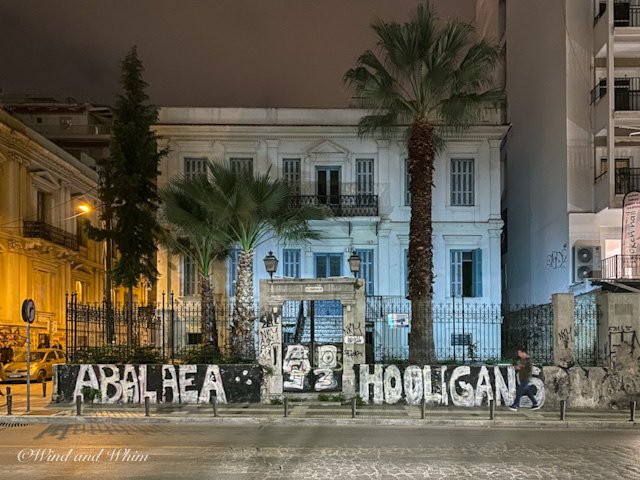 Except for the danger the motorcycles present, none of these are dangerous; they just take some getting used to.
13. You will look at your country differently
I grew up hearing that everyone hates America and Americans. This is bull-hockey.
When people hear that we are from the U.S., they either tell us about their visits or how much they want to go there. We have never had anyone treat us badly because of where we are from.
Foreign travel allows you to learn about your country from a different perspective. I was shocked, but not surprised, to learn about Argentina's Dirty War (1974-1983), in which right-wing forces overthrew the government with U.S. support. It is estimated that 30,000 people disappeared during this time.
Check out our post, "Why I Wish Every American Could Travel the World" for our take on the difference between what many Americans believe about the rest of the world and what we have found.
Still the Best Decision Ever
As you can see, the reality doesn't live up to the dream, but does it ever? Even so, this is still one of the best decisions Steve and I ever made.
Traveling the world has filled our eyes with incredible beauty and our hearts with love for people we would otherwise never meet. It has educated us as no book or course ever has. It has also opened our minds, challenged our beliefs, and hopefully made us better people.
We can put up with language issues, crappy sofas, and motorcycles on sidewalks if we get all of this in return.
Until Next Time
As always, Steve and I would love to hear your thoughts on the truth about full-time travel. Is it for you, or would it require you to give up more than you are willing?
Happy traveling,
Linda
P.S. Also, please consider sharing this post. Just go to the top and pick one of the social media options. And if you haven't signed up for email notifications, you can do that below.