Last Updated on: 15th January 2023, 09:29 am
Have you dreamed of visiting the Galápagos Islands? I certainly did. It was right at the top of my bucket list. Then in the spring of 2019, Steve and I spent four weeks as land-based visitors to these famed islands.
This was one of our most anticipated and expensive trips to date. We had some memorable adventures, but overall, our Galapagos Islands trip did not live up to our expectations. We found ourselves counting the days until we flew back to Quito.
In this post, I will share what we loved and didn't love and illustrate what life is like in the largest town, Puerto Ayora. Hopefully, it will help you decide if a land-based Galapagos trip is right for you.
A Little Background
Do you know there are two ways to visit the Galapagos Islands, ship-based and land-based?
Ship-based tourism is tightly controlled by the government and was steady at about 73,000 visitors per year when we visited.
Land-based tourism is not controlled and had grown to over 200,000 visitors per year by 2019.
Since Galapagos cruises are notoriously expensive, and we would be there for four weeks, we chose to be land-based.
I had never given any thought to the fact that there are towns in the Galapagos, let alone seen a picture of one. We arrived in Puerto Ayora with no idea of what to expect.
Land-based Activities
From our home base in Puerto Ayora, we were able to enjoy many of the wonders the islands have to offer. These are just a few of our memorable experiences:
Walking down secluded paths flanked by large lava rocks and cacti to arrive at nearly deserted postcard-perfect beaches with few people but plenty of marine iguanas and sea lions.
Riding electric scooters to El Chato Giant Tortoise Reserve to see some Galapagos Tortoises. The coolest thing about them is that each has a unique look on its wrinkled old tortoise face.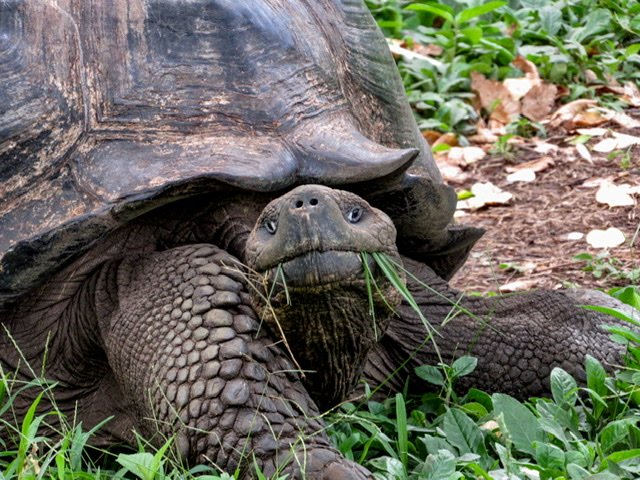 Seeing blue-footed boobies perched on a cliff and later sharing the waters of the Pacific Ocean with them. Their numbers had been declining but are now on the rise. This article from the Galapagos Conservancy, Inc. explains the reasons.
Watching the pelicans and frigate birds looking for handouts at the fish market. The pelicans waited patiently for scraps. The birds took every opportunity to dive down and peck at unattended fish.
Heading into the highlands (again by electric scooter) to discover a privately owned lava tunnel. We explored the one-kilometer-long tunnel, climbing over piles of rocks that had fallen from the walls and ceiling.
We then headed further down the road to a corny little family-owned attraction that featured an edge-of-the-world swing, a petting zoo, and a working sugar cane press powered by a donkey. I don't remember the name of this place, and I haven't had any luck finding it on the internet. If you are interested in visiting it while on Santa Cruz, I'm sure some local folks could steer you in the right direction.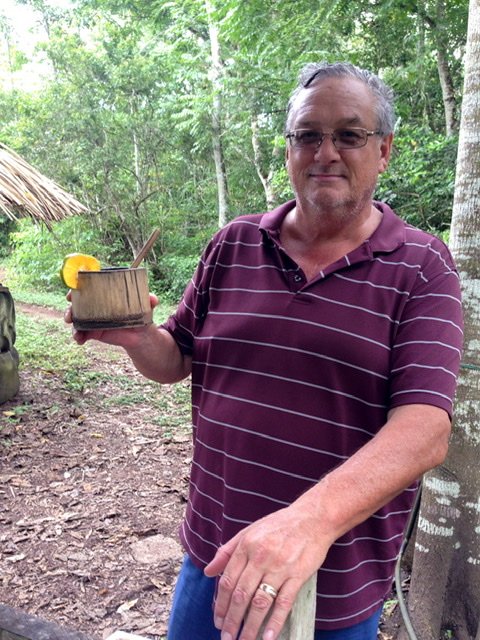 The Positive Side of Puerto Ayora
The people were friendly and accommodating. As long as we had smiles on our faces, we were greeted with numerous "buenos dias", "holas", and even a few "hellos" while walking down the street.
The town is small enough that you can walk anywhere. If you don't want to walk, a taxi costs only $1.50 anywhere in town.
Laundry services called lavanderias will wash, dry, and fold your clothes for peanuts. Seriously, we spent $8 a week to have clothing for the two of us laundered. This and the taxis are about the only bargains you'll find.
There is a well-maintained bike path that travels the main road out of town to the highlands town of Santa Rosa, 13 miles (21 km) away. This is where the tortoise reserve is.
The hostels and hotels all appeared to be well-built, clean, and comfortable, at least from the outside. And if you're willing to pay the price, you can stay at five-star hotels like the Finch Bay Galapagos Hotel or the Hotel Angermeyer Waterfront Inn.
The Other Side of Puerto Ayora
Despite the high price tag associated with a Galapagos trip, this is a poor area. Buildings alternate from being well-kept to ramshackle, often on the same street.
Many of the sidewalks and streets are dangerously uneven. It is not unusual to have to avoid holes a few feet deep.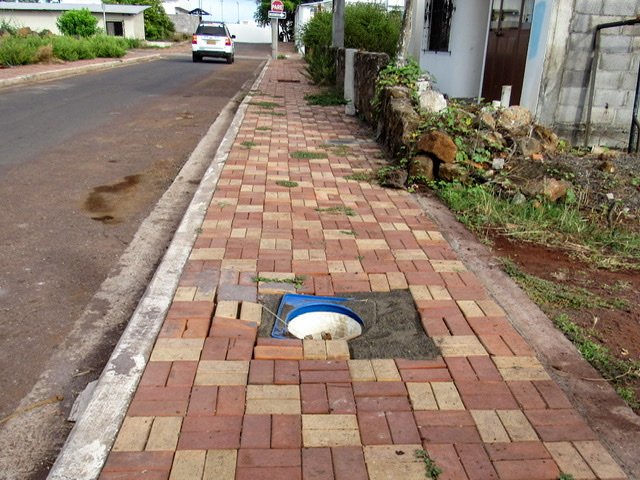 Air conditioning is a luxury. We were lucky to have it in our bedroom. Not even stores, restaurants, or gyms are air-conditioned.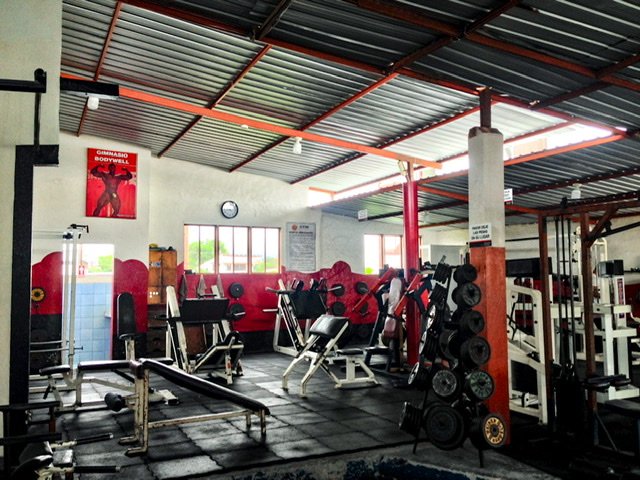 While the beaches and natural sights we visited were pristine, Puerto Ayora was not.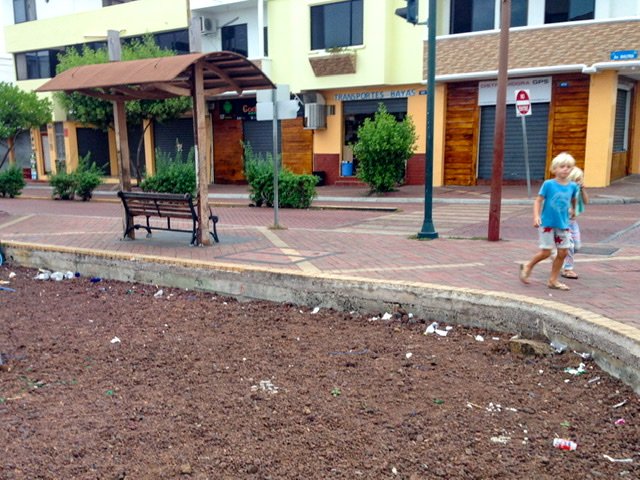 The word that kept coming to our mind was squalor. We realize this comes from our experiences as middle-class Americans, and in the context of Puerto Ayora, this is normal. Nonetheless, it was a sharp contrast to the image we had of the Galapagos.
Another thing that surprised us was the strong smell of car exhaust on the main streets. Even though the traffic was light compared to most towns, there was a constant parade of white pickup trucks, the local taxis, circling the town. Much of the time, most of them were empty. Great if you needed a taxi, but not so great for the environment.
Tourism's Impact
An Internet search will lead you to many articles outlining the pluses (financial) and the minuses (environmental impact) in the growth of land-based tourism. The area, like many, is struggling to find the sweet spot of tourism.
In 2017, Fodors published this article telling people not to go to the Galapagos in 2018. I am not sure if seeing this article or others like it would have led us to make different plans, but I would like to think it would have.
This New York Times article from June of 2018 asks if land-based tourism is threatening the islands.
My advice is to do what we failed to do. Find out as much as possible about the islands and the type of trip you plan to take. We fell for the romantic idea of the islands but got a lot of unromantic reality.
In Hindsight
This trip taught us something about ourselves. We are city folks who love being where there is action. We want to be near art, parks, and museums. We want the services we have grown accustomed to nearby. A day trip here and there to a wild area satisfies our nature yearnings.
Toward the end of our trip, we had run out of things to do and were counting the days until we headed back to the mainland.
I am glad we got to visit one of the places that has called to me for so long. However, if Steve and I had been more aware of the impact of land tourism and what life is like in the towns, we either would not have gone or would have taken a shorter trip.
Trip Details
Dates: April 25 – May 23, 2019
Days: 28
Total cost for 2: $5,500
Cost per day for 2: $196
You can read more about our time in Latin America in "Our Top 10 Latin American Travel Experiences."
Happy traveling,
Linda