Last Updated on: 5th September 2023, 04:35 am
What's the biggest challenge of nomad life? The language barrier? Missing family and friends back home? Boring footwear? Yes, yes, and yes. But perhaps the biggest challenge is laundry.
As a full-time traveler, I have dealt with possessed washers, a myriad of drying setups, and excess laundry soap issues.
I have learned that clothes dryers are not common outside of the U.S. You can read about clothes drying differences in this article by Real Simple.
But I have not learned how to determine the correct amount of detergent for each machine, so I run the load through a second time without detergent.
Here is a recap of our laundry experiences in our first three years of full-time travel. Future nomads, you've been warned.
We spent most of 2018 in Europe, and Barcelona was the first city we visited. As we checked out our apartment, Steve said, "Isn't there supposed to be a washing machine?"
We didn't see one in the apartment, so I sent a message to our Airbnb hosts. They replied, "the washing machine is in (sic) the roof." A quick check told us that yes, it was indeed "in the roof."
Our hosts stopped by to show us how it worked, and it seemed simple enough. But that washer had it in for me. I would press button after button, but it wouldn't start. However, if I unplugged it and plugged it back in, we were good to go.
Our second city was Paris. The city of lights and high prices. Our apartment was too tiny for a washing machine, so we used the laundromat down the street. I know it was Paris, but $80 to do laundry for one month still seems expensive to me.
These first two experiences taught us to make sure that any apartment we rent not only has a washer but that it is inside the apartment.
The downside of nomad life is that you must constantly adapt. The upside is that you don't have to deal with any inconvenience for too long, and, most importantly, you aren't the one responsible when something breaks.
We were staying at a large building on the Black Sea coast in Byala, Bulgaria. It was after tourist season, and we had the entire building to ourselves (think The Shining without the snow). I started a load of laundry, and the washer immediately started leaking. And by leaking, I mean gushing. Suds quickly covered the kitchen. I shut it off, and we commenced cleanup.
Our host had the perfect solution. He told us to use the washer in the apartment next door. The door was unlocked, so we were able to walk right in and finish our laundry. Don't you love it when things work out so well?
Everything went well for the rest of the year until we got to Lisbon.
We spent two weeks on a sailboat, so we did not have a washer. No problem. There was a laundromat a short walk away. It was spotless and had brand-new appliances. And we were the only ones there.
I confidently tossed a Tide Pod in each machine, threw the laundry in them, and sat down. Then I noticed a sign that said "Do not add soap, it is included" taped over the soap dispenser. Oops.
By the time we got to Latin America in 2019, we had the whole laundry thing down pretty well. All of our apartments had a washing machine. A few of them had a dryer. Those that didn't had either a drying rack or a place to hang them outside, except in the Galápagos Islands.
Because the choice of apartments in our price range was limited, and none included a washer, we figured we would go to a laundromat. But as we explored the town of Puerto Ayora, we didn't see any laundromats. We did see several signs for lavanderias, places where your laundry is done for you.
I felt odd delivering a bag of dirty clothes to a stranger, which is funny since I am no stranger to dry cleaning. I was also concerned that we might get someone else's clothes back. So I made a list of everything we dropped off.
I'm happy to report all of our clothes were returned to us clean and fresh for only US$8 per week. Now I want this service in every city.
Our regular readers will be familiar with our prolonged stay in Bansko, Bulgaria, in early 2020 because of Steve's skiing accident. When he left the hospital, we moved to a holiday resort outside of town since it was the only place I could find where he could be brought in on a stretcher. You can read about those experiences in Hospitalized in Bulgaria and Bansko, Bulgaria, Not The Trip We'd Hoped For.
The resort provided a laundry service which consisted of filling one large bag with laundry for a set fee. If memory serves, it cost US$30 for one bag of laundry.
Because we have very few clothes, I didn't think it would be worth the cost. I probably wouldn't even fill half the bag. So frugal me decided to wash by hand.
It was a good thing Steve was bedridden since every available surface outside of the bedroom was covered in sopping wet clothes. I learned how effective towel warmers and radiators could be for drying.
Once we were able to move on from Bansko, we headed to Budapest. Our first Airbnb had a washer in the bathroom. Just a few minutes into the first cycle, it started to do a lively dance across the floor and proceeded to knock the toilet bowl to the side. Because why would anyone actually bolt the toilet to the floor?
Steve discovered that the transportation bolts had not been removed. Even after he removed them, it still jumped. Even after a plumber supposedly fixed it, it still jumped.
So I developed a routine. I would start the washer, set a timer, and run to the machine as each spin cycle started so that I could hold it in place.
As if that wasn't fun enough, after I washed the first load of clothes, I looked for a place to dry them. I didn't see a drying stand. There wasn't a towel dryer in the bathroom. The shower curtain rod was too weak and too high to be of any help. I even looked on the interior balcony hoping to find a clothesline, but there was nothing. I messaged the host, who delivered a drying rack the following day. To this day, I wonder where the guests that came before us dried their clothes.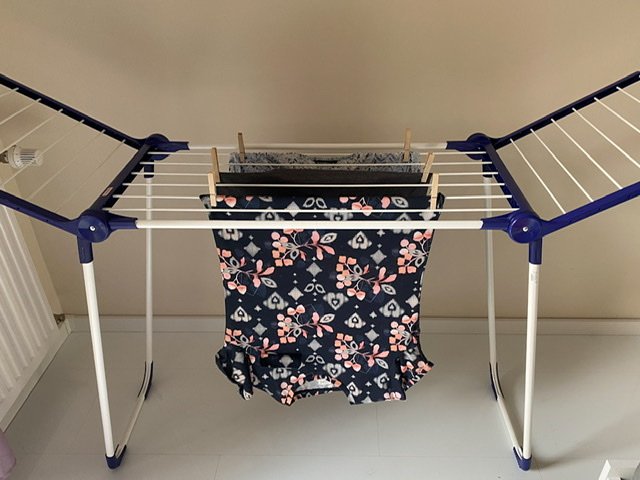 After seven months in the Budapest apartment, we moved across town. I'm happy to report that the washer in the new apartment is well-behaved. No dancing! And it has a drying stand and a towel warmer. There was even a nearly full bottle of laundry soap with an adorable bear on the front. Everything was going well on the laundry front. Our clothes looked good. They smelled good. And they were really soft.
After several weeks the detergent bottle was approaching empty. I showed it to Steve so he could buy a new one. He then discovered that I had been "washing" our clothes in fabric conditioner. Oops.
No doubt, our laundry challenges will continue once we resume our travels. Laundry challenges are just one example of how full-time travel doesn't mean full-time fun. But I am willing to put up with laundry frustrations if it means I can continue to explore this big, beautiful world.
Stay safe and healthy,
Linda
Featured image by Elena Rabkina on Unsplash.com
This article was originally published on March, 31, 2021.
Like It? Pin It!