Last Updated on: 5th September 2023, 10:20 am
When you are heading to a new location you think about the famous sights you plan to see. But often your best memories are of the little things that no trip planning could have anticipated.
From February through November of 2019 we traveled throughout Latin America. These are ten of our most memorable travel experiences from those ten months (in no particular order).
1. Riding Scooters in the Galapagos Islands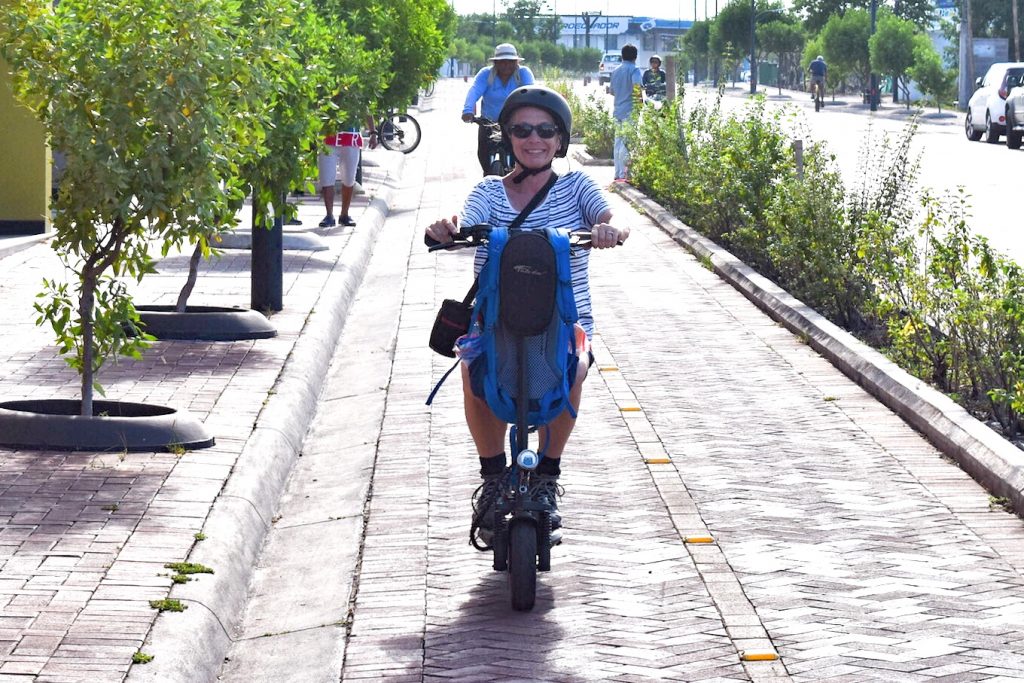 I may look like a nerd, but I just don't care. This was the best day we had in the Galapagos.
We rented scooters in town and rode them into the countryside to visit the El Chato Giant Tortoise Reserve on Santa Cruz Island.
We ran into this adorable guy at the reserve.
This fellow couldn't be contained. We saw him crossing the road on our way back to town.
We also saw this free-range horse just walking down the road.
Read more about our four weeks in the Galápagos Islands in "Is a Land-Based Galapagos Trip Right For You?"
2. Spending Three Days in Puerto Viejo, Costa Rica
We took the bus from the capital of San Jose to the Caribbean coast. When we arrived in Puerto Viejo our first thought was "where the heck are we?" This place looked kind of rough. The name translates into "old port", so that should have been a clue.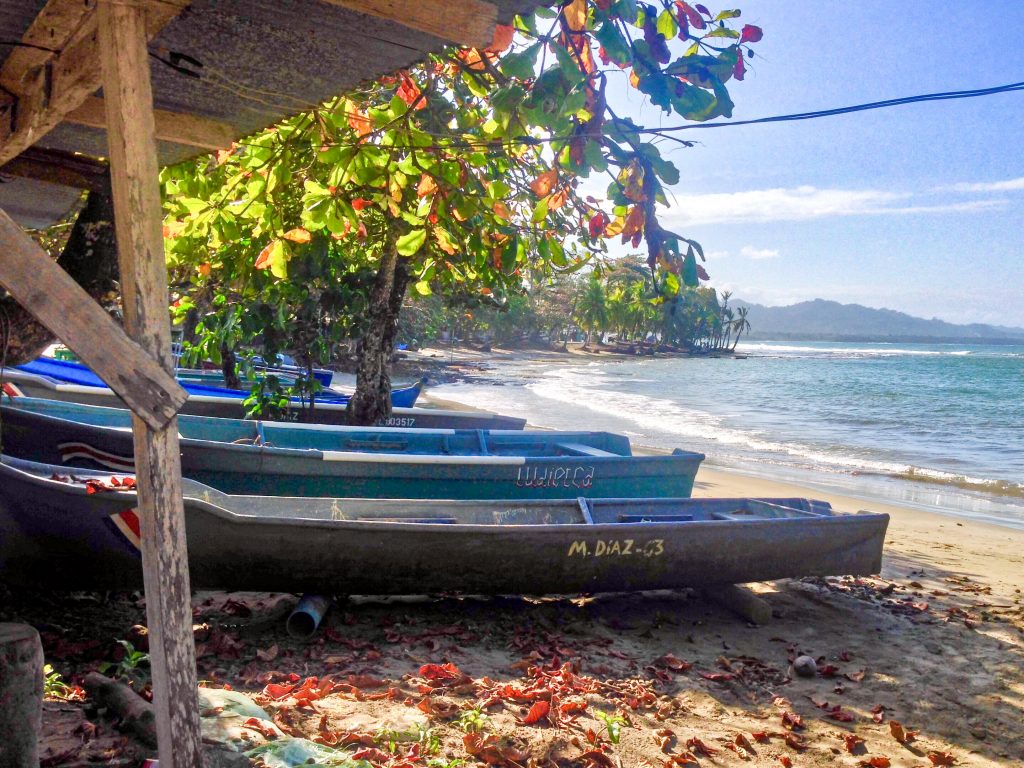 It didn't take us long to see the charm. By the afternoon we were in love. The beach is just yards away from a wooded hiking area where you can see wild howler monkeys and sloths.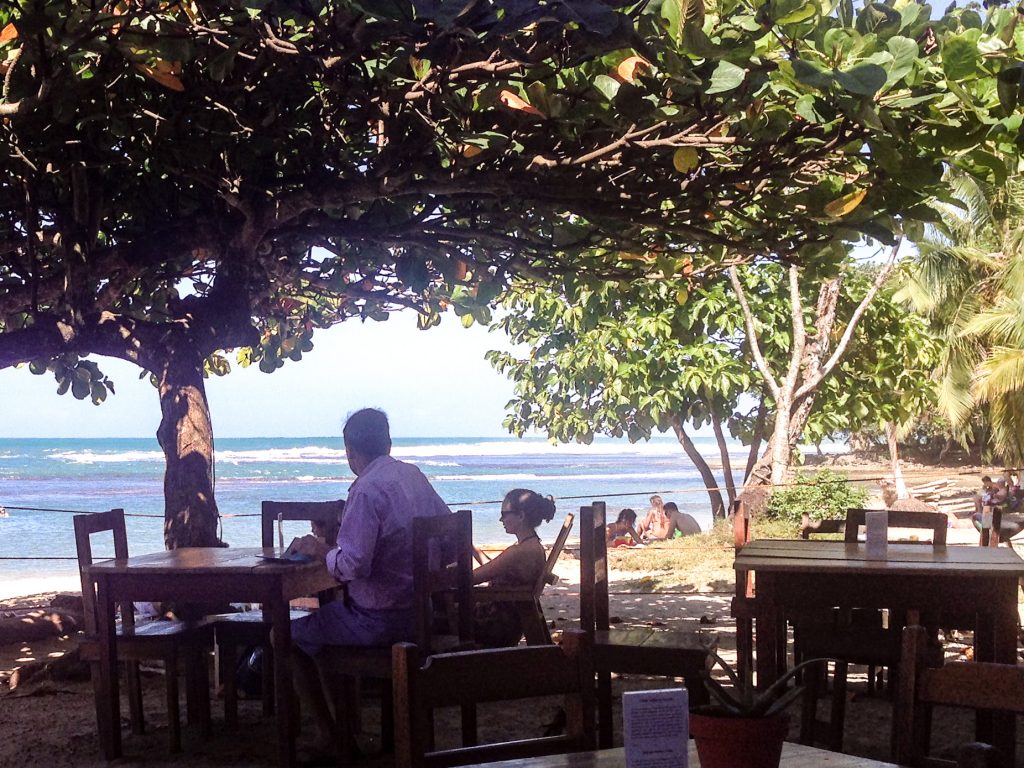 Many restaurants line the beach and embody the phrase "pura vida" (pure life).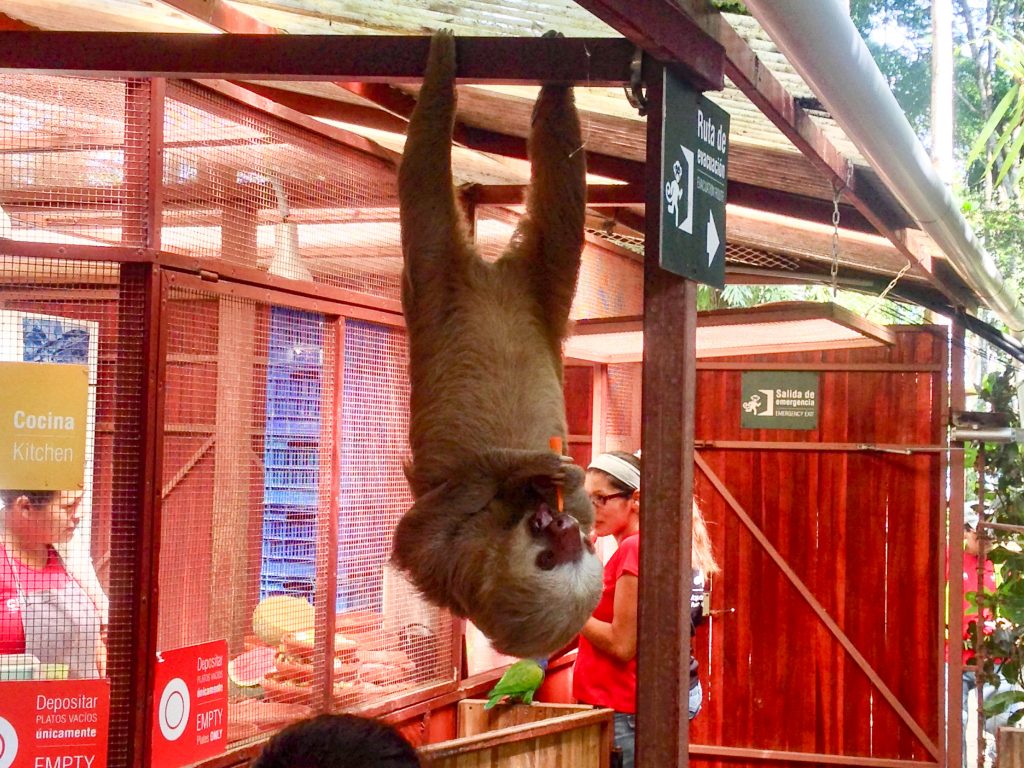 We enjoyed a visit to the Jaguar Rescue Center. The name is misleading because they rescue and rehabilitate many species. We learned that many sloths are injured or killed when they chew through electric wires.
The sloth above, who lives at the center, was just hanging around in the open.
Puerto Viejo is the most laid back place I have ever been and I hope to visit it again someday.
3. Visiting Machu Picchu
This is the only tourist attraction to make my top ten. I am not a big fan of Pre-Colombian history, so I questioned whether it would be worth the hassle and cost to get there.
It definitely was. There is something magical about this place.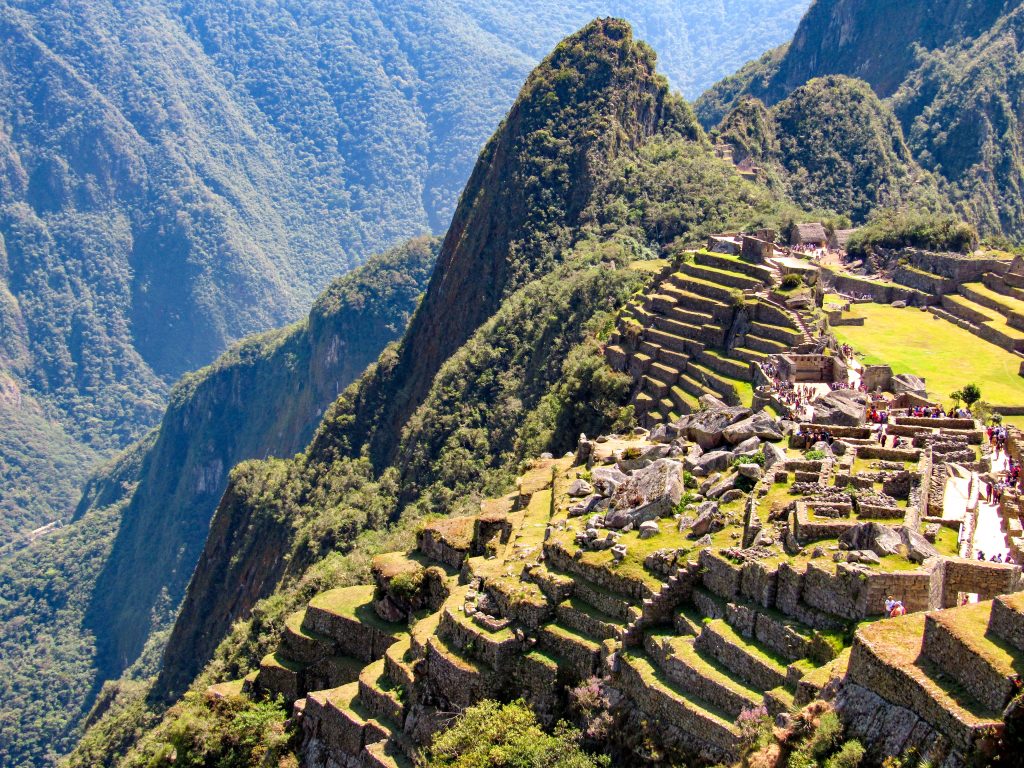 It is not quick or easy to get to Machu Picchu. You have two choices, hike for about four days (definitely not for the couch potato) or make your way to the town of Cusco, Peru then take a train to Machu Picchu Town (or Aguas Calientes).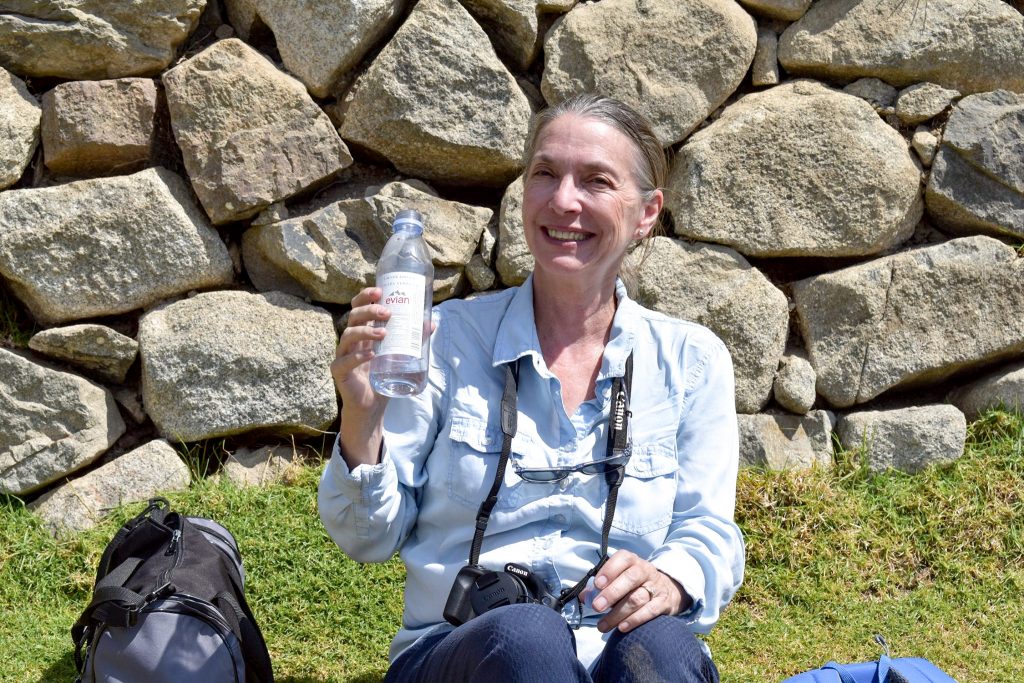 If you chose to get there through Cusco you need to become acclimated to the altitude to avoid altitude sickness, which I was surprised to find out can be deadly. While Machu Picchu is only 8,000 feet (2,400 m) above sea level, Cusco sits at 11,200 feet (3,400 m) above sea level.
The train ride to Machu Picchu Town from Cusco takes a little over three hours and passes through the Sacred Valley of the Incas where you will be dazzled by one breathtaking view after another.
4. Exploring in La Cumbrecita, Argentina
"All journeys have secret destinations of which the traveler is unaware" Martin Buber
How true this quote so often proves to be. While in Cordoba, Argentina we decided to take a side trip to a German-inspired hamlet called La Cumbrecita.
The day started out foggy but turned out to be sunny and temperate.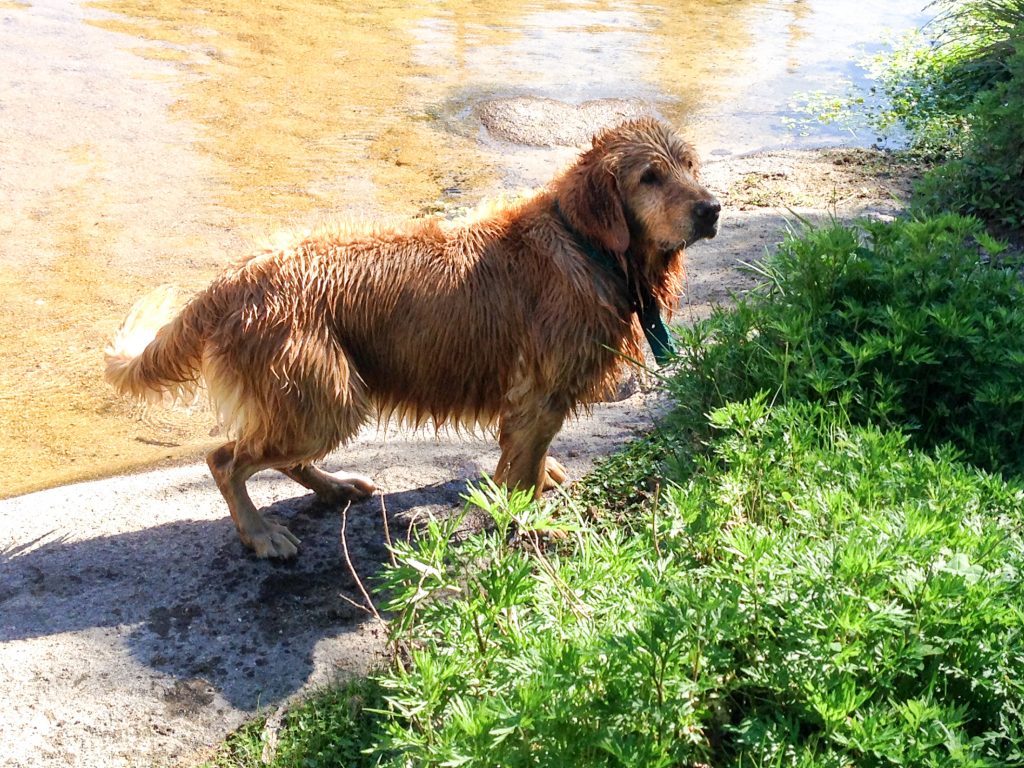 We spent some time playing fetch with this sweetheart in the Rio del Medio.
We loved spending time climbing (carefully) on the rocks in the river.
The reward for hiking down a rocky trail.
We saw people every now and then but were often alone on the trails. It was so peaceful and picturesque. It reminded me of how we would spend hours in parks or on nature trails when we were young. Time spent in nature can make you feel like you don't have a care in the world.
Find out more about La Cumbrecita and Cordoba in "Visiting Cordoba, Argentina's Second Largest City."
5. Amaru Biopark
Imagine a hiking trail, a zoo, and a conservation organization in one. That is Amaru Biopark.
This park is built on a hillside and houses animals who have been rescued but cannot be returned to the wild. Because of its location, you will get quite a workout as you make your way through the park.
You will see so many beautiful animals, including African lions, which really made me scratch my head.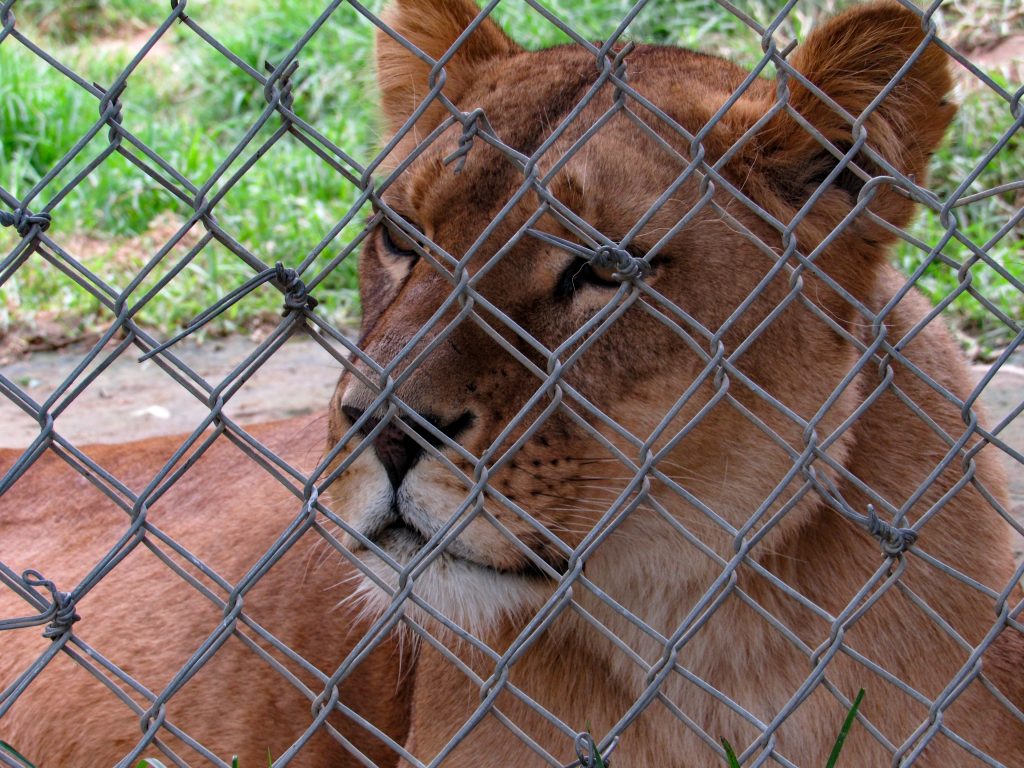 I would have loved to hear these animal's stories, but I didn't see any programs like that when we were there.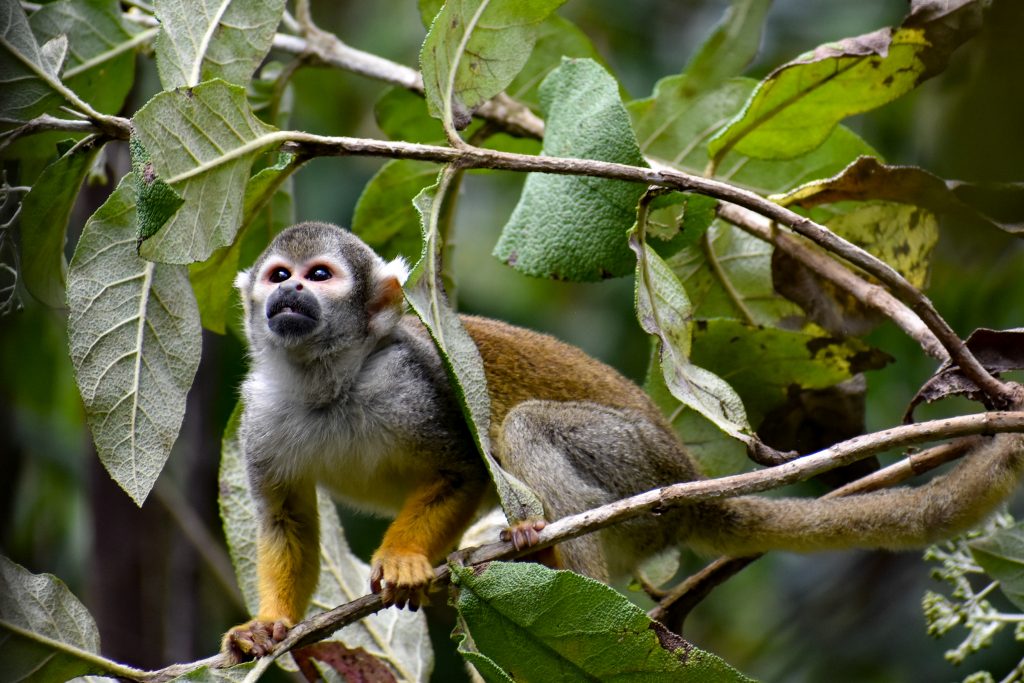 Squirrel monkeys roam free in the park.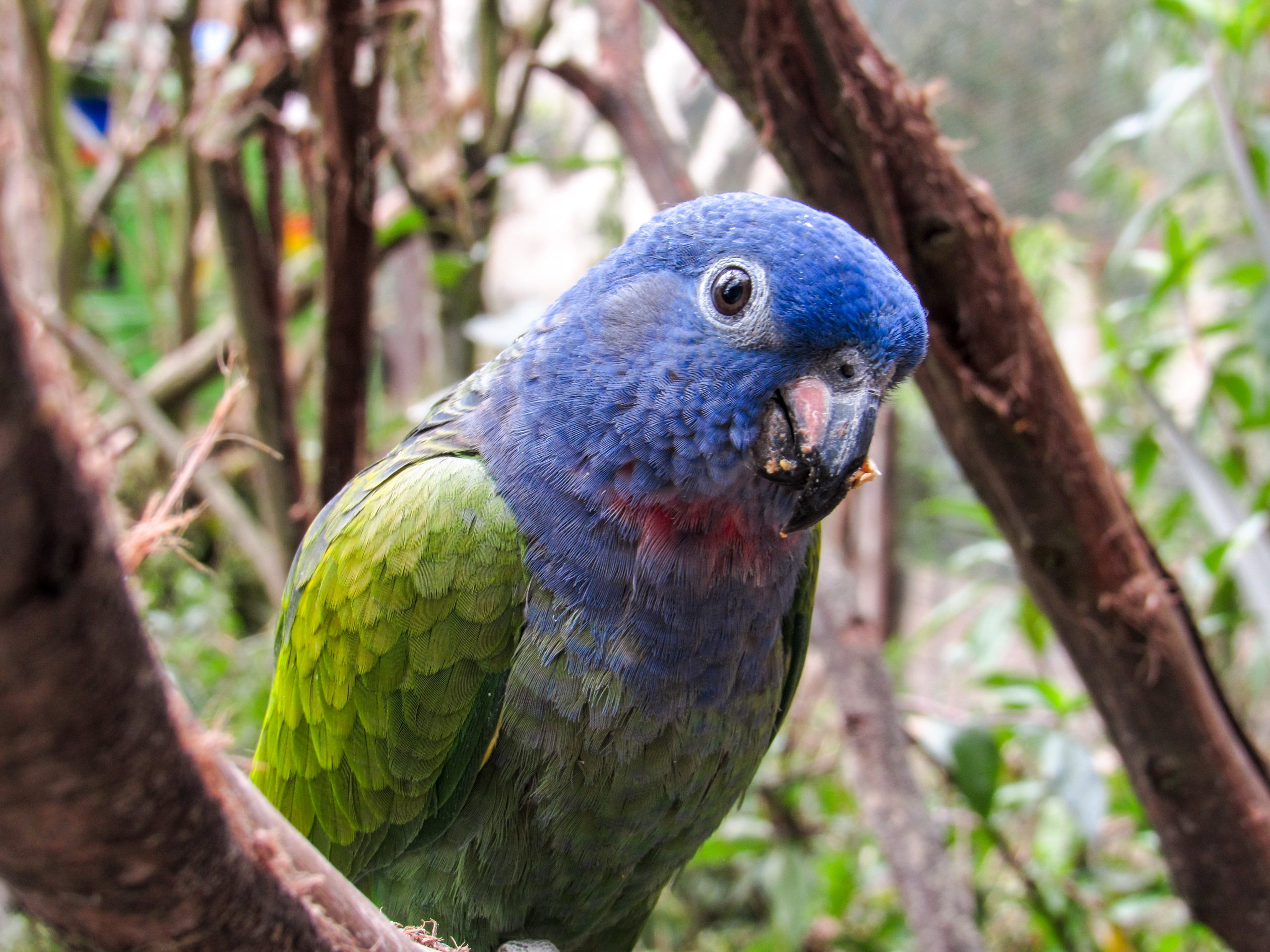 The aviary lets you get up close to many beautiful birds.
If you go, don't make the same mistake we did. Our first visit was in the afternoon. We were slowly working our way around and thoroughly enjoying the animals when we looked at the map and realized that in several hours we hadn't even reached the halfway point.
We backtracked so we could get out of the park before dark and returned earlier on another day so we could enjoy all it had to offer.
You can get some amazing views of the city from the entrance to the park.
You can learn more about this park and our visit in "The Amazing Amaru Biopark." We highly recommend you explore it when you visit Cuenca.
6. Visiting District 13 in Medellin
District 13 (Comuna 13 in Spanish) is a poor neighborhood in the foothills of the Andes that less than 20 years ago was the most dangerous neighborhood in one of the most dangerous cities in the world.
Many people associate the violence in Medellin with Pablo Escobar's drug empire, but guerrilla and paramilitary groups were also causing problems.
In 2002 the government initiative called Operation Orion freed the district from the scourge.
While it is still poor, it is now a popular tourist stop due to an abundance of street art like this colorful lizard:
There are many small, tourist oriented businesses and young people form dance troupes to earn cash.
A series of escalators carry people up the mountainside. At every step, you are greeted with smiles and warm hellos.
At first, Steve was a little apprehensive because of the area's past reputation. He kept his camera in its case for a while. Then he slowly started taking pictures but would quickly put the camera away after each picture.
At one point I turned around to look for him and he was surrounded by several children and was sharing his pictures with some local children.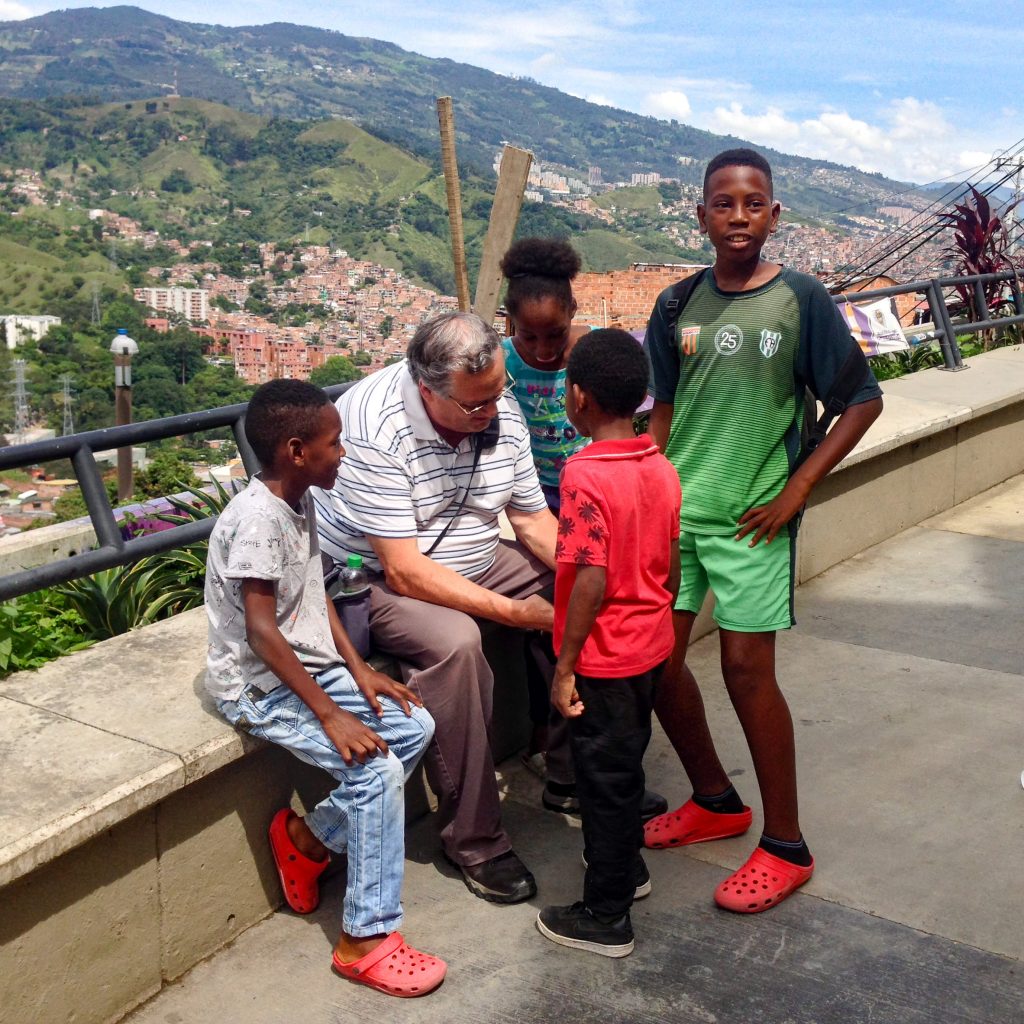 Seeing the positive changes to this once forsaken neighborhood impacted me in a way that very few of our travel experiences have.
Be sure to check out our post "10 Things to Love About Medellin, Colombia."
7. Sand Surfing in Huacachina
On our way to Machu Picchu we stopped at a tiny oasis town called Huacachina. It is basically a small lake surrounded by huge sand dunes.
There are two things to do in Huacachina; party and sand surf. Our party days are behind us, but we were excited to give sand surfing a try.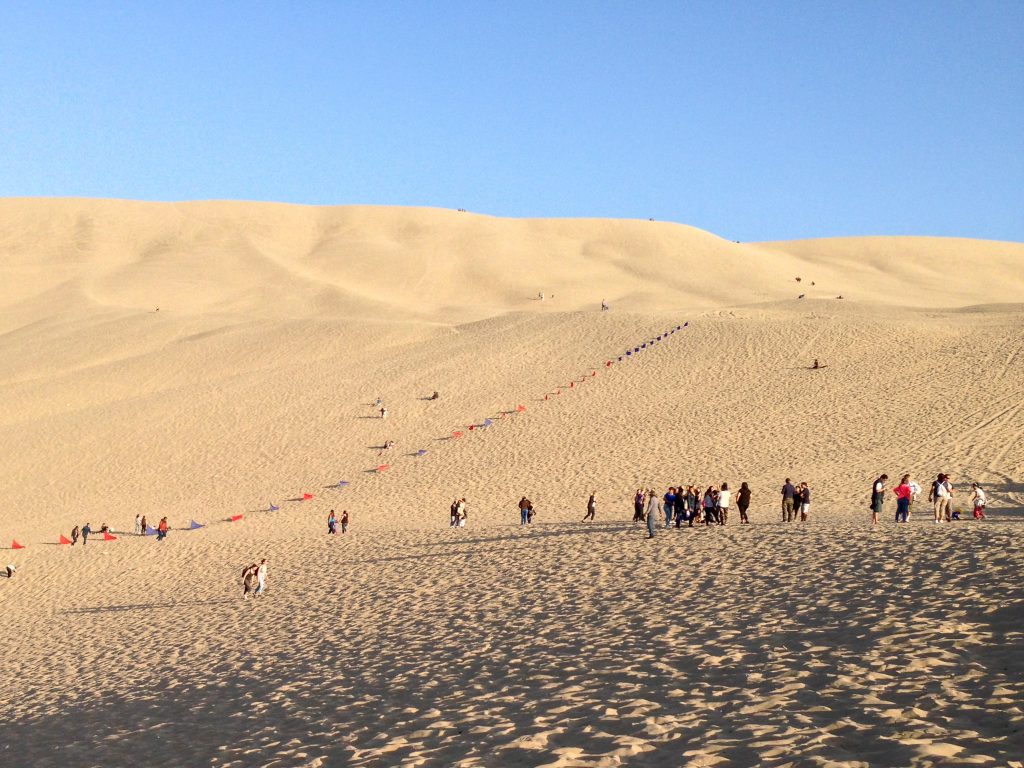 The lower dune where some people walk up and surf down.
Dune buggies take people to the higher dunes.
One method is to ride a board that is similar to a snowboard down the dune. We novices chose the easier method, which is to lay on your stomach on a board and fly down the dune head first.
But before you can do any of that you need to get to the top of the dune on a twelve-person dune buggy. It is guaranteed to be an exciting ride.
Both Steve and I figured it would be relatively safe to sand surf since we were on sand. Unfortunately, Steve found what might have been the only rock in the dunes and got a six-inch cut on his arm.
8. Visiting Santa Cruz Cemetery Manga
This memory is not a typical travel memory. We love to explore cemeteries for the history and art. Early in our travels, we went to Montmartre Cemetery in Paris and it was so compelling that it ruined us for other cemeteries.
That doesn't mean we've stopped visiting them, but we haven't found another one that comes close to Montmartre.
So we approached this visit as something to do. What a shock. This cemetery is in bad repair and you can see below: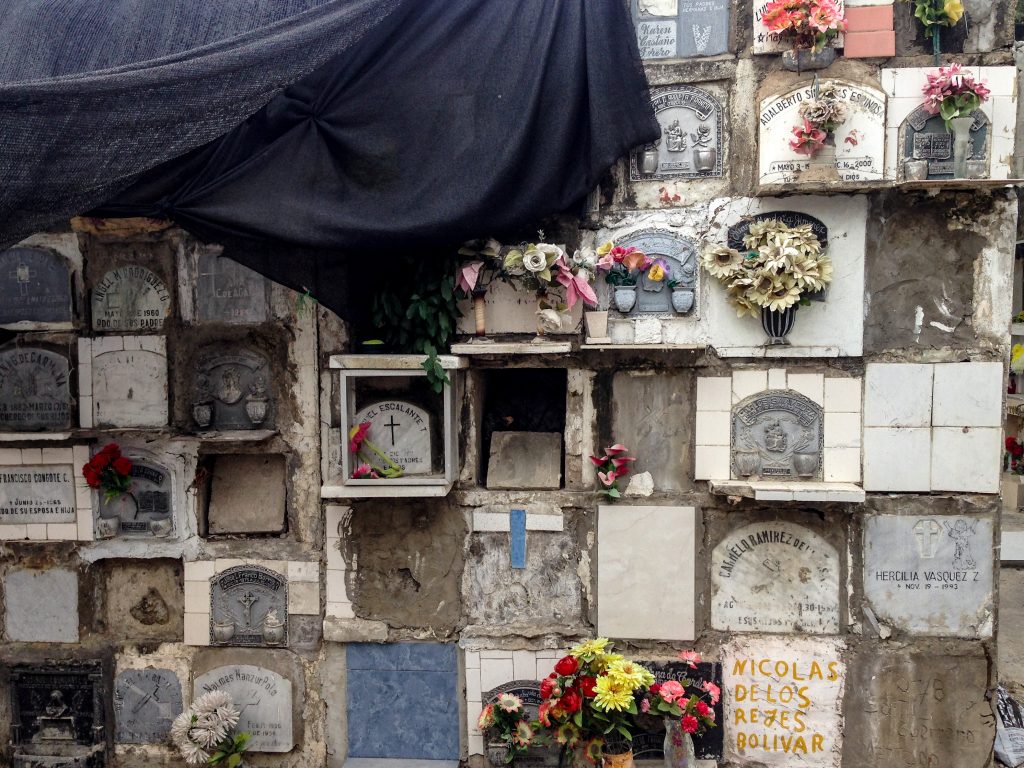 As we continued exploring we were shocked to see open crypts with either cloth bags or exposed bones. Perhaps the saddest and most bizarre sight was a tomb with a skeleton lying on top.
Even with the disrepair, there was beauty to be found.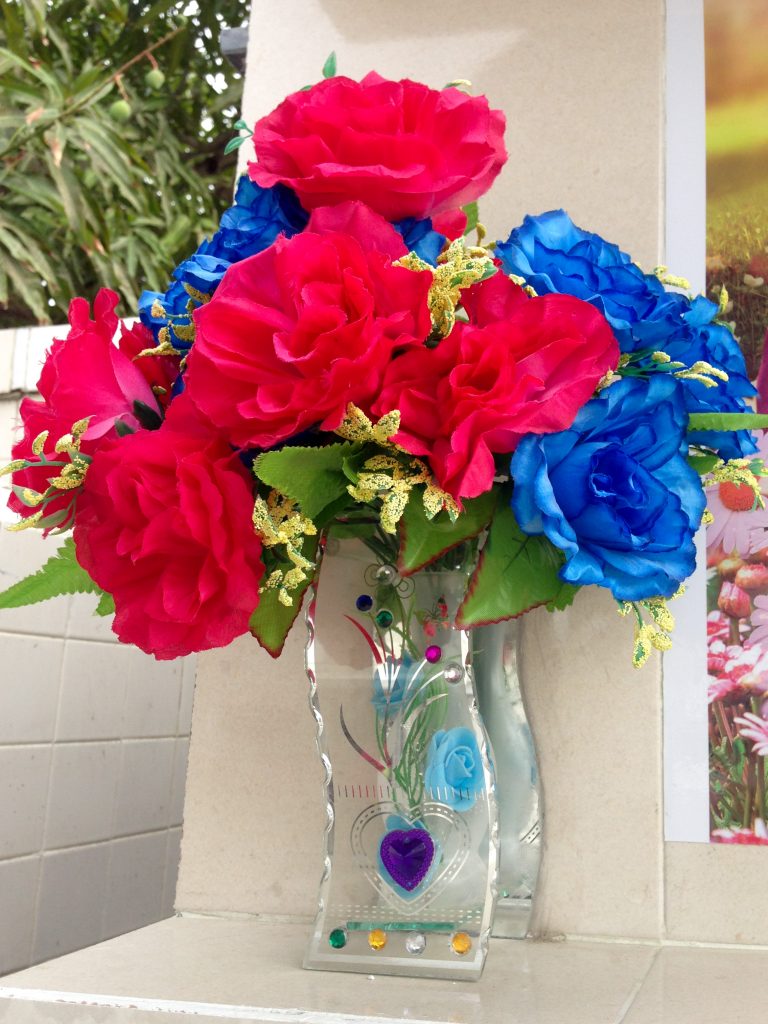 Ant Stories
Many years ago I read about a family with young children who visited the Grand Canyon. The mother was a little dismayed when they returned home and all the kids could talk about were the ants they had seen in the hotel parking lot.
Thinking about this I realized that it is sometimes the little things, things that you can't anticipate and could happen anywhere, that stay foremost in our minds after a trip.
I have started to refer to these as "ant stories" and here are two of my favorites from 2019:
9. Come In and See My Cat
One day Steve and I went to the neighborhood of Getsemani in Cartegena, Colombia. This neighborhood was once plagued with drugs, prostitution, and violence. It is now a safe, authentic neighborhood that attracts many tourists, often looking for street art.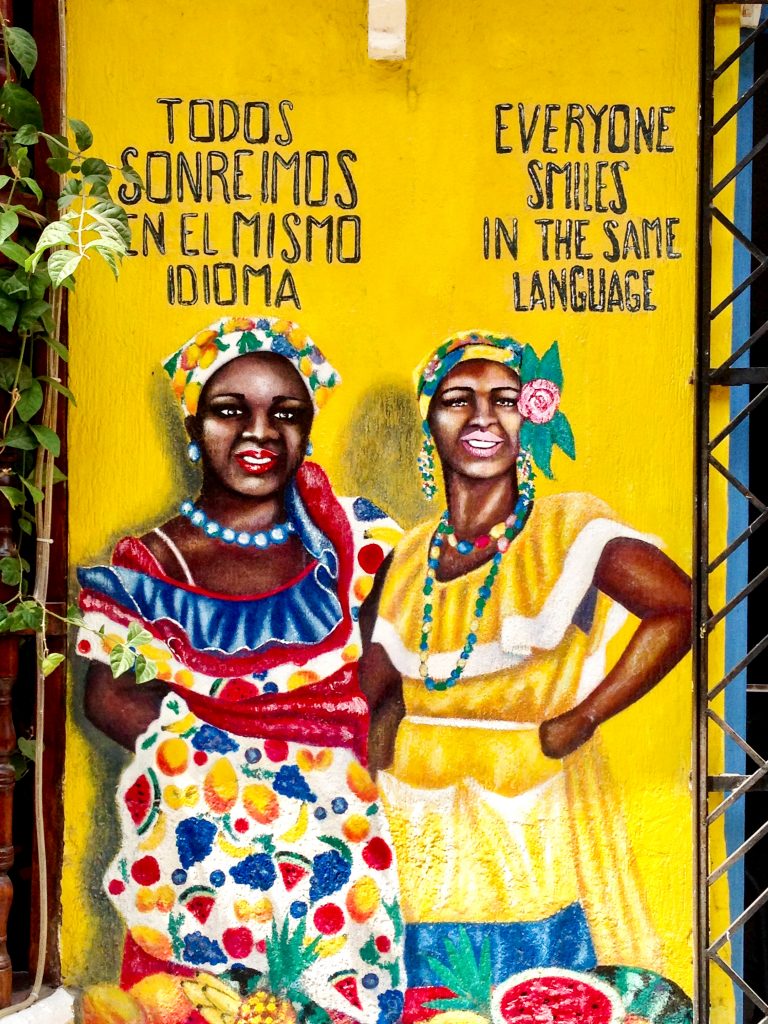 While I was taking these pictures a local man heard Steve admiring a cat outside his door, and invited him in to meet his cat (below).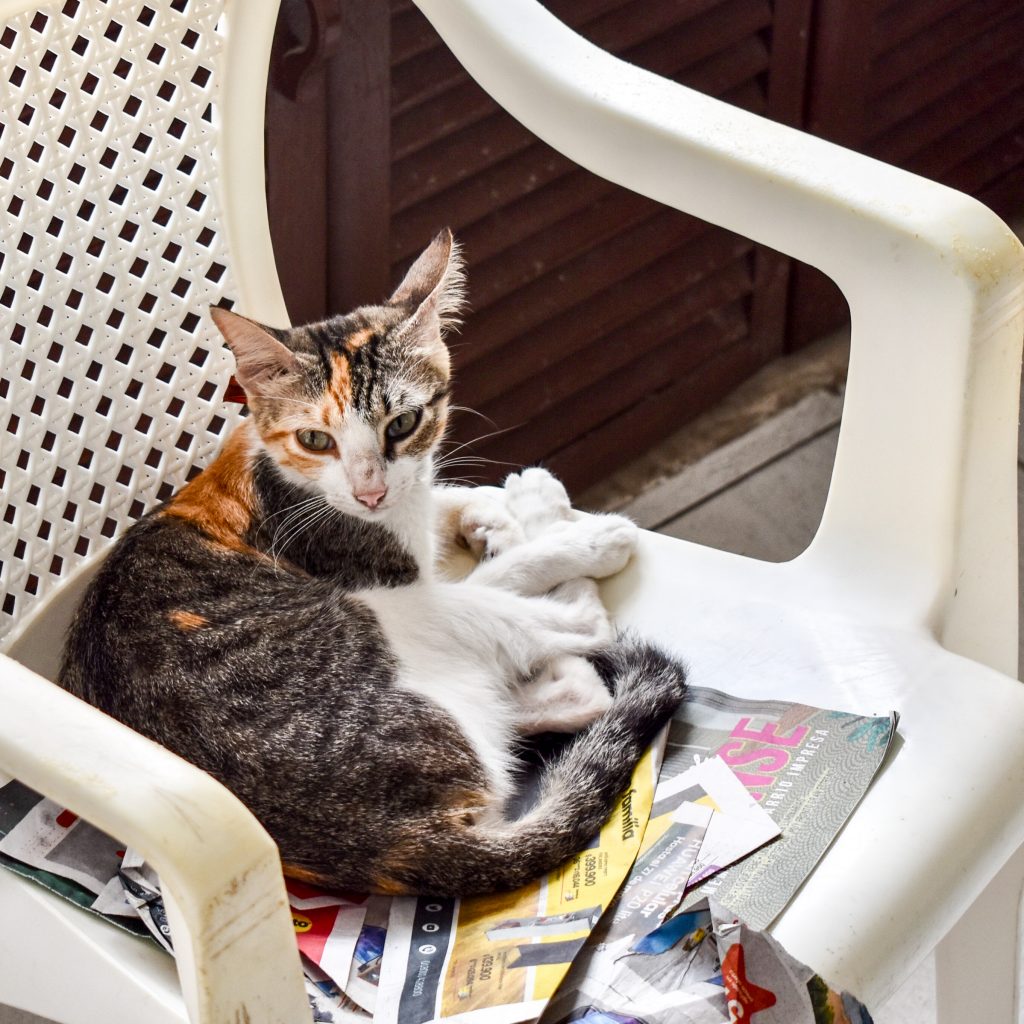 10. Maybe Later
In several touristy areas, we have been annoyed by people who stand in front of restaurants and try to get you to go inside. They are referred to as bringers.
Even when you say "no, gracias" or indicate that you just ate they won't leave you alone.
It took a while but we finally discovered the magic words that make them happy and gives us some peace.
While walking through Machu Picchu Town we were being bothered as usual. When we said no to one bringer he said: "maybe later". We replied, "maybe later". He broke into a huge smile.
We looked at each other with glee. We had found the magic words. We would never be driven crazy by bringers again!
That's Not All Folks!
I hope you enjoyed this look back at our ten months in Latin America. These memories and many others have enriched our lives beyond our expectations.
While the memories are priceless, they did come at a cost. You can find out what we spent in "Wind and Whim's 2019 Full-Time Travel Costs: Latin America."
Happy traveling,
Linda
Featured image: llama at Machu Picchu