Last Updated on: 15th January 2023, 09:28 am
October 2019 found us in Cordoba, Argentina's second-largest city. We had just spent two months in Buenos Aires, Argentina's capital and most populous city. It was our favorite Latin American city so far. We wondered how Cordoba would compare.
Cordoba didn't steal our hearts the way Buenos Aires did. Even so, we had some good experiences and an awesome side trip to two little Alpine inspired villages. More on that later.
Our Favorite Thing in Cordoba
One of the coolest places in the city is the Sacred Heart Church of the Capuchin Fathers (pictured above at dusk).
We visited La Sagrada Familia in Barcelona last year and often feel that it ruined us for other churches. However, the Capuchino Church delighted us for hours. In addition to the beautiful pastel colors and a multitude of statues, there are gargoyles and numerous animals.
Tours of the church including the tower are available in Spanish and English. I highly recommend that you take one for a chance to see more of this beautiful church up close.
When we first arrived in Cordoba and I heard the name Capuchin Church I thought it had something to do with monkeys. This fountain right across the street definitely had something to do with that. It turns out that the Capuchins are an order of friars that are an offshoot of the Franciscans.
Here is a cool video of the church by Lucas Nobile.
For more information about the Capuchin Church see this article by Albom Adventures.
Walking Tours and Bus Tour
When we arrive in a new city we like to take a hop-on-hop-off bus tour to get the lay of the land. We also like to take a free walking tour to learn some basic history and hopefully hear some good stories. Cordoba was no different.
What was different was the extremes in the quality of the tours. We took two walking tours with La Docta Tours. These were the best free tours we have ever had. The guides were very knowledgeable and spoke excellent English.
If you are not familiar with the concept of a free tour, you take the tour and pay what you think it was worth at the end. Not really free, but they are usually very well done.
The afternoon tour had a little something extra. A dog named Negro joined us. According to our guide, he roams the city during the day and returns to his home each night. He is well known throughout Cordoba and loves strolling along with the afternoon tour. He even stayed with Steve and me while we ate dinner.
As good as the walking tour was, that's how bad the hop-on-hop-off tour was. As usual, we were given earbuds so we could tune into the English version of the tour. However, the bus played the Spanish version over speakers so it was very hard to hear the explanations coming through the earbuds. Annoying music filled the downtime. We do not recommend this tour.
Sarmiento Park
We had high hopes when we headed to Cordoba's largest park, Sarmiento Park. They didn't last long. The park has so much potential but is in disrepair.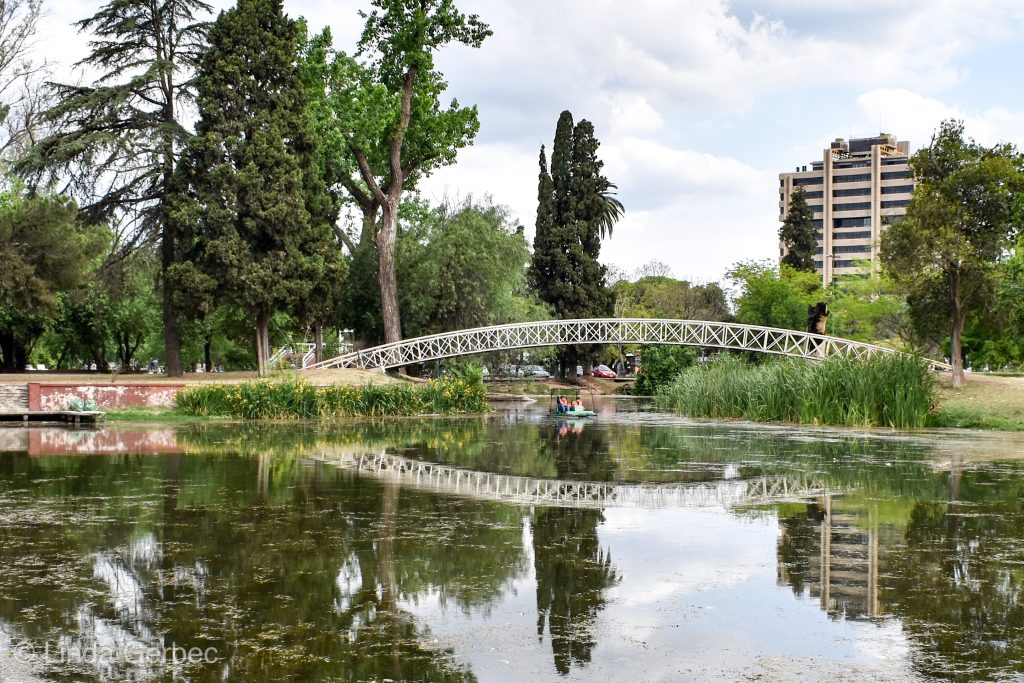 Despite this, the park was busy on the spring-like day we visited. There is a multitude of restaurants in the park for you to choose from.
Our favorite part of the park was the Super Park. This small amusement park was full of mostly happy kids and tired parents the day we visited. Well worth a visit of the young or the young at heart.
What Are Those?
Not far from Sarmiento Park you will find a park full of large, colorful rings. This is Plaza del Bicentenario. It celebrates the country's 200 year anniversary which occurred in 2010.
There are 201 rings in the park, one for each year and one that represents the future. Each ring has a date and an engraving of a notable event from that year.
This is certainly an eye-catching park. You can have fun photographing the rings from different angles.
Some Really Good Eats
Be warned: the vast majority of restaurants close for several hours in the late afternoon and don't open for dinner until 8 or 9 p.m. Since we like to eat dinner around 6 o'clock we visited several restaurants for lunch instead.
Our three favorites were:
The Pastrami Bar – This casual restaurant is located in the bohemian neighborhood of Guemes. It has a charming outdoor area and tasty down to earth food including, surprise, surprise, a wide variety of pastrami sandwiches.
There is a chance you won't be able to eat at this restaurant in the near future. According to our waitress, they will be closing because of the high cost of rent.
The reason I'm including it here is to share this with you:
This lovable cat lives at the restaurant. Don't worry, if they close she has a home to go to. And maybe they will find a way to stay open.
Sibaris – this classy place in the Hotel Windsor is not far from Plaza San Martin, the main square.
Not only was the food amazing, but you are served a small taste of an appetizer and one of dessert free with your meal.
El Celta – this restaurant specializes in fish and seafood but has plenty of other choices. It is quite a few blocks north of Plaza San Martin, but within walking distance, if you love traveling on foot as we do.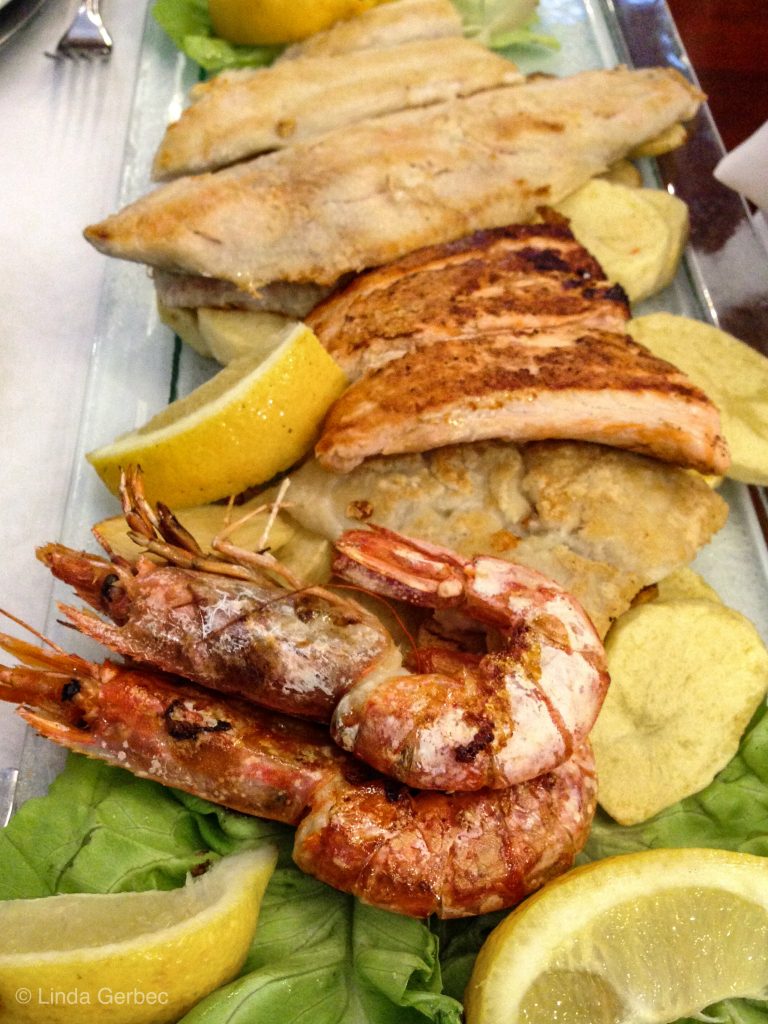 We enjoyed these restaurants so much we visited each of them twice. In each case, the staff was wonderfully welcoming and often spoke English.
One Of Our Best Side Trips Ever
During our stay in Cordoba, we decided to visit the Calamuchita Valley, particularly the alpine-inspired villages of La Cumbrecita and Villa General Belgrano.
Our experiences in these two villages were quite different from each other, but both were wonderful.
La Cumbrecita is very small. Its population is less than 200 people! It is also a pedestrian town. Visitors are not allowed to drive in the town. Not to worry though. It is small enough to walk everywhere.
Knowing how small it was we only planned to stay for two nights which gave us one full day in town. We spent that entire day exploring the countryside. There are numerous paths just minutes from the center of town that will lead you to memorable views.
You need to take two buses to get to La Cumbrecita. The first stops in Villa General Belgrano. The total travel time is about three hours plus time spent between buses at the Villa General Belgrano station.
We traveled with Buses LEP and Pajaro Blanco. The buses were very clean and comfortable.
Once you arrive at La Cumbrecita you will be only a few minutes' walk from the center of town. Our hotel, Hotel Las Cascadas, was just a four-minute walk from the bus station. Reservations at this hotel include half board. The food was very good and we were called to dinner by the ringing of a cowbell.
From Nature to Luxury
The second part of our side trip was spent at the Chamonix Posada and Spa in Villa General Belgrano. Our room was spacious and clean. The staff was very friendly and helpful. The restaurant serves three meals a day with a wide variety of very good food.
Since it was too cold to use the outdoor pool I spent many hours relaxing in the indoor pool. I usually avoid indoor pools because I find them to be dismal and cold. The indoor pool at Chamonix was warm and the room was full of light.
This is also a good place to indulge in spa treatments. They are much less expensive than in the U.S. An hour-long massage is $20 U.S.
Our Take On Cordoba
Cordoba is a compact and very walkable city. Like all the places we have visited in Latin America, the locals are friendly and helpful.
We spent four weeks in Cordoba minus five days for our side trip. Two weeks would have been enough since there is a limited amount for tourists to do.
However, if we hadn't visited Cordoba we would have never experienced La Cumbrecita. In fact, we wouldn't even know it exists.
All in all, we are glad we made Cordoba a stop on our itinerary.
Trip Details
Dates: October 10 – November 11, 2019
Days: 28
Total cost for 2: $3,100
Cost per day for 2: $111
Safe and happy traveling,
Linda