Last Updated on: 11th September 2023, 06:19 am
Are you looking for a city that will leave you impressed and inspired? Look no further than Medellin, Colombia.
Yes, that Medellin. The city named the most dangerous in the world in 1988 by Time Magazine.
The city that spawned Pablo Escobar and the Medellin Cartel.
The city that remained dangerous even after the death of Escobar in 1993 due to the presence of guerrilla and paramilitary groups.
In 2002 a government military initiative called Operation Orion successfully removed the left-wing rebels. This did not mean that Medellin was trouble-free, but it was a step towards the safe, progressive, cosmopolitan city it is today.
We visited this phoenix of a city in November 2019 and fell in love with it. Maybe you will too.
Here are 10 things to love about Medellin:
1. The Art of Fernando Botero
You have most likely seen some works by Fernando Botero featuring voluminous people and animals. The painter and sculptor was born in Medellin in 1932. Many of his works can be seen in the city.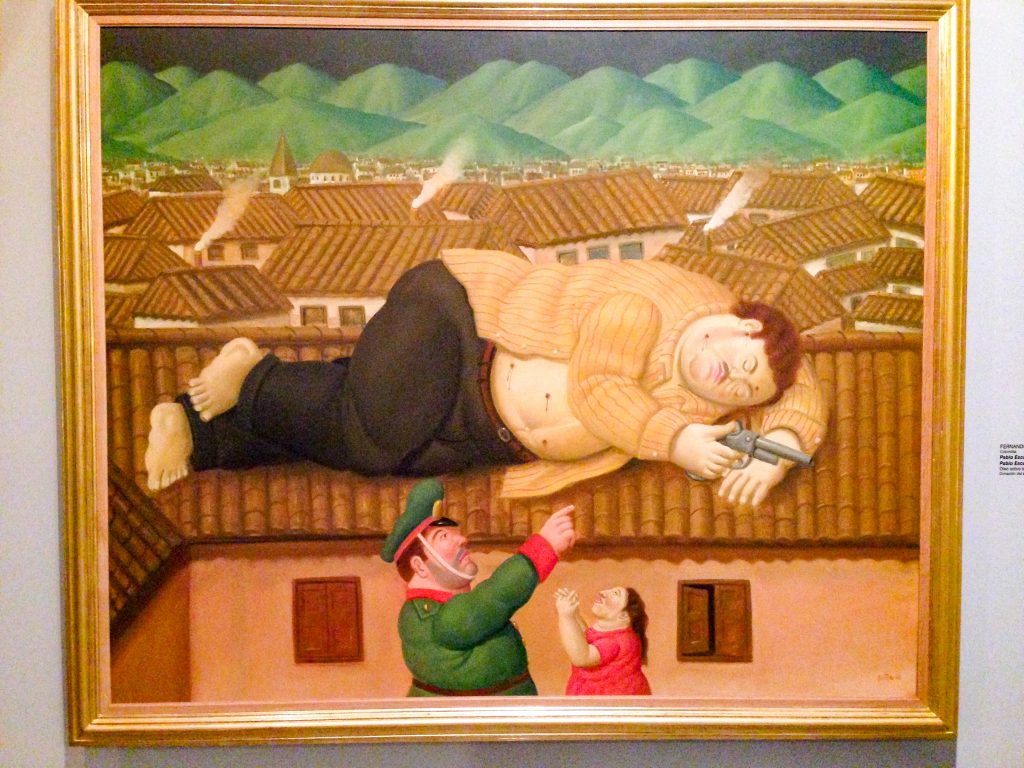 Plaza Botero in the center of the city boasts 23 of his larger-than-life sculptures.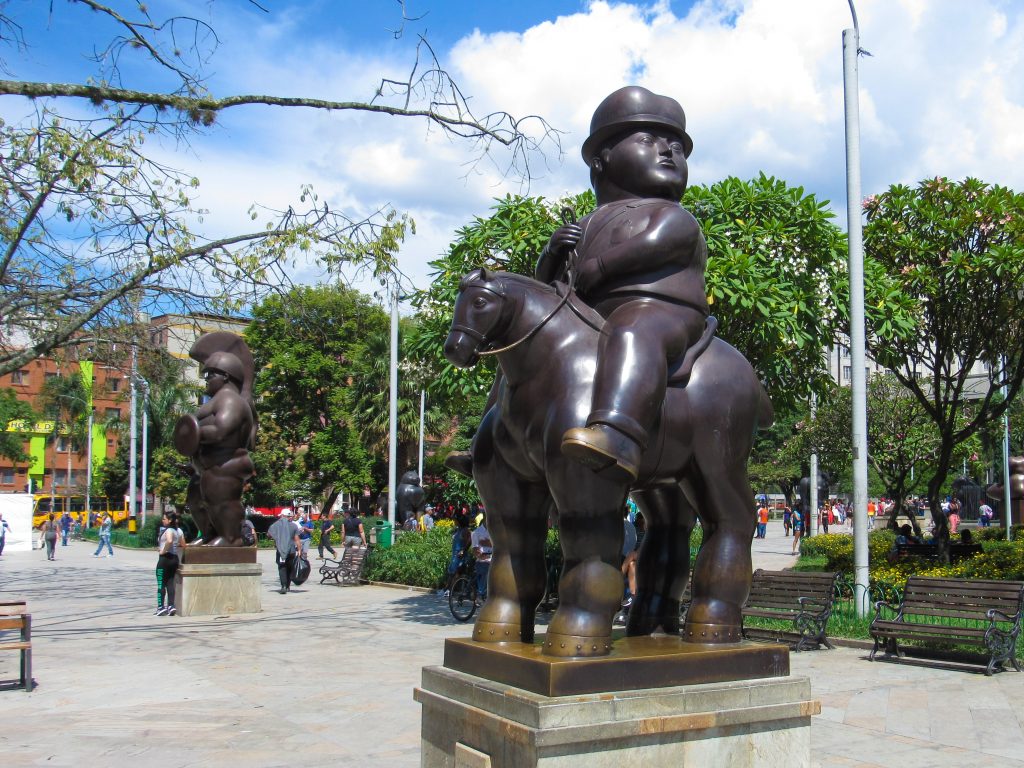 And if that isn't enough Botero for you, you can see dozens of his paintings at the Antioquia Museum, which overlooks Plaza Botero.
But the city isn't done with Botero yet. Head over to nearby Plaza San Antonio to see the Botero Birds.
The first bird was severely damaged in 1995 during a bombing the killed 30 people and injured hundreds. The guerrilla group FARC claimed responsibility saying the bombing was meant to send a message to Botero's son, who was the Defense Minister.
As the cleanup progressed, the mayor demanded the ruined statue be discarded. The elder Botero heard this and immediately called the mayor. He insisted that the statue remain as a reminder of the bombing and a memorial to the victims. He promised to donate an identical statue.
2. The Climate
When a city is referred to as the city of eternal spring you can expect pleasant weather. And that is what you will get.
Medellin is just over 400 miles north of the Equator and 4,900 feet above sea level. Because of this, the daily temperature averages 72.5 degrees Fahrenheit throughout the year.
Be warned, Medellin does get a fair number of rainy days. The two rainy seasons are April-May and September–November. During this time, you can expect rain for at least 21 days per month.
But do not despair. The rain tends to be in the form of short showers. We visited in November and had afternoon showers on many days. We simply planned our excursions for the morning and early afternoon and made sure we had our rain jackets with us.
You can thank the rain for a city full of lush and vibrant vegetation. That was a nice change from the parched ground we saw all around us during our previous stay in Cordoba, Argentina.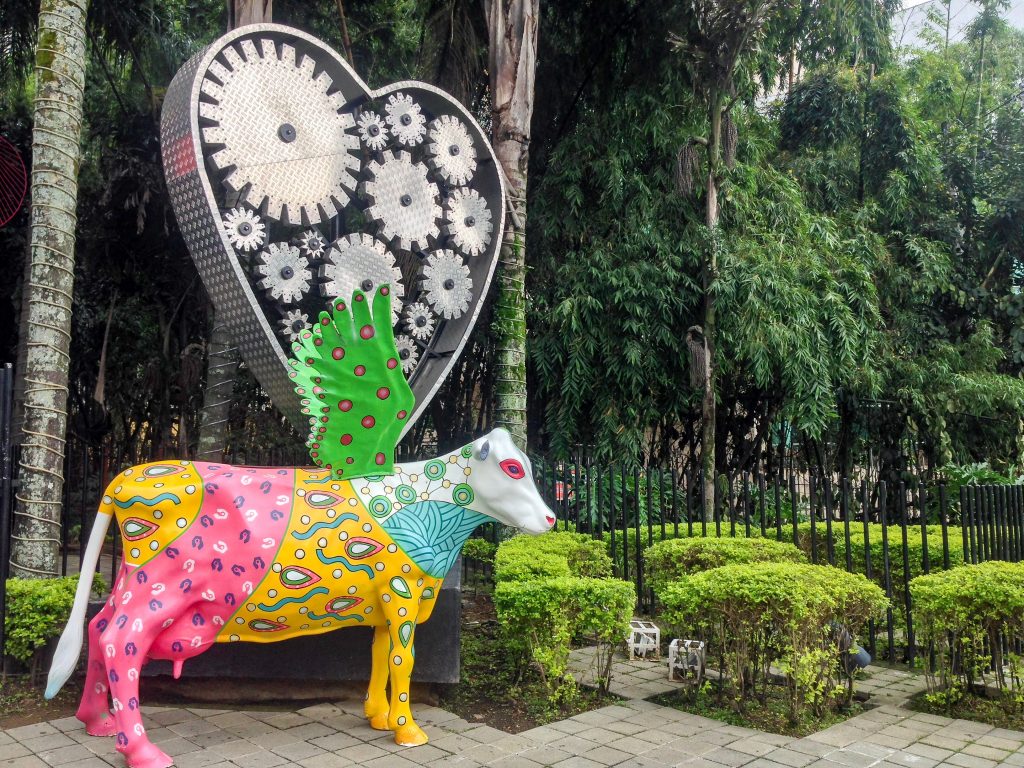 Budding meteorologists can learn more about Medellin's climate here.
3. The Scenery
Because Medellin is nestled in the Aburra Valley with the Andes Mountains majestically rising up on both sides, the scenery is never boring. Thousands of homes dot the sides of the mountains.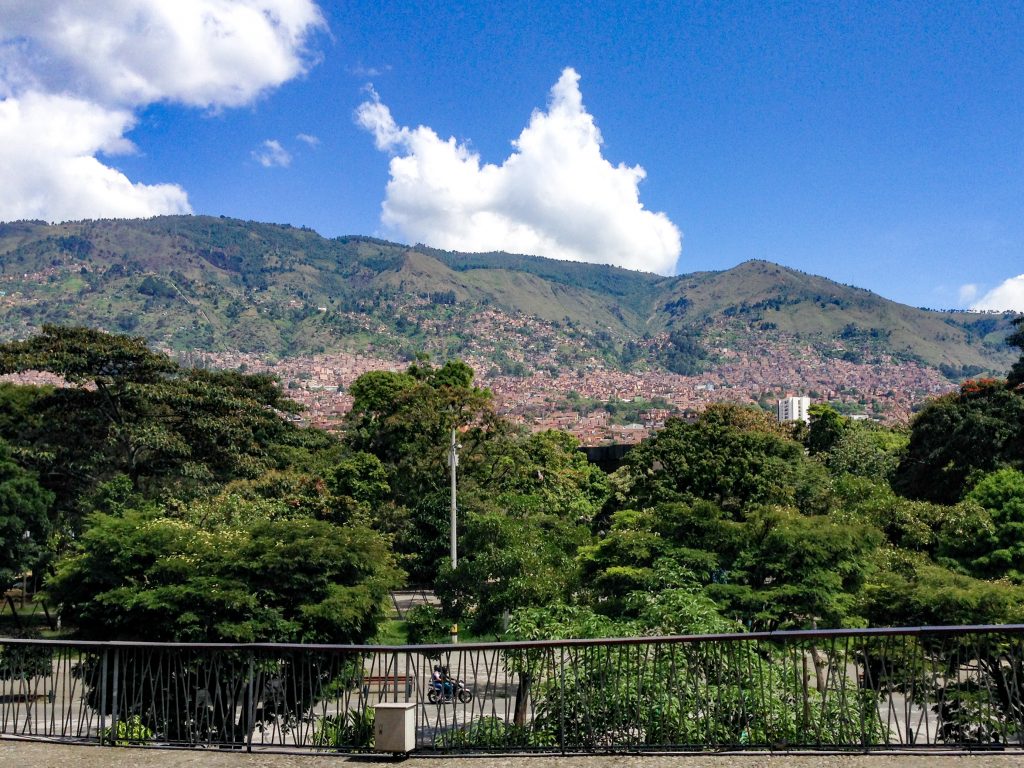 I won't soon forget our morning drive to the airport as we were leaving Medellin. I was still in awe of the captivating views after four weeks.
4. The Activities
Parque Explora – This is an aquarium (the largest freshwater aquarium in South America), a vivarium, a planetarium, and an interactive science museum all in one. We spent hours playing with all the activities and only stopped when we got too hungry to continue. Luckily there are several tasty and economical places to eat right on site.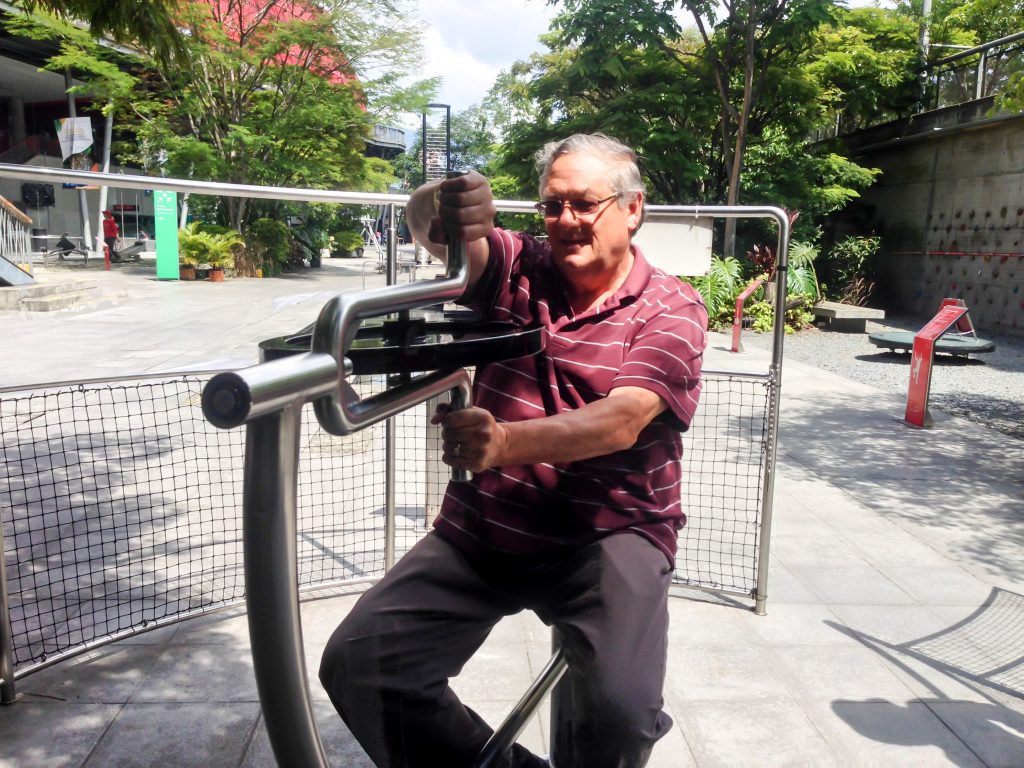 El Castillo – Is it a castle, a home, or a museum? It's all three.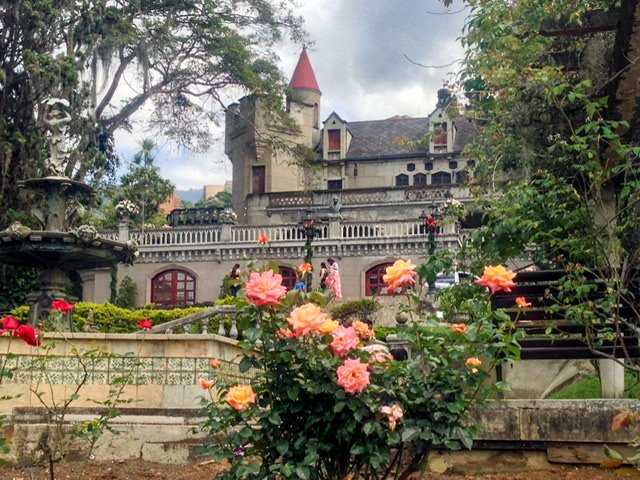 El Castillo was built in 1930 in the Medieval Gothic style for physician Jose Tobon. In 1943 it became the family home for Diego Echavarria Misas, his wife Benedikta (Dita), and their only child Isolda. In 1967 Diego and Dita lost their daughter to Guillain-Barre Syndrome. You can see some of the drawings she did as a child in her bedroom.
The couple faced more misfortune when Diego was kidnapped by Pablo Escobar in 1971. Some accounts claim that the family paid the requested ransom, while others say that Diego had instructed his wife not to pay ransom if he were ever kidnapped. Either way, Diego was killed. Dita decided to return to her native Germany and donated the house to the city of Medellin.
The house is a treasure trove of the family's belongings, and the gardens are lovely. This is a must-do for anyone who loves beautiful homes and grounds.
Santa Fe Zoo – We had a great day exploring the Santa Fe Zoo. This zoo is not too big, and it's easy to find your way around. The grounds are full of lush vegetation, and the animal enclosures are in pretty good shape.
The squirrel is an Andean Squirrel. Similar to the Eastern Grey Squirrel but with a distinct reddish tint to its fur.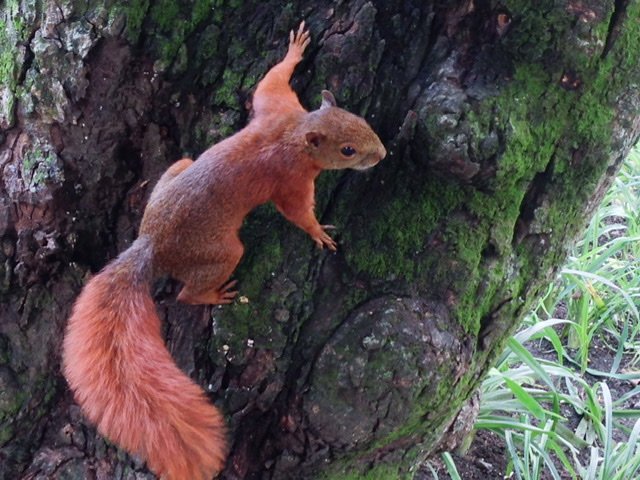 The Scarlett Macaw is also known as the flag macaw in Colombia because its colors are the same as the Colombian flag.
Joaquin Antonio Uribe Botanical Garden – You can find this garden right across the street from Parque Explora. Since we were there in November, there weren't too many plants blooming, but we did have a pleasant walk along the various paths. Admission is free.
A restaurant called In Situ is located within the garden grounds. The food and service were excellent, and they had the most beautiful menu I have ever seen. It was like a book with a gorgeous photo of one of the dishes on each page. I would recommend this restaurant even if you don't intend to visit the garden.
5. The Best Walking Tour Ever
It's hard to imagine a better walking tour than the two we had in Cordoba just a month before. But our tour with Real City Tours was the absolute best one we've had so far.
Our guide Edgar told memorable stories and talked openly about the city's troubled past. He also spoke passionately about the city's commitment to democratic architecture and the belief that you should give the best to those who need it the most.
We didn't have a dog accompanying us on this tour as we did in Cordoba. However, we did have several locals stop to talk to our group. One man even ended up in our group picture.
6. District 13⠀⠀⠀⠀⠀⠀⠀⠀⠀⠀⠀
Imagine walking through what was less than 20 years ago the most dangerous neighborhood in one of the most dangerous cities in the world. Now imagine that this neighborhood is thriving. That is the story of District 13 (locally known as Comuna 13).
This poor neighborhood in the foothills of the Andes is a popular tourist stop due to an abundance of street art.
Young people form dance troupes to earn cash.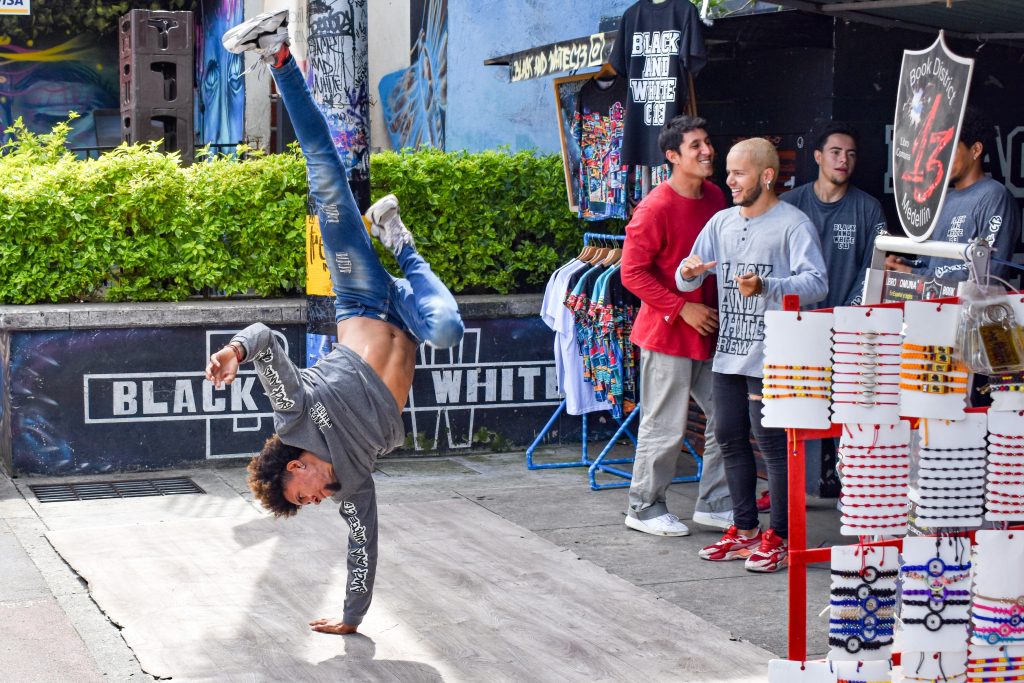 A series of escalators carry people up the mountainside. At every step, you are greeted with smiles and warm hellos.
There are many tours to District 13. We opted for a private tour with a taxi driver we had gotten to know.
At first, Steve was a little apprehensive because of the area's past reputation. It did not take long for us to feel very safe and welcome here.
7. The Metro That Made a Difference
One thing that is credited with advancing Medellin is the metro system. It not only provides much-needed transportation for the city's 3.7 million inhabitants and 550,000 visitors annually, but it has also changed the lives of the poor who live on the mountainside by cutting hours off their commuting times.
Cable cars that are part of the metro system take riders up the steep mountainside in Districts 1 and 2.
Unlike many cities, the residents of Medellin respect their metro system, which is clean and graffiti-free.
Even with this system, the roads are jam-packed. Motorcyclists weave their way through traffic with no regard for traffic laws or safety. However, without the Metro and the motorcyclists, I can't imagine how any traffic would move through the city.
8. A Colorful and Captivating Side Trip
A two-hour bus ride will get you to the town of Guatape, dubbed the most colorful town in the world because all of its buildings are decorated with colorful bas-reliefs called zocalo.
There isn't very much to do in town after you've checked out the buildings and perhaps taken a boat tour. But a short drive will get you to El Penol.
El Penol is a 720-foot tall rock surrounded by water and small islands. The view at the bottom of the rock is amazing, but if you climb the 740 steps to the top, you will be rewarded with even more breathtaking views.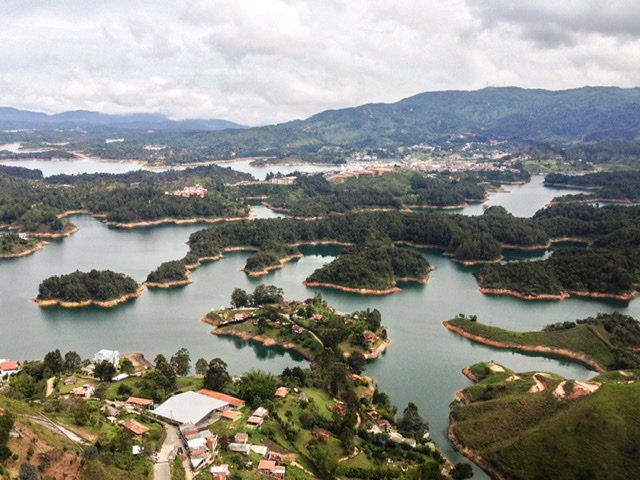 The climb isn't bad. There are markers every 25 steps so you can see your progress.
9. The Food
In both Medellin and Cartegena, which we visited earlier in the year, we found that we enjoyed the food immensely. It didn't matter if it was traditional or not, it was always tasty, and the ingredients were high quality.
Exceptions to this are patacones and arepas. Patacones are deep-fried squashed plantains, and arepas are patties made from cornmeal. We did not develop a liking for either of these. The other food that never excited our taste buds was the ubiquitous white cheese that accompanied many meals. I have never tasted such a bland cheese and hope never to again. I don't like to waste food, but this remained untouched on our plates every time.
That being said, I would be hard-pressed to think of a bad meal we had in Medellin.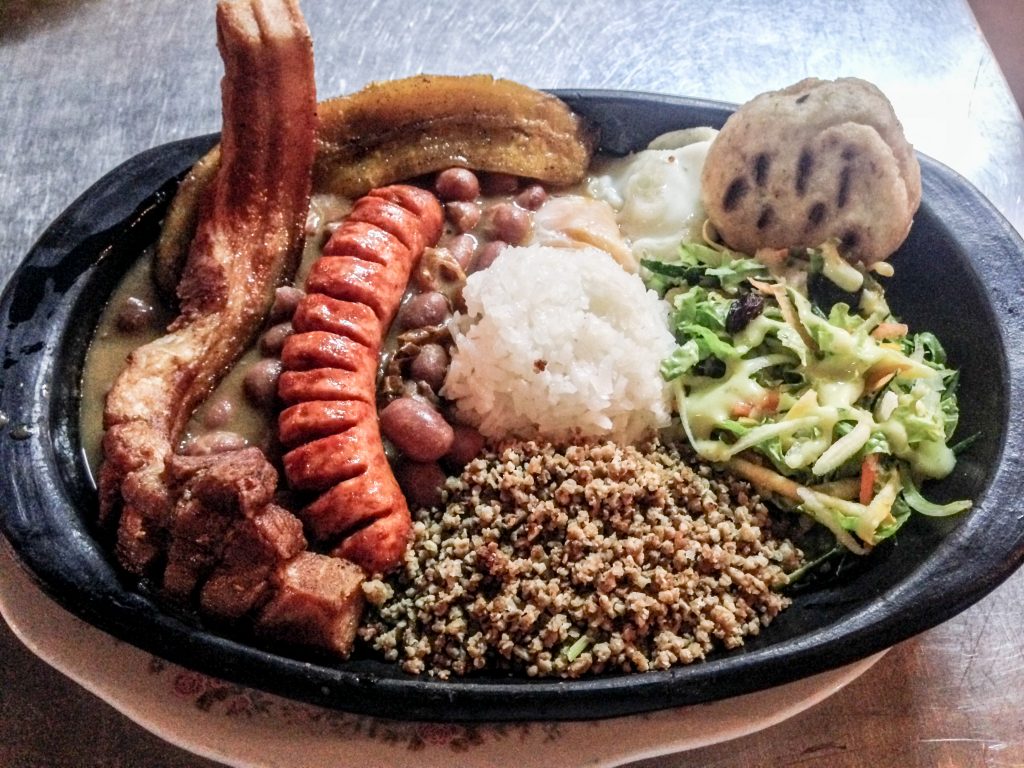 10. The People
During our 10 months in Latin America, we have been impressed with the friendliness and helpfulness of the residents but the people in Medellin take this to a new level.
Perhaps it is because the city is out of the grips of the terrorists who held it hostage for far too long. Perhaps it is the positive changes including vastly improved transportation and the growth of the city. Perhaps it is pride in being able to share their city with tourists who have deemed it a worthy destination.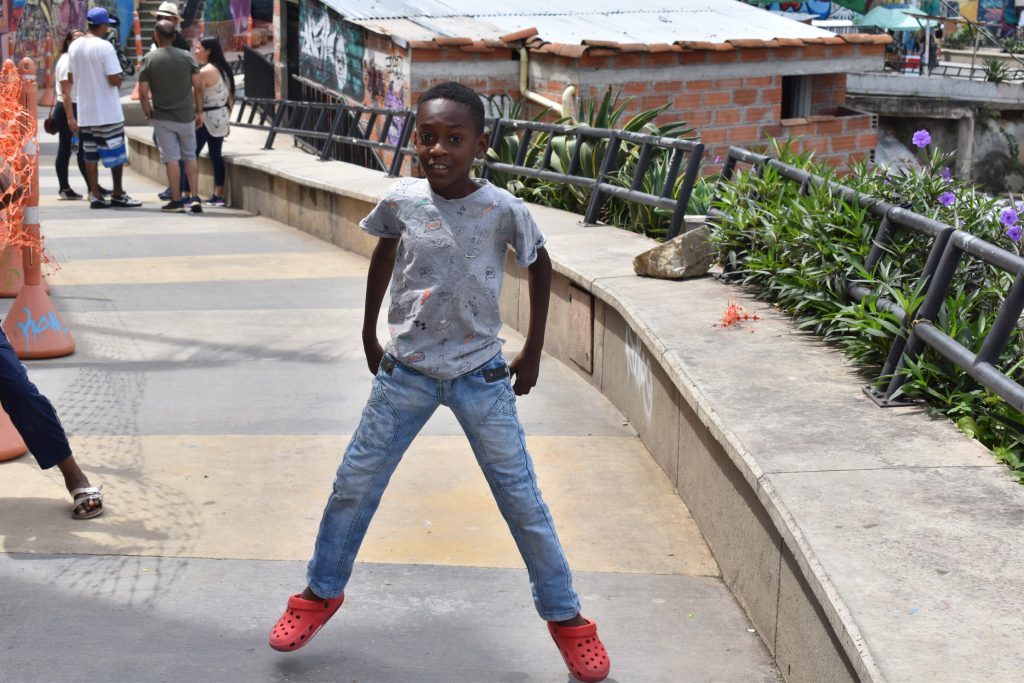 Whatever the reason(s), we found that people were not only willing to help, they went out of their way to look out for the tourists. They would not only give you directions, but they would also walk you to where you were headed. If a beggar were bothering you, they would chase him away.
We Hated to Say Good-Bye
We have enjoyed most of the cities we've visited, but we were possibly saddest to leave the impressive and welcoming new Medellin. I believe that it was the impact of the changes that have taken place in recent years that made Medellin special to us.
I hope you will consider visiting Medellin and that you will leave with as many fond memories as we did.
Trip Details
Dates: November 11 – December 5, 2020
Days: 28
Total cost for 2: $4,000
Cost per day for 2: $143
Find Out More!
Medellin was our last stop during the ten months we spent in Latin America in 2019. You can learn about some of the other places we visited in "Our Top 10 Latin American Travel Experiences."
You can also find out how much these ten months of travel cost in "Wind and Whim's 2019 Full-Time Travel Costs: Latin America."
Happy traveling,
Linda
If you enjoyed this post, please consider sharing it and joining our email subscription list: