Last Updated on: 15th January 2023, 09:18 am
In June 2019, we were planning our next stop after Quito, Ecuador, when a new name came up. Cuenca. We had never heard of it. We decided to give it a try because some of the places we have enjoyed the most are the ones we had never heard of. We are glad we did.
After spending four weeks in Quito, Cuenca was a relaxing change. It is far less crowded, with about 330,000 people compared to 1.6 million in Quito. It has a lot of traffic, but not nearly as much as Quito, and the pollution is not as bad, although the older blue buses spew a considerable amount of black exhaust.
Over four weeks, we fell in love with the architecture, history, and natural beauty of Cuenca. Below are twelve things you can do in Cuenca that will hopefully make you fall in love with the charming city.
A Little About Cuenca
*Cuenca is Ecuador's third-largest city after Guayaquil and the capital of Quito.
*The official name of the city is Santa Ana de los Cuatro Ríos de Cuenca. Cuatros Rios translates to four rivers. A nod to the fact that the city has four rivers.
*Cuenca is 292 miles (470 km) south of the capital of Quito.
*You can fly there from Quito inexpensively in less than one hour (we paid $US50 per person in 2019).
*Like Quito, Cuenca is nestled in the Andes Mountains and may require time to acclimate to the altitude of 8,400 feet (2,560 meters) if you are coming from a much lower elevation.
*The U.S. dollar is the official currency of Ecuador and has been since 2000. It is so nice not to have to worry about exchange rates or getting local currency.
*Very few of the people we met spoke English, but everyone was patient as we translated.
*Cuenca is a walkable city, and taxis are abundant and affordable.
*Cuenca is not far from the equator, so the temperatures don't vary much throughout the year. Daily highs average 72 degrees Fahrenheit (22 degrees Celsius). Daily lows average 51 degrees Fahrenheit (~10 degrees Celsius).
*Apartments generally don't have heat. We ended up buying a small space heater.
*There is also a small city in Spain named Cuenca.
Note: All money is in USD.
1. Hike Through Amaru Biopark
Amaru Biopark is much more than a zoo. This attraction is full of animals that have been rescued and, despite rehabilitation, cannot be returned to the wild.
You will hike over 2 km of dirt paths while learning about these animals. Be warned that the park is on the side of a mountain. You have to traverse hills and less-than-ideal steps cut into the dirt. Sturdy shoes are a must.
You should receive a map as you enter the park. Pay attention to it. It shows the path through the park. On our first visit, Steve and I failed to do this. After an hour and a half, we looked at the map and realized that we were only a quarter of the way through. Since it was late afternoon by that time, we backtracked our way to the entrance. We returned another day, and between our two visits we spent a total of eight hours in the park. There is so much to see.
Here are just a few of the many animals we enjoyed: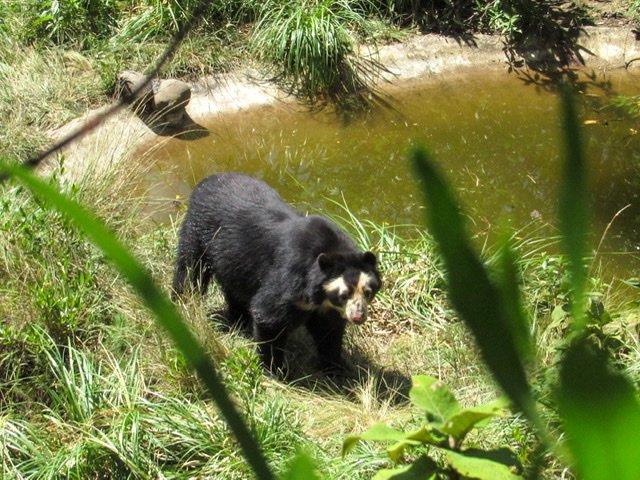 In addition to the Capuchin Monkeys frolicking above you, Squirrel Monkeys roam free in the park.
You can read about Amaru in more detail in The Amazing Amaru Bioparque.
2. Peruse Museo Pumapungo

At the edge of the old town, you will see two large grey, modern-looking buildings. One is the Banco Central Del Ecuador, and the other is the Museo Pumapungo (boy, is that fun to say).
Museo Pumapungo consists of a new and beautiful building filled with artifacts and displays highlighting Ecuador's geographic regions. There are several things to see behind the museum, too, including the ruins of an Incan military post, a small botanical garden, and a bird rescue center.
Beware, there is no photography allowed in the museum. When we visited, most of the plaques were only in Spanish. Even though we have a translator on our phones, we did not feel comfortable using it since it would have looked like we were taking pictures.
For our second visit, we hired a guide (independent of the museum) who explained what we were looking at. We learned a lot in that two hours, and it was well worth the $35. It was interesting that the one section that was in English was about the indigenous Shuar and their head-shrinking practices and beliefs.
The ruins were underwhelming since, in the past, they were cannibalized by locals who took the stones to use as building material. But don't skip this part. In addition to the botanical garden and aviary, on most days there is a herd of llamas lazily eating the grass. They are used to being photographed by the visitors.
3. Learn About Panama Hats at Homer Ortega Hats
Did you know that despite their name, Panama hats are not from Panama? They are from Ecuador. And Cuenca is one of the largest producers.
You can learn a lot about the history and production of Panama hats during a tour of the Homer Ortega Hat Factory.
And yes, I know, learning about hat making isn't high on your bucket list. But the tour was interesting, and they have a killer showroom where you can pick out your very own Panama hat.
Panama Hat Fast Facts
*The hats are made of a straw called toquilla.
*The process of making the hats is on the UNESCO Intangible Cultural Heritage List.
*The name "Panama hat" came about because Americans traveling through the Panama Canal to California during the Gold Rush often wore them.
*It was reinforced when President Teddy Roosevelt posed at the Panama Canal in 1906 while wearing one of the hats.
*The quality and price of a hat depend on the fineness of the weave and the intricacy of the pattern.
*The finest hats can take up to eight months to weave.
4. Marvel at the New Cathedral (Cathedral of the Immaculate Conception)
You can spot the three blue and white domes of the New Cathedral from many places in the city. The cathedral's formal name is the Cathedral of the Immaculate Conception (Catedral de la Inmaculada Concepción). It is referred to as the New Cathedral because it is only a little over a century old. Construction on it began in 1885 and was completed in 1967.
This is one of the largest cathedrals in Latin America, but it doesn't have any bells. That is because there were supposed to be two towers on the cathedral. Because of structural issues, it was determined that the building could not support these towers, so they were never built. You can take the spiral stairs up to the roof for a small fee.
5. Stroll Along the Tomebamba River (Rio Tomebamba)
I'll be the first to admit when I read a travel blog, and it says "stroll through (insert area here)" or "relax at (insert name of café here)," it feels like a cop-out.
However, I will make an exception for the pedestrian path that runs along the Tomebamba River in Cuenca. It holds a special place in my heart because we walked part of it many times to get from our apartment near Museo Pumapungo to the old town.
The section we walked starts on the north side of the river bank west of Av. Huayna-Capac. If you continue, you will eventually see stairways leading to a higher level. Take one of these to reach the Historic Center.
There are many other places you can stroll along the river, including in Paradise Park (El Paraíso Park), and there are three other rivers to explore as well.
6. Eat Cheap (or Not)
There seem to be two choices for dining out in Cuenca. You can go the inexpensive route, a small plain restaurant with traditional food at unbelievably low prices. Breakfast with juice and coffee is $2.50. Lunches are priced as low as $3.50 for soup, main dish, and drink. You will not get much ambiance at these restaurants. The second option is to go to a restaurant with ambiance. These cost more but are still reasonable by U.S. standards.
We visited one restaurant that stood head and shoulders above the rest:
Capitan
On our second to last night in Cuenca, we wanted to try somewhere new. We decided on Capitan, which was listed as the 5th best restaurant in Cuenca on Trip Advisor (and is #3 as of this writing).
We were underwhelmed when we arrived. The restaurant had four tables and could seat 16 people total. We considered looking for something else, but we were hungry, so we decided to stay.
And we were glad we did. This was one of the best meals we had during the three months we spent in Ecuador. It started with soft, aromatic garlic bread with an incredible garlicky mayo-like spread that I could have eaten for hours.
Next was a delectable shrimp ceviche, followed by sea bass (with crab meat for Steve, spinach for me). Add a Coke and three small glasses of wine, and the total with tip was $74.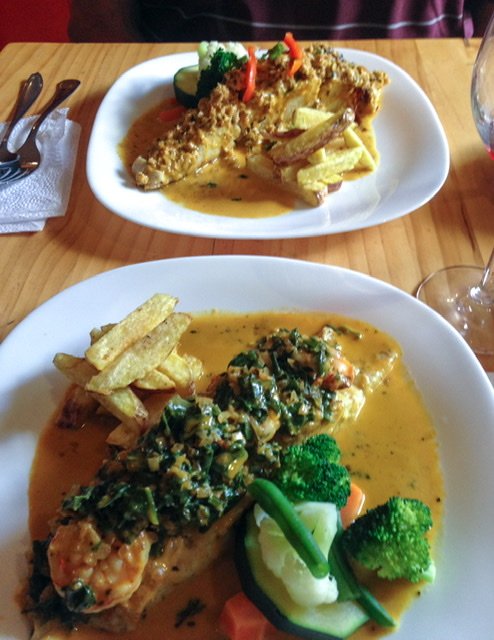 This meal was so enjoyable that we had an encore the next night. I wish we had discovered this gem at the beginning of our stay.
As good as the food is, it was not the best thing about this restaurant. The chef, who I also believe is the owner, was very welcoming and accommodating. He translated the menu for us and checked with us throughout our meal. You don't usually see that in Latin America or Europe.
Capitan is at Tomás Ordóñez 6-76. The restaurant is small, so it is best to make reservations.
D'Galia Peru
This restaurant also served fabulous ceviche along with other tasty dishes loaded with meat and vegetables. While the experience wasn't as memorable as at Capitan, this is also an excellent place for a more upscale meal. It is along the Rio Tomebamba, not far from the Iglesias Santa Maria Del Vergel.
The cost for this visit was $60. We visited again with two friends from Korea. The total for four of us was only $80.
D'Galia is at Av 12 de Abril 1-23 y Las Herrerías.
Fondue Garden
I had read about Fondue Garden somewhere and thought it would be a nice change of pace. And it was. We enjoyed a few meals there, including cheese fondue and chocolate fondue.
When we arrived the first time, we were greeted by Bonnie, a co-owner from the U.K. She made us feel very welcome, and it was nice to hear some proper English.
The restaurant has a second-floor patio that overlooks the Rio Tomebamba and the bridge named Puente Juana de Oro.
Fondue Garden is more moderately priced than Capitan or D'Galia. Our lunch with beverages and a tip was $35.
It is located at Paseo 3 de Noviembre y Escalinatas.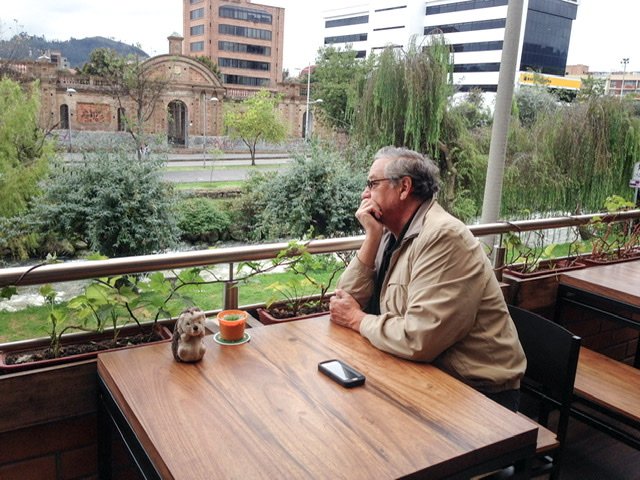 Now that I've shared six things that made us fall in love with Cuenca and made your mouth water, here are six more things to do in and around the city.
7. Take a Hop-On-Hop-Off Tour (or Two)
We used City Tours. This company has two hop-on-hop-off tours, North of Cuenca and South of Cuenca. They did a much better job than some of the hop-on tours we've had. You can board the buses a Parque Calderon and buy your ticket onboard.
The Homero Panama Hats tour was part of this. I doubt we would have gone to a hat factory otherwise.
8. Enjoy Parque Calderon
This is not a large area, but it can be a great place to rest and grab some yummies.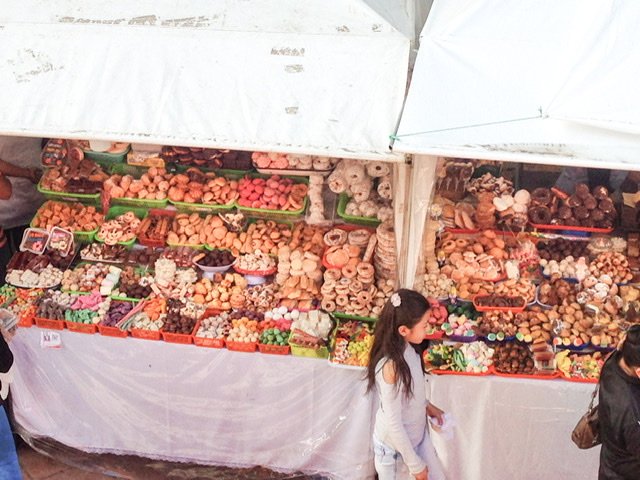 9. Take a Trip to Cajas National Park (Parque Nacional Cajas)
We hired a guide I found on Trip Advisor to show us around. Be warned, if you go to the higher altitude areas it will be cold.
You can learn about the park here.
10. Relax in the Spas in Banos
You can have a peaceful and affordable spa day just ten minutes from Cuenca. We didn't do this, so I can't comment on it. I kind of wish we had. You can read about the options here.
11. Shop for a Fuzzy Friend
Stuffed llamas (like the one below) and guinea pigs are in a lot of shops. They are so soft. Why not take one home?
Side note: guinea pigs (cuy) are a common food in Ecuador.
12. Admire the Architecture
In 1999 the Historic Center of Cuenca was designated a UNESCO World Heritage Site. Have a quick look around, and you will see why.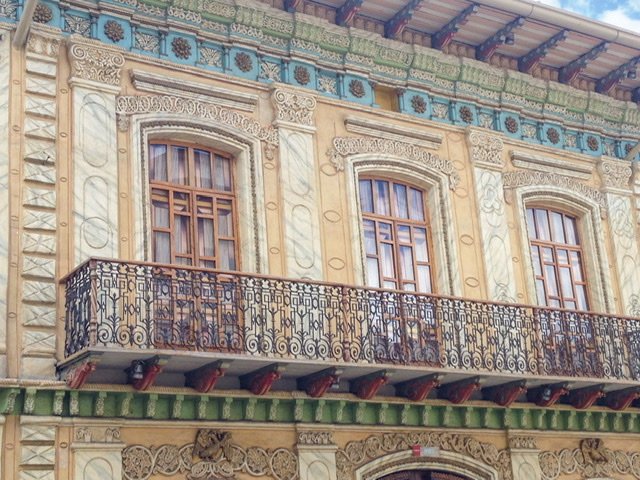 For a more in-depth look at the architecture of Cuenca, check out A Guide to Cuenca Architecture.
Trip Details
Dates: June 20 – July 17, 2019
Days: 27
Total cost for 2: $2,800
Cost per day for 2: $104
Have you been to Cuenca? If so, Steve and I would love to hear about your experiences and restaurant recommendations.
Read more about our year in Latin America:
Our Top 10 Latin American Travel Experiences
Is a Land-Based Galapagos Trip Right For You?
Latin American Street Art to Fuel Your Wanderlust
Wind and Whim's 2019 Full-Time Travel Costs: Latin America
Bonus Photos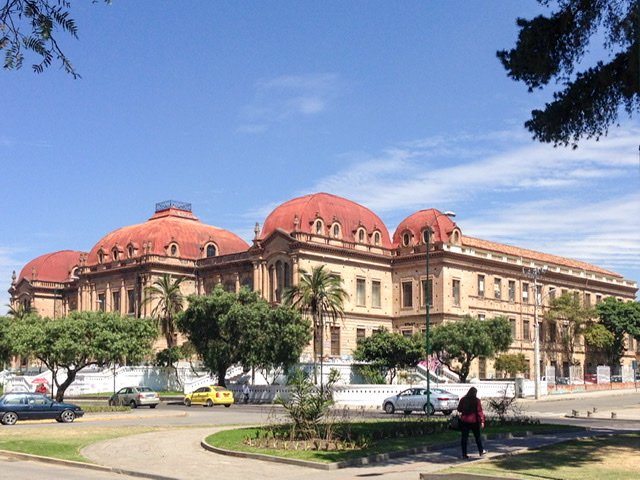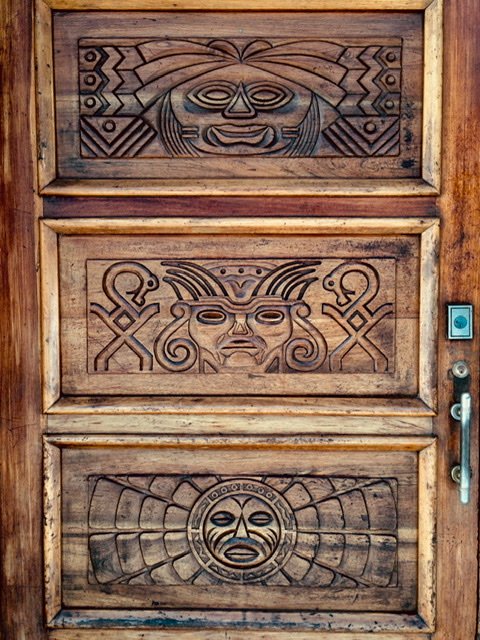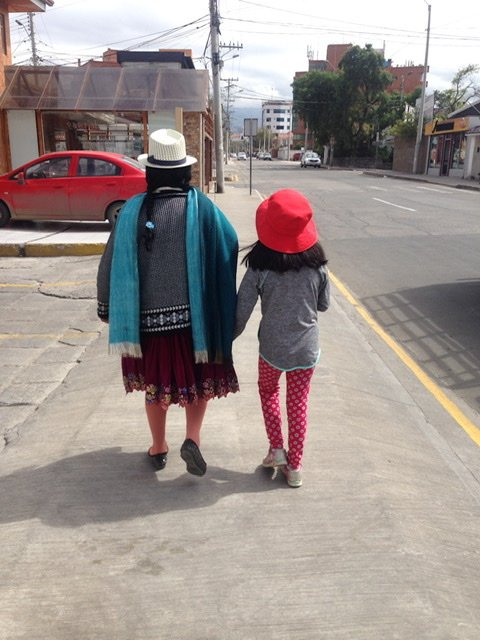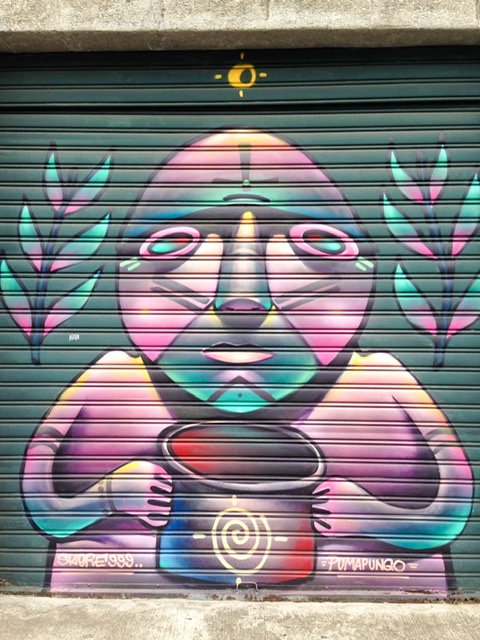 Have you been to Cuenca? If so, Steve and I would love to hear about your experiences and restaurant recommendations.
Stay safe and healthy,
Linda
Featured image by Fernando Zhiminaicela on Pixabay.com
Like It? Pin It!