Last Updated on: 5th September 2023, 04:42 am
Hello, fellow street art lover! Here are some of my favorite examples of street art from the ten months Steve and I spent in Latin America in 2019. I hope you enjoy them as much as I do. Perhaps you have seen some of these and they will bring back happy memories.
Medellin, Colombia
We loved this city of eternal spring for many reasons including the street art. The best places to see a wide variety of great street art is District 13. This district has gone from the most dangerous area in the most dangerous city in the world to an area of hope and inspiration. The first five photos are from District 13.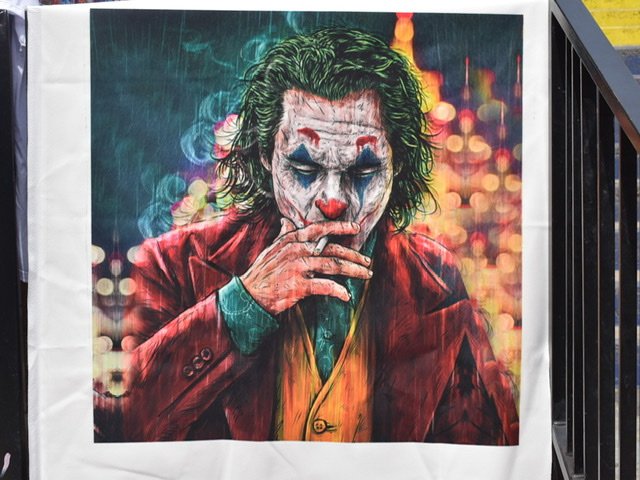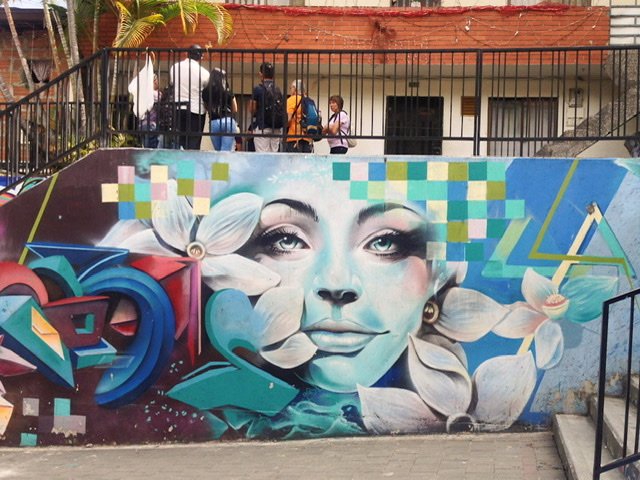 The next two murals were found in other parts of the city.
The beautiful and abundant street art is not the only reason we fell in love with Medellin. Read about "10 Things to Love About Medellin, Colombia."
Cartagena, Colombia
The best place to see a lot of street art in Cartagena is in the Getsemani neighborhood (Barrio Getsemani). This once-gritty section of the city is now pulsing with artistic life.
As Steve and I were taking in the sights on a hot day we noticed that many people had their windows and front doors open. On one street we stopped to admire a cat and the next thing I knew Steve was in some man's front room. He had invited Steve in to see his cat.
I love the sentiment on this one, don't you?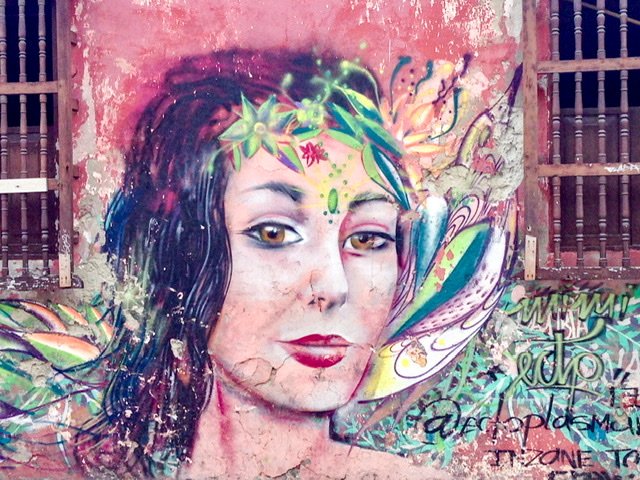 Just a 15 or 20 minute walk from Getsemani is Old Town. You can see some cool art here too. These women hang around outside the Tabaco y Ron Cocktail Bar. Ron is Spanish for rum!
Also in Old Town, in a square in front of Iglesia de San Pedro Claver, you can see several whimsical metal sculptures that invoke simpler times.
Lima, Peru
Just like the two cities above, Lima has an area that is brimming with street art. Here it is the Barranco District. We didn't spend nearly enough time in this area, even so, we found some outstanding specimens.
One of my favorites because I'm a sucker for vibrant colors:
Here are a few murals from other parts of the city:
Galapagos Island, Ecuador
Ok, no one goes to the Galapagos Islands to see street art. But we were happy to find these murals along with a few others in Puerto Baquerizo Moreno on San Cristobal Island.
Jardin Ceramica
If you find yourself in Puerto Ayora in Santa Cruz Island and you have some free time you can visit the unique Jardin Ceramica. A path from the road leads to a wall covered with colorful and whimsical mosaics. There are also several free-standing structures decorated with tile.
The garden runs along a tree-lined path. It was created by Cristina Nelson Gallardo. While we were enjoying it a man introduced himself to us. He said he was her brother and that she is now deceased. He told us of his efforts to keep the garden available for all who wish to enjoy it.
To enter the garden just walk under the huge ceramic dragon arch. There is no charge.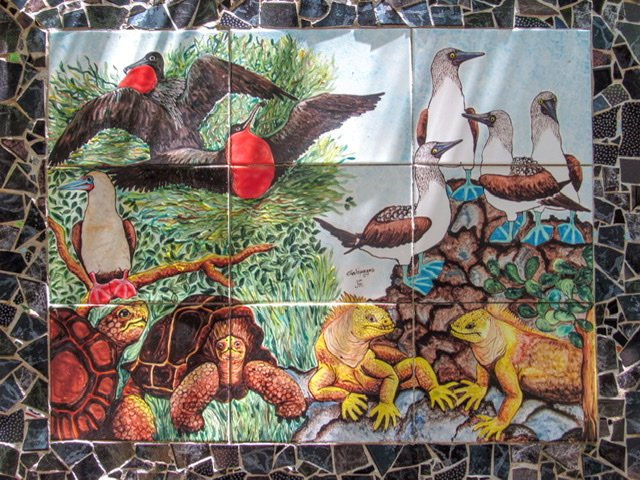 Cuenca, Ecuador
This thought-provoking mural was on a very busy street near the Museo Pumapungo and the Ruinas de Pumapungo. Interestingly this street was heavily traveled by buses that spewed out so much exhaust that Steve had to wear a mask to prevent throat irritation (this was pre-COVID-19).
Panama City, Panama
This fella was hanging around enjoying life near the edge of Casco Viejo.
San Jose, Costa Rica
This flower pot and many like it brightened a section of Calle 11 between Avenida 1 and Avenida 3 in downtown San Jose.
Several blocks away these three guys tried to make beautiful music. Unfortunately they were a little rusty.
Puerto Viejo, Costa Rica
We saw this cute and colorful welcome pole in the gritty but yet charming beach town of Puerto Viejo de Talamanca (puerto viejo means old port) on the Caribbean Coast of Costa Rica.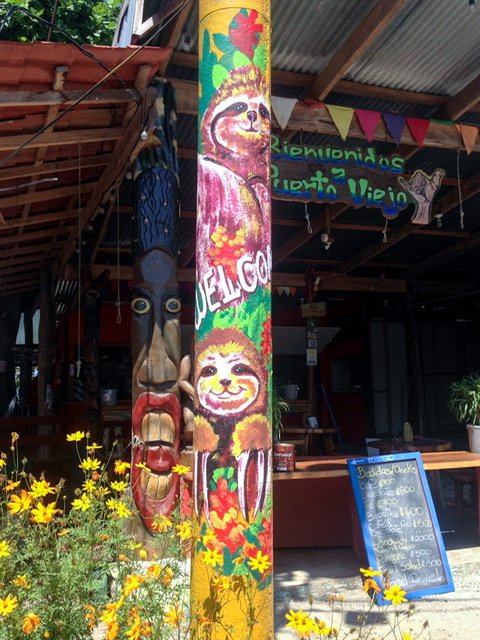 Jaco, Costa Rica
More bright colors. This time in the Pacific Coast beach town of Jaco.
The End of the Journey
I hope you enjoyed these street art specimens. Which one is your favorite?
You may want to check out "European Street Art to Fuel Your Wanderlust."
If you enjoy cat and dog photos, "20 Captivating Cats From Around the World" and "24 Delightful Dog Photos From Around the World" will put a smile on your face.
If you are curious about what it costs to travel long-term in Latin America be sure to read "Wind and Whim's 2019 Full-Time Travel Costs – Latin America."
Healthy and Happy Traveling,
Linda
If you enjoyed this post, please consider sharing it and joining our email subscription list: