Last Updated on: 5th September 2023, 04:44 am
Do you love to turn a corner and see something unexpected? I sure do. That is why I love street art. It may be beautiful, weird, thought-provoking, or whimsical, but it always feels like a gift.
These are 24 of my favorite examples of European street art from our first year of full-time travel listed by city. I have also put the location where possible and the date. I hope you enjoy them as much as I do.
Paris, France
We didn't discover the next three murals until the last day of our Paris stay on a walk in the 19th arrondissement.
This big cat is one of my favorites:
Can't help loving this one too:
I'm not sure what it is this lizard is trying to catch, but I hope he got it:
And this girl was just hanging out in the 10th arrondissement:
Plovdiv, Bulgaria
When deciding where to visit in Bulgaria we read that Plovdiv, the second largest city, was preferred over the capital of Sofia.
Plovdiv is the oldest continually inhabited city in Europe (8,000 years, can you imagine?) The city is full of ancient ruins including a Roman amphitheater that is still in use.
The first two murals were found in the Kapana district, a revitalized arts and crafts section of Plovdiv.
Talk about side-eye. What did the gramophone do to her?
This regal guy was in an underground passageway. The lion is the national animal of Bulgaria. The colors behind him represent the Bulgarian flag.
The next three murals were found in the Central District (Centyra).
Apparently, she was studying way too hard:
And she definitely wasn't:
Sometimes you need a little creepiness in your life:
Sofia, Bulgaria
Sofia is the capital of Bulgaria. We hadn't planned to visit here but had to go there to fly to Portugal. While we didn't enjoy it as much as Plovdiv, it was definitely worth a visit.
This colorful fella is protecting the Oberishte district of Bulgaria's capital, Sofia.
I'm pretty sure he was helping the lion by keeping an eagle eye on the Oberishte district.
Wouldn't you love to know the story behind this mural in the Sredets district of Sofia?
Lisbon, Portugal
Another one of my favorites. It's hard to believe this beautiful creature is made of trash. You can find him near the Belem Cultural Center.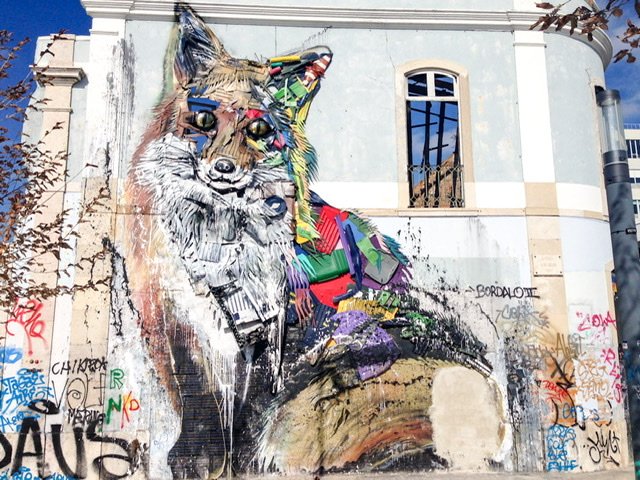 Learn more about the artist, Bordalo II, and his Attero Exhibition here.
I love the bright colors of this mural in the Cais do Sodre district:
Another Cais do Sodre beauty: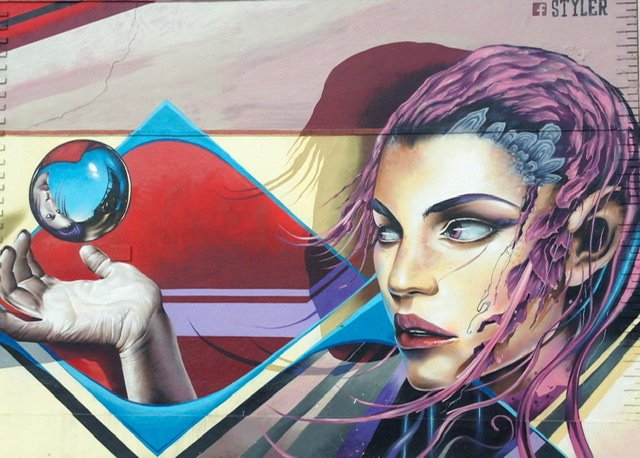 We found the next mural at the LX Factory. This area was an industrial complex that has been repurposed as a trendy area full of restaurants, bars, and shops. If you head there be sure to visit the bookstore Ler Devagar.
This girl and her teddy bear hang out in the Alges Parish:
Barcelona, Spain
Barcelona was our first stop as newly-minted nomads. There was so much to take in and street art wasn't high on the list. That just means we'll have to go back.
Storefront shutters are often decorated. Here we see Betty Boop and her dog Bimbo.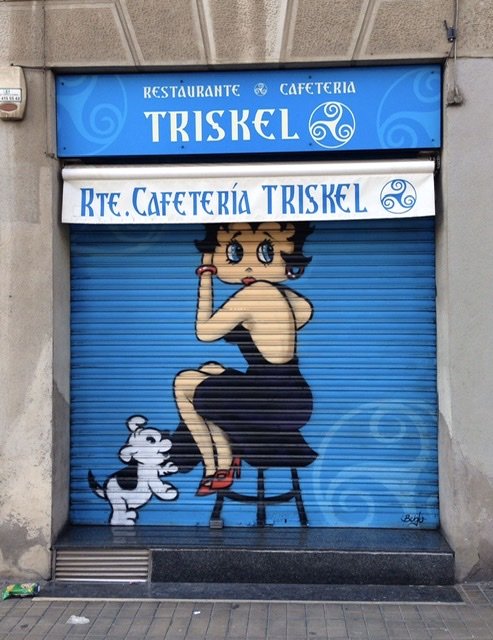 While not officially street art, I couldn't resist adding this sign we spotted strolling around the Gracia neighborhood.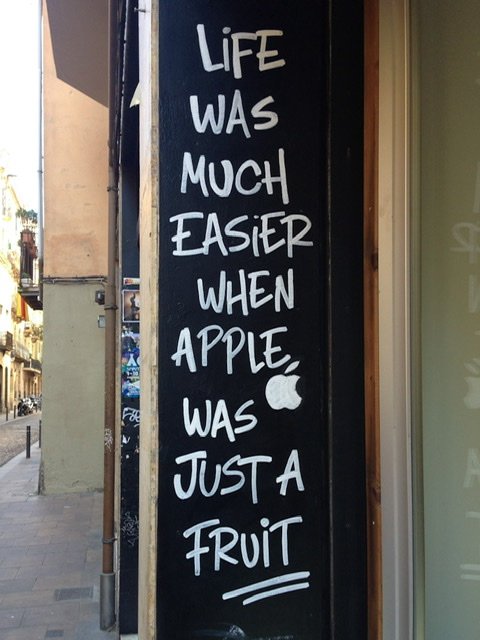 Discover "6 Things You Should Know Before Visiting Barcelona."
Bucharest, Romania
This mural's awkward location made it hard to get a good photo, but don't you just love the bright colors?
Aveiro, Portugal
Aveiro is a small city on the west coast of Portugal about 160 miles (253 km) north of Lisbon. You will be charmed by the canals and the colorful boats called moliceiro.
Another one that isn't officially street art (maybe canal art?). This is one example of the artwork that graces the molicereiro. Most are not so risque.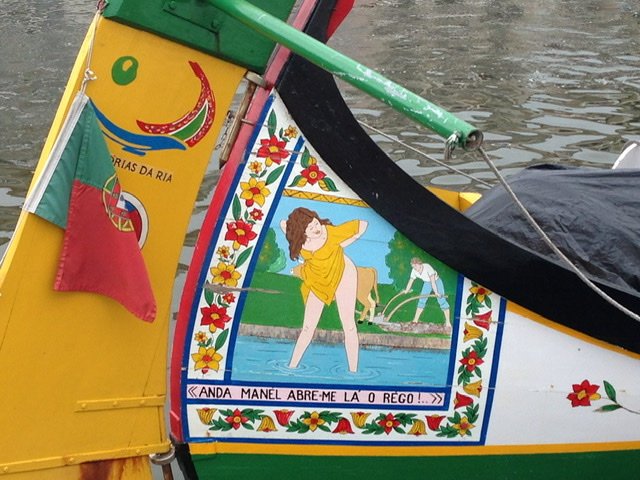 Here is one of the few examples of street art we found in Aveiro:
Lagos, Portugal
Located in the Algarve region in Southern Portugal, Lagos is famous for its rock formations.
These are the largest snails I've ever seen: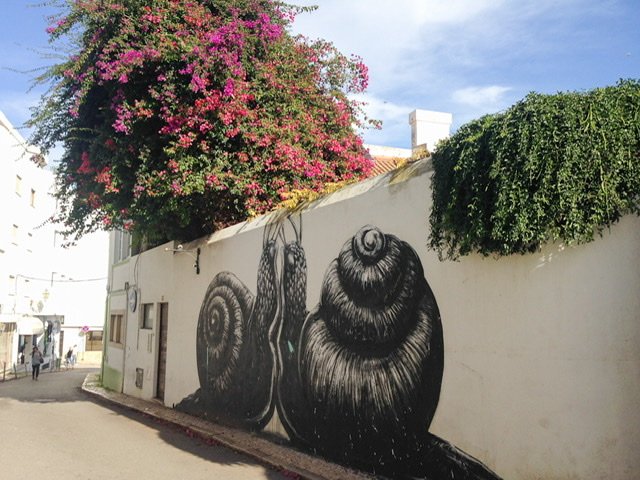 Cascais, Portugal
Cascais is a resort town west of Lisbon. It makes a good day trip from Lisbon or from the captivating town of Sintra.
Why does this painting always make me think of frozen fish?
That's All Folks
I hope you enjoyed these examples of European street art. Maybe you will see some of them first hand or maybe you already have.
For more cool street art check out "Latin American Street Art to Fuel Your Wanderlust."
If you love cat and dog photos, check out "20 Captivating Cats From Around the World" and "24 Delightful Dog Photos From Around the World."
If you're curious about what it costs to travel in Europe full-time check our "Wind and Whim's 2018 Full-Time Travel Costs: Europe."
Happy Traveling,
Linda
If you enjoyed this post, please consider sharing it and joining our email subscription list: