Last Updated on: 20th May 2023, 04:10 am
Boisterous and beautiful. That is Barcelona. This city in northeast Spain is a sight to behold and a privilege to visit. But that doesn't mean there aren't problems.
Here are six things you should know before visiting Barcelona.
1. Gaudi's Creations Grace the City
Antoni Gaudi (1852-1926) was a Catalan architect and a master of the Modernisme (or Catalan Art Nouveau) style of architecture. Modernisme is characterized by organic and botanical motifs, symbolism, rich ornamental details, and curves.
Here is information on twenty-one sites in Barcelona where you can admire Gaudi's talents. These are the three Gaudi sites we visited:
La Sagrada Familia
La Sagrada Familia (The Sacred Family) is Gaudi's masterpiece and the culmination of his life's work. It was so important to him that he chose to be buried inside it.
This Roman Catholic minor basilica is the most visited site in Barcelona. Stepping into the basilica is a magical experience. The sunlight shining through the stained glass bathes the interior in vibrant colors, the columns are suggestive of trees, and the ceiling is exquisitely detailed.
The exterior is as astounding as the interior. Its three facades represent three phases in the life of Jesus: the Nativity, the Passion, and the Glory.
Construction of La Sagrada Familia began in 1882. The estimated year of completion for all but some decorative elements is 2026. If that deadline is met, it will have taken 144 years to build. The year 2026 marks the 100th anniversary of Gaudi's death by being run over by a street tram at the age of 74.
La Sagrada Familia gets over 3 million visitors a year. You are unlikely to get in unless you book your visit in advance. You get a 15-minute window to enter the basilica. You can read more about visiting La Sagrada Familia in this article by The Flashpacker.
Here is some information about the structure and symbolism of the basilica.
Casa Mila
Casa Mila is another Gaudi work in the Modernisme style. It was built in the early 1900s as a home for husband and wife, Pere Mila and Roser Segimon. The locals thought it was ugly and nicknamed it La Pedrera, which means "the stone quarry" in Catalan. It is still sometimes referred to by that name.
The owners lived on the main floor and had apartments above that they rented out. Even today, people are living in some of these apartments. Other parts of the building are used as a cultural center, a foundation headquarters, and a commercial space.
While the whole building is amazing, the roof is a delight. It is covered in fancifully designed chimneys you can walk amongst and even through.
Park Guell
No visit to Barcelona is complete without a stop at yet another Gaudi creation, Park Guell.
This was built in the early 1900s at the behest of Count Eusebi Guell as a luxury planned community. Of the sixty houses planned, only two were built. It became a public park in 1926.
The park has two parts; a Monumental Zone and a Free Zone.
The Monumental Zone covers 5% of the park. You must buy a ticket to enter, and visitors are limited to 400 every half hour.
It is here you will see the iconic dragon stairway. Be sure to visit the Hypostyle Room. It is an open space featuring a multi-domed, tiled ceiling and 86 Doric columns. I missed the opportunity to get some fab photos. Please don't make the same mistake.
In this zone, you will also see gingerbread-style buildings like the one pictured below, the colorfully tiled Greek Theater (or Nature Square), and the laundry room portico.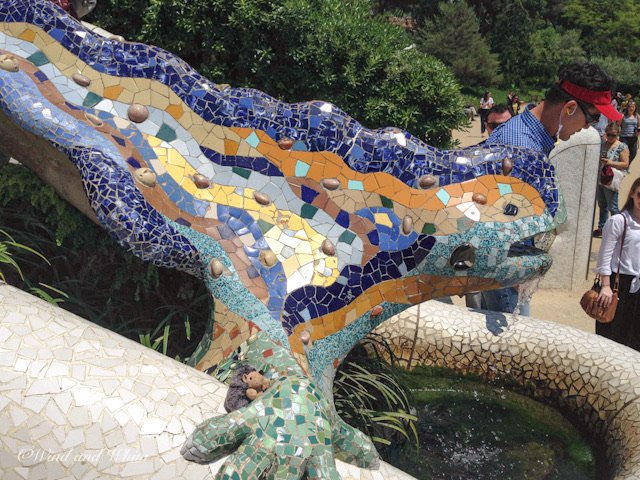 The other 95% of the park is free to visit. It consists of many paths through lush vegetation. Warning, this is not a place for a leisurely stroll. It is hilly and crowded, and street vendors take up a good part of the walkway with their wares.
If you persist upward, you will be rewarded with spectacular views of Barcelona.
2. There are Great Non-Gaudi Things To Do, Too
You can find many non-Gaudi things in Barcelona. Stroll the beach at Barceloneta, visit the Montserrat Monastery, shop at La Boqueria, or take a day trip to Cadaques to visit the Salvador Dali House Museum.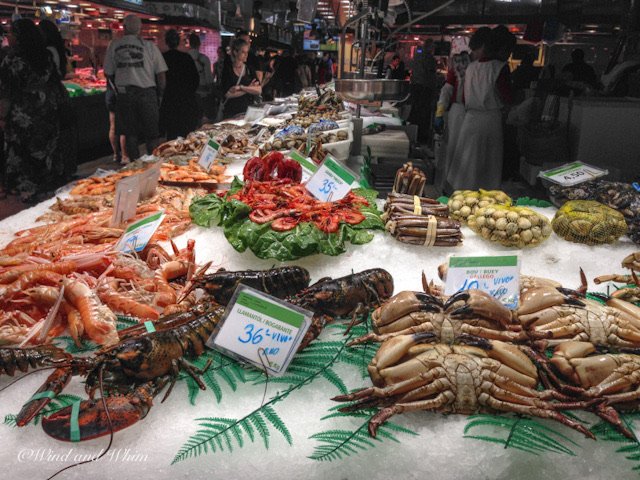 Here are four of our favorite non-Gaudi attractions:
Labyrinth de la Horta
Our favorite place in Barcelona was the little-known Labyrinth de la Horta. This 22-acre park was once a private residence. The park was established in 1791 and donated to the City of Barcelona by the Desvalls family in 1967. It opened to the public four years later.
As the name suggests, there is a labyrinth on the property, but there is so much more. As you stroll through the park, you will be surprised by unexpected scenes. Each one is a delight.
We recommend this park if you want a break from the hustle and bustle of Barcelona. We had the park to ourselves for most of our visit.
Recinte Modernista de Sant Pau
A hospital wouldn't usually be high on our sightseeing list, but we're glad we didn't miss the Recinte Modernista de Sant Pau. The complex of sixteen buildings was constructed from 1905-1930. It showcases the work of Modernisme architect Lluis Montaner.
Montaner believed in the therapeutic properties of nature, color, and form. This belief is reflected in the wealth of details inside and outside of the buildings and in the gardens.
The hospital was in use until 2009. A new hospital was built in 2003, and in 2014, Recinte Modernista de San Pau became a museum and cultural center.
Sitges
Sitges is a beach town on the Mediterranean Sea 26 miles (42 km) southwest of Barcelona. We first visited it on a tour that included a stop in Tarragona (below). Even though we were there on a drizzly day, we were captivated by Sitges.
Sitges will enchant you with stately mansions along the promenade, twisty side streets, and quaint shops. It has just under 30,000 residents, but in the summer, the number of people in town is close to 100,000.
We were charmed enough to revisit it on a sunny day.
Sitges also has a sassy side.
Tarragona
Tarragona is 51 miles (82 km) southwest of Barcelona. It is known for its well-preserved Roman ruins.
3. They Have Cava and Cava Sangria
Cava is the Spanish equivalent of Champagne. Almost all of it is produced in the Catalonian region of Spain.
Cava can be used to make cava sangria. It is especially refreshing to drink while overlooking the Mediterranean Sea on a sunny day. Be sure to try it when you visit the area, and let me know what you think.
I tried to make it when we returned to Florida, but it wasn't the same. I guess I'll have to return to Catalonia.
4. It's Crowded
The overcrowding in Barcelona is exacerbated by the fact that the city is densely populated. Only 1.6 million people live in the city. However, the population density is 16,000 people per sq. km. (compare this to New York City's density of 11,300 people per sq. km).
The city has taken several steps to combat overtourism, including banning short-term rentals under 30 days, limiting tour group sizes, and having one-way walking on some streets. You can learn more in the Travel Weekly article.
In addition, the local government is trying to limit the number of cruise ship visitors but is facing pushback from the Port Authority. Read this Guardian article to find out more.
5. It's Noisy
Because Barcelona is so crowded it is also very noisy, due to the large amount of traffic. Many people ride motorcycles which adds significantly to the road noise. It is not unusual to see people slowly ride their motorcycles onto the sidewalks.
Even with our windows closed, we never got a break from the noise.
6. Pickpocketing is a Persistent Problem
When you repeatedly hear that you are in the pickpocket capital of the world, take it seriously.
A quick Google search of several websites shows that Barcelona is the city in which you are most likely to be pickpocketed, followed by Rome.
Pickpocketing can happen anywhere, but crowded places like the Metro, La Sagrada Familia, and Las Ramblas are especially problematic.
It is not uncommon to see people walking with their backpacks on their chests to keep them safe. You can't be too careful or too paranoid about pickpockets in Barcelona.
You can read all about our pickpocketing experience in our post "Pickpocketed in Barcelona."
Our Take on Barcelona
In five years of travel, one thing has been constant. That is the warmth and kindness we have been met with. The one exception was in Barcelona.
For example, we visited a nearby supermarket daily and used our basic Spanish, but got no acknowledgment from the cashiers. We did not take this personally. As we watched the crowds from our balcony, we did not see many smiles.
We enjoyed learning the history behind the famous sites and taking in the beautiful architecture and street art, but we didn't love Barcelona. Were our expectations too high? Were there too many unfriendly people? Did listening to the constant street noise get old fast? Probably a little of all these things.
We feel fortunate to have experienced Barcelona and would like to visit it again. If we do, we will plan a much shorter stay and definitely revisit Labyrinth de la Horta.
Trip Details
Dates: April 22 to May 23, 2018
Number of days: 31
Total cost for 2: $3,600
Cost per day for 2: $116
More Information
You can find out what we spent during our first eight months as full-time travelers in "Wind and Whim's 2018 Full-Time Travel Costs: Europe."
Happy traveling,
Linda
Featured image of the Arc de Triomf by Leo Korman on Unsplash.com
This post was originally published on June 2, 2020.