Last Updated on: 12th November 2023, 12:54 am
Hi! I hope you had a great September. Ours was quiet, which is sometimes a good thing. And now, here we are in October, and it's time for another monthly update.
Steve and I spent most of September in Tirana, Albania. Since we had just come from Skopje, North Macedonia, Albania's neighbor to the east, we couldn't help comparing these two capital cities.
The streets of Skopje were uncrowded; Tirana's streets were full of people. The city center of Skopje is loaded with classical-style white buildings due to the Skopje 2014 project; Tirana is full of unique buildings. In Skopje, stores and many restaurants are closed on Sunday. When we arrived in Tirana, we were shocked that nothing was closed on Sunday. It made sense when we learned that Albania is 60% Muslim. By contrast, North Macedonia is 60% Christian.
Even though our time in Tirana was more laid back than usual, Steve and I got to know a little about this city and the country of Albania. Here are the highlights, the low points, and what we did in September.
All money is in U.S. dollars.
Highlights
Inexpensive Restaurants
Steve loves to cook, but I would eat out every day if I could. Unfortunately, that isn't in our budget. But we came close to doing that in Tirana. I can't remember a place we've been where restaurants were so inexpensive. It is possible to get lunch or dinner with beverages for two people for under $20. While the cost of restaurant food was very low, the cost of drinks was similar to what we've seen in other Balkan cities.
We took advantage of that, enjoying traditional food as well as Mexican, Chinese, and Indian cuisines. We also ate seafood at Lissus Fish, where I had fish soup and marinated anchovies for the first time. I loved them both.
Seeing the city grow
Albania is one of the poorest European countries, but Tirana is growing. The population of around half a million is increasing by 30,000 people per year, and tourism is rising.
You can read about Albania's growth in this article by Emerging Europe.
There are already many modern buildings, and more are in progress. I loved the unique architectural styles.
A Short Trip to the Coast
It didn't take long for us to see the Tirana attractions we were interested in, and it was too hot to hike, so we decided to spend a few days at the coast.
We spent three nights in Durres, which is on the Adriatic Sea. The point of the trip was to do a little lazing by a pool and listen to the sea. And that is precisely what we did.
Our hotel, the Hotel Palace, made it easy to relax. I spent two days doing nothing but lying on a lounger and reading (well, maybe I snuck a few drinks and a meal in here and there). Breakfast was included, and there was an amazing variety of foods.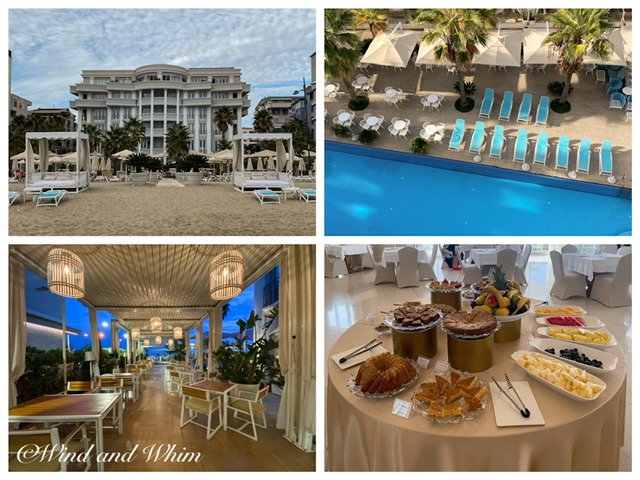 I wish I could sing the town's praises as well, but frankly, Durres was the least pleasant beach town Steve and I have been to. There is a lot of poverty, and the beach wasn't very inviting.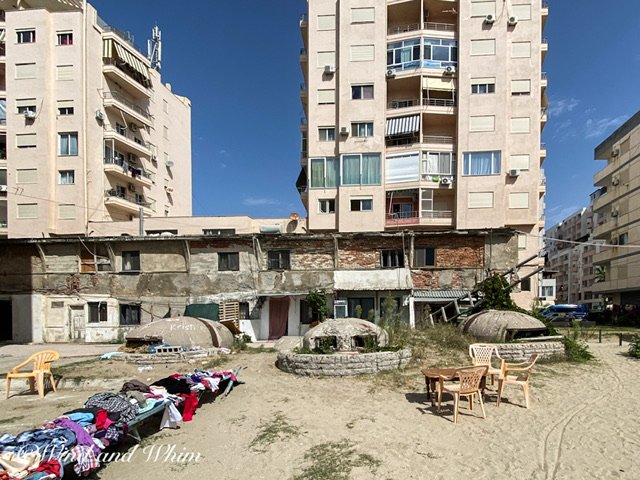 Nice hotels are popping up, and there are some upscale shops and restaurants among the rundown buildings.
We stopped at Troy Motor and met Lona. She is super friendly and recommended two restaurants to us. If you are into motorcycles, particularly Harleys, and find yourself in Durres, stop in and say hello.
Low Points
The cost of groceries
We were perplexed by the high price of groceries and couldn't understand how restaurant food can be so cheap and groceries can be so expensive. The prices may be in line with grocery costs in the U.S., but they were a shock to us after having spent the last several months in Croatia, Romania, and North Macedonia.
Closed Attractions
There aren't a lot of tourist attractions in Tirana, and two of them on our sightseeing list have been permanently closed: the National Gallery of Art and the Mezuraj Museum, which at one time displayed art and archaeological specimens owned by the Mezuraj family.
Trying to Fill a Prescription
After our experience with buying medicine in Turkey, we were spoiled. All we had to do there was go to a pharmacy and tell them what we wanted. Well, Albania is just the opposite. There, you need a prescription for pretty much everything, and the doctors I saw would only write prescriptions for medicines related to their specialties.
I was running low on diabetes medication, so I found a private clinic. Their schedule and ours didn't mesh, so I went to a private hospital. First, I had to pay $40 to see a doctor. Then, I spent the next half hour saying no to the battery of tests she wanted to run. She finally wrote the prescription and suggested I get a few simple tests. I got a quote for $43 for a blood test and a urinalysis. This was twice the cost than at the first clinic I went to, so I took my prescription and left.
The doctor said I might have trouble finding my medication and was referred to Farmacia Greke. I did find it there, but it was $100 for 28 pills! I decided to wait until we get to Montenegro, where I hope to have better luck.
After wasting several hours and $40, I learned that it is hard for tourists to fill prescriptions in Albania. Specific medicines may be unavailable or hard to find, they may not have the dosage you need, and they may be expensive. It's best to make sure you have plenty of all of your medications when visiting Albania.
What We Did
Explored Bunk'Art 1 and Bunk'Art 2
When I first heard of Bunk'Art, I thought it was an art gallery in a bunker. It isn't. Bunk'Art 1 and Bunk'Art 2 are indeed bunkers, but they have been turned into museums about Albania's communist era (1946-1991).
We visited both. They are full of artifacts that illustrate the horrors of that era. There is a lot of emphasis on the dictator Enver Hoxha, who ruled the country under communism from 1946 until he died in 1985.
Hoxha had 750,000 bunkers built throughout Albania from the late 1960s until his death as he became increasingly fearful of foreign invasions after politically isolating Albania from most of the region.
You can learn more about the Albanian bunkers in this National Geographic article.
Visited the House of Leaves
The House of Leaves was built in 1931 as the first private obstetrics clinic in Albania. It was briefly used by the Gestapo in 1943. With the advent of communism, it became the headquarters of the Sigurimi, the country's security, intelligence, and secret police.
The building is called the House of Leaves because of the vines growing on it.
The museum, also called the Museum of Secret Surveillance, focuses on the equipment and methods of the Sigurimi. I particularly liked the exhibit about the movies produced to further the communist agenda.
Checked Out the National Historical Museum
The National Historical Museum is the largest museum in Albania. It covers the country's history from the 4th century BC to the mid-20th century.
The best part was the Pavilion of Antiquity, which covers the Prehistoric Period to the Early Middle Ages. I'm not usually excited by ancient artifacts, but they were well presented in this museum. I even saw a few unique items, including this tool to measure dry goods:
The Pavilion of Antiquity had detailed descriptions in both Albanian and English. Unfortunately, the rest of the museum lacked English descriptions, even though there were many interesting exhibits.
Both Bunk'Art museums and the House of Leaves showcase the evils of the communist period. The National Historical Museum of Tirana has the Hall of Communist Persecution as well. I was disappointed here and in Skopje that there aren't any museum exhibits about the fall of Communism, which was more than 30 years ago.
Climbed the Pyramid
In 1988, three years after Hoxha's death, a museum dedicated to his "legacy" was built in Tirana. It was in the shape of a pyramid.
After the fall of communism, the pyramid had a few other uses. It was a nightclub, an event space, and a NATO base during the Kosovo War (1998-1999). After this, it was abandoned and fell into disrepair.
One morning, I decided to see it. I was expecting a wreck covered in graffiti since that was the last photo I had seen of it. I was delighted to find a gleaming white structure with dozens of brightly colored cubes being built around it. These buildings will be used as cafes, restaurants, and classrooms for after-school education.
Here is more information on the pyramid project.
Saw a Movie (With Popcorn!)
I discovered a movie theater showing My Big Fat Greek Wedding 3. With some sleuthing, I learned that the movies are shown in English with Albanian subtitles. So Steve and I took advantage of the opportunity to see it.
There were only about ten people in the theater for the matinee. Tickets weren't exactly a bargain at $7 each, and popcorn and drinks were another $14, but still cheaper than U.S. prices.
It was fun to spend a few hours in the theater, but the movie wasn't nearly as good as the first one.
Perused the New Bazaar
Although we are seldom in the market for souvenirs or trinkets, we had to check out the New Bazaar. This is a neighborhood in Tirana's Old Town that, as the name suggests, is a market center. There are over 300 businesses in the New Bazaar, but the centerpiece is the eye-catching steel and glass structure built in 2017.
No More Mr. Nice Guy and Gal
Steve and I headed to our next city, Podgorica, Montenegro, at the end of the month. As soon as we arrived, we were impressed with the city, or at least the part we were staying in. It is a modern area full of apartments, restaurants, and shops. Our Airbnb was in a new building.
When we first entered the Airbnb, it looked good. It was modern and appeared to be clean. We were surprised to see a mini fridge instead of a full-size one. That oversight was on us. Looking back, we saw that there weren't any photos of the refrigerator in the listing. Except for one past stay, we've always had a full-size fridge. Now we have something else to add to our Airbnb checklist.
We asked our host if we could get a second mini-fridge since we booked for four weeks. She told us that small refrigerators are standard in one-bedroom apartments in Montenegro, and they wouldn't provide another. I checked other Airbnb one-bedroom listings in Montenegro, and they all had full-size fridges. Interestingly, the dishwasher was large.
As I discussed in "The Truth About Staying In Airbnbs," apartments generally look great on the surface. However, with a few exceptions, something has been overlooked or ignored. The main culprits, but not the only ones, are dirty cooking supplies, full vacuum cleaners, and dirty air conditioner and bathroom exhaust filters.
Up until now, we have taken care of these issues, not wanting to bother the host for minor things. That stops now. In this apartment, we found two pans that were unusable. The coating on the non-stick pan was flaking off. The spatula was coated with dried-on food. The bathroom vent was dirty and the filter was missing. We also found nine places that weren't clean, including the balcony, which hadn't even been swept. We let our host know. They replaced the kitchen items and sent a cleaner to take care of the rest.
Steve and I decided that from this point on, we are not going to fix these issues. We will ask the host to take care of them. I'll let you know how that goes.
On the Website
There were two new posts in September: "Wind and Whim's Monthly Update: August 2023" and "What Is Skopje Really Like? An Honest Review."
To see more of Tirana, check out our Tirana photo gallery.
I've been able to tweak this website a bit to get closer to the design I want. Changing themes is proving to be time consuming and challenging, but I am not giving up.
Where to Next
At the end of the month, Steve and I headed to Montenegro for eight weeks, where we are hoping for cooler weather so we can do some hiking. We will split our time between the capital of Podgorica and the city of Kotor. Then, it's off to Rome for a short trip before we get on a ship and cruise back to the U.S.
We will dock in New York City on December 19th and spend four nights there before going to Jacksonville for a month. I have only been to New York City once, and that was 44 years ago. I can't wait to see the city at Christmastime and visit the 9/11 Memorial.
Until Next Time
That's it for our travels in September. It looks like things will be picking up in the next several months. One thing is for sure; we intend to enjoy the fall weather.
Drop a comment in the section below and let Steve and I know what you did in September and what you have planned for the rest of 2023.
Happy traveling,
Linda