Last Updated on: 23rd October 2023, 01:37 am
If you asked 1,000 people which European city they would most like to visit, I'd be surprised if even one would put Skopje, North Macedonia, at the top of their list.
It's not because Skopje isn't worth visiting, but it is not well known and can't compare to the draw of many European cities. But that doesn't mean you shouldn't consider visiting it.
Read on to find out what Skopje is really like, at least from my perspective.
A Little Background
Steve and I spent most of August 2023 in Skopje. It was the 88th city we've visited. We chose it for several reasons:

1. It is outside the Schengen Area – we had to spend 90 days out of the Schengen Area after visiting Greece, Croatia, and Italy in the spring of 2023.

2. It is inexpensive – to keep our budget under control, we offset visits to expensive places like the U.K., the U.S., and Western Europe with trips to more economical places.

3. It looked unique – I had read about the elegant classical buildings, the multitude of statues, and the two new pedestrian bridges lined with sculptures that resulted from the Skopje 2014 project. I was curious to see them.
You can read about our stay in Skopje in "Wind and Whim's Monthly Recap: August 2023" and see more of the city in our post "Skopje, North Macedonia Photo Gallery."
What's Good About Skopje?
It's Never Boring
There's no denying that Skopje is interesting. The buildings, sculptures, and bridges in the city center are fun to explore. Skopje is the perfect city for you if you love to turn a corner and see something unexpected.
The Compact City Center
Most of the attractions are within walking distance of each other. For example, you can visit Macedonia Square and then cross over the mid-15th century Stone Bridge to Old Town and the Old Bazaar.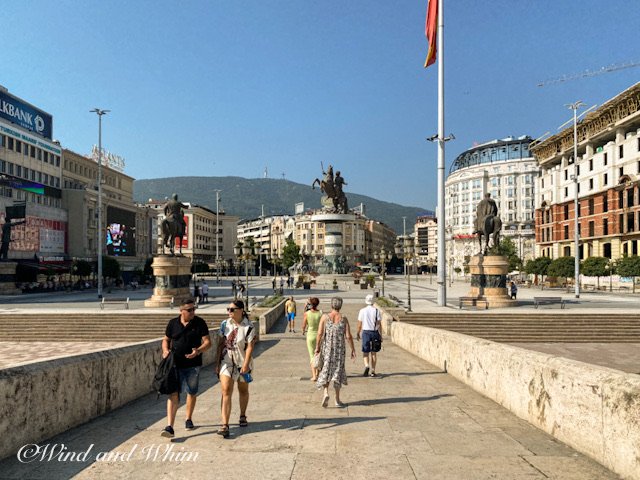 Old Town and the Old Bazaar
You can spend hours exploring Old Town and the Old Bazaar and never get bored. In addition to oodles of souvenir shops, there is an entire street lined with jewelry stores.
There are also many stores selling ballgowns and wedding dresses.
Learn more about the Old Bazaar in this article by Wander-Lush.
The Public Transportation
For times when you don't want to walk, there are a lot of buses. You can use the Skopska app to get tickets for a single trip or a weekly or monthly pass.
Uber and Lyft aren't available, but there are plenty of taxis.
Good Restaurants With Good Prices
You won't want for places to eat. And the prices are kind to your budget. As you would expect, there are plenty of traditional restaurants. However, our favorite was a Mexican restaurant called Amigos. Their margaritas alone were worth a visit.
A Few Impressive Museums
While there aren't many museums and tourist attractions in Skopje, the museums we visited were very good. Steve and I were particularly impressed with the Holocaust Memorial Center for the Jews of Macedonia and The Museum of the Macedonian Struggle for Independence.
English is Everywhere
It is easy to communicate since almost everyone speaks English. It is also widespread in museums and on menus.
Diverse Architecture
If you can take your eyes off the glitz of the Skopje 2014 project, you can see examples of other architectural styles.
What Could Be Better?
As entertaining as it was to experience the city center, I couldn't help thinking that with the Skopje 2014 project, the city leaders bit off more than they could chew. Maintenance seems to be a problem. There were just too many things that needed attention.
The Bridge of Art and the Bridge of Civilization
Both the Bridge of Art and the Bridge of Civilization were built as part of Skopje 2014. Both of these pedestrian bridges are lined with sculptures of men who were important to North Macedonian history. Only half of the sculptures on the Bridge of Art had name plates when we visited, and none on the Bridge of Civilization did. Older photos of the bridges show nameplates.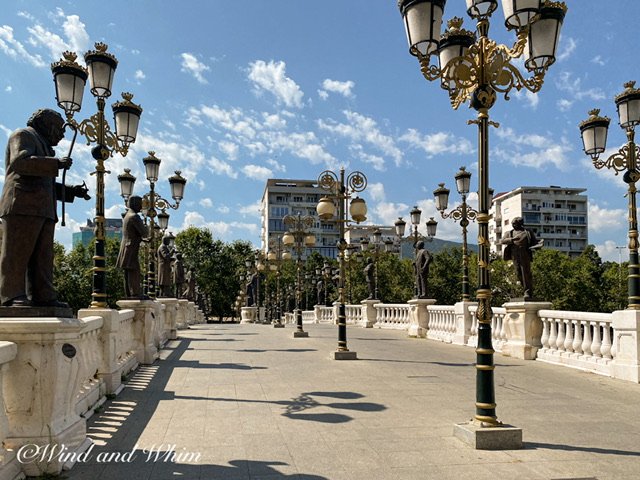 In addition to the statues, both of these bridges are lined with ornate lights. We never saw them on even though we visited during tourist season.
The National Theater
The National Theater building is lovely to look at, being adorned with statues and theatrical masks. There are also several free-standing statues around the building. Unfortunately, the area near the ground is already in disrepair, as you can see from this photo:
The Litter
There is a lot of litter. While it isn't unusual for cities to have a litter problem, I think a city that is trying to attract tourists would take extra care to keep the city clean.
Surprisingly, we saw much more litter around the city center than where we stayed, which was a 20-minute walk from the center.
The Graffiti
There is also way too much graffiti.
The River
The section of the Vardar River that flows through the city center was not the least bit pleasant. This may have been because the water level was low.
There was a lot of litter in the river, some of which was accumulating on posts. While looking online, I discovered these weren't posts but water jets meant to put on a lighted water show. Like the lights on the bridges, these were not working when we were there.
You can see how pretty the fountain looks in the featured photo.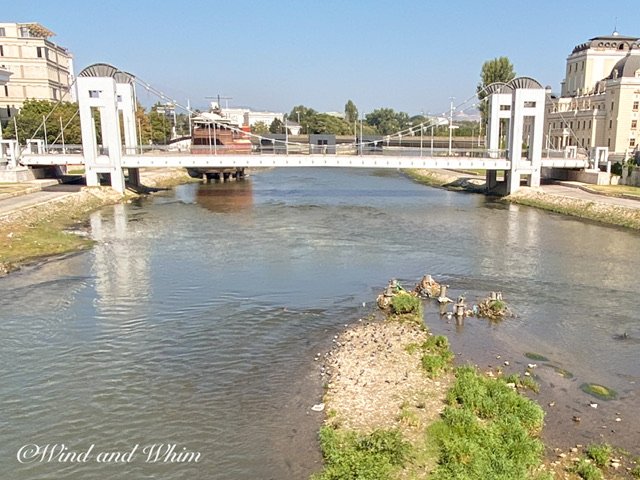 The Pirate Ships
Yes, you read that right. There are replicas of three pirate ships on the Vardar River. One ship is a restaurant and hotel, one is deserted, and one is in ruins.
If you're wondering what pirate ships have to do with the landlocked country of North Macedonia, you are not alone. North Macedonian architect Nikola Strezovski said it best: "Skopje 2014 was something that shocked us all at the time. By the time the pirate ships arrived on the Vardar River, we were used to crazy."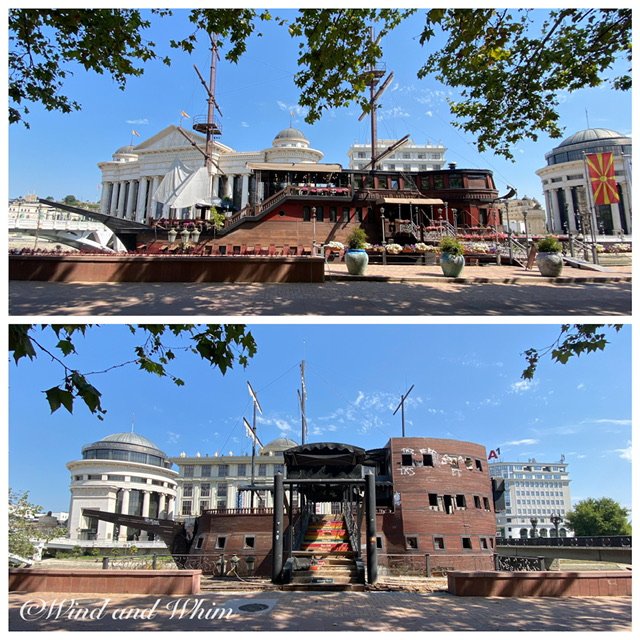 The Fountain Water
This last item is minor, but the water in the Warrior on a Horse monument was green. A lovely shade of blue would be so much better.
Should You Visit Skopje?
I don't believe Skopje is a good choice for the occasional traveler. There are more exciting places with many more tourist attractions. But for frequent and full-time travelers, it is worth a look. You can revel in the kitsch, eat well without spending a fortune, and learn cool historical facts about a country and region you likely know little about.
If you are interested in visiting Skopje, check out our post "What You Need To Know When Visiting Skopje, North Macedonia" for helpful tips.
Until Next Time
That's it for my review of Skopje. As always, Steve and I would love to hear what you think of this unusual city. Do you live in Skopje? Have you been there? Do you agree with my assessment? Let us know!
Happy traveling
Linda
Feature image from Canva