Last Updated on: 12th September 2023, 10:17 am
Hi there! Can you believe it's September already? The summer has been flying by for us, but we're having fun. I hope you are, too.
Steve and I started August with two nights in Brasov, Romania, and spent the remainder in Skopje, North Macedonia.
Check out this monthly update to see our August highlights and low points, what we did, and where we are going.
All money is in U.S. dollars.
Highlights
Staying at Hotel Belvedere, Brasov
We made a short trip to Brasov to revisit Bran Castle (aka Dracula's Castle) before leaving Romania. That part of the trip didn't go as planned, as you'll read below. However, our hotel in Brasov turned out to be a real gem.
We had a large, comfortable room, but the restaurant was the best part. We arrived at the hotel mid-afternoon and went looking for a late lunch. We were told there wasn't any food service until 4:00 p.m., and there weren't any stores or other restaurants nearby. I made do with a granola bar, and Steve sacrificed our last Milka chocolate bar.
You better believe we were at the restaurant at 4:00. Once we opened the menu, we were hooked. Every option looked so good we could have spent two weeks there and never ordered the same thing twice.
The food was so delicious and beautifully presented that we ate there on our second night, too.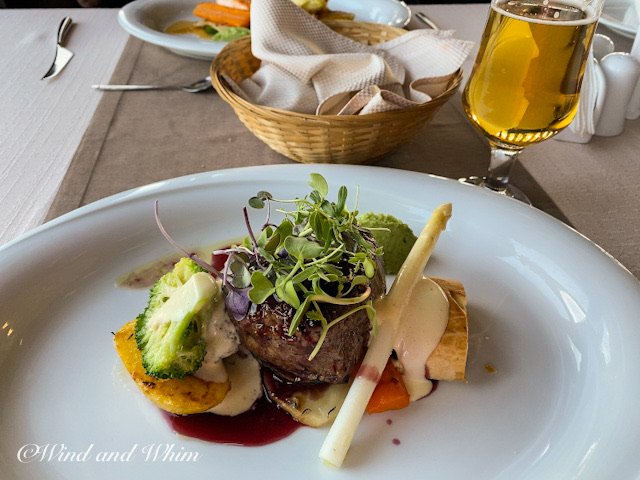 Discovering How Much We Like Skopje
Because we knew little about Skopje or the country of North Macedonia, we weren't sure what to expect. The city is getting on travelers' radar but still has a way to go before it is well known.
We were blown away. We had a modern, spacious apartment near the city center. It was just a 20-minute walk to the main square. If we walked in the other direction for 20 minutes, there was a large mall with a huge grocery store. There were frequent buses along this street. There was also a small market just a few minutes away.
Two things about the city surprised us. The first was the prevalence of English. Almost everyone speaks English. And they speak it well. Signs often have Macedonian, Albanian, and English on them. Information in museums and menus also include English.
The second thing was the lack of crowds. Our apartment overlooked an intersection of two main streets, but there was less traffic and, therefore, less noise than in other cities. It was great to walk on uncrowded sidewalks.
We liked many things about Skopje, but that's for another post.
Seeing Some Great Museums
We visited several museums and were impressed with their quality, especially the Holocaust Memorial Center for the Jews of Macedonia and the Museum of the Macedonian Struggle for Independence. You can read more about these museums and other places we visited here.
For a comprehensive list of things to do in and near Skopje, see "21 Things to Do in Skopje, North Macedonia" by Wander-Lush.
The Holocaust Museum was the best museum we visited in Skopje. There was so much information that even after two hours, we hadn't seen it all.
A video about Hitler's rise to power gave me chills, as I can see how easily a society can head down the road to the unimaginable. Yes, I'm talking to you, U.S.A.
Even though I've been to many holocaust museums, I still learned new things. The video showed bonfires where tens of thousands of books written by Jews were burned. It is alarmingly similar to the banning that is going on in parts of the U.S. where books by Black and LGBTQ authors or about Black and LGBTQ issues have been banned.
The other thing I learned was after the liberation of the concentration camps, General Eisenhower invited members of Congress and the press to tour the liberated camps. He did this because he knew words could never express the horrors found there, and so there would be proof, as he feared there would be deniers.
Making a Kitty Friend
There was a pet store on the ground floor of our building, and they had the most adorable kittens. One was orange, and two were grey. After a few days, the grey ones were adopted, but the orange one remained.
We liked this gentle, affectionate cat so much that we visited him every day. He was still at the pet store when we left Skopje. We hope he gets a loving home soon.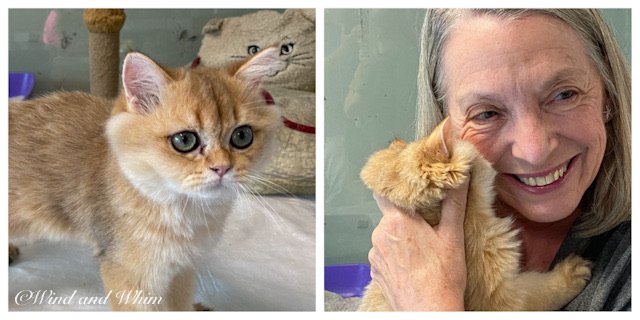 Getting Our Second Housesitting Gig
This past spring, we joined Trusted Housesitters, hoping to get some house sits in places that are expensive to visit, like the United Kingdom, Western Europe, Australia, and New Zealand. The idea is that you stay in someone's home for free while they are away. The offerings almost always involve watching pets.
Not long after we joined, we got our first gig! We weren't looking for sits in the U.S., but we came across one in the Town of Tonawanda, New York, where I grew up. Steve grew up in the adjacent village of Kenmore. We will be watching one cat named Niki for 17 nights in February and will be able to visit family in the Western New York Area.
Recently, we arranged a second sit. We will spend 16 nights in Bury St. Edmunds, England, in March while caring for and no doubt falling in love with two dogs, Mollie and Angus. We plan to be low-key during this stay but take advantage of being in England to spend time in Cambridge and London before and after the housesit.
Learning to Ask Airbnb Hosts for What We Want
We are happiest when we have a kitchen with what we call the kitchen trifecta: an oven, a microwave, and a dishwasher. You'd be surprised how many Airbnb listings only have two of these three items.
When we were looking for apartments in Albania and Montenegro, dishwashers were prevalent, but microwaves were virtually non-existent. In two that we booked, we asked the hosts before booking if they would be willing to add a microwave, and both said yes. Because we asked, we even got a good discount on our Jacksonville Airbnb.
When you are staying somewhere for four weeks, the hosts are pretty agreeable to any reasonable request.
Low Points
Getting Rained Out in Bran
The whole point of going to Brasov was to take a day trip to the nearby town of Bran to visit Bran Castle. We had been there on a tour in 2018 but hoped to see more of the castle and the town.
A receptionist at our hotel said we could get a bus to Bran near the train station, but when we got there, several people told us we had to go to bus station #2. But no one could tell us how to get there.
I saw people lining up to get on a bus, and I asked if they were going to Bran. The driver said no, but he could take us to the other bus station, and he did so without charging us.
After waiting 50 minutes for our bus and an hour-long drive, we finally got to Bran.
Once at the castle, we wound through it along with what seemed like every other tourist in Romania. Once we were through with the inside, we headed out to explore the grounds and the town, only to be met with a downpour even though no rain was predicted. We waited it out at a café, where I had the least delicious cake I've ever eaten.
Our first visit, in 2018, wasn't the best either. The castle part was alright, but the bus trip from Bucharest and back was longer than expected because of heavy traffic. When we arrived back in Bucharest, it was after 11:00 p.m., and the metro wasn't running. I remember frantically trying to find a taxi at an intersection of three roads. It took a while, but we finally got one.
If we ever decide to revisit Bran Castle, which seems cursed for us, we will stay in the town of Bran, which, from what little we've seen, looks quite charming.
Dealing With SIM Card Issues
On our first day in Skopje, we headed to Telekom (T-Mobile) to get local SIM cards. Even though T-Mobile doesn't have the best reputation in the U.S., it usually works well overseas.
We got our SIM cards installed but were unable to log into the app to purchase the package we wanted. It took four days and several phone calls before the company could make that happen. Then, we discovered that the package worked in other Balkan countries but not in North Macedonia.
We switched to Lycamobile and paid a lot less for hassle-free SIM cards.
Dealing With the Heat
The temperature was in the mid-90s almost every day, and the sun was intense. We tried to do outdoor things early in the day or the evening, but because of the heat, there were a few things we didn't do. One was hiking up Mt. Vodno, and the other was a day trip to Matka Canyon. Perhaps we will do these on a future trip to North Macedonia.
We had spent July in Bucharest, and it was hot there too. Note to self: Next summer, go someplace cool or on the water.
Other Things We Did
Wandered Skopje's City Center
Steve and I spent many hours taking in the beauty of the city center. Its highlight is the 92-foot or 28-meter tall statue, Warrior on a Horse. It is in Macedonia Square and depicts Alexander the Great on his favorite horse.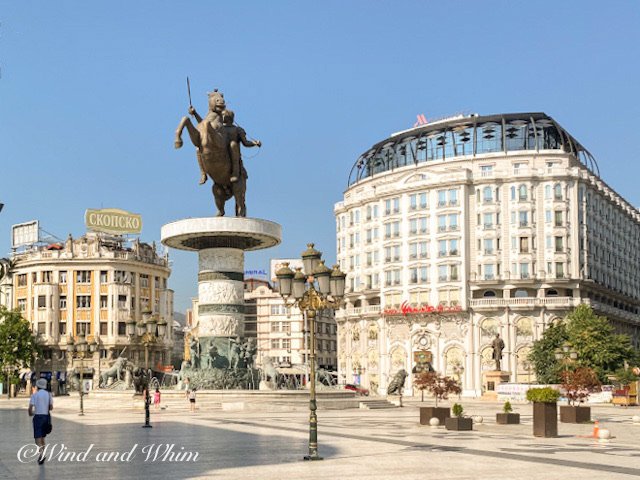 This is only one of the many monuments and statues the city erected as part of its Skopje 2014 project. The project also included constructing many buildings and replacing the facades of others to make the city more attractive to tourists and foster national pride.
Gambled
Neither Steve nor I are gamblers. We like to see something for our money. The last time we went to a casino was in 2018 in Bulgaria. We played slots there and had what they termed a "massive win." It was all of $18.
There are a lot of casinos and slot halls in Skopje, so I figured, "When in Rome." We spent a few hours at the Flamingo Casino playing the slots. We didn't win anything, but it only cost us $25, so it was a good way to spend some time when it was too hot to be outside.
Planned a Lot
It's no secret that travel planning is time-consuming and not much fun, but we bit the bullet and made some serious headway on our plans for the next six months (as you can read about below).
On the Website
After two months of working on a new website design, I decided to put it on hold, get a few posts written, and then try designing a new website using a different theme (the basis of a website).
Instead of considering it a failure, I see it as being several steps closer to creating our new site, since much of what I designed can be used with another theme.
Besides the July 2023 update, I published two new posts, "The Truth About Staying in Airbnbs" and "79 Things to Know When Visiting Skopje, North Macedonia."
Where to next?
We have our travels pretty much planned through mid-March. This is such a change from how we usually travel, which is to plan one or two months ahead. This time, since we booked a Transatlantic cruise leaving Rome on December 4th, we thought it prudent to plan our stays up to and after the cruise.
Our ship is scheduled to dock in New York City on December 19th, so of course, we had to take advantage of that and spend a few days in the city. Then, we will head to Jacksonville, Florida, to spend Christmas with our daughters and stay for most of January to visit family and friends, see doctors, and stock up on supplies.
Here's our itinerary so far:
| | |
| --- | --- |
| Tirana, Albania | Aug. 31 – Sept. 28 |
| Podgorica, Montenegro | Sept. 28 – Oct. 26 |
| Kotor, Montenegro | Oct. 26 – Nov. 24 |
| Rome, Italy | Nov. 24- Dec. 4 |
| Cruise | Dec. 4 – Dec. 19 |
| New York City | Dec. 19 – Dec. 23 |
| Jacksonville, Florida | Dec. 23 – Jan. 20 |
| OPEN | Jan. 20 – Feb. 9 |
| Tonawanda, New York | Feb. 9 – Feb. 27 |
| OPEN | Feb. 27 – Mar. 5 |
| Bury St. Edmunds, England | Mar. 5 – Mar. 21 |
Until Next Time
That's it for our monthly update for August. As always, Steve and I would love to hear about your travels and thoughts about this post.
Happy traveling,
Linda