Last Updated on: 12th November 2023, 01:03 am
Hi there, and happy November. Steve and I spent most of October in Podgorica, the capital of Montenegro, and then moved on to Kotor, Montenegro, at the end of the month. We had a low-key month in Podgorica, but Kotor should be busier since there is more to do.
Even though we weren't as active in October as usual, that's okay. We will be busy from late November through January. Here is our monthly update with the highlights, the low points, and a summary of what we did in October.
Highlights
A Side Trip Back to Albania
We took a side trip back to Albania, the country where we spent most of September. We spent three nights in Shkoder, where we discovered a factory that makes Venetian-style carnival masks, explored castle ruins, visited the Marubi National Museum of Photography, and saw a few churches.
Our side trip had its own side trip. From Shkoder, we went to the village of Theth in the Albanian Alps for two nights. We spent most of our full day there on a challenging mountain hike.
Then we returned to Shkoder for one last night, where we ate at two of our favorite restaurants, Bar Restaurant Elita and Fisi Restaurant, and relaxed at our hotel.
A Great Neighborhood in Podgorica
Our Airbnb was in a new part of town full of apartment buildings, shops, and a mall just a five-minute walk away, but the best part was the nearby restaurants.
One of our favorites was Spago, which had terrific pulled pork sandwiches. We had fun with our waiter, who was quite taken with Hedgemeister.
We also loved Zheng He, a high-end Chinese restaurant. The best Chinese food we've ever had was in Quito, Ecuador. The food at Zheng He was a close second.
These websites are in Montenegrin, but the menus have English translations.
A Killer Steak Dinner
I'm a big fan of filet mignon, which isn't easy to find as we travel. So, when I found a restaurant in Podgorica called The Living Room, and they had filet mignon on the menu, I was all over that. My filet was perfect, which is a miracle because they tend to overcook meat in Balkan countries (at least for our taste).
Steve ordered a T-bone steak, which was sold by weight. We were surprised when we got the bill and his steak cost 56 euro ($59). But he loved it, and it was one of the best meals we've had in a long time.
Ease of Filling Prescriptions
It seems that I have reached the age where filling prescriptions makes the highlights list, lol.
In last month's update, I discussed the challenges of filling prescriptions in Albania. It was much easier in Montenegro. I was able to use the prescription from an Albanian doctor to buy my medication at an affordable price. The ease of keeping up with prescriptions while on the road ranges from incredibly simple to downright frustrating.
Low Points
More Airbnb Issues
In last month's update, I also wrote about our issues with our Podgorica Airbnb, including unusable cooking supplies and a poor cleaning job. Our host addressed these. But the fun didn't stop there. One of the sliding closet doors got progressively harder to move and needed to be adjusted. Then, the water in the building was turned off for a brief time. When it came back on, we had a leak under the bathroom sink. Each of these issues meant waiting for a repair person to arrive and fix it.
We realize things will go wrong, but this Airbnb had more than its share. It's funny how many more problems we seem to have in newer buildings than in old ones.
What We Did
Toured the Venice Art Mask Factory in Shkoder
Who would have thought that some carnival masks you see in Venice shops are made in a little city in Albania?
We saw a wide variety of masks and learned how they are made. You can read about this interesting attraction in "A Venetian Surprise in Shkoder, Albania."
Explored the Rozafa Castle in Shkoder
Steve and I spent several hours at the Rozafa Castle ruins, where visitors can wander at will. The oldest parts of the limestone and brick castle date back to the 4th or 3rd century BC (according to Wikipedia).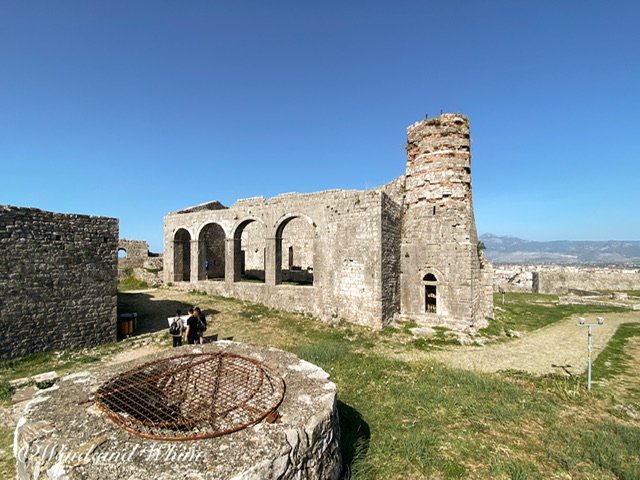 There is a heartbreaking legend about the castle that you can read about here.
Hiked the Albanian Alps
And what a hike it was. We got much more than we bargained for on this hours-long trek along steep, rocky trails and across rivers and a small waterfall.
We vowed to be more careful about which trails we commit to, but we can't deny how much we loved the scenery along the way.
Visited the Dajbabe Monastery
The Dajbabe Monastery is a 126-year-old Serbian Orthodox monastery on the outskirts of Podgorica. Its church and several shrines are in a cave. The grounds are covered with dozens of olive trees.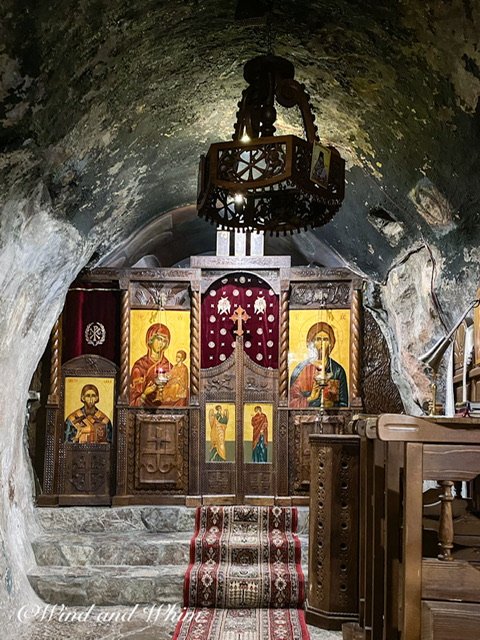 The complex was beautiful and peaceful, but the best part was the cat who greeted us at the entrance and enjoyed all the attention we gave her.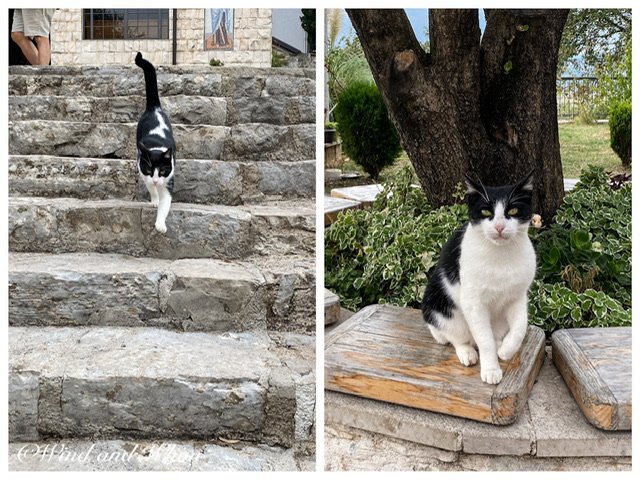 Strolled the Older Areas of Podgorica
We took several walks into the old parts of the city, including Old Town and Gorica Park. Neither of these wowed us. The highlights of Old Town consist of a clock tower and two traditional restaurants. Gorica Park is a large park whose claim to fame appears to be its adventure course.
We came across the charming Church of St. George near Gorica Park. You can see the ropes used to ring the bells hanging on the front of the church.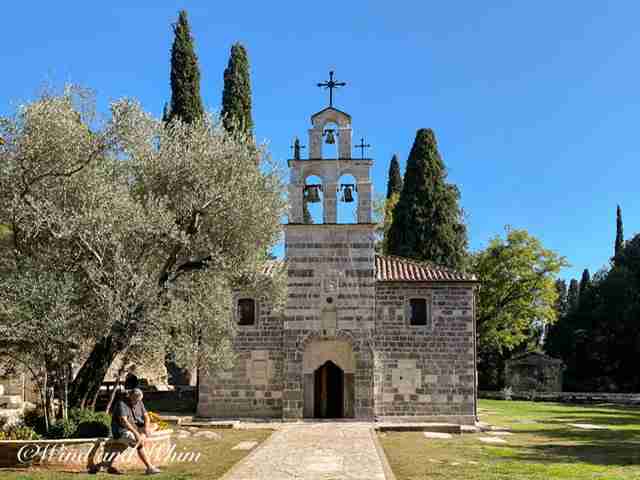 We enjoyed the area around the Old Ribnica River Bridge. The bridge was built in Roman times and reconstructed by the Ottomans in the 18th century.
The Ribnica River was dry when we were there, but that didn't detract from the charm of the bridge or the small park surrounding it.
Marveled at the Orthodox Temple of Christ's Resurrection
This is a must-see in Podgorica. We've seen a lot of churches, and this one still impressed us. The outside has many reliefs. Inside, the walls and ceiling are covered with colorful paintings.
Photos aren't allowed inside the temple, and we believe in respecting that request. This time, we were bad, and both snuck a photo because it was so incredible.
On the Website
We published two new posts in October: the aforementioned "A Venetian Surprise in Shkoder, Albania" and "Wind and Whim's Monthly Update: September 2023."
We also published two photo galleries: one for Skopje and one for Tirana. This is a new addition to the website. Please let me know what you think of the galleries.
Where to Next?
We will spend most of November in Kotor, Montenegro, and then head to Rome for eight nights at the end of the month.
In early December, we will board the Norwegian Gem and spend fifteen nights cruising from Rome to New York City.
Just before Christmas, we will have a short stay in New York City. Steve has been there many times, but I have only been there once. That was forty-four years ago on our honeymoon. I can't wait to see the city decked out for Christmas. Maybe we'll get lucky and see snow.
Then, we will travel to Jacksonville on December 23rd to celebrate Christmas with our daughters, Steph and Laura. We will be in Jacksonville through January 20th. As with every trip back to the U.S., we will spend time with family and friends, see doctors, and stock up on supplies. This trip promises to be less hectic than previous ones since we took care of many things on our visit last March.
Do you have travel plans for the coming holidays? If so, Steve and I would love to hear about them in the comments section below.
Until Next Time
That's it for our October update. Steve and I wish you an enjoyable autumn and, for those of you in the U.S., a Happy Thanksgiving.
Happy traveling,
Linda