Last Updated on: 16th October 2023, 05:39 am
One of the many things I love when traveling is discovering something incongruous, like when Steve and I ran across the wonderful Beatles Museum in the Hungarian city of Eger. You can read about that in our post about Eger and Egerszalok.
In early October 2023, we discovered another unexpected gem while visiting the Albanian city of Shkoder. It was the Venice Art Mask Factory.
A Little Background
We spent most of September in Tirana, the capital of Albania. That was followed by four weeks in Montenegro's capital of Podgorica. On the bus ride from Tirana to Podgorica, we passed through Shkoder, Albania.
Steve and I liked what little we saw of the city, the 5th largest in Albania. I was particularly enamored with the magnolia trees that lined the streets. Even though they were several months past blooming, they were loaded with seed pods, and they were magnificent.
Once we settled in Podgorica, we arranged to take a side trip to Shkoder.
What to Do in Shkoder
Shkoder, with a population of 200,000, has several interesting things for tourists to do.
You can explore the Rozafa Castle ruins. You can check out the "Marubi" National Museum of Photography and the Site of Witness and Memory museum, which commemorates the victims of the communist regime in Shkoder.
You can see two cathedrals: St. Stephen's Cathedral and the Orthodox Cathedral of the Nativity. You can visit mosques, including the Ebu Bekr Mosque and the Lead Mosque.
Farther from the city, Shkodra Lake and the Mesi Bridge are waiting for you.
But what really caught us by surprise was the Venice Art Mask Factory.
About the Venice Art Mask Factory
According to their website, the Venice Art Mask Factory is the biggest supplier of Venetian and masquerade masks. All the masks are handmade and begin with handcrafted papier mache. Then, they are individually decorated.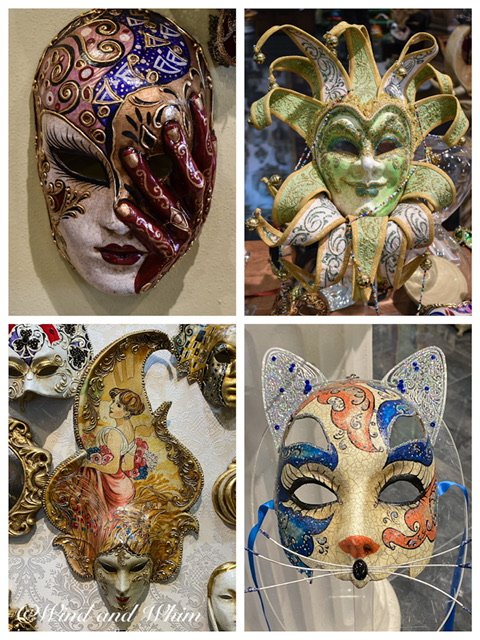 In addition to being worn at the Carnival of Venice and other masquerade festivals around the world, these marvelous masks are used in Las Vegas shows and movies like Eyes Wide Shut. They also adorn the walls of restaurants and homes.
How to Get to the Factory
The factory is an eight-minute drive from the city center, which is great if you have a car. We found that public transportation in Shkoder is scarce, and information is hard to come by. We waited 45 minutes for one taxi and an hour for a second one that never showed up.
If you don't have a car, you can rent a bike. They are all over the city.
Steve and I chose to walk. It was an easy half-hour walk from the city center.
Our Experience at the Factory
There are two sections to see at the factory: the showroom and the factory itself.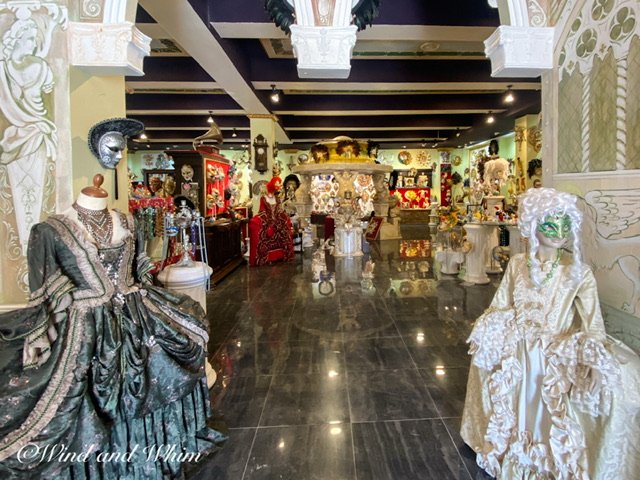 We saw the showroom first and were blown away. There was so much to see, and it was all enchanting.
After taking in the showroom, we saw the factory. It is a light-filled building with two rows of long tables where the masks move from table to table as they become masterpieces.
We were there on a Sunday, so no one was working in the factory. According to Tripadvisor, if you go on a weekday, you can see the artists at work.
Photos aren't allowed in the factory, but be sure to notice the lovely paintings on the walls.
We were shown around by Tony, who explained the mask-making process in detail and answered all our questions.
We toured the showroom and factory at no charge. However, some Tripadvisor posters said they paid 3 euro to tour the factory, so be prepared. Since we don't buy souvenirs, as they would end up in our storage unit, we gave Tony a donation. We never felt any pressure to buy something, but there were many beautiful creations we would love to own.
Until Next Time
That's it for this short but sweet post. If you get a chance to visit Shkoder, which I highly recommend, do not miss this gem.
Happy traveling,
Linda