Last Updated on: 12th September 2023, 10:16 am
Hi there! It's time for another monthly update. I hope you are surviving the summer heat. Steve and I spent most of July in Bucharest, Romania, where it was hot but, thankfully, not too humid. Even so, we didn't do as much as planned since we were lazy about getting out before the days got too hot.
We enjoyed four visits to Therme Bucuresti, though. It was a great way to cool off and get some pampering. More on that below.
During the last five days of the month, we were in Sinaia, Romania, a two-hour train ride north of Bucharest. Here are the highlights and low points of the month.
Highlights
Therme Bucuresti
This was our second visit to Bucharest. The first was in 2018. That is when we discovered Therme Bucuresti. This wellness center gorgeously combines thermal and mineral pools, saunas, waterslides, and a botanical garden. Check out our post about this must-visit place.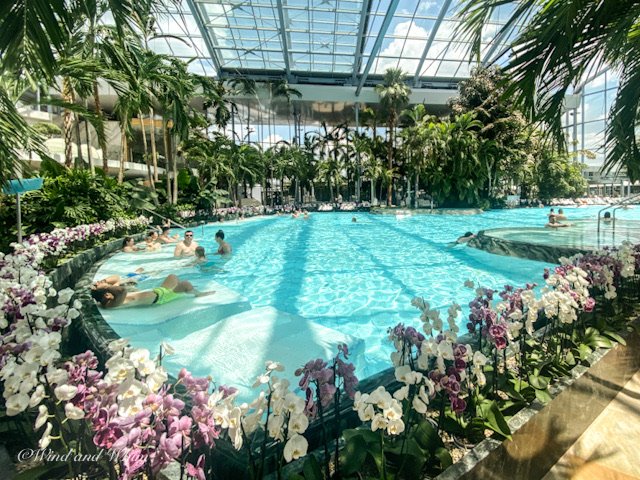 Each visit was over four hours long. Steve spent his time relaxing and dozing in the outdoor pool and the mineral pools, or the chemical baths, as he calls them. I spent my time whizzing down the waterslides, stretching in the water exercise classes, enjoying a heavenly massage, and of course, relaxing in the thermal water.
Don't miss Therme when visiting Romania, and if you find yourself near Munich, check out Therme Erding.
The lucky folks in Manchester, England, will get to experience Therme close to home in 2025. Judging by the website, it promises to be as good, if not better, than Therme Bucuresti.
The Tiriac Collection
Steve and I love discovering hidden gems. This usually occurs by chance, and finding the Tiriac Collection was no exception. We were on our way home from Therme when Steve spotted it. After a quick check on Google, we knew we had to visit. I am surprised that this isn't on more peoples' radar. I've never seen it on a "things to do in Bucharest" list, although it isn't actually in Bucharest, it is in the adjacent town of Otopeni. It is an eight-minute drive from Therme.
The Tiriac Collection showcases over 200 cars owned by Romanian businessman Ion Tiriac. He is a former professional tennis and hockey player. The collection has vehicles from 1899 to the present. It spans manufacturers and includes a few motorcycles.
Dinner with New Friends
One Sunday, Steve took an Uber to a flea market and struck up a conversation with Felix, the driver. We then had a lovely dinner with Felix and his partner, Ionela. Both work in real estate and are warm and fun-loving. We ate at Hanu' lui Manuc, a traditional Romanian restaurant in the oldest operating hotel in the city. We had some tasty food and good company and enjoyed traditional music and dancing.
Seeing the Sights
Palace of Parliament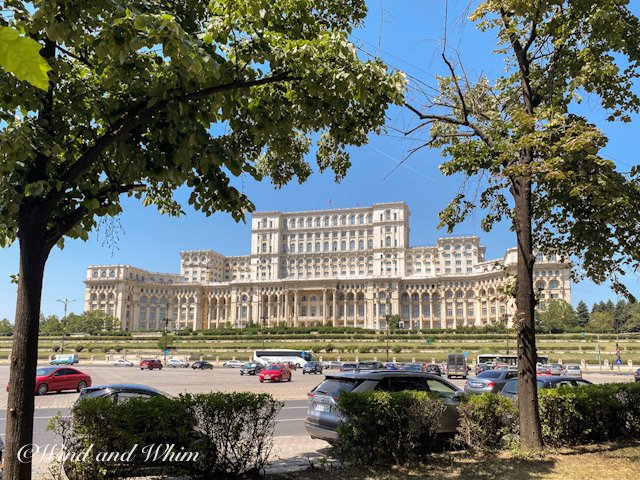 At 9 billion pounds or 4.1 billion kilograms, the white marble Palace of Parliament is the heaviest building in the world. It was started under the direction of the communist dictator Nicolae Ceausescu, who was inspired by a visit to North Korea in 1971. Construction began in 1984 and finished in 1997.
Because of its weight, the building sinks 6 mm or ¼ inch each year.
The chief architect was a woman named Anca Petrescu, who was only 29 years old at the start of the project.
Ceausescu never saw the finished building as he and his wife Elena were executed on Christmas Day 1989. You can learn more about the rise and fall of Ceausescu here.
Cotroceni National Museum
This museum is part of the Cotroceni Palace, home to the Romanian President. The palace was built in the 1890s and was occupied by the royal family. After WWII, it was renamed Pioneer Palace and was the home of the Pioneers organization, which indoctrinated children into the communist ideology.
A 1977 earthquake severely damaged the palace. It has been rebuilt, staying true to the original style. Each room we saw was unique, and all were exquisite.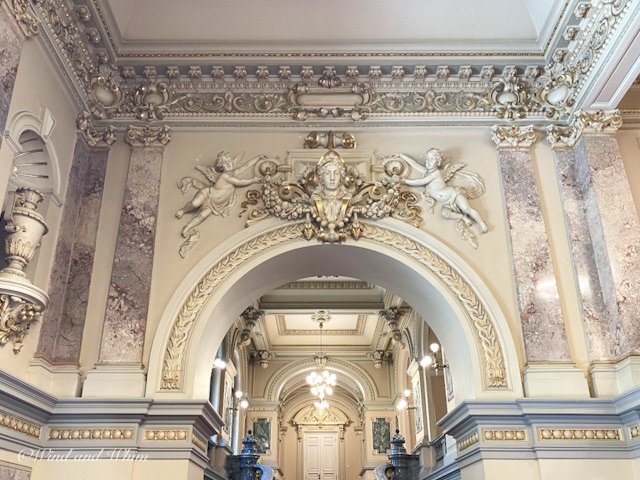 In 1978, Ceausescu visited Queen Elizabeth in London. This was the first time a communist head of state had visited the U.K. When he returned to Bucharest, he had two rooms refurbished in an elegant French style with the hopes that Queen Elizabeth would visit Bucharest. She didn't.
Here is a fun article from The Independent about how Queen Elizabeth hid in some bushes to avoid speaking with Ceausescu and his wife.
The National Museum of Art of Romania
This art museum is in a former royal palace and displays Romanian and European art in two large halls. Frankly, the artwork was the least impressive we have seen in museums of this size.
There is also a section of the museum called the historic spaces. We were expecting artifacts in glass cases and were tempted to skip it. We are glad we didn't. This area is part of the former palace with several majestic rooms and a spectacular staircase. I particularly loved the yellow marble used in the entrance hall and upper hall.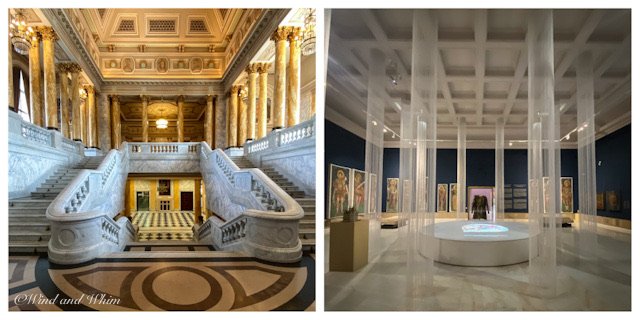 Two Beautiful Bookstores
Bucharest is the home of Carturesti Carusel, which is often found on lists of the most beautiful bookstores in the world.
Carturesti is a Romanian bookstore chain. While the Carusel store is their most elegant and popular, we stumbled across another impressive store, Carturesti Verona. As we were walking one evening, we noticed a run-down-looking, squatty building that we thought might be a library or a bookstore. We were entranced once we entered. Despite the small façade, the store is huge.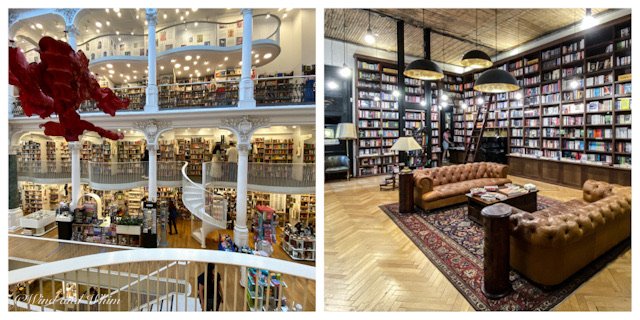 This former home was built in the mid-19th century. Each room has something to delight you, from the architecture to the furnishings to the products. In addition to tons of books, many in English, you can find music, art and travel supplies, games, wine, clothes, and household products. As Steve observed, you could do all your Christmas shopping in this store.
A Short Stop in Sinaia
Way back in 2018, Steve and I took a tour from Bucharest to the town of Bran, where Bran Castle (aka Dracula's Castle) is located. Along the way, we drove through a town called Sinaia. It was so charming that I never forgot it. When we found ourselves back in Romania, visiting Sinaia was a must.
The main draw in Sinaia is Peles Castle. This mind-blowing beauty was built by Romania's first king, King Carol I. It was completed in 1883, and its amenities were state of the art. It even had an electric retracting skylight.
The castle has so much detail it's hard to know where to look first. You can take a guided tour, but we explored on our own. Peles Castle is a big draw in Romania, so it is always crowded.
Peles Castle isn't the only cool place to explore in Sinaia. There is the smaller Pelisor Castle, built by King Ferdinand I, the nephew and heir of King Carol I (the king and his wife only had one child, a daughter who died when she was four). Pelisor Castle isn't as impressive as Peles Castle, but it is only a three-minute walk between the two, so it's worth a stop if you have the time.
Stirby Castle is a small building near the center of town. It was build in the mid-1800s as a summer home for the Romanian aristocracy and is now a museum and hotel. At first, it didn't seem like there was much to see, but once we entered the lower level, there was an eclectic collection of Romanian history we found interesting.
Sinaia Monastery, which is over 300 years old and is still home to a few monks, and Dimitrie Ghica Park in the town center were also great places to explore.
For a change of pace, we took the Sinaia Gondola 6,700 feet or 2,000 meters up the Bucegi Mountains. The views were some of the best we've seen on gondola rides, and the cooler air, at 18°C or 59°F, was a nice change.
Low Points
The Propped-Up Table
Airbnb allows us to travel comfortably and economically. We spend hours combing over the listings for our long-term stays, but no matter how careful we are, there is often some minor problem with our choice.
This time it was the kitchen table. Our apartment was large, but the kitchen was small. From the photos, we could see that there wasn't much counter space, but there was a four-person glass-topped table in the kitchen that could be used for additional work space.
When Steve moved one of the chairs, the table started to fall because one of the legs was loose. Fortunately, it didn't fall far, but we were afraid to use it. The owner replaced it, but it is maddening that it wasn't replaced before we got to Bucharest. It's possible he didn't know about the broken leg, but we see this type of oversight too often.
The Heat
You would think living in Florida for 30 years would have acclimated us to the heat. That doesn't appear to be the case. Like many places, Bucharest experienced above-normal temperatures in July. Many days the highs were above 32°C or 90°F, and on a few days it hit 38°C or 100°F. We had the best intentions to get out early, but many days we decided to stay in. Since we spent a month in Bucharest in 2018, we had already seen many of the highlights.
I told Steve I felt guilty about not doing more this time. He reminded me that we chose this location as part of our 90 days outside the Schengen Area (no offense to this fine city). We have stayed busy: Steve with his new interest, genealogy, and me with the website redesign.
Because it is in the mountains, the temperature in Sinaia was much lower than in Bucharest. Perhaps we should have spent more time there.
On the Website
Work on the new Wind and Whim website has kept me busy, so I only had one new post in July. It is a love letter to the small town of Opatija, Croatia.
Where to Next?
We will spend the first few days of August in Brasov, Romania. The main reason for this stop is to revisit Bran Castle, aka Dracula's Castle. We visited it on a tour in 2018, but this time we will be on our own so we can explore more of the area.
For the rest of August, we will be in Skopje, the capital of North Macedonia. North Macedonia was part of Yugoslavia and gained independence in 1991.
The main attraction in Skopje is its statues. In 2010, the government started an initiative to make the city more attractive to tourists and boost the national identity. The project was named Skopje 2014. It included the construction or remodeling of dozens of buildings and the installation of over 100 statues.
The results have not been embraced by all. The city has been compared to Las Vegas, referred to as the capital of kitsch, and nicknamed Disneyland Balkans by Ashley on Global Dreaming. I look forward to seeing the buildings and finding as many statues as possible.
But Skopje has more to offer. There is the Old Bazaar, dating back to the 12th century, hiking on Mt. Vodno and the Matka Canyon, and side trips to Kosovo. Skopje is also the birthplace of Mother Teresa.
You may wonder what led us to choose North Macedonia and Albania. The answer is simple: the Schengen Area rules. As I've discussed in several other posts, the Schengen Area, which consists of 27 European countries, allows unrestricted movement between the member countries. Sounds great, right?
It's not so great for long-term travelers and digital nomads, though. As U.S. citizens, we can only spend 90 out of every 180 days in the Schengen Area. This restriction has led us to visit places we may not have otherwise chosen, like Morocco, Bulgaria, and Romania. It even led us to Croatia, a country we adore, in 2018. As of 2023, Croatia is in the Schengen Area, and Romania and Bulgaria will become part of it in 2024.
Until Next Time
Steve and I hope you enjoyed catching up with our travels. Please use the comment section below to tell us about your summer adventures.
Happy traveling,
Linda