Last Updated on: 12th September 2023, 02:44 am
If you're looking for somewhere unique and inexpensive to visit in Europe, consider Skopje, the capital of North Macedonia. This Balkan city is uncrowded and easy to get around. Its city center is a sight to see, with larger-than-life monuments, random statues, ornate bridges, and elegant buildings, thanks to the Skopje 2014 project (more on that below).
Steve and I ended up in Skopje in August 2023 for two reasons. One, we needed to find a place to visit outside the Schengen Area due to its visa restrictions. Two, I had read about the Skopje 2014 project and was intrigued.
We enjoyed our four weeks in Skopje. Now, I am happy to share what we learned while visiting Skopje so you can have an enjoyable visit too.
All money is in U.S. dollars
About Skopje
1. About 500,000 people live in Skopje.
2. Skopje is not crowded. There are 3,700 people per square mile. Compare this to New York City, with 29,000 people per square mile or 8,800 people per square mile in Budapest (data from Wikipedia). The only place we saw crowds was in the Old Bazaar, but even that wasn't bad.
3. On July 26, 1963, an earthquake destroyed almost 80% of the city's buildings and killed over 1,000 people.
4. The city is surrounded by mountains.
5. Macedonia Square is the center of the city. Visit it to see architecture, statues, fountains, and restaurants in a vibrant setting.
6. We saw little street art, but far too much graffiti.
7. The Vardar River runs through the city. The water level was low when we were there, and the section that runs through the city center had a lot of debris.
About North Macedonia
8. Two million people call North Macedonia home.
9. The country's official name is the Republic of North Macedonia.
10. The Republic of North Macedonia is a young country. It declared independence from Yugoslavia in 1991.
11. Upon gaining independence, the country was named the Republic of Macedonia. Because there is a geographic region in Greece by the same name, the Greek government took issue with this. After 27 years, the official name became the Republic of North Macedonia. You can read more about this here.
Culture
12. Most stores and many restaurants are closed on Sunday.
13. About 60% of North Macedonians are Orthodox Christian. More than 30% are Muslim.
14. There are a lot of casinos and slot halls in Skopje.
15. I was impressed with the lack of pressure from vendors in the Old Bazaar. One storekeeper asked us if we would like to be his customers, but most let us walk by without comment if we didn't show interest in their products. It is such a contrast to Morocco, where the taxi drivers grab your luggage and demand to know where you are going, and the vendors make leeches look timid.
16. Most stores, restaurants, and attractions will be closed during holidays. Holidayapi.com can help you see which holidays may impact your visit. Keep in mind: if a holiday falls on a weekend, businesses may be closed the Friday before or the Monday after.
The Skopje 2014 Project
17. The Skopje 2014 project took place from 2010 to 2014.
18. During this time, many new buildings were constructed, and others were renovated. Giant monuments and smaller statues were erected throughout the city center.
19. The project was intended to make the city more attractive to tourists and boost the national identity.
20. The project's centerpiece is the majestic Warrior on a Horse monument in Macedonia Square. The warrior represented is Alexander the Great, but because of tensions with Greece over what they perceive to be the appropriation of Greek culture, the statue is not referred to as Alexander the Great.
Language
21. Macedonian is the official language of North Macedonia.
22. Almost everyone speaks English. And they speak it well. The exception would be some of the older people.
23. Signs pointing to places of interest are in Macedonian, English, and Albanian.
24. It's always nice to learn a few words, such as hello, please, and thank you, in the local language. However, you probably won't use them much since English is so prevalent. If you need to communicate in Macedonian, an app like Google Translate should do the trick.
Communication
25. The European emergency number is 112. The operators speak English, which I learned when I had to call after getting stuck in an elevator in Bulgaria.
26. If you are looking for a local SIM card, the three main providers are Telekom (T Mobile), A1, and Lycamobile.
27. If you need a local SIM card, I recommend Lycamobile. We got our cards at Lycamobile POS Doctor Mobile on Blvd. Partizanski Odredi. For $3.50, we got 5GB of data for 30 days. Since we have wifi in our Airbnb, 5GB is more than enough for exploring the city.
28. I would advise you to stay away from Telekom. Their prices are much higher than Lycamobile's, and many of their packages have to be purchased through the app. This would be fine, but neither Steve nor I could register on the app. It refused to accept our email addresses. It took four days to get corporate to install the package we chose, only to discover it was useless in North Macedonia. The package was called the Balkan package. It works in other Balkan countries but not in North Macedonia.
29. I can't speak to the quality of A1. We tried to buy SIM cards at their store in Skopje City Mall and were shocked to find they didn't have any left that day. This has never happened to us before.
30. The above experience is why you should always do your homework and know what data package you want. We got lazy, and it cost us time and money.
Money
31. The Macedonian denar is the official money in North Macedonia. Its currency symbol is MKD.
32. As of August 2023, 1,000 MDK = ~$18.00.
33. Credit cards are widely accepted.
34. Euro were required in the Flamingo Casino. If you don't have any, you can change your denar in the casino.
35. North Macedonia does not have a tipping culture. If you do want to tip (we always do because it's so ingrained in us), 10% – 15% is recommended in restaurants. I would use this as a guide for other times when service has been exceptional.
Getting Around
36. Most streets don't have street name signs, but Google Maps worked well everywhere we went.
37. Uber and Lyft are not available in Skopje. There are plenty of taxis, but it is best to negotiate the price upfront.
38. Public buses were plentiful and easy to use with a map app like Google Maps or Moveit.
39. Bus stops are not consistent. Some have shelters, some are designated by the word "bus" painted on the street, and further away from the center, they can be hard to identify. Some stops have displays showing the time until buses arrive. Many do not. The map apps helped a lot in these situations.
40. The Skopska app is the best way to use the bus. You can buy a single ticket or a weekly or monthly pass. We paid $29.00 each for our monthly passes.
41. Using the Skopska app on the bus can be tricky. Once you've pushed the button on the app to use your ticket, you will hear a soft noise. You need to hold your phone up to the validation box with the screen facing the box until you see eight little dots load on the box's screen.
42. For our first several bus rides, we had no idea how to use the app. After we figured it out, we had no wifi for a few days. We hoped that if we were questioned, it would be enough if we showed we had purchased a monthly pass. We never saw any inspectors on the buses.
43. Buses come in several shapes and colors. There are single and double-decker buses. They are usually red but may be other colors because they are covered with ads. Some of the buses are very old.
44. Some buses have the bus number in lights at the top and some have it on a piece of cardboard in the lower corner of the front passenger side window.
45. Watch your head on the upper level of the double-decker buses unless you're a shorty like me. The ceiling is low.
46. We found the city to be very walkable, partly because of how close together the main attractions are and partly because the streets and sidewalks weren't crowded.
47. Most streets have crosswalks painted on them. If there is no traffic light, all you have to do is step off the curb, and traffic should stop, even on busy streets with several lanes. Still, you should look both ways and use caution; bikes and scooters don't always stop.
48. If there is a traffic light, obey the walk/don't walk signs.
49. Bikes and scooters are popular, so it's best to walk outside the bike lanes and cross bike lanes like you cross a street. Look both ways.
50. Look over your shoulder before moving left or right on the sidewalk (like you do when changing lanes while driving). Despite having designated bike lanes, bikes and scooters are often ridden on the sidewalk, and the riders seldom warn you when they want to pass. Motorcycles and cars occasionally drive on the sidewalks, too.
Food and Water
51. The tap water is safe to drink; however, it is very hard. We used a filtered pitcher to get clearer water.
52. We aren't adventurous about trying different foods, but here is an article by Nomad Paradise about Macedonian food.
Restaurants
53. The restaurant prices were the lowest we've seen in quite a while. They are affordable enough that you can eat at places right in the city center and still get a great deal. The prices for drinks were similar to what we've seen in other Central and Eastern European cities.
54. There is a row of welcoming-looking restaurants along the river in the city center. We ate at three of them. All were reasonably priced, the service was excellent, and the food was pretty good.
55. Restaurant Dion – We enjoyed the food here. We both had the chicken crown.
56. Buenos Dias – the helpings were huge, despite the photos showing smaller amounts. While the quality of the food was good, our dishes were a little bland.
57. Carpe Diem – We had a light lunch here. Steve had pasta; I had a salad. Both were okay, but nothing special.
58. We also ate at Restaurant Pelister on Macedonia Square. We both had sausage stew, which was not bad.
59. The restaurant we loved was Amigos. It is just a short walk from Macedonia Square. We had the fajitas for two for $14.00. My classic margaritas were the best margaritas I've ever had.
60. For a tasty and inexpensive takeout, try Plaset (there are several around the city). We enjoyed the chicken durum, which comes with your choice of toppings and sauces. It comes in three sizes.
Shopping
61. We frequented two supermarkets, Ramstore and Vero. Both are large and have a wide variety of products. We started out at Ramstore in the Skopje City Mall but found that too many items weren't priced, and the store wasn't as clean as the Vero supermarket.
62. We preferred the Vero store at the corner of New Delhi Rd and Mitropolit Teodosij Gologanov.
63. If you're close to the city center, check out the Vero store in Shopping Center Vero.
64. Bags are not provided at grocery stores. You can either buy them at the checkout counter or bring your own.
65. You have to bag your own groceries, and there isn't a separate area to do this like we've seen in other cities. This can be challenging if you're alone, and it always reminds me of this scene from I Love Lucy:
66. Pharmacies are indicated by a green cross. In addition to prescription medicine, you can buy over-the-counter medication here, too.
67. DM is your best bet for toiletries, household cleaners, and personal care items.
68. If markets are more your style, check out Bit Pazar at the northern end of the Old Bazaar. The vendors here sell pretty much every cheap thing you can imagine. The largest fresh food market in Skopje is also located here.
69. You can find smaller fresh food markets throughout the city, like the one down the street from our apartment. It is in a seedy structure, but the produce is good, and the vendors are friendly. It is at Boulevard Partizanski Odredi 26.
Things to See and Do
The Old Bazaar
70. Skopje's Old Bazaar is huge and has something for everyone. Steve and I spent some time wandering what we thought was the Old Bazaar, only to learn we were actually in the Bit Pazar. It turns out that the Old Bazaar is an area of many blocks lined with shops, cafes, and restaurants. Learn more about the oldest marketplace in the Balkans in this article by Wander-Lush.
Skopje Fortress
71. This fortress, also called the Kale Fortress, is worth a brief exploration. It is free to enter, and you can explore it on your own. There isn't any written information at the fortress.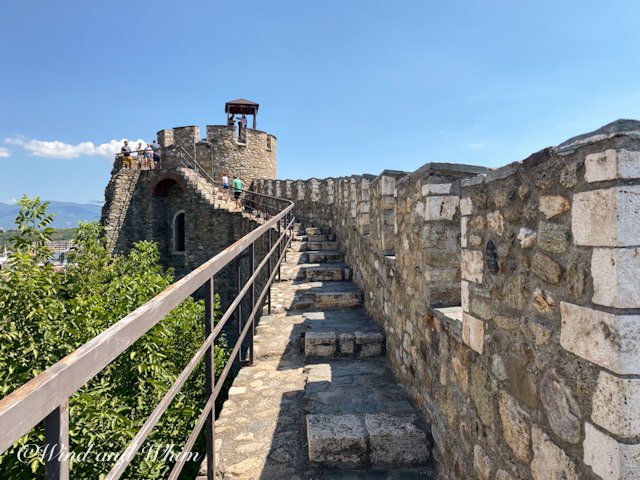 Mt. Vodno
72. You can recognize Mt. Vodno by the large cross on top of it. This is the Millennium Cross. It was erected in 2002 to commemorate 2,000 years of Christianity in Macedonia.
73. You can hike up Mt. Vodno or take the Millennium Cross Cable Car to the top.
Museums
74. The museums we visited had almost everything explained in English as well as Macedonian.
75. The Archaeological Museum of Macedonia – Even if you aren't interested in archaeology, at less than $3.00 per person, it's worth it to see the inside of the building with its grey and white marble staircase and the striking way the artifacts are displayed. That's the Archaeological Museum in the featured photo.
76. The Holocaust Memorial Center for the Jews of Macedonia – This is another excellent museum. There is so much information that even after spending two hours there, we couldn't take it all in. It cost us less than $2.00 per person to enter.
77. The Mother Teresa Memorial House – This small museum is free to enter. It showcases important moments and documents from Mother Teresa's life. There is a small, pretty chapel on the second floor.
78. The Museum of the Macedonian Struggle for Independence – This museum documents the struggle for independence from the late 19th through the mid-20th century. Huge paintings of historical events and nicely done wax figures are an impressive touch. The ticket price of around $5.00 includes a guide if you wish. Our guide did a great job, but we had some trouble understanding him because of his accent. The entrance is on the side of the building away from the river. Their website is only in Macedonian, and we could only take photos in the lobby.
79. For even more things to do in and near Skopje, see "21 Things to Do in Skopje, North Macedonia" by Wander-Lush.
In Summary
Skopje has some flaws, but if you can look past them, you will be rewarded with some wonderful museums, beautiful buildings, magnificent monuments, and quirky statues. English is prevalent, which gives you a break from language stress, and your dollar goes far. Skopje is a winner.
Until Next Time
Do you live in Skopje, or have you visited it? If so, Steve and I would love to hear what you think about it and if I left anything out. Just drop a comment in the comment section below.
If you're planning to visit Budapest, check out our post, "75 Things to Know When Visiting Budapest."
Happy traveling,
Linda