Last Updated on: 30th October 2023, 07:08 am
What's it like to visit Tirana, the capital of Albania?
Except for the lack of street addresses and lackadaisical bus schedules, it was similar to visiting any other city.
Before traveling to Tirana, I knew nothing about the city or the country. In September 2023, Steve and I stayed there for four weeks. You can read about that in "Wind and Whim's Monthly Update: September 2023."
Here are the practical things you need to know when visiting Tirana. There is a lot of information, but you can use the table of contents to find the information you need quickly.
All money is in U.S. dollars unless otherwise stated
About Tirana
1. Tirana is the capital of Albania.
2. About 500,000 people live in Tirana.
3. The same number of people live in Skopje, North Macedonia, yet when we were in Skopje in August 2023, the city was uncrowded. In contrast, Tirana was crowded.
4. Tirana is growing by 30,000 people annually, and new buildings are popping up everywhere.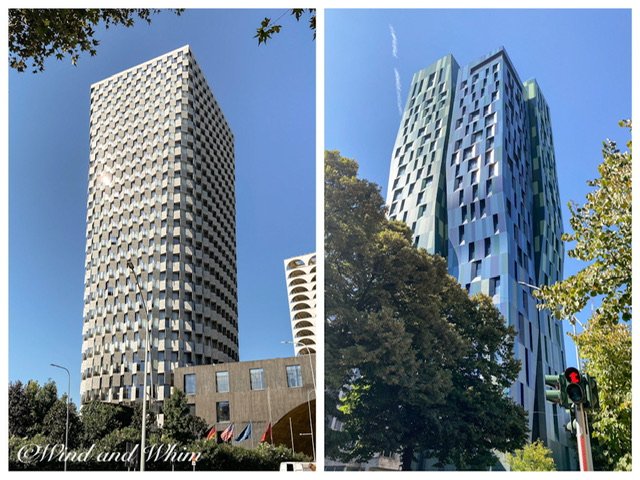 5. Skanderbeg Square is a large square in the city's center. It honors a 15th-century nobleman who rebelled against the Ottomans.
6. The Lana River runs through the city, but don't rush to see it. At least when we were there, it was not much more than a little creek.
About Albania
7. 2.8 million people live in Albania.
8. Albania is a Balkan country on the Adriatic Sea.
9. From 1946 to 1991, it was under communist rule.
10. Albania became a republic after the fall of communism in 1991.
11. The country's official name is the Republic of Albania.
12. Unlike its neighbors, North Macedonia and Montenegro, Albania was never part of Yugoslavia.
13. You can learn about Albania's historical periods in this article by Adventure Unbound.
Culture
14. The most unusual thing about Tirana was the lack of street addresses. Our Airbnb listing referenced the GPS coordinates instead. We used the name of the hotel across the street from our Airbnb when dealing with taxis and using map apps. You can read more about this in this BalkanInsight article.
15. Religion was banned in Albania in 1967 when the Communist Party declared Albania to be the first atheistic state. The ban on religion was lifted in 1990.
16. About 60% of Albanians are Muslim. Almost 40% are Christian (Roman Catholic or Eastern Orthodox). A small number of people are atheists or follow another religion.
Communication
17. Albanian is the official language.
18. The Albanian language has two dialects: Tosk, which is spoken in the south, and Gheg, which is spoken in the north.
19. English is widespread in Tirana. It is on many menus and in museums.
20. Google Translate worked great the few times we needed to translate something.
21. We used Vodafone SIMs. We each got 35GB of data for 30 days at $15 each. We typically use 3GB of data per month.
22. Our SIM cards work great in Tirana and the seaside town of Durres.
Money
23. The Albanian Lek is the official money in Albania. Its currency symbol is ALL.
24. The letter "L" indicates the currency is lek. So 500 L means 500 lek.
25. As of September 2023, 1000 L = ~$10.00. To convert the price to U.S. dollars, we divided by 100.
26. We were able to use Euro at stops along the bus route from Skopje to Tirana and to pay the taxi driver when we arrived in Tirana.
27. Credit cards aren't accepted everywhere. We had to use cash at some restaurants and all the museums we visited.
28. Tipping isn't expected, but it is nice to leave a little cash if the service is good.
29. Beware of the ATM fees. When we arrived in Tirana, I went to the first ATM I saw, which was a Tirana Bank ATM. I was charged $7.00 to withdraw $200. I read that ATM withdrawals from Credins Bank and Alpha Bank may be free, but that information was two years old. Still, it would be worth a try.
30. Spend your cash before leaving the country. It is difficult, if not impossible, to exchange it in other countries.
Getting Around
Walking
31. It was easy to get around the city by walking, but the sidewalks were usually crowded.
32. Google Maps worked great for walking directions.
33. Most streets have crosswalks painted on them. If there is no traffic light, all you have to do is step off the curb, and traffic should stop, even on busy streets with several lanes. Still, you should look both ways and use caution; bikes, scooters, and motorcycles don't always stop.
34. If there is a traffic light, obey the walk/don't walk signs.
35. Bikes and scooters are less prevalent than in other cities. Even so, it's best to walk outside the bike lanes and cross bike lanes like you cross a street. Look both ways.
36. Look over your shoulder before moving left or right on the sidewalk (like you do when changing lanes while driving). Despite having designated bike lanes, bikes and scooters are often ridden on the sidewalks, and the riders seldom warn you when they want to pass. Motorcycles occasionally drive on the sidewalks, too.
Public Transportation
37. Uber and Lyft aren't available in Tirana. Of course, there are taxis, but we usually used buses to get to places that were too far to walk.
38. Google Maps did not work for public transportation.
39. For bus information, we used Moovit. This helped a bit, but wasn't totally reliable. For example, when we wanted to go to Bunk'Art 1, Moovit told us to take bus L4. We couldn't find bus L4, but we knew we were supposed to head towards Porcelan, which was bus L11. If in doubt, ask the drivers.
40. Don't expect to find traditional bus stations. We wanted to buy tickets from Tirana to Durres, so we headed to the bus station (per Google Maps), only to find it was just a bus stop. Fortunately, a local man told us how to get to Durres.
41. There is very little local bus information online. Just show up at the bus station or stop and ask around. Luckily, everyone was helpful.
42. Riding the bus is easy. You pay the ticket man after you get on. A ride in the city was 40 cents (40 lek). You don't need exact change; the ticket man has plenty.
43. If you arrive by bus from an international city, you will be dropped off on the street near the Tirana International Bus Terminal. When leaving on an international trip, go to the back of the building where you were initially dropped off. There, you will find stores selling tickets for many destinations and bus lines. Again, when unsure, ask around.
44. Your best bet when using buses in Albania is to go with the mindset that as long as you are heading towards your destination, you're okay.
Food and Water
45. A Google search on the safety of tap water in Tirana turned up everything from "Yes, it's safe" to "Don't drink it, you'll get sick." I dislike using bottled water, so I filtered and boiled tap water. That worked well.
46. Steve and I aren't big on traditional food, but we did try some. Albanian cuisine is big on meat, which is often overcooked. The exception was the chicken kabob I had at Taverna Paidhage.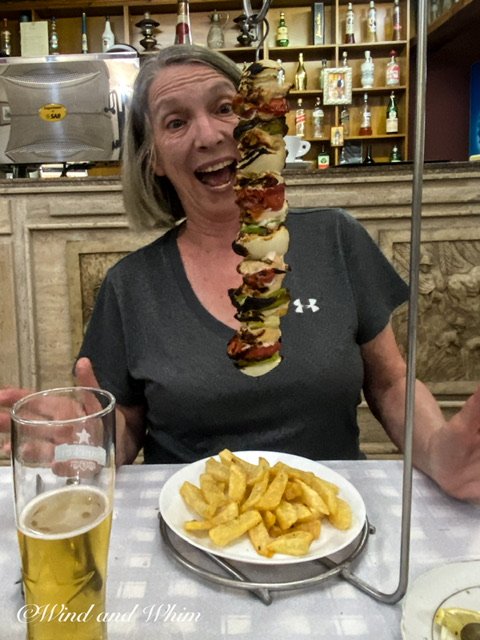 47. If you love trying traditional food, check out this list of Albanian foods from Nomad Paradise.
48. Generally, restaurant meals were inexpensive. Several times, we had two entrees and two beverages for under $20.
49. While restaurant food was inexpensive, the cost of drinks was often on par with what we've paid in other Southeastern European cities.
50. Conversely, we found the prices at grocery stores to be shockingly high, at least compared to other Balkan countries.
Restaurants
51. My favorite restaurant was Lissus Fish. They serve a complementary dish of marinated anchovies (super yummy) and have delicious fish dishes at reasonable prices.
52. We enjoyed dinner at Restaurant Tymi. This small restaurant is packed to the gills with pop culture decor. The food is cheap, and the music is lively. Warning: there may be a line to get in.
53. The food at Serendipity Mexican restaurant wasn't as good as our homemade burritos, but we still enjoyed a platter of Mexican treats.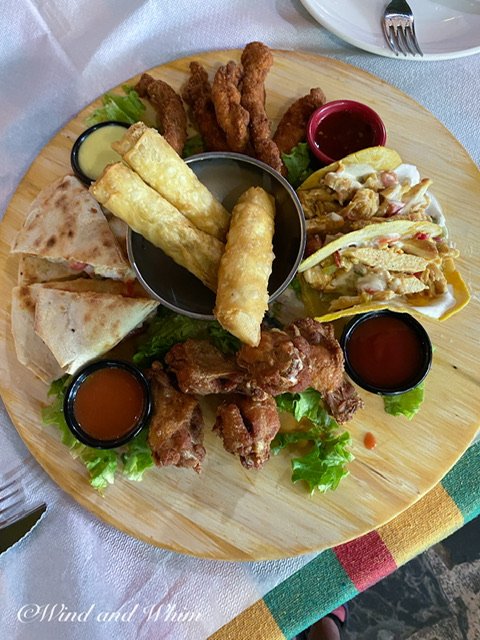 54. If you want to go full-on tourist, go to Oda one evening. This restaurant features traditional Albanian food and live music in a courtyard full of lemon trees. It is best to make reservations. We didn't, so we had to wait a bit, but we got complementary raki while we waited! We didn't love our food, but it was a fun experience.
Shopping
55. Grocery stores and pharmacies are open on Sunday.
56. We did most of our grocery shopping at Conad since there were several of these near our apartment.
57. The Conad store closest to us was on Bulevardi Zogu 1, but we preferred the Conad store in the Toptani Shopping Center and the one on Kavaja Street.
58. Bags are not provided at grocery stores. You can either buy them at the checkout counter or bring your own.
59. You have to bag your own groceries, and there isn't a separate area to do this as we've seen in some other cities. This can be challenging if you are alone and buying a lot.
60. Pharmacies are indicated by a green cross. In addition to prescription medicine, you buy over-the-counter medication here, too.
61. Rossmann & Lala is your best bet for toiletries, household cleaners, and personal care items.
Things to See and Do
Bunk'Art 1 and Bunk'Art 2
62. Bunk'Art 1 and Bunk'Art 2 are history museums in the abandoned bunkers of the communist era.
63. These are just two of the 750,000 bunkers built in Albania by dictator Enver Hoxha from the late 1960s until his death in 1985 as he became increasingly fearful of foreign invasions.
64. You can see bunkers throughout Albania. Learn more about them in this National Geographic article.
65. Bunk'Art 1 is located on the outskirts of the city and covers five decades from 1939 to 1990. You can learn what life was like under occupation by fascist Italy, during WWII and the short-lived German invasion, and under four and a half decades of communist rule.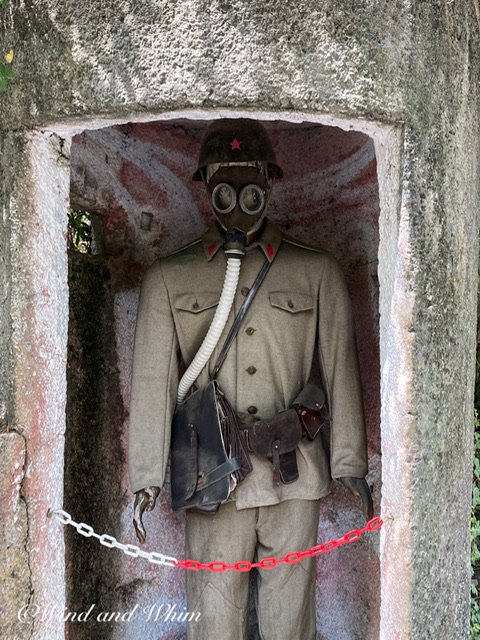 66. Bunk'Art 2 is in the city center not far from Skanderbeg Square. It focuses on the power of the police from 1912 to 1991.
67. Photos are allowed in both museums.
68. Here is the Bunk'Art museum website.
Churches and Mosques
The Et' Hem Bej Mosque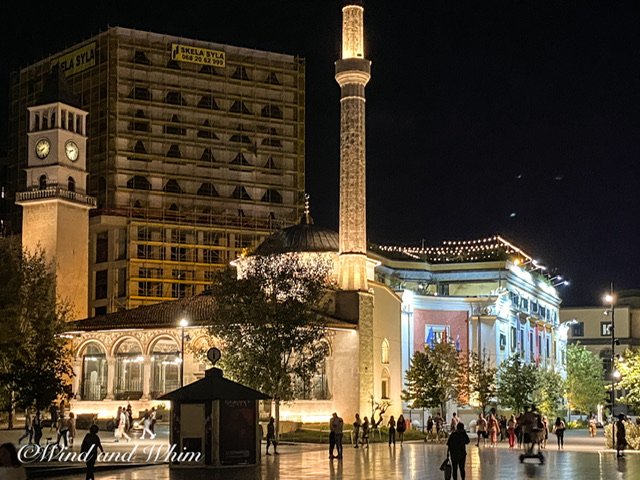 69. The Et' Hem Bej Mosque is a small mosque on Skanderbeg Square.
70. The mosque was built in the 18th century during Ottoman rule. It was closed during the communist era but treated as a historical monument.
71. You can visit the mosque. Women must cover their hair, and everyone must remove their shoes.
72. I couldn't find information about the visiting hours online. The best thing is to call or check the information posted at the mosque.
The Resurrection of Christ Orthodox Cathedral
73. This modern church opened in 2012.
74. It is just a short walk from Skanderbeg Square.
The Great Mosque of Tirana
75. The mosque was still under construction in September 2023. Even so, it is worth seeing.
76. The mosque is also called the Namazgah Mosque. It is a thirteen-minute walk from Skanderbeg Square.
Dajti Mountain
77. Dajti Mountain is close to Bunk'Art 1. It is a great lookout place with much to do according to their website. We were there on a Wednesday in September, and many things were closed.
78. The Dajti Ekspres cable car takes you up and down the mountain. There are several ticket options posted at the office. We paid $14 each for a round trip on the cable car.
79. The cable car does not run on Tuesdays unless that Tuesday is a festival day.
The House of Leaves
80. The House of Leaves is also called the Museum of Secret Surveillance.
81. It was originally a private obstetrics clinic in Albania and was briefly used by the Gestapo during WWII. With the advent of communism, it became the headquarters of the Sigurimi, the country's security, intelligence, and secret police.
82. The museum focuses on the equipment and methods of the Sigurimi.
83. No photos are allowed inside.
The National Historical Museum
84. The National Historical Museum is a large museum that covers the country's history from the 4th century BC to the mid-20th century.
85. The museum has three floors. The Pavilion of Antiquity, on the first floor, had excellent English explanations. The other two floors did not.
The New Bazaar
86. The New Bazaar is in the Old Town of Tirana. The centerpiece is a glass and steel structure loaded with souvenir and food vendors. Other shops and restaurants fill the streets around it.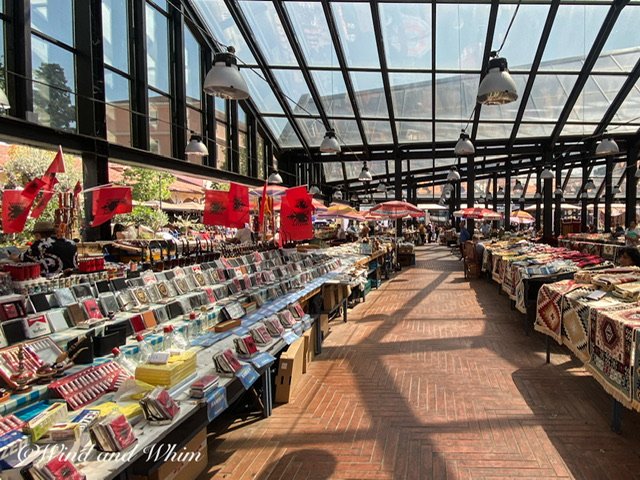 The Pyramid of Tirana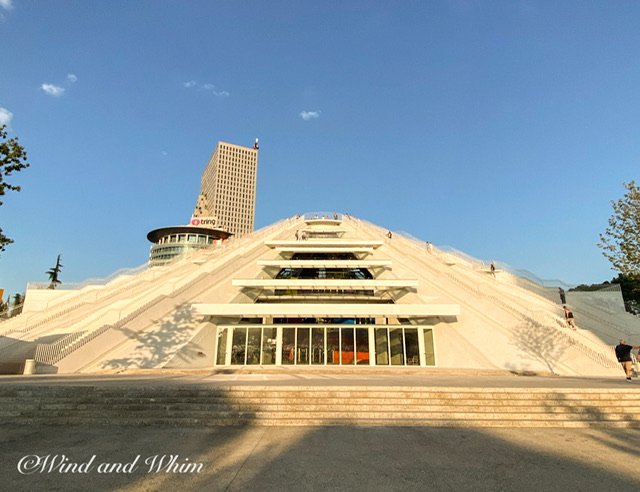 87. The Pyramid of Tirana was a museum dedicated to Enver Hoxha's "legacy." After the fall of communism, it had a few other short-lived uses.
88. The Pyramid is undergoing a renovation that will turn it into a cultural center with classrooms, studios, cafes, and restaurants.
Tanner's Bridge
89. Tanner's Bridge was built by the Ottomans in the 18th century. It's worth your while to see it and get a photo or two if you are in the area.
90. The bridge is a three-minute walk from the Grand Mosque.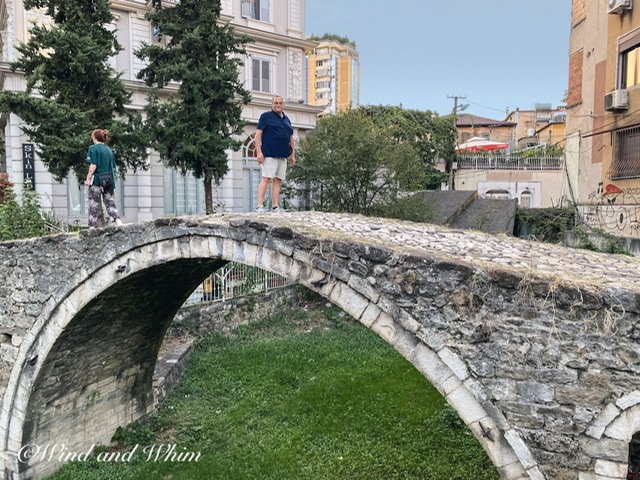 Tirana Castle
91. The Tirana Castle dates back to the 1300s, and only a few walls remain. The area inside the walls now houses shops, bars, and restaurants.
See more photos of Tirana and Durres in our "Tirana, Albania Photo Gallery."
In Summary
We didn't love Tirana. It was too busy, and there wasn't a lot to do. There is definitely a lack of museums. We were disappointed that the National Gallery of Art is permanently closed (according to their website).
If you are in the region, it is worth a short trip to see what it's like. We were there for four weeks, which was too long.
Until Next Time
Do you live in Tirana, or have you been there? If so, Steve and I would love to hear what you think about it and if I left anything out. Just drop a comment in the comment section below.
If you're planning to visit Skopje, check out our post "What You Need To Know When Visiting Skopje, North Macedonia."
Happy traveling,
Linda