Last Updated on: 15th January 2023, 09:02 am
For three months in the summer and fall of 2022, Steve and I visited eight cities in Turkey. To my delight, each town was full of cats roaming the streets.
These are not bedraggled strays. These cats are well-fed and look healthy. They are cared for and loved by the residents because, as we discovered, Turkey is for cat lovers.
A Little Background
When Steve and I arrived in the town of Cesme, the first stop on our Turkey trip, we were surprised to see hundreds of cats and dogs roaming the streets and lying everywhere. It was common to see dogs sleeping in the streets. The cars patiently drove around them. The cats, being wiser, did not sleep in the streets.
Most of the dogs looked healthy and weren't aggressive. The dogs mostly slept. They had little interest in people, although there were plenty of people who fed them and cleaned up after them. Compared to the cats, the dogs in Turkey seemed to be an afterthought.
We saw two types of cats, those who ran away when people came near and those who were friendly. The friendly ones get all the attention they want. We soon found out cats are beloved throughout Turkey.
As we continued around Turkey, we found the same situation in other cities, except the dogs did not sleep in the streets.
Here is a quote from the website for the movie Kedi (more on that below) that describes the cat situation in Istanbul (and, from my experience, the rest of Turkey):
"Claiming no owner, the cats of Istanbul live between two worlds, neither wild nor tame – and they bring joy and purpose to those people they choose to adopt."
Here are photos of just a few of the cats that stole my heart.
The Cats of Turkey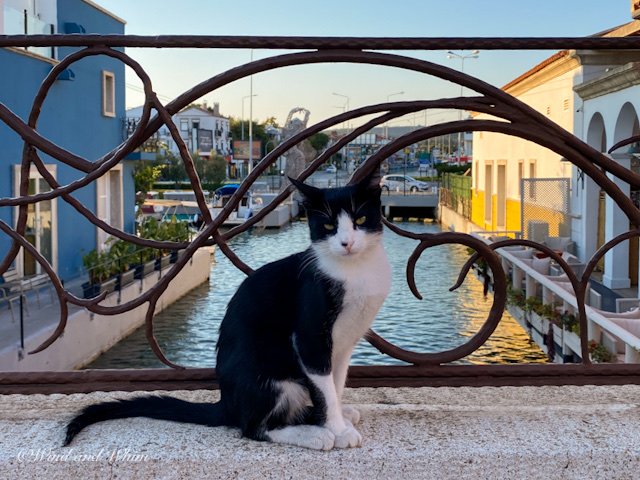 This want-to-be model was hanging out in Cesme Harbor.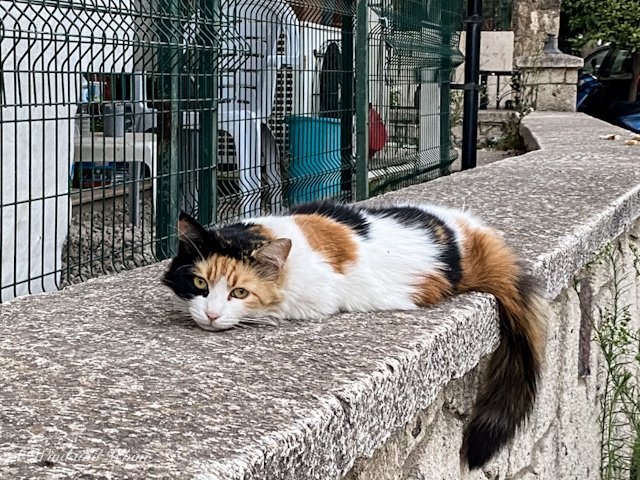 We ran across this mellow calico while exploring Cesme.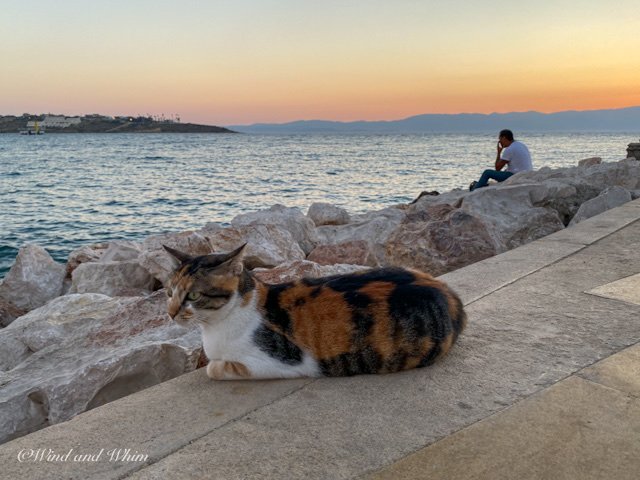 And yet another Cesme cat, this one enjoying an evening by the sea.
This one wasn't sure how close to get to us, but she was still sweet.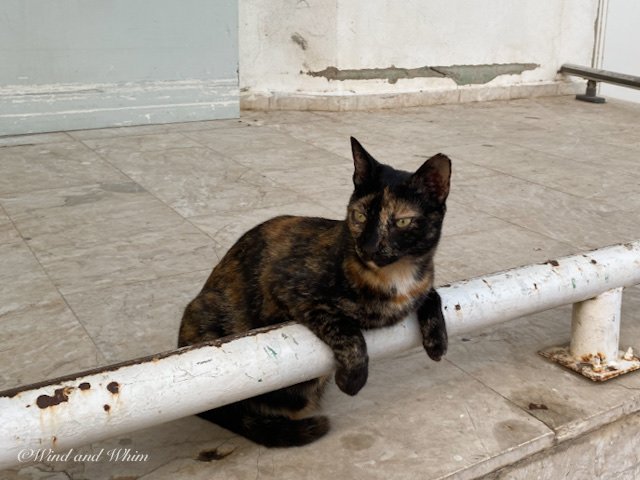 This unique-looking cat was hanging out by a supermarket in Datca.
And this one was saving a table for her friends in the party town of Marmaris.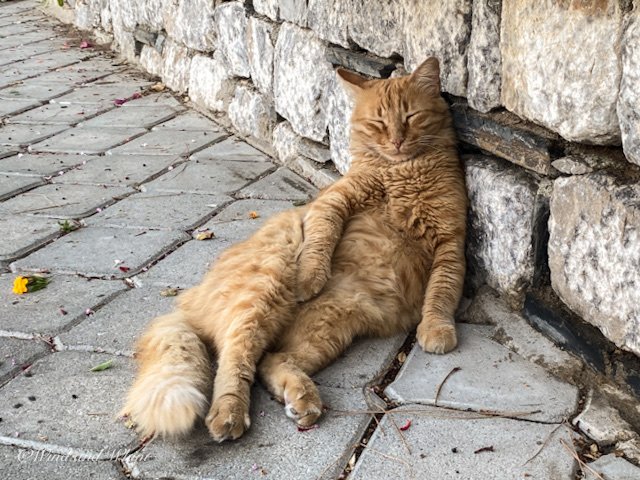 Also in Marmaris, this cat looks like he partied a little too hard.
And this one looks like he is doing just fine.
These two kittens were part of a family that lived at the hotel we stayed at in Dalyan.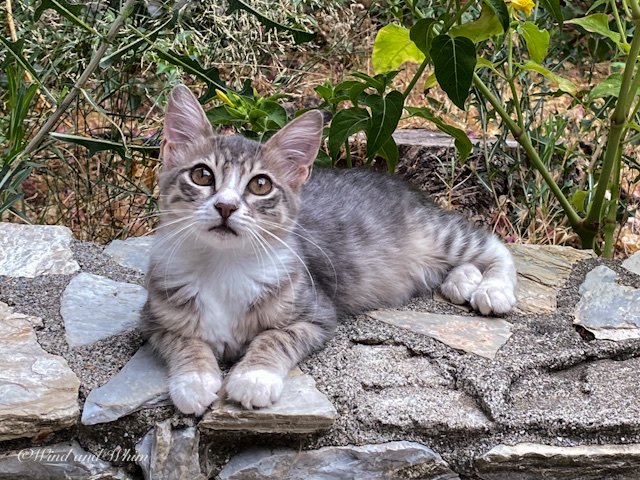 This kitten was part of the same family. She was the most lovable.
It isn't every day you see a motorcycle kitten. We saw her in Dalyan, too.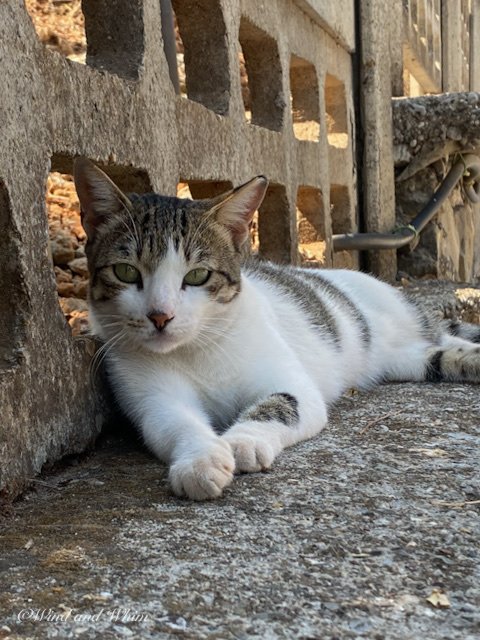 Steve snapped this cat's photo while I explored rock tombs in Fethiye.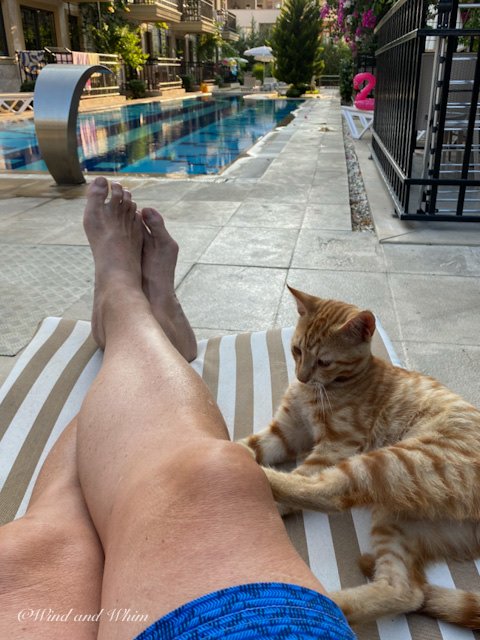 We spent a lot of time relaxing by the pool at our hotel in Fethiye. This cat was happy to hang with us.
There is nothing like walking out of a supermarket and seeing a cat looking like part of the merchandise.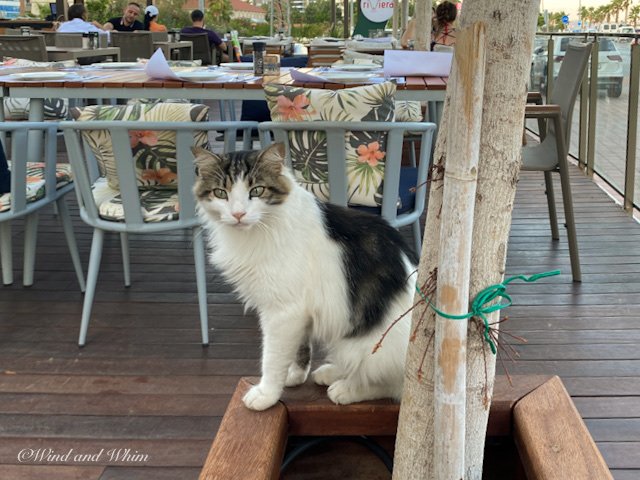 If you visit the Riviera Restaurant in Antalya, you might meet this wide-eyed beauty.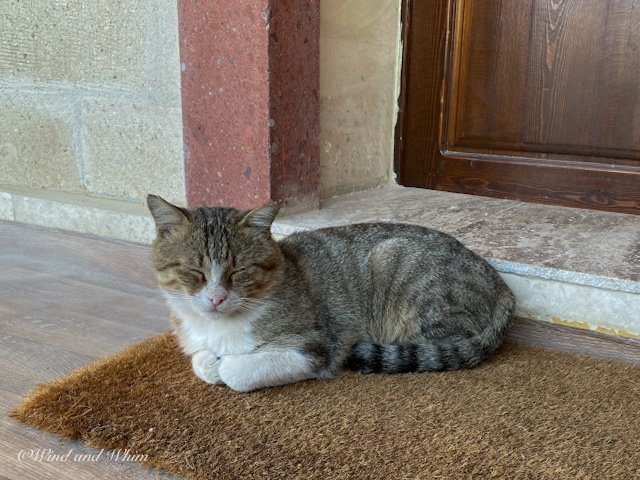 And this sleepy kitty found a purrfect spot to rest at our hotel in Goreme.
I saw this cat every day when I walked past the Sheraton Hotel in Istanbul. Try as I might, I could not get her to come to me, but at least I got a photo of her gorgeous face.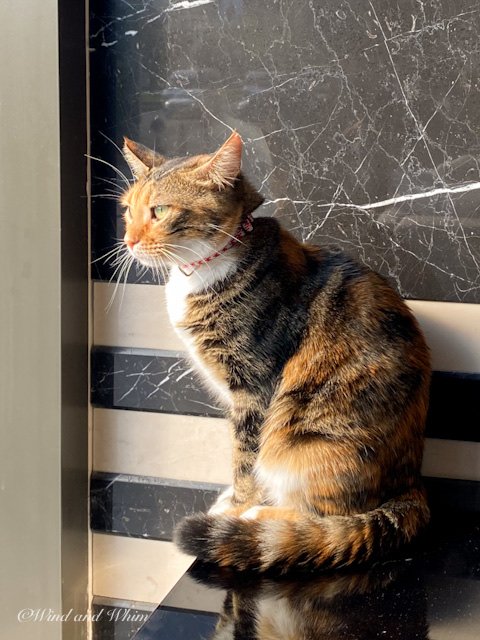 Here is another Istanbul beauty. She is the resident cat at the Cher Hotel.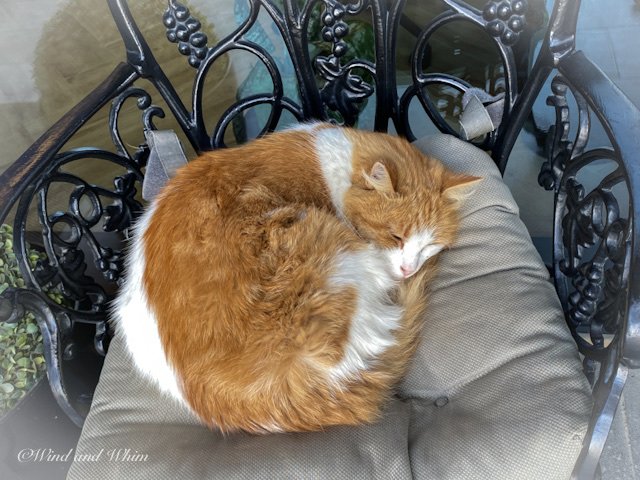 Apparently, chairs are for cats in Istanbul.
And so are bus stop benches.
Steve and I were amused by this kitten and her two siblings at the Rumeli Fortress in Istanbul. They followed Steve around because he had food.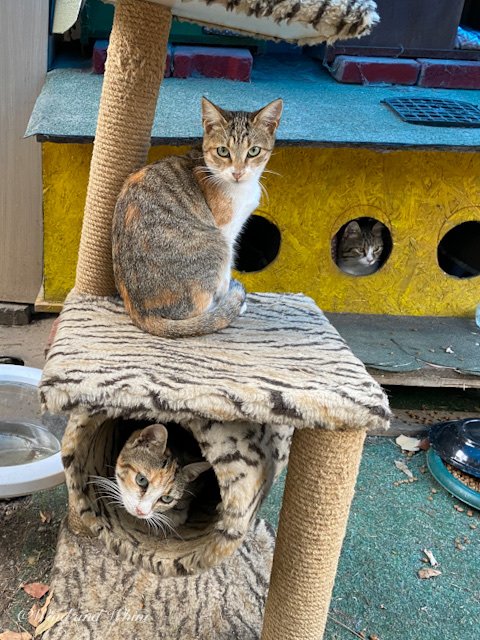 Some cat lovers in Istanbul set up a shelter for cats along a footpath. Here are two of the cats enjoying the cat tree.
These cats are residents of the cat shelter. They were curious to see what was in the bag. It was baklava, and no, they didn't get any.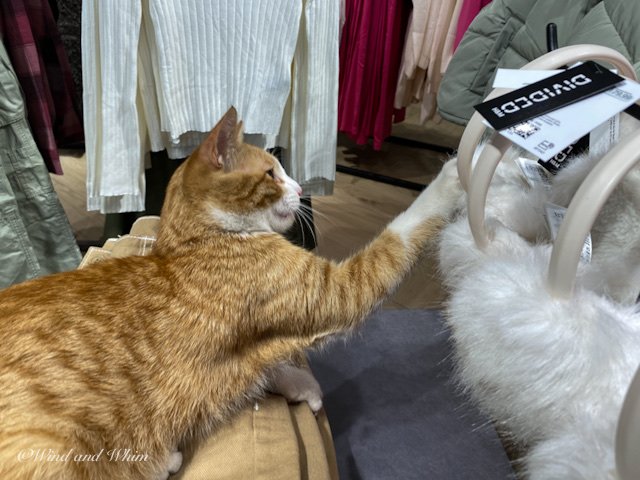 I don't know how this cat managed to get into H&M at the Akasya Mall in Istanbul, but he loved the fuzzy ear muffs.
We met this pensive cat in the quirky Istanbul neighborhood of Balat.
Why So Many Cats?
Cats have been revered in Turkey from the time of Ottoman rule (from 1300 to 1922) for two reasons.
The first reason was practical. Cats kept the population of mice and rats in check, which not only protected food but also kept books, which were rare and precious, safe from nibbling rodents.
The second reason was spiritual. In the Islamic religion, cats are admired for their cleanliness and hunting ability. The Ottomans were Muslim, and Islam remains the main religion in Turkey.
You can read more about why there are so many cats in Turkey in these two articles:
"Meowza! Why Are There so Many Cats in Istanbul?" by Travel Atelier and "Stray Cats in Turkey: All There is to Know About Felines" by JTG Travel.
You can read about Jenny Sandiford's experience with cats in Istanbul and see more cute kitty photos in her article "Cats of Istanbul."
Daily Interaction
As you travel through Turkey, you can see several examples of how the residents care for and enjoy the cats.
If you look closely, you can see many places where food and shelter have been provided for the street cats. One group took this further when they set up a cat condo community along a footpath in Istanbul. There is plenty of food and water, and one day I saw a couple treating some of the condo kittens with medicine.
This cat shelter in Istanbul is extreme compared to most.
Occasionally, you will see someone dining outdoors with a cat nestled next to them or in their lap. This happened to me one day when a cat spent most of my meal curled up on my purse. As you would expect, some cats beg for food at the outdoor tables, but most are content to lie around.
Many people, including yours truly, take pleasure in talking to and petting the cats. I saw several instances of workers on their breaks enjoying a little feline fellowship.
Kedi
Kedi is the Turkish word for cat. It is also the name of a 2016 documentary that showcased the daily lives of seven of Istanbul's street cats. It was directed by Ceyda Torun and was listed as one of the top ten films of 2017 by Time Magazine.
Click here to learn more about the movie and see a trailer.
Read More About Turkey
Check out our other posts about Turkey: "6 Cities, 6 Vibes on the Turkish Riviera" and "18 Things to Know Before Visiting Capadoccia."
Until Next Time
I hope you enjoyed meeting a few of Turkey's cats as much as Steve and I did.
If you've been to Turkey, we would love to hear your impressions of the stray dogs and cats. Just drop us a note in the comment section below.
Happy traveling,
Linda