Last Updated on: 30th September 2023, 06:34 am
In the fall of 2019, we spent eight weeks in Buenos Aires. The original plan was to spend four weeks but we liked it so much we decided to stay longer. The positive side of not planning too far in advance.
In a previous article titled "10 Things to Love About Buenos Aires" I talked about 10 things that we really enjoyed during our visit. But my list was longer than 10 things, so here are 10 more things to love about Buenos Aires.
Is this the most beautiful bookstore in the world? Many people think so. It was built in 1919 during a prosperous time for Buenos Aires.
The building was first used as a theater for tango performances. Later it was a cinema. Then it fell into disrepair but was saved from the risk of demolition when it was reincarnated as a book store in 2000.
The first part of the name is from a national bookstore chain. The second part refers to the building whose original name was Teatro Gran Splendid.
In addition to basking in the splendor, you can enjoy refreshments in the cafe. You might even be lucky enough to be there while a pianist is playing. You can also relax in a comfy chair in one of the theater boxes.
The store is located at Avenida Santa Fe 1860 in the Barrio Norte section of the city in the Recoleta district.
Cafe Tortoni is the most famous historical cafe in Buenos Aires. It has been in operation for more than 160 years. Once a meeting place for the artistic and the elite, it is now a mecca for tourists.
There is often a line outside even though there are tables available inside. You can go there to see a tango show or stop in for a bite to eat. Either way, be sure to check out the huge Tiffany glass ceiling along with the other elegant decor.
Cafe Tortoni was founded by a French immigrant named Touan. He modeled it after his favorite cafe in Paris by the same name. Cafe Tortoni opened in 1858 and has been at its current location since 1880.
Cafe Tortoni is one of many historic cafes (bares notables) in Buenos Aires. They are protected by law, but I was unable to find out anything specific about the law. Check out this article published by The Guardian in 2018 to learn more about bares notables.
Cafe Tortoni is located at Avenida de Mayo 825 between the National Congress Building and the presidential palace (Casa Rosada).
Chacarita Cemetery (Cemeterio de la Chacarita) is a lesser know and less-visited cemetery than Recoleta. It was founded in 1871 as a place to bury victims of a yellow fever epidemic.
When it was founded it covered only 12 acres (5 hectares). Today it covers 230 acres ( 93 hectares). It takes up almost half of the territory in the Chacarita barrio where it is located.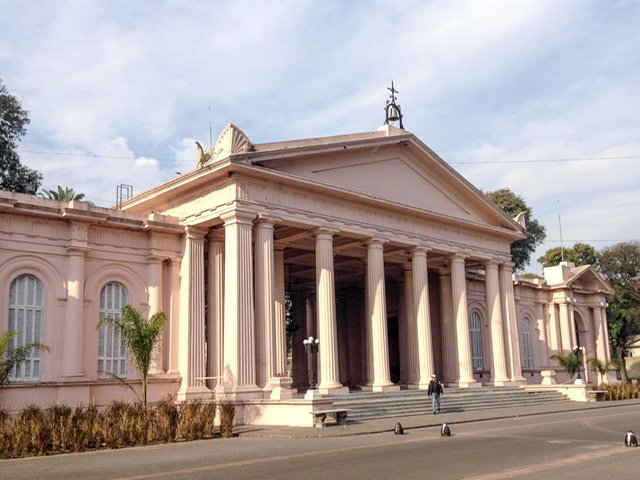 Chacarita is more than 16 times the size of Recoleta This means you will not find the crowds here that you will most likely encounter in Recoleta. You can learn more about Recoleta in "10 Things to Love About Buenos Aires."
In Chacarita you will find many beautiful tombs and fascinating catacombs. You will also see some sad situations.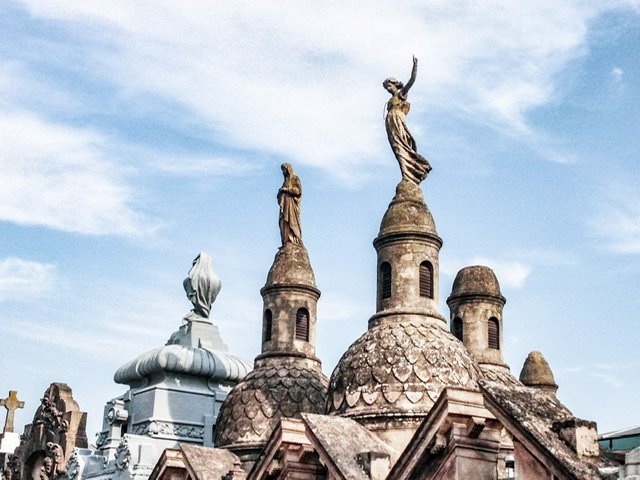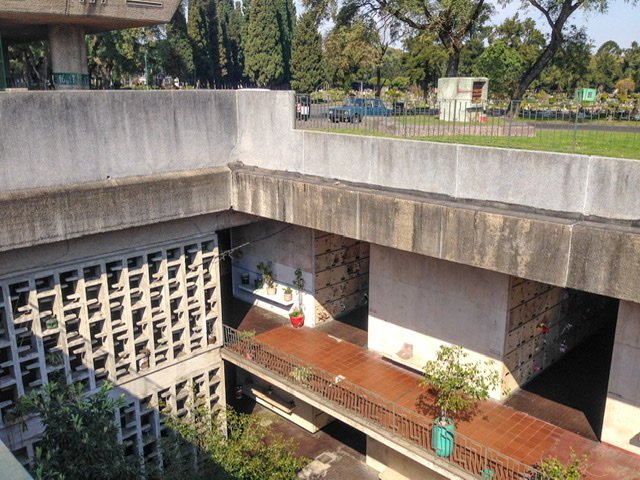 Do be careful if you visit this cemetery. We were cautioned more than once to stay aware of our surroundings while we were there because its seclusion increases the risk of theft. Even so, we did not feel unsafe. Here is an interesting article by Will Byers about Chacarita.
Chacarita is located in the Chacarita district. The main entrance is on Avenida Guzman.
I wasn't too excited about visiting a museum of decorative arts, but I am glad we did. If you enjoy being surrounded by beauty be sure to check out the National Museum of Decorative Arts (Museo Nacional de Arte Decorativo).
This neo-classical home was designed by French architect Rene Sergent. It was built with materials imported from Europe. Design began in 1911 but the home wasn't completed until 1917 because of delays caused by WWI.
It was the home of the Matias Errazúriz and Josefina de Alvear. After they moved in, the couple filled the home with a wide variety of fine art and exquisite decorative pieces. The rooms are decorated in different period styles.
Mr. Errazúriz bequeathed the home and its contents to the Argentine government upon his wife's death in 1935.
Throughout this museum, you will see wonderful examples of European and Oriental furniture and art. The best way to enjoy this museum is on a tour. They are available in English at set times. We had a guide to ourselves which made for a very informative tour.
This museum is at Avenida del Libertador 1902 in the Recoleta district.
This National Museum of Fine Arts (Museo Nacional de Bellas Artes) is worthwhile for any art lover. In it, you can enjoy international art from the Middle Ages through the 20th century. It has 3 floors and 30 exhibition rooms. Because of its size, we broke it down into two visits.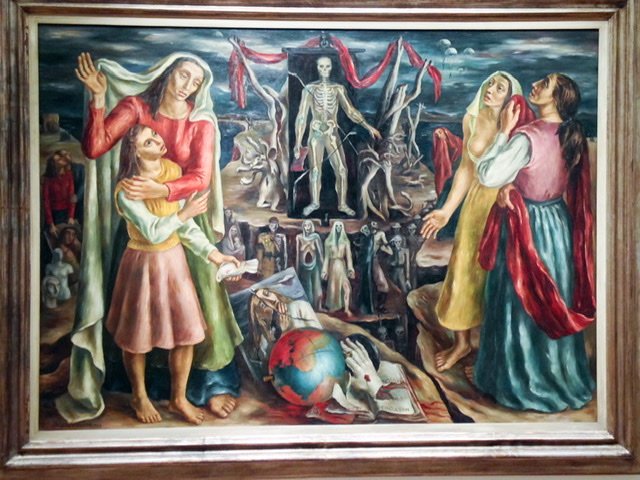 This museum is also located in the Recoleta neighborhood at Avenida del Libertador 1473. It is within walking distance to Recoleta Cemetery.
Whatever you do, don't make the same mistake we did. This spectacular 100-year-old building was right around the corner from our apartment and we had no idea how special it is. Just one more reason to go back!
The building was designed by Mario Palanti for Luis Barolo who made his fortune in knitted fabrics. The building is based on Dante's The Divine Comedy. Its 22 stories are divided into hell, purgatory, and heaven. Be sure to arrange for a tour to learn all about it.
Theater Colon is one of the top opera houses in the world with some of the best acoustics. You can enjoy this opulent theater by taking in a show or taking a tour. Tours are offered in English and Spanish.
The theater was closed for refurbishing from 2006-2010. The results are as spectacular as you would expect.
During our tour, our guide pointed out something I had never heard of, widow boxes. These are seating areas on either side of the theater that are covered with screens. This allowed women who were in mourning to attend a show without being seen in public.
The Theater is located at Cerrito 628 in the Microcentro district.
In my post "10 Things to Love About Buenos Aires" I talked about the Mothers of Plaza de Mayo. They are a group of women whose adult children were disappeared by the Argentine government from 1976-1983 during the Dirty War.
You can learn more about this dark period of Argentine history by visiting the ESMA Memory Site Museum (Museo Sitio de Memoria ESMA). Photos and stories of the disappeared and survivors help keep the memory of this time alive.
Prisoners who were pregnant were allowed to give birth but their babies were usually given to families who supported the government. Then the women were killed. There is a movement to locate the people born in the detention camps.
These words in the museum translate to "How was it possible that children were born in this place?"
This is not a stand-alone museum, but a complex of buildings. We did not allow enough time for our visit. Please don't make the same mistake.
The museum is at Avenida del Libertador 8151
9. Steak and Malbec
Argentina is famous for its beef. It is lean, flavorful, and nutritious. There are several reasons beef from Argentina is so good:
The cattle are grass-fed, which leads to higher omega 3 fatty acid content. This means less risk of high cholesterol and heart disease.
Because the cattle eat a healthy diet there is less need for antibiotics and growth hormones.
The steak is slow-cooked on a parrilla (a grill heated with wood or coal)
You can learn more about why Argentine beef is the gold standard in this article.
This article explains the use of a parrilla and the concept of the asado.
In Buenos Aires, you can partake of the best cuts of beef for a very reasonable price. One of our favorite restaurants was La Cabrera. To make your visit even better check out their early bird special (don't worry, it starts at 6:30 p.m.).
You might want to pair that delectable steak with a glass or two of dry, red malbec wine. Even though malbec grapes originated in France, Argentina currently produces 75% of the world's malbec wine. The grapes are grown in the Province of Mendoza in western Argentina.
Buen apetito!
10. The Neighborhoods
There are 48 official neighborhoods in Buenos Aires, so if you find yourself getting confused don't feel too bad. As you would expect, we spent most of our time in those that have the most to offer tourists. Here are the six you are most likely to visit as a tourist.
Palermo
This is the largest neighborhood in the city and has been divided into Palermo Soho and Palermo Hollywood along with other smaller sections. This is the area we stayed in for our first four weeks and it worked out well.
Words like trendy, chic, and nightlife are currently associated with this area. There are plenty of restaurants and shops and it is easy to walk around.
This is the greenest area of the city. This is where you will find Tres de Febrero Park, Jardin Botanico Carlos Thays, and the Japanese Gardens. There are also many peaceful, tree-lined streets.
Monserrat
I had a little confusion here. The area we stayed in during our second four weeks was usually referred to as Congreso due to the proximity of the National Congress Building. A prime example of the use of informal names for neighborhoods.
This area had a completely different feel from Palermo. For one thing, we didn't see a lot of dogs, and very little of their leavings.
This is the political center of the country. Both the National Congress building and the Presidential Palace are within walking distance.
There are also a lot of Subte (Metro) stations here, and taxis are plentiful.
Recoleta
This affluent and elegant neighborhood is adjacent to Palermo and it really walks the Parisian walk. You will find one stately building after another. This area also houses the famous Recoleta Cemetery and the Museum of Fine Arts, as well as several other museums.
La Boca
Described as a "brightly painted ghetto" by Culture Trip, this working-class neighborhood is considered a must-see for any tourist. Football fans can visit the La Bombonera stadium in this neighborhood. The area is also popular for street art.
San Telmo
Considered to be the most authentic of neighborhoods San Telmo is well-known for its street market. It is also a good place for antiquing.
This neighborhood is considered safe during the day, but visitors are cautioned to be careful at night.
Puerto Madera
This is the upscale, modern part of the city. If you are looking for a change of pace from the traditional Buenos Aires vibe, check out this area.
A port was built here at the end of the 19th century but had a very short life. Within fifteen years it was virtually obsolete.
The area spent most of the 1900s in neglect. Efforts to revitalize the area were started in the 1990s. Now you will find high rises, high-end hotels and restaurants, and warehouses-turned-apartments.
In this area, you can also visit the Buenos Aires Ecological Reserve, 865 acres of low land on the Rio de la Plata. It is a great place for a nature walk or a bike ride.
In Conclusion
These are just ten of what we feel were the best parts of our time in Buenos Aires. Of course, there are many other ways to enjoy this very vibrant and cosmopolitan city. No matter what you look for when you travel, you are sure to find it here.
Trip Details
Dates: August 15, 2019 to October 10, 2019
Number of days: 56
Total cost for 2: $7,200
Cost per day for 2: $129
Further Reading
Buenos Aires was just one of the cities we visited during the ten months we spent in Latin America in 2019. To learn about some of the other places we visited check out "Our Top 10 Latin American Travel Experiences."
We have also detailed what these ten months cost in "Wind and Whim's 2019 Full-Time Travel Costs: Latin America."
Stay safe and healthy,
Linda
If you enjoyed this post, please consider sharing it and joining our email subscription list: