Last Updated on: 12th September 2023, 10:15 am
Hi there. I hope your summer is off to a great start. Ours sure is.
After laying low in May, we had a busy June. We spent most of it based in Pula, Croatia. While there, we took a six-night side trip to three other Croatian locations. After Pula, we spent a few days in Venice, then headed off the Bucharest for five weeks.
June was full of captivating sights and a few minor mistakes. Read this monthly update to learn about our adventures in Croatia and Venice and why Linda needs a refresher course in reading.
Highlights
Four Weeks in Pula, Croatia
This city was our fourth and last one on our way up Croatia's Adriatic Coast. Its most famous sight is its Roman amphitheater. It is over 2,000 years old and reminiscent of the Colosseum in Rome, although the Pula Amphitheater (also called the Pula Arena) is considerably smaller. Today the amphitheater is used for concerts and film festivals.
We enjoyed exploring Pula, including:
Visiting the Pula Aquarium – the aquarium is in a 130-year-old fortress and has over 200 species of sea life. But perhaps most interesting is that the hallways are loaded with naval memorabilia. So this is two museums in one.
Interestingly, I couldn't find anything online about the naval displays. Perhaps they are new or temporary.
Strolling the coastline – the Adriatic Coast of Croatia has incredible scenery. So it was no surprise that our stroll along the coast led from one picture-perfect moment to another.
Delighting at tortoises living at a monastery – we've seen a lot of monasteries but decided to give the St. Francis Monastery in Pula a try. I'm glad we did because it was our first time seeing tortoises at a monastery. There were hundreds, and we weren't the only adults enthralled by them. Seriously, one man was petting a tortoise's shell.
Hunting for Austro-Hungarian fortresses – there are several long-abandoned fortresses in Pula. These small fortresses formed a ring around the city in the 1800s. Steve and I went looking for two of them. The first was covered in vegetation and couldn't be entered. But the second one was wide open, and we were able to explore it on our own.
Learning about olive oil at the House of Istria Olive Oil Museum – I know, an olive oil museum wasn't high on our bucket list either. But we enjoyed learning about the history and manufacture of olive oil. The entrance fee included an olive oil tasting, which was fun, even if I did choke the first time I drank some. Apparently, some people drink a small amount of olive oil daily. Who knew?
Perusing the markets – I am not a fan of markets, but Steve loves them. He visited a few, including a large weekend flea market, where he found two antique psychology books for our daughter Laura's counseling office.
A Three-Stop Side Trip
In mid-May, Steve and I were in Zadar, Croatia. Since we were only a two-hour bus ride away from Plitvice Lakes National Park, we took a three-night trip there. It was our second visit to the park, the first one being a day tour in 2018. Unfortunately, this time it rained almost the entire time we were there. The heavy rains closed a large part of the park, and we only hiked for two hours.
We love this park so much that we were determined to try again. The only problem was that we were now in Pula, a more than six-hour bus ride away. And the only bus heading to Plitvice Lakes left Pula at the unholy hour of 5:15 a.m. So we decided to break up the trip by making a few stops along the way.
First Stop: Opatija
The first was two nights in Opatija. The town is on the Kvarner Bay, in the northern part of the Adriatic Sea. It was a popular summer resort in the 19th century and is chock full of the lovely Habsburg-era villas of that era.
The best thing to do in Opatija is enjoy the scenery. It is easy to do thanks to the abundance of seaside hotels and the Lungomare. The Lungomare is a 12 km or 7-mile-long seaside promenade along the bay.
Steve and I spent hours walking the Lungomare. We never tired of the beautiful rock formations along the coast, and we have hundreds of photos to prove it. We also relaxed on our hotel room balcony, which overlooked the bay.
Second Stop: Rijeka
The next stop was the city of Rijeka, just a 20-minute drive from Opatija but a world apart. Our primary reason for visiting Rijeka was to view the Habsburg-era buildings. We saw many, and they were architecturally beautiful, but they were all quite dirty.
We walked around, ate a few good meals, and visited Trsat Castle. The best part of the trip was when we stopped for breakfast on our second morning. As we usually do, we had Hedgemeister join us. When our waiter came by, he was delighted to see a hedgehog. He explained that one of the most popular children's books in Croatia is about a hedgehog who loves his home. It's called Hedgehog's Home or Jezeva Kucica in Croatian. Here is a cute video of the story.
Third Stop: Plitvice Lakes National Park
They say the third time is a charm, and it was. This time we kept an eye on the weather before we headed there, and it was much better than on our last visit, although we did have one downpour.
The park includes sixteen terraced lakes that create over ninety waterfalls. It is laid out well, and the trails are well-marked and well-tended. This time we got to see almost all of it.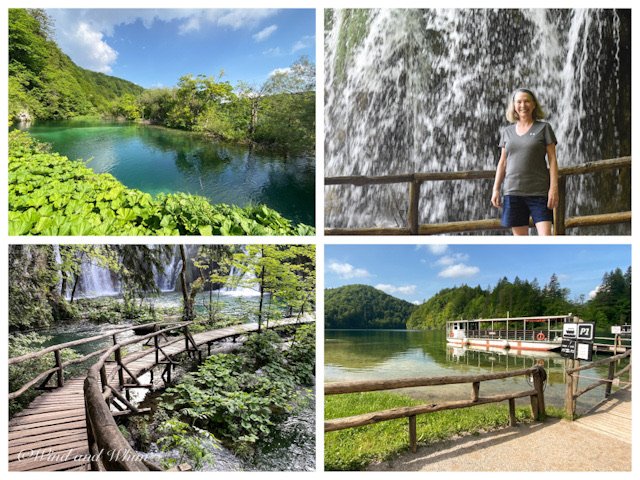 We drove from Rijeka to Plitvice Lakes because the bus trip was too long. This is only the second time we have driven overseas. The drive there was fine, but the drive back was stressful because it was raining the whole time, and a good part of it was spent driving on winding mountain roads through low-hanging clouds.
A Quick Trip to Venice
Venice was hot, crowded, expensive, and wonderful. We had a great tour of the Doge's Palace, marveled at the beauty of St. Mark's Basilica, and viewed the city from the top of the basilica's bell tower.
We also checked out two nearby islands, Murano, known for its top-quality glass, and Burano, known for its brightly painted buildings.
And, of course, we got lost in the maze of streets, a rite of passage when visiting Venice. Google Maps did not work well on the city's narrow streets.
Our Venice trip was short because we were close to the 90-day Schengen Area limit. We had originally planned to spend three nights in Venice but adjusted our plans, as you can read about below.
After our first day, we both felt that this short visit would be enough. But after our second day, we agreed that we would like to spend a week here during a less busy time.
Our Second Time in Bucharest
From Venice, we headed to Bucharest. We were there in the summer of 2018 and liked it. In addition to incredible architecture and history, they have Therme. You can read our take on this amazing wellness spa/water park here.
Low Points
A Rookie Mistake
Midway through the month, we were finalizing our plans for our three-night visit to Venice. We realized that the airport we were flying out of when leaving Venice was an hour and a half away from where we were staying.
Since our flight was at 7:50 a.m., that was bad enough. But the trip would involve walking, taking a ferry, walking again, taking a train, walking yet again, and then riding a bus. All while dragging everything we travel with.
Apparently, when we booked the flight, we were so happy to find a direct one that we failed to check the logistics of getting to the airport. Even after five years of travel, we are still making rookie mistakes.
So instead of spending three nights in Venice, we only spent two. Then we spent the third night in Trieste, so we only had a ten-minute ride to the airport.
Hotel Mozart
In Opatija, we stayed at Hotel Mozart, a charming pink building built in 1894. As pleasant as the hotel was, we quickly encountered a few problems. First, we noticed that there wasn't a refrigerator in our room, as there was supposed to be. Steve called reception, and we soon had a petite young woman knocking on our door while carrying a small refrigerator.
After shaking our heads that no one had noticed this was missing, we quickly unpacked, turned on the air conditioner to get the room cool for our return, and headed out to explore.
When we returned, the room wasn't any cooler than when we left. Steve returned to reception only to be told the air conditioner wasn't working. I was ready to go to another hotel right then, but Steve asked for a discount, and we decided to spend at least the first night.
We had a hot night, and by mid-morning the next day, we still hadn't heard anything about a discount. I finally went to reception an hour before check out to see what they were willing to offer. I was shocked when the receptionist told me they would give us our second night free.
Those who know me know I love a bargain, so I was willing to put up with another hot night for that sweet deal. We bought an inexpensive fan and lucked out because the second night was cooler than the first, so we slept well. As we were checking out, the air conditioning came back on.
Despite the problems at Hotel Mozart, the staff was superb, the view was great, and the breakfast buffet was delicious. I would consider giving them another try if we visit Opatija again.
You Know What They Say About Assuming
I have a bad habit of not reading things carefully. I did it with train tickets from Paris to London, which cost us US$200 to change the tickets. I also did it at the Sofia, Bulgaria airport, where I led us to the wrong terminal. Since their two terminals aren't within walking distance from each other, we had to take a taxi to the correct one. And I did this not once, but twice, two years apart!
This time, I failed to read the details about our tour of Doge's Palace. I assumed we would meet our tour group in front of the palace. When we arrived, I asked a man at the entrance where the tour groups met. He said (in a very unpleasant and unhelpful way) that there weren't any tours and asked to see our tickets. Before we knew it, he had checked us into the palace and informed us (again in his unpleasant way) that if we left, we would not be allowed back in.
Then I read the instructions, which directed us to the tour operator's office. We headed there and explained the issue. From their reaction, this wasn't the first time they had a problem with the palace staff.
Our guide solved the problem by going through a different entrance with a nicer staff member, but the man at the entrance certainly left a negative impression.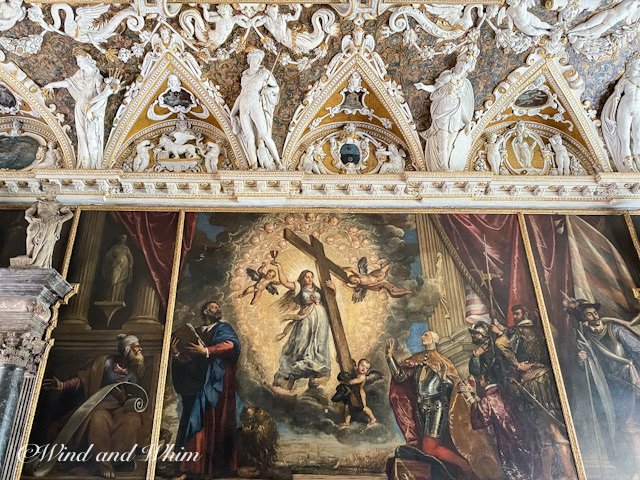 One of these days, I will learn to read more carefully.
On the Website This Month
In between our explorations, I've been busy updating this website. Soon it will have a more modern look with more functionality. Because this has taken a lot of time, I didn't have any new posts in June. The last one, from late May, looks at the problems of overtourism and possible solutions.
In late June, Time Out Travel published this article about France's plan to find ways to reduce the number of tourists at its most popular spots.
Where to Next?
Steve and I will spend most of July in Bucharest, then head north a few hours to Sinaia and Brasov. These two Romanian towns are near several castles, including the medieval Bran Castle (also known as Dracula's Castle) and Cantacuzino Castle (Nevermore Academy in the Wednesday TV series).
Then we will go to Skopje, North Macedonia, for a month, and Tirana, Albania, for another month. After all this, we can reenter the Schengen Area. Perhaps we'll go back to Italy.
Until Next Time
Do you have any summer travel plans? If so, drop a comment below and tell us about them. Maybe we'll find ourselves in the same place.
Happy traveling,
Linda