Last Updated on: 25th July 2023, 08:23 am
Are you thinking of visiting Bucharest? Great! You'll love it. Along with seeing the Palace of Parliament, Herăstrău Lake and Park, and the Cărturești Carusel bookstore, there is one other place that should be on your list: Therme Bucuresti.
This is a place where you can feel like a carefree kid one minute and a pampered adult the next.
We first visited Therme Bucuresti twice in September 2018. Our first visit was for an entire day. We enjoyed it so much that we decided to go back for a nighttime visit a week later.
Five years later we were back in Bucharest. This time we made four visits to Therme. I am happy to say it was just as wonderful as it was in 2018.
All money is in U.S. dollars.
A Few Facts About Therme Bucuresti
Therme Bucuresti is the biggest relaxation and entertainment center in Europe.
It opened in 2016 and welcomed 1.2 million visitors that year.
It is the first wellness facility of its size to be granted a LEED Platinum Certification for green building.
The thermal water that supplies the pools is extracted from 3,000 meters (about 9,800 feet) below ground. The pool temperatures are maintained at 33 – 36 degrees Celsius (91 – 97 degrees Fahrenheit). We thought the water temperature was perfect.
It is also the largest botanical garden in Romania, with over 800,000 plants!
The best way to understand how much Therme Bucuresti has to offer is to visit its website.
What Will You Find at Therme Bucuresti?
Therme Bucuresti is divided into three areas. As a guest, you decide which areas you want to access and only pay for those. Each area has activities and dining options. The three areas are:
Galaxy – the only area that allows children of all ages. This area has waterslides, a wave pool, and a game center. There is also a pool bar, an indoor/outdoor pool, a sandy beach, and a salt library. I am not ashamed to say I spend quite a bit of time on the waterslides.
The Palm – Here, you will find another indoor/outdoor pool. The indoor pool has a retracting roof. The outdoor pool has a crazy river. Both have swim-up bars.
The Palm also has three mineral pools, a jacuzzi, and hydromassage tables. There is a sandy beach outside with 500 palm trees and 1,500 loungers.
You must be at least 17 years old to enter this area, although parents can bring children up to three years old into this area.
The photo at the top of this post is of the main pool in The Palm area.
Elysium – is the wellness area. It features six themed saunas and a cooling calla shower. You can also get massages here. Like The Palm, this area is for people 17 and older.
The Elysium section also has an indoor selenium and zinc pool with another swim-up bar.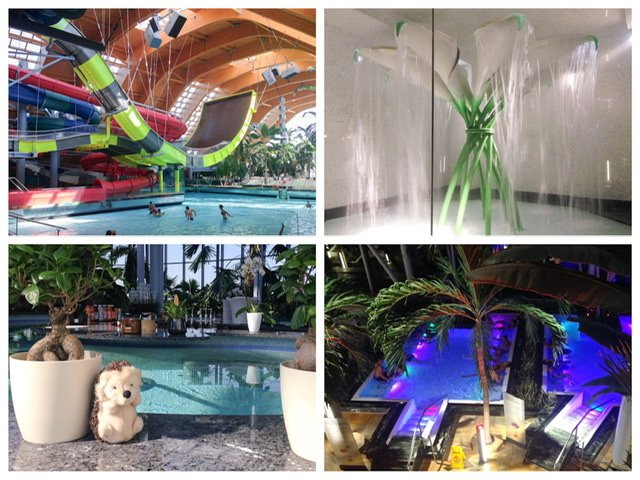 Clockwise from upper left: slides in the Galaxy area, calla shower in the Elysium area, our travel buddy, Hedgie, at a swim-up bar, mineral pools in The Palm area
What It Costs
One of the best things about Therme Bucuresti is what a great deal it is, at least for visitors from countries like the United States. Our first visit cost $172 for the two of us. While not a small amount of money, it is considerably less than what a similar experience would cost in the U.S. This is what we got for our money:
Access to all three areas
Robe and towel rental
Lunch
Two drinks at the swim-up bar
Two 45-minute massages
One haircut
Not bad for $86 per person.
Our average cost for each visit in 2023 was $106, or just $53 per person. We had lunch during each visit, a few drinks, one massage, and we rented bathrobes but not towels.
A word of warning – if you get a massage, you will be given a skimpy (and I do mean skimpy) paper G-string to wear.
Practical Stuff
Therme Bucuresti is 10 miles north of Bucharest at Calea Bucuresti 1K, Bucuresti, Romania.
There are several ways to get there: by car, taxi, or Uber. You can also take the public bus. Bus #442 goes right to Therme. Google Maps led us to believe we would be dropped at the end of a long road leading to Therme. We were happy to find that the bus took us right to the parking lot.
You can rent a robe and towel when you arrive. As of this writing, the rental was reasonably priced at around $12.
When you check in, you will be given a wristband. You will use it to open and lock your locker and record your purchases throughout your visit.
A note about shoes: you should bring rubber flip-flops to wear when walking between areas. On our first visit, Steve's shoes were more like boat shoes. They had thick white soles. The staff took issue with them even though they had been sold as beach shoes and had never been worn outside. You can also buy slippers at Therme.
You can read about another wonderful water theme park in "Aquaworld Budapest: Tons of Fun in Hungary."
If you are curious about what it cost us to travel in Europe for eight months, including a month in Bucharest, check out "Wind and Whim's 2018 Full-Time Travel Costs: Europe."
Until Next Time
If you've been to Therme Bucuresti, Steve and I would love to know what you thought of it. If you haven't, we encourage you to visit it when you are near Bucharest.
Safe and happy traveling,
Linda
This post was originally published on December 2, 2020.