Last Updated on: 30th September 2023, 06:56 am
I've been feeling a little out of sorts lately. It is so easy to blame it on the pandemic, especially since we have been on restrictions since November*. But going back over the photos of cats and dogs we enjoyed seeing in 2020 made me think that there might be more to it. I need a pet fix. Badly. As you may know, Steve and I spent 2020 in only two cities, Bansko, Bulgaria, and Budapest, Hungary. Neither place is teeming with stray cats and dogs, and that is a good thing. It is also reflected in how few photos I took of random animals during the year. Nonetheless, I want to share those photos I have with you. Hopefully, they will bring a smile to your face as they do to mine. Here are the cats and dogs that touched our lives in 2020.
This dog steals the heart of everyone he meets at the Redenka Holiday Club in Razlog, Bulgaria. We stayed there for four weeks while Steve recovered from a broken pelvis. It was always a joy to see Bansko (named for the nearby town) whenever I left the main building. This photo was taken one afternoon as Bansko and I played in the newly fallen snow.
These two cats were hanging out in Bansko. I sat on the bench, and they jumped up to sit next to me. It still amazes me how friendly stray cats in Europe can be.
We saw this cat and the next two at
Cat Café Budapest.
Our mistake was visiting mid-afternoon. As you can see, there wasn't much kitty action.
There is a Japanese garden at the north end of
Margaret Island
. It is lovely to visit any time of year, but it was even more special with this sweet cat. Here he is getting some treats from a woman.
And here he is after he's had his fill. Don't you love the two pigeons in the background?
I met this sweet dog on an early morning solo walk. She had come to work at a café with her owner. While the owner went inside to work, the dog and I played catch. After she got the ball, she would run past me. She didn't want to give it back, but she did eventually.
The manager of our first Budapest Airbnb had three affectionate Siamese cats. I was able to get a photo with one of them. He doesn't look that affectionate in the photo, does he?
As I've written before, Steve and I are amazed at how well-behaved dogs in Europe and Latin America are. It is not uncommon to see them walking with their owners without leashes. Most do an outstanding job of ignoring other animals and people. For this reason, I don't have many dog pictures. This cutie is a great example of how well trained they are. He laid outside a store while he waited for his owner.
Cemeteries are a great place to see cats, although they do tend to shy away from people. We saw this one in the Farkasreti Cemetery in Budapest. I love how he looks like he's grinning.
Hungary gained independence from the Soviet Union in 1989. As you might imagine, the city was full of statues honoring Soviet leaders and promoting the Soviet agenda. Once Hungary became independent, the statues were moved to a park to serve as a reminder of the past without glorifying it. The park is called
Momento Park
. I highly recommend a visit if you are in Budapest. While we were there, this white cat came up to me. She was so loveable. As always, when a cat chooses you, you feel special.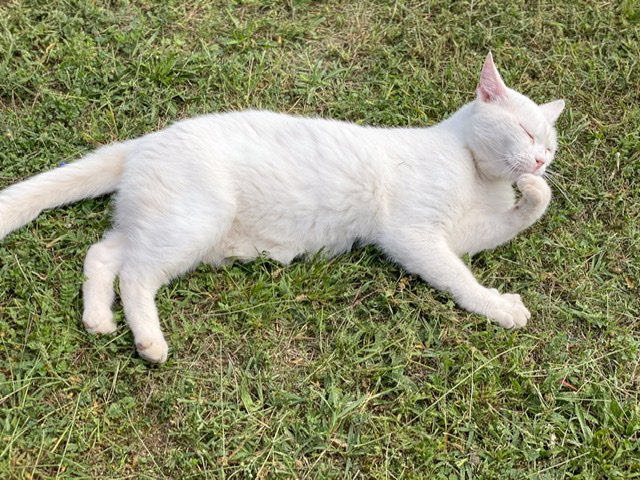 She is obviously very comfortable living in Momento Park.
In October, we spent several days in Balatonfured, a charming town on Lake Balaton. This cat started to follow us as we were walking through town. She finally sat behind this fence, and we continued on without her. We ran into this handsome cat in Bansko. He just loved Steve and You can see in the video.
Last but definitely not least is this cutie in Oberic, Croatia. I saw this on a post by one of my favorite bloggers, Adventurous Kate. She was gracious enough to let me share it with you. Be sure to check out Kate's website at
adventurouskate.com
. Her monthly recaps have become a must-read for me. I hope you enjoyed meeting these endearing cats and dogs. If you would like to see more check out  
20 Captivating Cats From Around the World
 and 
24 Delightful Dog Photos From Around the World
. * Restrictions have been in place since Nov. 11, 2020. These include an 8 p.m. to 5 a.m. curfew, masks required in public places, high school and university classes online, and take-out only in restaurants. On March 8, 2020, the restrictions were tightened due to drastically rising Covid cases and deaths. These restrictions added the closing of all non-essential businesses and primary schools for two weeks. That is what we are in the middle of as I write this. Stay safe and healthy, Linda