If you love captivating natural beauty, amazing architecture, and gorgeous gardens, check out Opatija, Croatia.
Steve and I visited Opatija at the end of May, before the height of the tourist season. It was busy enough to be interesting without being crowded. The weather was warm and mostly sunny.
This seaside town of less than 12,000 residents on the Adriatic Sea is the perfect place for a restorative break. As is fitting for the area, most people were strolling or relaxing by the water. Read on to learn why you will fall in love with Opatija.
All money is in U.S. dollars.
But First, Where is Opatija?
Opatija is a small town on the eastern side of the Istrian Peninsula. It sits on the Kvarner Gulf (sometimes called the Kvarner Bay) at the northern end of the Adriatic Sea. It is easy to reach by car or bus in a few hours from several larger cities, including Pula, Croatia, Trieste, Italy, and Ljubljana, Slovenia.
A Few Opatija Facts
*How do you pronounce Opatija? uh·PAH·tuh·yuh The Croatian letter "J" is pronounced like the English "Y."
*Modern-day Opatija began in the mid-1800s when a wealthy merchant, Ignio Scarpa, built the Villa Angiolina. Other wealthy families, including aristocrats, soon built vacation villas there. You can see these stately summer homes all around town.
*Opatija was part of the Austro-Hungarian Empire from 1867–1918.
*Opatija has a Mediterranean climate. The summer season runs from mid-June to mid-September. Here is the year-round Opatija weather.
The Best Things About Opatija
The Lungomare
One of the things we loved about this area was the Lungomare. This 12 km or 7-mile-long seaside promenade passes through Opatija as it goes from the towns of Volosko to the north and Lovran to the south. Austrian Emperor Franz Joseph I built the Lungomare. For this reason, it is also called the Franz Joseph I Promenade.
You can spend hours strolling the Lungomare. And we did. It is lined with trees and overlooks picturesque scenery. There are many stairways that lead down to landings close to the water. They are great places to sunbathe and take photos.
The Architecture
If you're a fan of the elegant architecture of the Austro-Hungarian Empire, as Steve and I are, Opatija has you covered. The town is full of beautiful buildings for you to admire. Many of them are painted in pastels.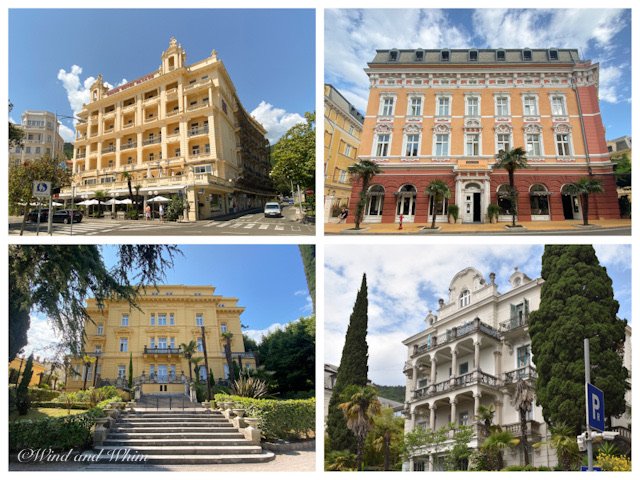 Villa Angiolina, the building that started it all is home to the Croatian Museum of Tourism. As of this writing, it is temporarily closed.
The Gardens and Parks
Besides ogling architecture, we love spending time in gardens. We enjoyed two in Opatija: the American Gardens and Angiolina Park.
Angiolina Park is a heavily-treed garden with over 100 species of plants next to Villa Angiolina. There is a large floral display in front of the villa. To the north of it, you can wander several paths past shrubs, trees, large rock formations, and a few statues.
The American Gardens are inland and, therefore, a bit uphill. These terraced formal gardens overlook Kvarner Gulf. In addition to a wide variety of flowering plants, including roses and camellias, there is a row of weeping mulberry trees at the bottom of the gardens. They were loaded with delicious berries when we visited. The top of the gardens features an eye-catching row of cypress trees behind stone columns.
You may wonder why it is called the American Gardens. In the 1920s, a Hungarian merchant made a fortune selling paprika in the Americas. He built the gardens to honor his wife, an Opatija native.
Even More to See and Do
The Open Air Theater is next to Park Angiolina. It wasn't open when we visited, but if you visit in the summer, you can catch a show or movie there.
The Wall of Fame is also next to Park Angiolina. It features portraits of famous people from Opatija and people who have visited the town. You can see images of Franz Joseph I, Albert Einstein, Robert DeNiro, Isadore Duncan (the only woman), and Kirk Douglas, among others. There is an empty space, so you, too, can show that you have been to Opatija.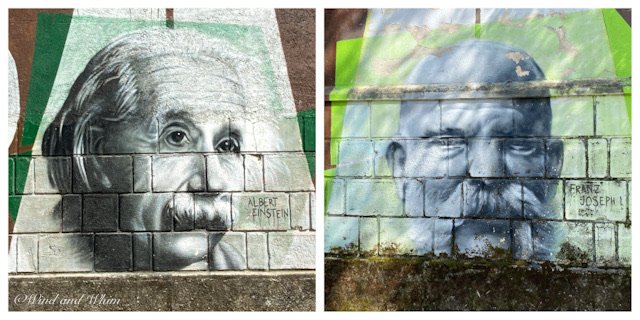 Park Margarita is another park where you can stroll among trees and shrubs. Steve and I passed by the entrance of this park but didn't venture inside.
Practical Stuff
Getting there – If you have a car, you can drive to Opatija. However, parking may be a problem. We took a bus and, as always, used getbybus.com to plan and book our trip.
Getting around – Opatija is small enough that you can walk everywhere. You will have to deal with hills as you move away from the seafront, though. The local buses are easy to use and can even take you to nearby towns. You can buy tickets at Tisak stands, but beware that they only sell round-trip tickets.
Restaurants – Since we were only there for two nights, we didn't get to try many restaurants. However, the ones we ate at were very good.
Restoran Ruzmarin was number one on our hotel's list of recommended restaurants, with good reason. We had a wonderful lunch there and tried truffles for the first time.
Restoran Roko and Pizzaria Roko are next door to each other and were also high on the list our hotel provided. We had pizza from them one night, which was pretty good.
We discovered Restoran Mali Raj as we walked south along the Lungomare. It was an excellent place to stop for a seafood lunch or dinner. The restaurant is connected to the Boutique Hotel Mali Raj in the small town of Icici and overlooks the gulf. It is about half an hour's walk from the center of Opatija if you don't stop to take photos every ten steps.
Here are other restaurants recommended by Hotel Mozart:
Veloce by Roko (fast food)
Bistro Yacht Club
Restoran Molo
Restoran Bevanda
Restoran Istranka
Antica Osteria da Ugo
Hotels – We stayed at Hotel Mozart. It is listed as a 5-star hotel, but despite its charms, it is more like a 3-star hotel. The air conditioning in this 129-year-old building wasn't working when we arrived, and we were not informed of this. I was ready to leave right then, but Steve asked for a discount, and we decided to stay the night. It was an uncomfortable night.
The next morning, the manager offered us the second night free, so we stayed. Thanks to it being a cooler night and with the aid of a cheap fan, we slept great. Wouldn't you know, the air conditioning came on as we were checking out!
Hotel Mozart had a lot going for it: excellent staff, a delicious breakfast, and cool décor. We had a deluxe room with a sea-view balcony. We chose it for the location and reasonable price. If you are thinking of staying there, you might want to check on the air conditioning before you book.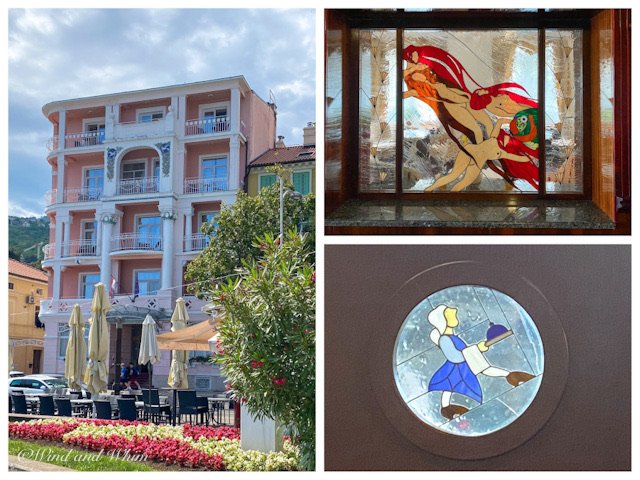 Here are some other sea-view hotels to consider, although we don't have first-hand knowledge of them:
Hotel Miramar is a four-star hotel located in the 147-year-old Villa Neptune. That's it in the photo at the top of this post. It has a spa, indoor and outdoor pools, and a private garden.
The Grand Hotel Adriatic was the one I picked when it looked like we might move from Hotel Mozart. It is a modern four-star hotel. This one has an adults-only spa and wellness center (check out the photos, it looks incredible), an indoor pool, and an outdoor infinity pool. As we walked passed the outdoor pool one day, loud music was playing. If that's not your thing when relaxing by the pool, this hotel may not be your best choice. It is gorgeous, though.
Like the Grand Hotel Adriatic, the Hotel Admiral–Liburnia is in a modern building. It is also a 4-star hotel with spa services, an indoor pool, and a seasonal outdoor pool overlooking the gulf. As we passed the outdoor pool, we noticed it was peaceful.
Cost
Staying in Opatija can be costly compared to other Balkan towns. The biggest expense will be your hotel, particularly if you want to be seaside. Our hotel was $157 per night and included breakfast. The cost of lodging increases significantly during the summer months.
A sit-down lunch or dinner for two with drinks was around $50. We also enjoyed take-out food while sitting on our balcony.
To give your budget a break, try the bakery chain Mlinar, which is a good place to grab a light bite.
For a do-it-yourself meal, there are two Konzum supermarkets on Ulica Marsala Tita, the street closest to the waterfront.
Until Next Time
Steve and I loved our short stay in Opatija. If you find yourself anywhere near the Kvarner Gulf, check it out. We think you'll fall in love with it, too.
If you've been there, drop a comment below and let us know what you thought of it. And please consider sharing this post on social media. Just use the buttons at the top of the post.
Happy traveling,
Linda
Featured image: The Hotel Miramar in Opatija