Last Updated on: 15th January 2023, 09:07 am
Can you believe it's November already? This year is flying by. I can't decide if that is a good thing or a bad thing.
Steve and I stayed busy in October, but this month all our activities were close to home. The most exciting thing that happened this month is that we began making arrangements for our daughters, Stephanie and Laura, to visit us in December. We are hoping the pandemic doesn't mess up our plans.
The number of new cases is still low in Hungary but continues to increase. We are keeping a close eye on it. We've noticed more people wearing masks again.
Read on to see what we did, saw, and learned in October.
Dohány Street Synagogue
We started the month visiting a place that has been on our radar since we got to Budapest a year and a half ago. We toured the Dohány Street Synagogue. It had been closed to tours until recently. You can see part of the front of the synagogue in our featured photo.
This beautiful synagogue is the largest in Europe. The largest synagogue in the world is the Belz Great Synagogue in Jerusalem.
Here are a few facts about the Dohány Street Synagogue:
It was built in the Morrish Revival style.
It seats 3,000 people.
A smaller temple called Heroes Temple is used for winter services to avoid heating the large synagogue.
This is the only synagogue in the world with a cemetery on its grounds. There are over 2,000 Jews buried here. They are people who died in the ghetto during WWII and remained unburied when the ghetto was liberated.
The cemetery
There is a Hungarian Jewish Museum connected to the synagogue.
The synagogue is on Dohány Street, which translates to the unromantic Tobacco Street.
According to our tour guide, the synagogue is more ornate than most and has similarities to Catholic churches. This was done intentionally because the Jews who settled in Budapest wanted to assimilate. They wanted to show that they weren't that different.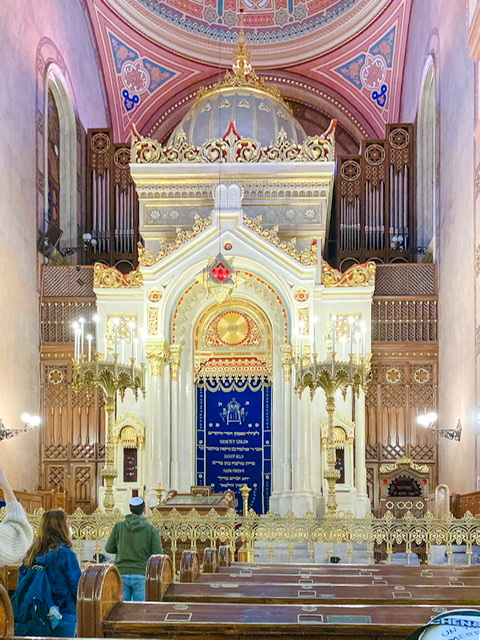 Inside the synagogue
There is a large statue of a weeping willow on the grounds. It is called the Emanuel Tree. The tree was installed in 1991 and paid for by the American actor Tony Curtis in memory of his Hungarian-born father, Emanuel Schwartz.
The tree is a memorial to Hungarian Jews killed during the Holocaust. Many of their names are engraved on the leaves.
The Emanuel Tree and engraved leaves
The synagogue grounds also contain several memorials to both Jews and non-Jews who helped save Jews during the Holocaust.
Memorial to British banker Sir Nicholas Winton who saved 669 Czech children
The Royal Postal Savings Bank Building
Budapest is teeming with beautiful buildings, but one of the most exquisite is difficult to appreciate from the street because other buildings closely surround it.
To get a good view of the Royal Postal Savings Bank Building, you need to go to the Hotel President, which is right across the street. Once there, you go to the roof-top restaurant Intermezzo to enjoy the building's beauty and have a 360-degree view of Budapest.
This building is now the Hungarian State Treasury.
The Royal Postal Savings Bank Building
A Klezmer Show
We finally got to see the Klezmer show at the Spinoza Restaurant. The restaurant had been closed throughout the pandemic and just reopened.
Klezmer music is a tradition of the Ashkenazi Jews of Eastern and Central Europe. Even though we couldn't understand the words, much of the music was instrumental, and most of it was lively. It was a great way to experience a little of the local culture.
A night of local culture
Oldtimer Show
Steve got to spend several hours ogling cars, trains, and other wheeled contraptions at the Oldtimer Show held in the 10 acre Hungarian Railway History Park. I was in a Zoom meeting and missed it.
Cars
Trains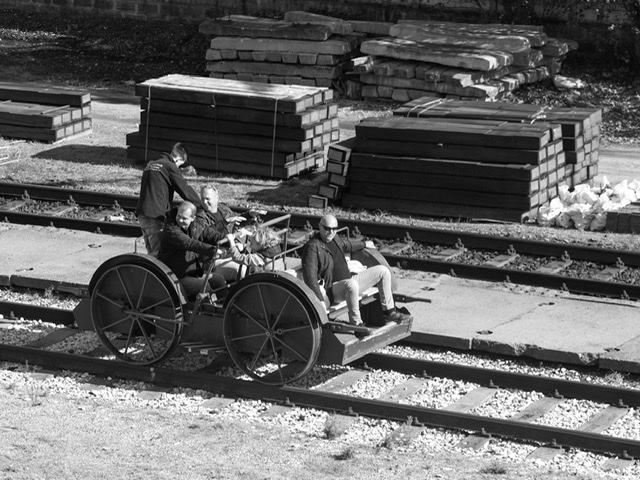 And other things with wheels
The Budapest Retro Interactive Museum
This is a new museum in the city that showcases life in Socialist Hungary. The displays are primarily from the 1970s and 1980s. There are a lot of hands-on exhibits and plenty of English translations. You can even use an old phone to hear jokes like this one:
Three men, a Brit, a Frenchman, and a Russian, are looking at a painting of Adam and Eve.
The Brit says, "look how reserved they are. They must be British."
The Frenchman says, "Nonsense. They are beautiful. They must be French."
The Russian finally chimes in. "They are Russian," he says. "They have no clothes, no shelter, and only an apple to eat, yet they are told they are in paradise."
Steve and I visited a similar museum in Varna, Bulgaria, a few years ago. The Retro Museum in Varna also showcases life under Socialism but is much larger and covers all the decades of Soviet control. Hopefully, the Budapest museum will do well and grow. Find out more on their website.
Photo of Leonid Brezhnev and Eric Honecker (East German politician)
Art Market Budapest
We also spent several hours contemplating contemporary art at an international art fair. It was held in The Whale (Bálna), a modern building with shops, restaurants, and convention space. I don't know how Hungarians feel about this building, but I wouldn't be surprised if not everyone appreciates its style.
The Whale on the Pest side of the Danube River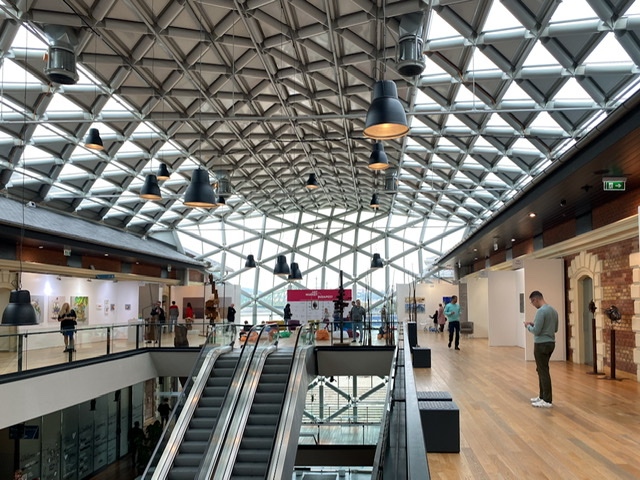 Inside The Whale
A Covid-inspired interpretation of The Girl With the Pearl Earring by Johannes Vermeer – this one by Naomi Devil
A vibrant painting by Omar Mendoza
Another Trip to Aquaworld
I apologize if you are getting sick of hearing about this place. This was our third three-night visit to Aquaworld, thanks to their "buy two nights, get one free" deal.
Since the swim season is over, it was a different experience than our first visit in July. There were fewer people, and some of the pools and saunas were closed because of the cool weather and decreased demand. But there was more than enough to keep us happy. We loved luxuriating in the warm pools while the air was 45 degrees F.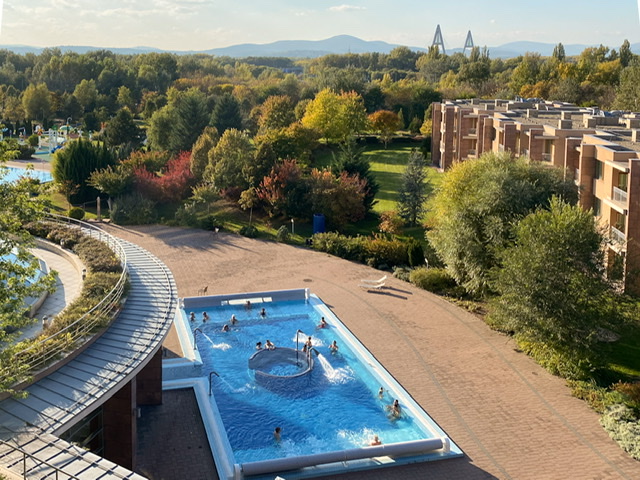 The view from our room, lovely any time of year
Rudas Baths
We also paid a visit to a third bath in the city. Rudas Baths aren't as well-known as Szechenyi or Gellert Baths. However, Rudas Baths have the longest history. Its octagon-shaped Turkish bath dates back to 1550! Unfortunately, photos of the original pool aren't allowed.
The baths have more modern features, too, including a roof-top pool overlooking the Danube River.
Rooftop bathing at Rudas Baths
One of several Zsolnay tile fountains in the baths
Loving City Living
Having spent six decades as a suburbanite, I've discovered that I love city living. Yes, it can be noisy and crowded, but that's a small price to pay for the vast array of attractions at our disposal. I love that we don't need a car and can walk to the grocery store in just a few minutes.
I also love that events occur constantly. One morning we went out for breakfast. As we headed home, we ran across an art display featuring animals. Here are two of them:
It isn't every day you see a bull made out of beer cans
Or a shiny silver bear
Another day, we watched thousands of people fill the streets in our neighborhood to celebrate the Memorial Day of the 1956 Revolution. The president gave a speech, which we couldn't understand, but we loved watching the crowds from our apartment.
As Steve says, "These are the best seats in the house."
It is interesting to see how clean the residents keep the city. When the crowds cleared, the was almost no garbage on the streets. Soon afterward, street cleaning machines were doing their job. This is quite a contrast to the mess left behind in Buenos Aires after a day of protests.
No litter and streets being washed after political rally
This Month's Media
In between our activities, I managed to publish three blog posts:
Just in time for the 2021-2022 ski season, "The Pros and Cons of Skiing in Bansko, Bulgaria" looks back on our experiences in January 2020.
"Eger and Egerszalók: A Great Hungarian Getaway" details many of the interesting things to do just a few hours outside of Budapest.
And in case you missed it, our "September 2021 Recap: Castles, Caves, Baths and the Beatles" is loaded with great things to do in Budapest and nearby towns.
I also enjoyed another Dan Brown novel. Origin is the story of a scientist who discovers the answers to the questions "where did we come from" and "where are we going?" His discovery threatens the world's religions.
Once again, Brown made locations come to life. He did a fantastic job describing the Guggenheim Museum Bilbao in Bilbao, Spain, and wrote a little about several Budapest locations, including the Dohány Street Synagogue.
The book also has Winston, a helpful AI creation with a personality. But my favorite part of the book was how the main character, Edmond Kirsch, logically examines religious beliefs. It discusses how throughout history, humans have invented gods to fill in the gaps in their understanding of the world.
The story also includes the Palmarian Catholic Church, a Catholic church that does not recognize any popes after Paul VI as Catholic and has its own "popes." Some describe it as a cult.
Is this great literature? No. It is a thriller that teaches you and makes you think if you let it.
Until Next Time
Steve and I hope you had a great October. Drop us a comment to let us know what you've been up to or suggest some good TV viewing; we are desperate.
Stay safe and healthy,
Linda