Last Updated on: 30th September 2023, 07:17 am
Well, here we are, fourteen months into the pandemic. I hope you and your loved ones are staying healthy and sane. It can be a challenge at times, but things are looking up.
Steve and I are still in Budapest, waiting to be vaccinated and be able to travel again. Here is a look at what May 2021 was like for Steve and me.
State of the Pandemic
Top on everyone's mind: pandemic numbers and restrictions. Soon after we arrived in Budapest in mid-March 2020, the entire country went on lockdown. It was so quiet. Fear of the unknown kept people inside. We reached a comfort level where we would take a walk about twice a week. The one bright spot was enjoying landmarks like Fisherman's Bastion and Buda Castle without the crowds.
The first shutdown lasted only two months, and even after the country opened back up, the Covid numbers remained low. Then in late summer, the number of cases started rapidly increasing. A second shutdown began in November and didn't end until May.
Despite being in the second shutdown, the number of cases exploded in March and April. At its high point, there were more than 10,000 new cases per day. That is a lot considering that there are less than 10 million people in the whole country.
As fortunate as we felt to be here in the early stages of Covid, particularly when the U.S. was struggling, we are now shocked to find that Hungary has the highest reported Covid death rate in the world, according to Worldometers.info.
Vaccine Anticipation
We were finally able to register for the vaccine in early May. Now we must wait until we are notified that it is our turn.
The Hungarian government is proud of the number of vaccinations it has administered (50% of citizens are vaccinated), but they are struggling to vaccinate non-citizens. The website for non-citizens has crashed several times, and the process for getting the vaccination card has been fraught with problems.
So we wait, hoping to get vaccinated in the not too distant future. The Moderna, Johnson & Johnson, Astra-Zenica, and Pfizer vaccines are all available to some extent, along with the Russian and Chinese ones. We are not sure how much choice we will have when our turn comes.
I can attest that vaccine envy is a real thing.
Renewing Our Residence Permit
We have permits that allow us to stay in Hungary until mid-July. Since things are still uncertain with the virus, we decided to extend them for another year.
Last year we did this on our own. It involved three visits to the Office of Alien Policing and a total of 20 hours of waiting. It was as if the Marquis de Sade ran the DMV.
This time we hired a company called nVisaHungary to represent us. We still had to provide tons of paperwork, but our representative's guidance made it less stressful. We had our appointment in mid-May. It was quick and painless, so hopefully, we will have our new permits by mid-June.
It costs $850 for the immigration guidance for the two of us, which is a lot of money, but given how much we've saved over the past fourteen months, we felt it was a luxury we could afford. And if we don't get the permits, we pay nothing.
Moving Around But Not On
Steve and I are anxious to get moving. Sitting in one place for more than a year is not how we roll. Right now, the best we can do is move apartments.
A Catch-22 of applying for a residence permit is that you need to have proof of accommodations for the duration, so you have to sign a lease before you know if you will be able to stay.
We were in an apartment in District IX since October. There were many things we loved about it. It is bright, spacious, and comfortable. It has a full kitchen (what is referred to as an American kitchen here), a living room, dining room, two bedrooms, one and a half bathrooms, and two balconies. It is also very close to a supermarket and just a few blocks from a small mall.
The downside is that it is a bit away from the city center. During the shutdown, that was OK, but as things open up and we get vaccinated, we want to be in the city center.
The apartment was an Airbnb listing, and because there was much more supply than demand, we paid less than $1,000 per month. But now that there is light at the end of the pandemic tunnel, rents have taken a big jump. It would cost us at least 50% more to stay there long-term. On top of that, our host isn't the best communicator.
We wanted to find a place that would be more cost-effective because once it is safe, we plan to visit other towns in Hungary and nearby countries. That means double accommodation costs.
We moved into our new place on May 26th. It is a bit smaller than the last place but very stylish. The owner used to have an interior decorating business, so it is full of touches you don't often see in a rental.
A Taste of Freedom
By May 1st, the Covid numbers had come down enough for closed businesses, including restaurants, museums, and gyms, to open, but only to people who could prove they were vaccinated.
Since Steve and I are in our 60s with some health issues, we have been erring on the side of caution. We have kept our non-essential excursions to a minimum and did not eat outdoors at restaurants once that became available.
On the 21st, we finally let our guard down a little and took advantage of a beautiful day, which was a welcome change from the cold, cloudy weather that has plagued the city. We walked to the Liberty Bridge to see the latest mini-statue by Mihály Kolodko, then continued to the Buda side of the city.
Check out this article from Budapest Flow to learn more about the Kolodko mini statues.
While strolling on Gellért Hill, we noticed that the Cave Church was open. We've been to Gellért Hill several times, but the church has always been closed.
What a cool place. If you want to know more about this unique place of worship, check out this article about the Cave Church.
We also enjoyed our first meal out in more than six months. We went to one of our favorite restaurants, Kiskakukk. The name means little cuckoo. It is more than 100 years old and serves traditional Hungarian food. I can only vouch for the stuffed cabbage, though. It is the only thing I ever order there because I absolutely love it.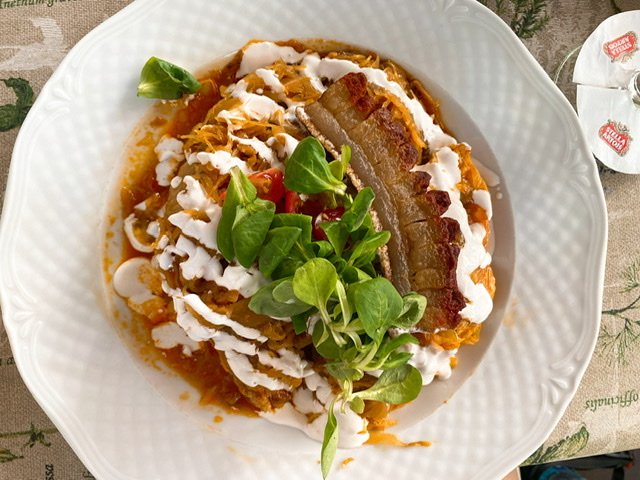 Now that things are opening up, here are three posts to inspire you while in Budapest:
20 Quick and Cool Things to See and Do In Budapest
The Funky Side of Budapest (including photos of five more Kolodko mini statues)
The Beauty of Budapest in 50 Photos
Keeping Busy
Despite being locked down for half a year, we have kept busy, and the days and months have gone quickly. In addition to working on this blog, I am studying Italian and have reconnected with my Jacksonville Toastmasters group, Toast of Jax, thanks to Zoom.
All this downtime has given me a lot of opportunities to read. In May, I discovered a new author, Joshilyn Jackson. I am on my fifth book by her.
Steve has been equally busy cooking (he makes an incredible chicken paprikash), answering travel questions on Quora while promoting Wind and Whim, and tending to all the little things that need attention in a home. He has also been staying on top of the constantly changing Covid and vaccine situations.
Looking Forward
June looks brighter than May in several ways:
The weather is getting better.
We hope to get our new residence permits in the early part of the month.
We may be able to take a side-trip or two within Hungary soon.
And last, but definitely not least, we will celebrate our 42nd anniversary on June 2nd. I am so grateful that Steve was willing to make the leap to full-time travel and that he is as curious about the world as I am. Despite being sidelined, I count my blessings every day.
Steve and I wish you a wonderful June.
Stay safe and healthy,
Linda
Featured photo of the Liberty Bridge, the Danube River, and Pest as seen from Gellert hill – by Linda Gerbec