Last Updated on: 15th January 2023, 09:09 am
It's been a long haul for all of us, and it isn't over yet, but at least life has begun to return to normal. After almost eight months of lockdowns and slowdowns, we are living life again. I hope you are also returning to your pre-pandemic life. Here is what we've been doing this month.
We Keep Getting More Legal
Steve and I got vaccinated in June, and began July waiting for our immunity cards to arrive. We weren't surprised when the immunity card restrictions were lifted before we received our cards.
Nonetheless, we now have them in case we need them in the future, and having them allowed us to get our EU Digital COVID Certificate. This certificate was the one government-related item that we got on the spot. No daily disappointment at the mailbox.
What We've Been Doing
The heatwaves of June followed us into July with many daily highs in the 90s F (30s C). The average high in July is 82 degrees F (28 C). We found two ways to beat the heat: museums and water parks.
Museums Galore
Steve and I hit the local museums hard this month with visits to three history museums: the Hungarian National Museum (Magyar Nemzeti Múzeum), the Budapest History Museum (Budapesti Történeti Múzeum), and the Military History Museum (Hadtorteneti Muzeum).
The Hungarian National Museum follows the country's history from prehistoric times to the present. We were impressed with the number of artifacts. The museum has several million pieces in its collection.
Be sure to take time to appreciate the buidling's beauty, too.
The stairway in the Hungarian National Museum
The Budapest History Museum focuses on the history of Hungary's capital city. The museum is much smaller that the Hungarian National Museum, but if you have time it is worth checking out. I particularly liked that there are hands-on activities for children placed throughout the 2nd floor exhibits.
The Budapest History Museum is also called the Castle Museum because it is in Buda Castle.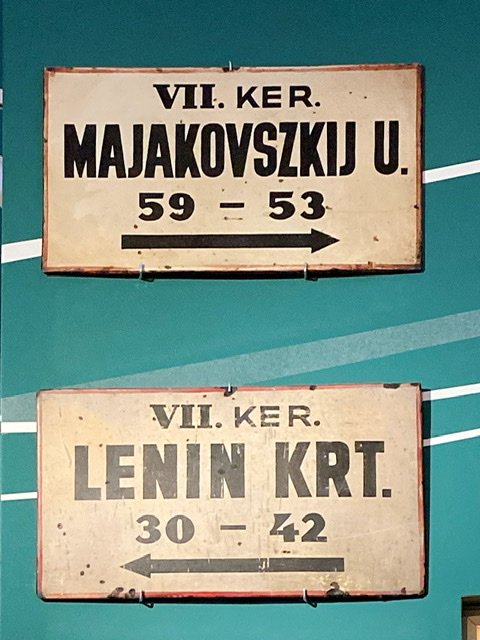 Soviet era street signs in the Budapest History Museum
We also paid a second visit to the Military History Museum. When we visited it last year I was surprised at how much I enjoyed it. This is a comprehensive look at Hungary's military and wartime history.
One of the many rooms in the Military History Museum
All three museums do a great job of providing English translations.
As we spend time in museums, I think about how I appreciate history much more as an adult than I did growing up. Being able to experience the places where events happened makes it even more meaningful.
We Finally Toured Parliament
The Hungarian Parliament Building is one of the most well-known in Budapest, but until now we have only been able to enjoy the outside. Tours finally resumed, and we jumped at the opportunity. The tour lasts less than an hour, but you will see plenty in that time. After the tour, there are several exhibits to explore on your own. You can check out the parliament tour information here.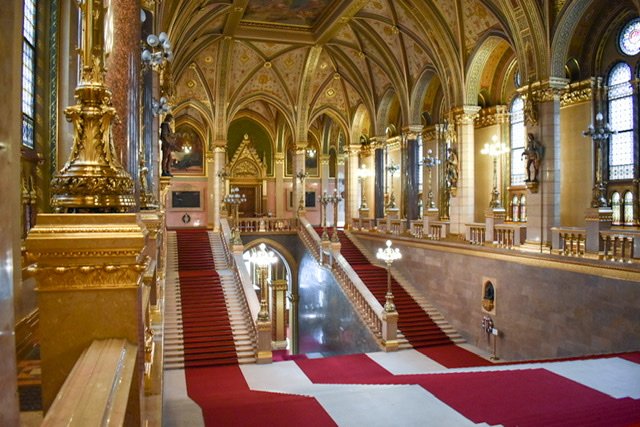 The Grand Stairway in the Hungarian Parliament Building
Thermal Water Fun
Hungary may be landlocked, but that doesn't mean there aren't plenty of water-based activities. Hungary has 1,300 thermal springs and hundreds of spas that take advantage of this natural phenomenon. You can learn more in the National Geographic article Hungary:the land of thermal spas.
We spent three nights at Aquaworld Resort Budapest on the outskirts of the city and loved it. You can read about it here.
A few of the bathing options at Aquaworld
We also spent a hot afternoon at Palatinus Strand, a thermal bath and swimming complex on nearby Margaret Island.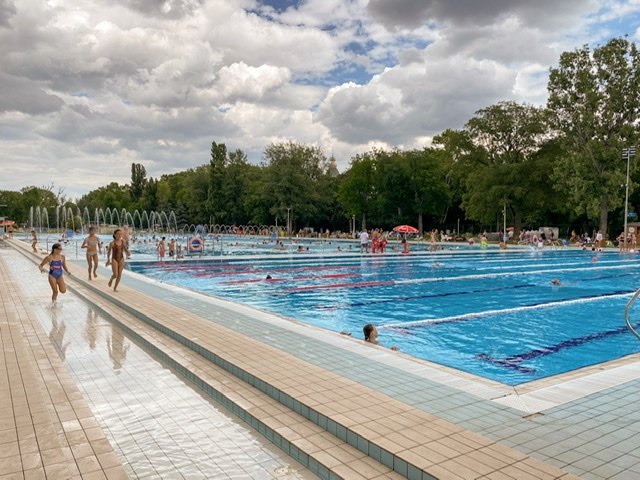 Two of the many pools at Palatinus Strand on a cloudy day
Now that we've discovered how much we enjoy the thermal baths, which can be used year-round, we plan to visit several more in Budapest and in other cities in Hungary.
4th of July Brunch at The Four Seasons
We continue to eat our way around Budapest. We paid our first visit to Kollazs Brasserie & Bar in the Four Seasons Hotel Gresham Palace. For two and a half hours, we enjoyed a five-course brunch. Because of the pandemic, food was brought to the table. There was so much! By the time we got to dessert, we asked for only one serving of the five plates, not two.
A band kept the diners entertained. In addition to playing everything just a little too fast, the threw in a few Christmas songs, including Jingle Bells.
Just part of the first course of our brunch
Despite its name, Gresham Palace never housed royalty. This 100-year-old art nouveau building originally contained apartments and offices for the Gresham Life Assurance Company of Great Britain.
The front of the Four Seasons Hotel Gresham Palace Budapest
Art nouveau beauty in the Four Seasons Hotel
Room prices start at around $500 per night, so we won't be staying there, but we can still enjoy the surroundings at brunch.
Sunday Morning Bike Rides
One of the things I love most when traveling is getting out early before too many people are out. You can't beat that feeling that you have the city (almost) all to yourself. I have been using the MOL Bubi Bikes and recommend them.
You can find Bubi Bike stands all over the city. The bikes are well-maintained, and the app works well. A monthly pass costs about US$ 1.70 and allows you to ride with no additional charges for up to 30 minutes at a time. If you want to keep riding, you just start a new ride. The cost is only 7 cents per minute if you go over 30 minutes. If you don't want to pay for the subscription, you will be charged 7 cents per minute.
The wide road along the Danube on the Pest side is closed to traffic on the weekends. I find Sunday mornings ideal for a solo ride since Steve usually prefers to sleep in.
Sunday morning solitude on Margaret Island
An Unpleasant Surprise
A few days after the devastating floods in Germany and Belgium killed more than 200 people, flooding occured in most of Hungary. Fortunately it was not as drastic.
I was lying in bed on a Monday morning listening to the storm, thinking how nice it is that we are on a high floor and don't have to worry about flooding.
Then I got out of bed and stepped in water. The rain from the roof was too much for the drainage system in our building to handle, and some came up through our kitchen sink.
After a few hours of cleanup and a meeting with our landlord, all was back to normal.
This Month's Blog Posts
In addition to our Aquaworld post, we published "Medical Care on the Road: Challenges of Nomad Life." This post shares information on medical travel insurance and evacuations insurance. I also discuss our personal experiences with medical care while traveling full-time. As a nomad, you can't escape the hassles involved with staying healthy, but with a bit of planning and tenacity, your medical needs can be met.
This Month's Media
Steve and I watched all six episodes of How to Become a Tyrant on Netflix in one sitting. Thank you for recommending it, Ramin Mahmoodi. The show is based on the book The Dictator's Handbook: Why Bad Behavior is Almost Always Good Politics by Bruce Bueno de Mesquita and Alastair Smith. The series looks at six 20th Century dictators and the methods they used to gain power. Only one of the six, Kim Jong-un, is still in power. It runs about 3 hours total, and I highly recommend it.
We have been struggling to find more good things to watch, so Steve did some research and came up with a list of Netflix series we might enjoy. The trick is to use a VPN set to a U.S. city.
One of the shows we watched was Evil. A forensic psychologist, a seminarian, and a tech wizard investigate suspected supernatural incidents under the direction of the Catholic Church. Supernatural and sci-fi shows aren't my thing, and some of the effects are a little hokey, but I enjoyed this show. Netflix only has the first season. Season two is on Paramount.
Another show I didn't think I would enjoy but did is Unorthodox. It is the story of a young Hasidic Jew from the Satmar sect who leaves New York City for Berlin to flee her arranged marriage and oppressive life. The premiere season is currently on Netflix. It is only four episodes. Four more episodes are expected to be released next March. Don't miss Making Unorthodox at the end of the first season. I was impressed with the attention to detail and authenticity.
The Satmar Jews originated in a small Hungarian town in the early 1900s. After WWII, they settled in the Williamsburg neighborhood of Brooklyn, New York. The Satmar sect is one of the largest Hasidic dynasties in the world.
The series was inspired by the autobiographical book Unorthodox: The Scandalous Rejection of My Hasidic Roots by Deborah Feldman. It is now at the top of my reading list.
I just finished the novel We Are All Good People Here by Susan Rebecca White. It is the story of two women who meet as college freshmen in the 1960s. It follows them and then their daughters through the next three decades as they face racism and antisemitism, and become involved in anti-war activities. The author does an excellent job of weaving historical facts into the story.
Another book I loved was This is How it Always Is: A Novel by Laurie Frankel. It is the story of the Walsh Family. They have five sons, the youngest named Claude. At the age of three, Claude announced he wanted to be a girl when he grew up. He also wanted to be a cat. As he grew, the desire to be a cat went the way of childish dreams. The desire to be a girl remained. The novel takes us on the family's journey as they struggle to support Claude while protecting him from the reactions of society.
The best part is that while this is a novel, Frankel knows the subject well. In the author's note, she shares with us: "It's true that my child used to be a little boy and is now a little girl. But this isn't her story. I can't tell her story; I can only tell my own story and those of the people I make up."
The pros and cons of hormone blockers are part of the story, and in the author's notes she points out the high rate of suicide attempts by trans and gender non-conforming people. The book doesn't provide answers but provides a realistic look at the issues faced by parents raising a child born in the wrong body.
Until Next Time
Steve and I would love to hear what you've been up to. Drop us a line in the comment section below.
Stay safe and healthy, Linda
Feature photo – the 2021 Budapest Pride Parade on July 24, 2021