Last Updated on: 10th September 2023, 05:40 am
Adult children. I believe that is an oxymoron. But what else can you call them? They are your children, your kids, your babies, all grown up and running their own lives. You may live with them, see them regularly, or not very often. Whatever your situation, I ask you: now that they've evolved into self-sufficient beings, should you travel with them?
Absolutely!
Below are nine reasons why traveling with adult children rocks.
A Little Background
Steve and I have two daughters, Stephanie (Steph), 31, and Laura, 27 (aka the girls). They both live in Florida. Steve and I live everywhere. Therefore, we don't get to see our girls very often.
When we returned to Jacksonville, Florida, in December 2019, our Christmas gift to Steph and Laura was a trip to visit us somewhere in Europe in 2020. Unfortunately, the pandemic put those plans on hold. It finally happened in December 2021 when they visited us in Budapest.
We braved the cold to explore the Christmas markets, enjoy the colorful lights covering the buildings on Fashion Street, and luxuriate in the thermal water at the Szechenyi Thermal Baths. We ate well, especially at the Lang Bistro and Grill Sunday brunch buffet in the Hilton Budapest Hotel. But perhaps the most fun we had was at both locations of the Museum of Sweets & Selfies.
Even though the weather was cold, damp, and windy (the worst weather Steve and I had seen in Budapest in two years), we had a wonderful time reconnecting. It doesn't get much better than quoting your favorite lines as you watch Christmas Vacation with the ones you love.
To read more about our visit with our girls and their 12-hour delay in the Paris airport, check out "December 2021 Recap: Christmas in Budapest."
So it was a no-brainer that their Christmas 2021 gift would be another trip. In April 2022, the four of us spent two weeks in Athens.
While the weather was cooler than normal, we had another great time. Between visits to the Acropolis, the incredibly cool Acropolis Museum, and the Ancient Agora, we made time for fish pedicures and a short trip to Aegina Island. We petted numerous cats, enjoyed Greek food, and ate too much gelato.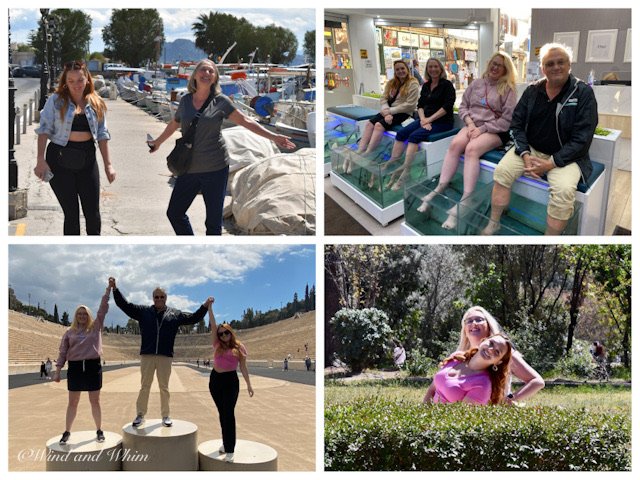 With two successful international family trips under our belts, we are already talking about next year's trip. Here are nine reasons why traveling with adult children rocks.
The Nine Reasons
1. They don't need strollers, car seats, or diaper bags – I admire parents who travel with young children. As every parent knows, kids are a lot of work and need sooooo much stuff. And they aren't any help with lugging it all around, the little freeloaders.
2. You don't have to plan your days around nap time (unless you want to) – During the girls' visit to Budapest, the bad weather, along with navigating the COVID-19 rules, tired us out. Naps came to the rescue. Even in Athens, where we had better weather, we all enjoyed an occasional nap. Why not?
3. They are self-sufficient – Adult children can handle all the daily tasks that young children need help with, like personal care and doing their laundry. It is nice to enjoy their company without the extra work. And best of all, you can leave them home alone, and you won't end up in jail.
4. They can help out – Beyond being self-sufficient, adult children can help with everything from carrying groceries to cleaning, from cooking to doing the dishes. They can even help with planning. With all the travel planning Steve and I do, it is nice to have someone else take the wheel for a while, even if it's just navigating the metro. And if you're lucky, they may even cook a few meals for you as Steph did in Athens.
5. They can understand and appreciate what they're seeing – You know little ones. They like what they like, and they aren't shy about telling you. Unfortunately, what they like is often limited and seldom includes culturally enriching activities. The same can be said for many teens.
Just because your children are now adults doesn't mean they have developed into lovers of all things culture. But one would expect they have developed interests beyond theme parks and playgrounds.
It's interesting to see where their interests lie. Laura was keen to go on a short hike with Steve and me. Steph, not so much, so she stayed home. Conversely, we all went to the National Museum of Contemporary Art in Athens. Steph and I enjoyed it, while Steve and Laura did not.
6. They can go out on their own – whether it's souvenir shopping or bar hopping, your kids can handle it by themselves. Although I must confess, when they are at home in Florida, and Steve and I are God knows where, I don't worry about them because I don't know what they're doing. However, when we are staying in the same place, and they go out at night, I don't sleep well until they are safely back. If your kids are likely to go out after your bedtime, you've been warned.
7. They can go to bars with you – Even though two of us don't drink alcohol, there are plenty of delicious mocktails to choose from. So off we went to spend a few hours in the Kolonaki neighborhood in Athens. We enjoyed some creative drinks and the girls picked up the tab!
8. They can contribute to the cost – As the parents, you may be footing the bill. But as your kids age, they may be able to pay part or all of their way. Even if you are paying, they will likely have money for any extras they want and may even treat you to dinner (or some cocktails).
9. You get to spend time with the awesome adults you raised – Even if you live near your kids, traveling with them can give you a different perspective. Because Steve and I don't see our girls often, these trips allow us to enjoy their company and see how they have grown personally and professionally during our time apart. We had several enlightening conversations in which Laura, a licensed mental health counselor, shared her psychological knowledge. Steph showed us how proficient she has become in the kitchen with a few tasty meals.
Final Thoughts
The fact that Steph and Laura are single and don't have children makes it easier to travel together than if significant others and little ones were added into the mix. On top of that, we all get along, which sadly isn't true for every family. For now, Steve and I are thankful that we get to share these experiences with our girls.
If you are considering traveling with your adult children, here are "7 Tips for Traveling With Adult Children" by Paul Henry on TravelPulse.
Steve and I love to hear from our readers. Please tell us about your experiences traveling with your adult children in the comments section below. Would you do it again?
Happy traveling,
Linda
The featured image above includes a few of the hundreds of photos we took at the two Museum of Sweets & Selfies locations in Budapest.