Last Updated on: 15th January 2023, 09:06 am
Goodbye 2021, hello 2022!
I hope you had a wonderful holiday season and are ready to start the new year. Like me, I'm sure you are hoping that 2022 will bring an end to the pandemic and a return to normal.
Despite an increase in Covid cases, our December was remarkable. That is because our daughters, Stephanie and Laura, visited us in Budapest for two weeks. We hadn't seen them in almost two years!
Off to a Stressful Start
We all knew that traveling during the pandemic would be more stressful than usual. During the weeks leading up to the trip, we spent many hours reviewing plans. Despite our diligence, the journey from Orlando to Budapest was taxing.
The girls' flight left Orlando Wednesday afternoon on December 1st. Both had had PCR tests, but by Wednesday morning, only Steph had her results. Rather than stress until the last minute, Laura had a rapid PCR test done. Of course, it came at a cost; $175.
Armed with the correct paperwork, Steph and Laura flew from Orlando to Atlanta and then to Paris. We knew the connection in Paris would be tight. What we didn't expect was a double whammy. The plane arrived in Paris on time but had issues with disembarkation. Even so, there was hope. However, the flight from Paris to Budapest was moved up by twenty minutes at the last moment. The next flight was in the mid-afternoon, but it was full. They had to wait twelve hours for a flight to Budapest.
They checked into a lounge and were able to relax a bit. Then we started worrying about Steph's PCR test. It would be more than 72 hours old when she arrived in Budapest. Laura was okay since she had done the rapid PCR test Wednesday morning.
Since a PCR test within 72 hours of arrival was one of the conditions for entering Budapest, she set out to get a rapid PCR test in the Charles De Gaulle airport. There were no rapid PCR tests to be found, so she had an antigen test done. At this point, we were not sure that an antigen test would be acceptable, but it was the best we had.
It was a miserable day for all of us. I am not an anxious person, but I spent the day with my stomach in knots worrying about whether Steph would be allowed to board the plane with the antigen test, and if so, would it be enough to allow her to enter Hungary?
Instead of greeting them at the airport around noon on December 2nd, we welcomed them just before midnight. I didn't relax until I saw them come through the doors in arrival.
Just to keep things interesting, the U.S. tightened the rules for entry effective December 6th. All arrivals, regardless of vaccine status, will need a negative test within 24 hours. The good news is that it does not need to be a PCR test; an antigen test will do.
A Brief Rant
I understand that the pandemic has made everything harder, and of course, the airline industry has been greatly impacted. However, our experiences with Delta and their partner, Air France, left a bad taste in our mouths.
Delta scheduled the flights, including one with a layover of less than two hours in Paris. Their representative assured me that the layover time was more than adequate. And that may have been so if the arriving plane did not disembark late and the departing plane did not leave twenty minutes early.
According to Steph and Laura, the Air France gate attendant was unhelpful and uncaring. I imagine he is tired of the stress and constant rule changes caused by the pandemic, but his job is to help passengers.
Cold Weather and Warm Hugs
The daytime temperatures were in the low to mid-thirties with a bite in the air. We did as much sightseeing as we could handle in the cold and made up for it with a lot of family meals.
Steph and Laura stocking up on winter wear
Laura was hoping to see snow, but except for a light dusting which melted quickly, it was not to be.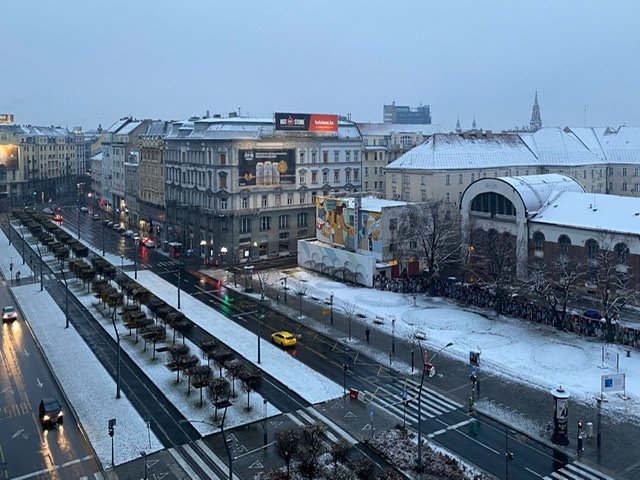 Early morning snowfall
We watched our favorite holiday movie, Christmas Vacation. How does it manage to get funnier each time we watch it? We also enjoyed The Last Holiday with Queen Latifah. This is not a Christmas movie per se, but it does take place at Christmas time. Much of the action occurs at the Grandhotel Pupp, a functioning luxury hotel in Karlovy Vary, Czech Republic. The hotel's over-the-top luxury isn't as costly as you might think.
Even though we didn't get to all the activities we had planned, we were able to share some of our favorite places with our girls.
Christmas Markets
We made several visits to two of the Christmas markets in the city, the one in Vörösmarty Square and the one in front of St. Stephen's Basilica. Both were extremely crowded, especially around the food vendors. There were a lot of beautiful items for sale, but the prices seemed high.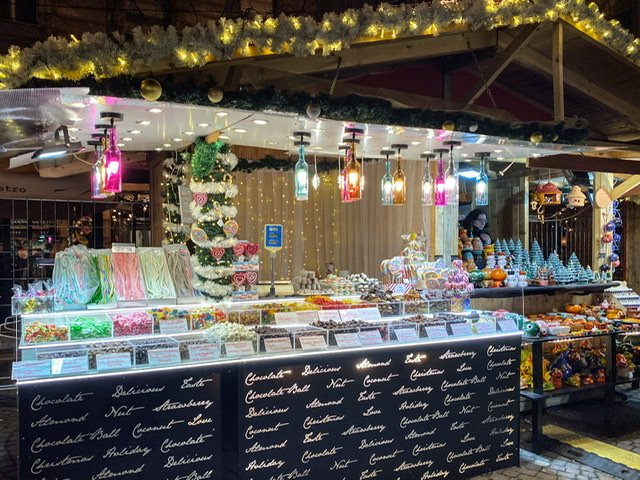 A colorful booth at the market
The markets, as well as the baths, required proof of Covid vaccination. We had heard conflicting information on the acceptance of the CDC cards, so we were pleased that the CDC cards were accepted everywhere.
Szechenyi Baths
As our regular readers know, Steve and I love the baths and have visited them often, but this was our first time in cold weather. We went to the epic Szechenyi Baths. We all decided that we prefer the outdoor pools to the indoor ones. Of course, that meant hurrying between pools in 35 degrees F (2 degrees C) weather.
Steve and Steph in hot water
Fisherman's Bastion, Buda Castle, and the Labyrinth
No trip to Budapest is complete without seeing the fanciful Fisherman's Bastion. We bundled up against the cold to see it and Buda Castle. In between, we toured the Labyrinth, one of many tunnels beneath the city.
Lots of Good Food
Steve and I couldn't wait to share some of our favorite restaurants with Steph and Laura. We went to Kiskakukk and Hungarian Hell's Kitchen (also known as Nagy Fa-Tál Konyhája) for lunch and Spinoza for dinner. All feature traditional Hungarian fare.
We also got ourselves up early to enjoy breakfast a Circusz. This place is so popular if you are not there early, you will most likely be waiting in line. As always, the food was fantastic.
The dining highlight was the Advent brunch at Lang Bistro and Grill in the Hilton Hotel. The selection was huge, and each item was delectable. We had a view of the Danube River and the Hungarian Parliament.
Aquaworld (Of Course)
We had to share one of our favorite Hungarian places with Steph and Laura. We spent two nights at Aquaworld. I think they loved it as much as we do.
Museum of Sweets and Selfies
Perhaps the most fun we had was at the two Museum of Sweets and Selfies locations.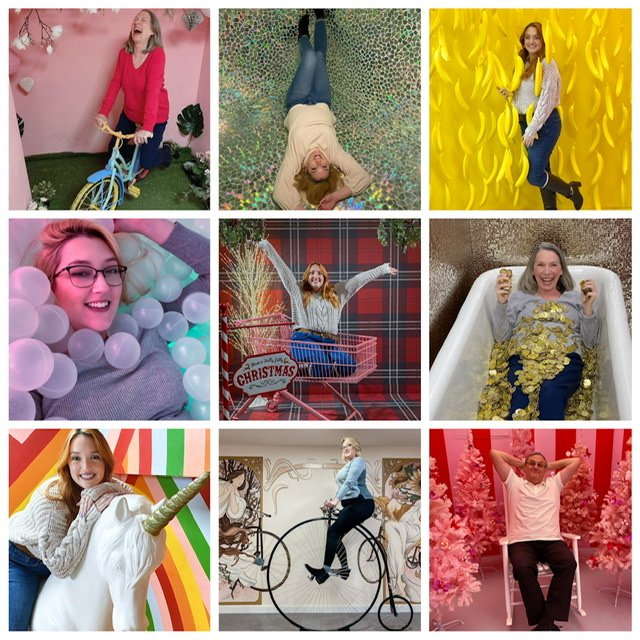 Just a few of our photos from the two Museum of Sweets and Selfies locations
Ervin Szabó Library
We split up one day. Steph and I went to the National Gallery (primarily Hungarian art) and the Cave Church. Steve and Laura climbed to the top of St. Stephen's Basilica and went to the Ervin Szabó Library.
At the library, Steve and Laura expected to see elegant neo-baroque rooms filled with students. Instead, they found empty but still elegant rooms. The library is being used to film part of an Emma Stone movie, Poor Things. Even though it was closed, the guard let Steve and Laura look around.
A room in the library before the furniture was removed for filming
Budapest is a popular place for filming. It often stands in for other cities. When Steve and I watched the series Homeland, we were delighted to recognize several Budapest locations, including the New York Palace Hotel. In that case, the city was a stand-in for Moscow.
Despite the travel stresses and cold weather, we all agreed that the most important thing was spending time together. As always, we enjoyed chatting and laughing with each other.
A Christmas Surprise
Our landlord, Bé, and his partner Marcel set up Christmas decorations for us and brought wine and jam. We already knew Bé was a fantastic landlord, but this was above and beyond.
Christmas cheer
Riding Out the Winter
After a busy fall, it looks like Steve and I will be lying low (again) for the next few months. Perhaps we will take a few short spa vacations, but mostly we will be planning and praying for travel to open up in the spring.
We are still hoping to do the 10-day U.K. hike we had booked two years ago, and visit some countries close to Hungary like Austria and Slovenia.
Meanwhile, I am keeping busy working on this blog, studying Italian on Duolingo, and starting a Coursera course called Hacking Exercise for Health. I'm also looking forward to getting back to a gym. Wait, did I just write that? Who am I? Seriously, I have been pretty good about doing simple workouts at home, but I miss the treadmill and rowing machine.
Until Next Time
Steve and I wish you all a healthy, prosperous, and joy-filled 2022. Drop us a line or two in the comments section and tell us about your plans for 2022.
Stay safe and healthy,
Linda