Last Updated on: 19th February 2023, 08:01 am
When Steve and I were planning our three-month Morocco trip, we decided against a long stay in Marrakesh. Much of what we read spoke of how overwhelming it can be. But we didn't want to miss it, so we decided to spend four nights in this legendary city.
The articles we read were right; Marrakesh is intense.
Here are our experiences while visiting Marrakesh in January 2023, along with some helpful hints.
All money is in U.S. dollars.
Terms
Medina – the old part of a city. It is usually walled. Marrakesh's medina is over 1,000 years old, and the streets are narrow. For that reason, cars cannot easily drive on them, although we did see a few cars carefully navigating the crowds. Here is more information about the Marrakesh medina.
Riad (or ryad) – a traditional Moroccan house or palace with an indoor garden and courtyard. Riads used to be homes for the well-to-do and are now used as guest houses. You can learn more about riads here.
Souk – an Arab market, marketplace, or bazaar. Souks can be inside or outside of the medina. Learn more about souks here.
Getting There
We visited Marrakesh while staying in Rabat, the capital of Morocco. Trains run from the two Rabat train stations, Rabat Ville and Rabat Agdal, many times each day on a direct route that takes less than four hours.
A second-class ticket costs less than $20 per person as of this writing. This will get you a standard front-facing seat. We opted to go first-class since the ticket was just a few dollars more.
It is easy to order tickets online at the Moroccan Railway website. This is preferable to buying them at the station on the day of travel as the lines are often long. I caution you against using Rail Ninja. As we found out when we used them in Hungary, they add a significant upcharge.
The only downside of the trip, thanks to my sister, was that I couldn't get the song "Marrakesh Express" by Crosby, Stills, and Nash out of my head. You can hear the song and read about how it came about here. Now you, too, can have it stuck in your head (the video may not be available in all locations).
Arriving in Marrakesh
The first thing I noticed as we approached Marrakesh was the color of the buildings. After an overdose of white buildings in Tangier and Rabat and the omnipresent blue in Chefchaouen, I found the warm terracotta of the Marrakesh buildings a welcome change.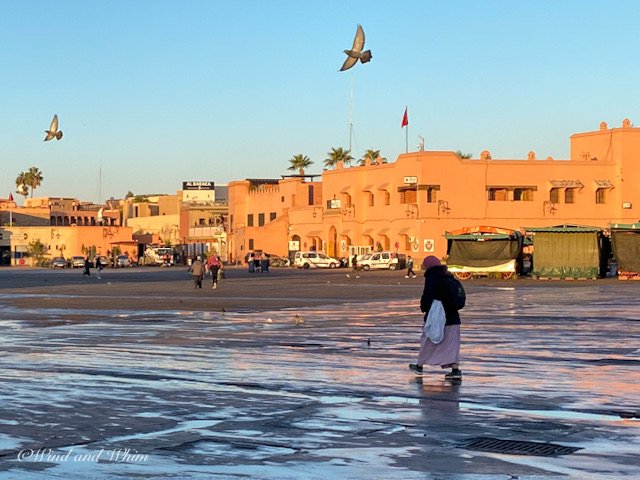 The Marrakesh train station (Gare de Marrakech) is in the new part of the city, in a neighborhood called Gueliz. It is only about a ten-minute drive to the outskirts of the medina.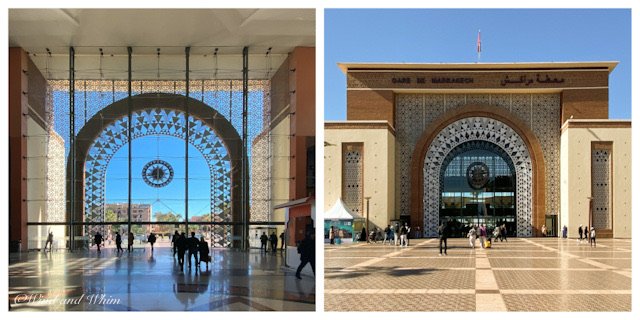 Because of the medina's narrow roads, our taxi dropped us off near the entrance of the medina, and we had about a ten-minute walk to our riad.
Finding Our Riad
To get an authentic Marrakesh experience, we decided to stay in a riad. We booked a four-night stay at Riad Caesar, which like most riads, is in the medina.
Fortunately, Google maps worked its magic and led us the right way. But at first, we weren't sure it was the right way. After weaving through crowds along narrow streets lined with shops, we found ourselves on a quiet, run-down street.
There weren't any signs, and only a few doors had numbers, so we struggled to find our riad. To make matters worse, sewer work was being done, so the street smelled like, you guessed it, sewage.
Surely this couldn't be where our riad was. But it was.
Into Another World
Once we entered the riad and the door closed on the unpleasantness, we found ourselves in a magical place. Because riads are built without exterior windows, there wasn't any street noise, just a charming courtyard with the requisite water feature.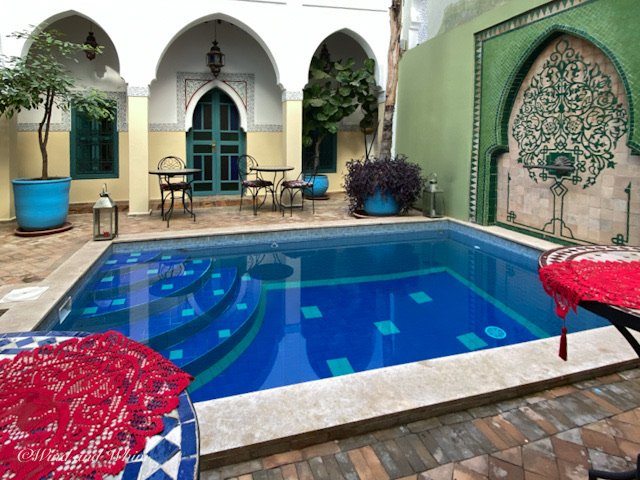 This was our second riad stay; the first was in Chefchaouen. In both cases, the rooms were comfortable and had adequate heat.
Because riads are small, you get personal attention. The smaller number of rooms also means that they can be individually decorated.
However, there were a few drawbacks. Neither riad had tea and coffee fixings in the rooms and breakfast wasn't served until 8:30. And in both riads, the breakfast area was unheated. Being January, it was cold.
Like hotels, riads are available at all price levels. We found the prices similar to hotels.
Find out more about what staying in a riad is like here.
Souking It All In
Our first activity was to stroll the medina, particularly the souks. Steve loves wandering through markets, me, not so much. But how could I resist the chance to experience the Marrakesh souks? Although it may seem like one big souk, there are actually several in the medina as explained in this Marrakesh Souk Guide by Continent Hop.
This wasn't our first time in a Moroccan souk, but it was the most intense. There is no such thing as window shopping in a souk. The moment you dare to look at a product, the vendor pops up at your side. He will not only try to sell you what you were looking at but start pulling things from his booth.
All I could think of as we wandered the souks was that the sellers should learn to read their customers. If I could check out the merchandise uninterrupted, I would be more likely to buy something. The way the sellers act causes me to walk through the souks avoiding all eye contact lest I be targeted.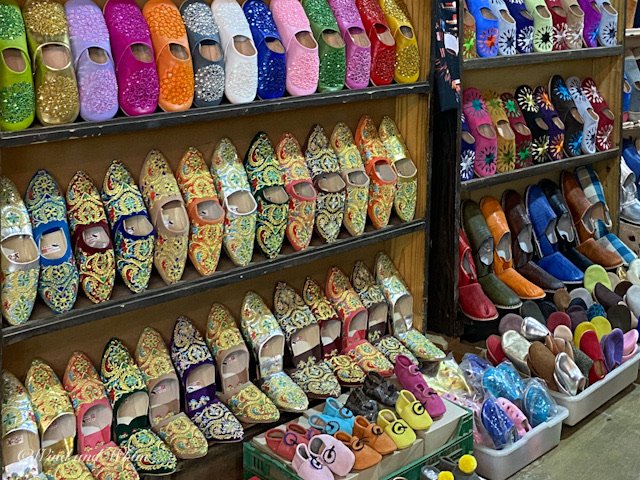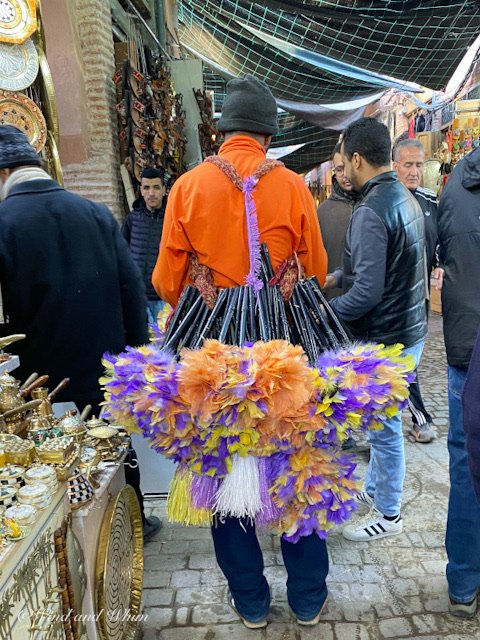 Three Gardens
Steve and I saw three gardens in Marrakesh: Jardin Majorelle, Anima Garden, and Le Jardin Secret. I loved Jardin Majorelle, liked Anima Garden, and wasn't impressed with Le Jardin Secret.
Steve was disappointed because of the lack of flowers, but that was to be expected in late January. In addition, these gardens are full of plants that aren't known for showy flowers, such as palms and cacti.
Jardin Majorelle
Hands down, Jardin Majorelle was my favorite place in Marrakesh.
Judging by the crowds waiting to enter the garden, Jardin Majorelle appears to be one of the most popular attractions in Marrakech. I chose not to purchase online tickets because I expected it to be like most other gardens we've been to: not very crowded. Boy, was I wrong.
We were surprised to find a long line when we arrived. At first, our line moved at an acceptable pace, then it stopped. After a while, I went to the front to see why the line wasn't moving.
A guard told me that they have to control the number of people who can enter at a given time, so we all had to wait until enough people exited the garden to go in.
We purchased online tickets for a few hours later, got lunch, and walked in at our scheduled time. If you go to Jardin Majorelle, you won't have this problem. As of January 30, 2023, all tickets for the garden must be purchased online.
French artist Jacques Majorelle designed Jardin Majorelle when he and his wife lived on the property from the 1920s to the 1950s. The cubist villa was built in the 1930s.
When he and his wife divorced in the 1950s, he was forced to sell the property. It fell into disrepair over the next three decades. In the 1980s, Yves Saint-Laurent and his partner, Pierre Berge, purchased the property and restored it.
I loved walking along the paths where the green of the plants is punctuated with yellow, light blue, and dark blue accents, with a bit of red thrown in. The dark blue is known as Majorelle Blue, a color trademarked by Jacques Majorelle.
Check out "Magical Majorelle in Marrakesh, Morocco" by Exploration Vacation to learn more about this garden.
Anima Garden
Anima Garden was different from Jardin Majorelle but no less interesting. Austrian multimedia artist Andre Heller designed this garden. It opened in 2016.
The garden is a 40-minute drive from the Koutoubia Mosque (which is not far from the medina). Shuttle service is included in the ticket price.
Anima Garden was far less crowded than Jardin Majorelle. Many times Steve and I were alone. But what makes the garden unique are Heller's statues placed throughout the space.
Find out more in this article by MarocMama.
Le Jardin Secret
Unlike the first two gardens, Le Jardin Secret is in the medina. And it is not a secret. There was a huge sign in front of it, and it was busy.
Le Jardin Secret is on the grounds of a 400-year-old riad. The garden is divided into two parts, an exotic garden and a traditional Islamic garden.
There is an ornate gazebo, a tower, a restaurant, and an exhibition center. Perhaps the most interesting of all is that you can stay in Riad Jardin Secret. And for any artists reading this, they offer an artist residency.
Two Palaces
In Marrakesh, we toured two palaces: the Bahia Palace and El Badi Palace.
Bahia Palace
Surprisingly, the Bahia Palace is less than 200 years old. It was built for Si Moussa, a former slave who rose through the ranks of the royal government. The palace is set on two acres in the medina and has 150 rooms.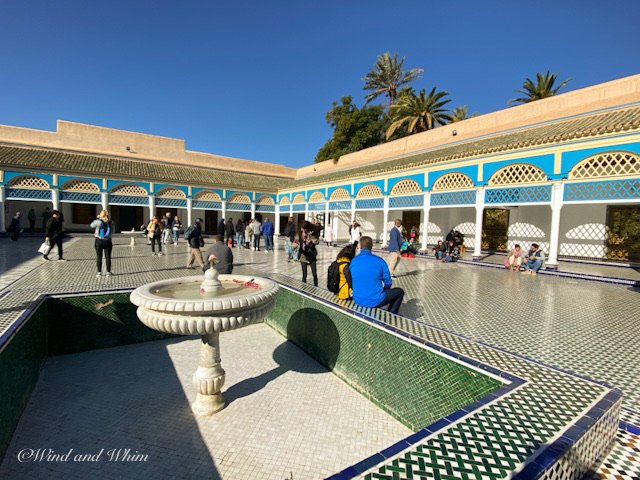 The Arabic word "bahia" translates to brilliance or beauty. And this palace certainly lives up to its name. Here you can enjoy exquisite mosaics, paintings, and stuccos. The downside is that there isn't any furniture in the rooms. Reconstructing the rooms as they were during the palace's heyday would make the palace more interesting.
We visited the palace midday, and it was mobbed. If you want to go when it's less crowded and are more ambitious than us, consider getting there when it opens at 8:00 am.
El Badi Palace
Unlike the Bahia Palace, El Badi Palace is a ruin. It was built for Sultan Ahmad Al-Mansur in the late 1500s. The name means "incomparable." Judging by the video shown at the palace, it was indeed incomparable.
Unfortunately, in the years after Sultan Al-Mansur's death in 1603, the palace was stripped of its valuable materials. Only the ruins you see today were left standing.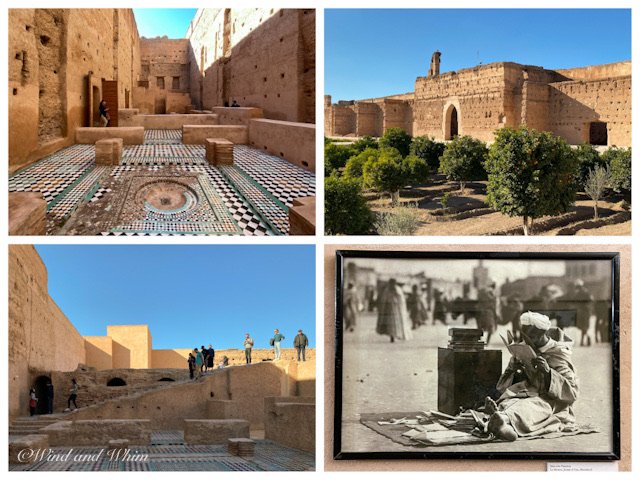 One Incredible Restaurant
Steve and I didn't arrive at our riad until late afternoon, and we were famished. Our host recommended a restaurant in the main square, Jemaa el Fna. It served traditional Moroccan dishes, with many tangine and couscous options. Neither of us like these dishes very much, but we had to eat.
We hadn't had many great meals during our first six weeks in Morocco. We chalked this one up to one more disappointing meal and accepted that we would have to endure so-so meals during our time in Marrakesh.
Then we found Mythe. We were walking through the medina on our way back to our riad when we noticed an attractive entrance to a restaurant along with a comprehensive menu. This alone was unique. The medina isn't known for sophistication.
We tried Mythe the next day, and we loved it. The food was fresh, beautifully presented, and reasonably priced.
We ate our remaining meals there. Why risk another disappointment when we knew where to get food we enjoyed?
Other Places We Visited
Ben Youssef Madrasa
The Ben Youssef Madrasa is considered to be one of the most important historical buildings in Marrakesh. This college for Islamic instruction was built in the mid-sixteenth century and operated until 1960. The madrasa could accommodate up to 800 students at a time.
Tourists often come here to admire the architecture. In addition to the mosaics one would expect, the madrasa is beautifully decorated with intricately carved stucco and wood.
We didn't see any written information in the madrasa. Like the Bahia Palace, I think it could benefit from including period furnishings.
House of Photography
On our last day in Marrakesh, Steve wanted to stroll the souks (again). I decided to check out the House of Photography instead.
The House of Photography is a small museum whose goal is to show the diversity of Morocco through photography, postcards, newspapers, and documentaries. I think they hit the mark.
Everything was explained well, and English was prevalent. I particularly enjoyed the film "Landscapes and Faces in the High Atlas" by Daniel Chicault. In this 1957 film, Chicault traveled through various mountain villages to learn how the people of the High Atlas Mountains lived.
How Crowded Is Marrakesh?
It's pretty crowded, as you can see in this photo:
Our first taste of Marrakesh's intensity was when our taxi dropped us off near the main square, Jemaa el Fna. We walked past a line of horse-drawn carriages and into the square. The word chaotic does not do it justice. Vendors were everywhere, all yelling to get the attention of the passersby. A few of the famed snake charmers played flutes. People walked in every direction, and motorcycles and motorbikes zoomed through the crowd as quickly as possible without killing anyone.
Cost
Dates: January 21, 2023 to January 25, 2023
Number of days: 4
Total cost for two people: $750
Cost per day for two people: $188
Cost breakdown:
Lodging with breakfast: $340
Admission fees: $120
Food: $180
Transportation: $110
Admission fees included three gardens, two palaces, and two museums.
Final Thoughts and Tips
Locals may expect money for (often unsolicited) help – There are many Moroccans who will gladly help with minor issues, but some of them expect money for the simplest courtesies. Since you cannot tell who is being helpful and who is looking to profit, it is best not to accept unsolicited help unless you are willing to pay for it.
When Steve and I were looking for our riad, a young man asked what we were looking for. We told him the name of our riad. He walked down the alley a bit, returned, and told us it was a few doors down. Then he asked for money by walking alongside us while rubbing his fingers together.
We were hungry and tired, so we were in no mood to stop and start digging around for cash. Better luck next time, fella.
Some locals are persistent. We have learned that we have to be firm to the point of rudeness since a simple "no thank you" doesn't work.
Be prepared to haggle in the souks – Never accept a vendor's first offer. It will generally be higher than the item is worth, as the vendors expect you to haggle. Be prepared to walk away if you can't reach an agreement, but don't be surprised if the vendor runs after you.
Here are some haggling tips from Travel Talk.
There are a lot of beggars – This was true everywhere we went in Morocco. Sometimes they ask for money, but often they simply hold out their hand. These beggars can be of any age. We've seen many kids who reflexively hold out their hands for money as they pass us on the street.
We choose not to give to street beggars. We would rather give money to a respected charity.
Coughing and sneezing without covering the mouth is prevalent – Covering your mouth when you sneeze or cough is very uncommon in Morocco. It appears to be a cultural norm, although I couldn't find any information about it. After going through the pandemic, we can't understand why this practice continues.
Is it Marrakesh or Marrakech? – English speakers generally use the Marrakesh spelling, while Marrakech is the French way. The official languages in Morocco are Arabic and Berber, but French is also widely spoken. Most signs are in both Arabic and French.
There is another side to Marrakesh – Except for Jardin Majorelle and Anima Garden, everything we did was in the medina. There is a whole other side of Marrakesh we didn't even touch on, the area called Gueliz (also spelled Guiliez).
You can read about the modern side of Marrakesh in "The New Town of Guiliez" by Marrakech Riad and in "Beyond the Medina: The Modern Side of Marrakech" by MarocMama.
Until Next Time
Marrakesh was one of the most unique places Steve and I have been. While it can be a little crazy, I think it is a must-see if you visit Morocco.
Have you been to Marrakesh? What did you think about it? Drop us a note in the comments section below. Steve and I love hearing from our readers.
Happy traveling,
Linda
Featured image by Zakariae Daoui on Unsplash.com