Last Updated on: 23rd April 2023, 10:59 am
More than three years. Almost 38 months. 1,146 days. That's how long it was between our last visit to the U.S. and our recent one in March of 2023.
As the months and years rolled by, Steve and I were less and less interested in returning home. Aside from our daughters being there, we had little motivation to return.
Then we were invited to the wedding of a young lady we've known since she was born. And the wedding was in Key West, a place we had never visited. So we decided to go back to the U.S. (Jacksonville, Florida, specifically) for one month.
Here is what we did, what surprised us, what shocked us, and why we still plan to settle outside the U.S.
What We Did
We had several objectives for this trip: Stock up on clothes and supplies, see our doctors, and, most importantly, spend time with family and friends.
We did a lot of all three. So much so that we were often exhausted, and I ignored this blog and social media.
I won't bore you with the shopping and medical details. The highlights were as follows:
A wedding on a catamaran in Key West – It was a pleasure to reconnect with family friends we have known for more than thirty years. The occasion was the wedding of one of the daughters in the family.
You could not ask for a more perfect setting for a wedding than a catamaran at sunset off Key West. We celebrated the newlyweds, Nicole and Erin, as they exchanged vows at sunset. Unfortunately, no green flash, but beautiful all the same.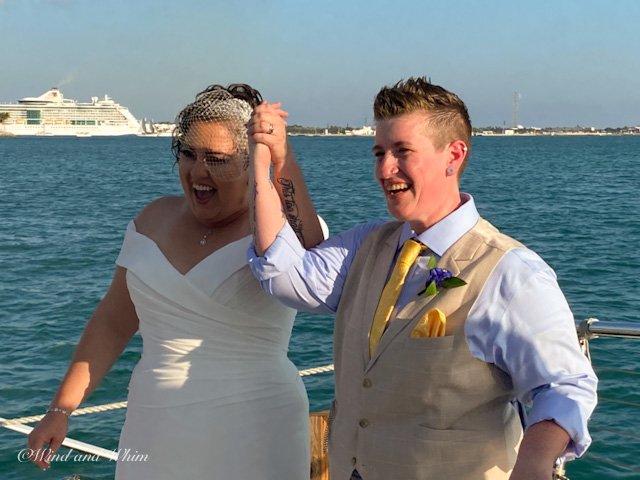 Exploring the Keys – we stayed in Marathon but spent some time in Key West. We toured The Hemingway Home and Museum, got the requisite photo at Mile Marker 0, and enjoyed the floral beauty of the Key West Garden Club.
Seeing our older daughter's new apartment – Stephanie and her friend Jeff moved into a brand new apartment in Jacksonville several months ago. Not only is their apartment lovely, but the complex is also chock full of great spaces. Between the pool, outdoor kitchen, zen garden, and game area, it is like a resort.
As a parent, there are few things that please you as much as seeing your grown children happy and successful.
Spending a weekend in Orlando with our younger daughter – We finally had a chance to see Laura's apartment. It is small but oh so cute.
We also got to see the office where she works as a therapist. We met her boss, Dora, and the practice's therapy dog, Hess.
Our weekend was filled with good food, an upscale art festival (where I mentally spent $10,000 in the first ten minutes), and a visit to the Orlando Museum of Art. The Museum of Art had an excellent exhibit on the Ukraine invasion.
To top off the weekend, we had a wonderful time at dinner with Laura's friends, Tanya and Van.
Visiting my cousin and her husband in their beautiful home – My cousin, who is more like a sister since we grew up doing everything together, retired to Palm Coast with her husband.
We finally got to see their golf course home, which is beautifully decorated. I will have to hire her should Steve and I ever settle down.
Reconnecting with old friends – I enjoyed a margarita-filled dinner with my friend Cari. We have been friends for more than thirty years. We are not the kind of friends who communicate often, but no matter how long it's been since we've seen each other, it's like no time has passed.
Steve and I also had lunch with our former neighbors, Roger and Sherry. Again, it was like the last several years had not passed.
Unfortunately, we weren't astute enough to get photos during either of these meals.
What Surprised Us (In a Good Way)
Steve and I keep up with the news, especially about the U.S. For the past several years, we've seen countless reports about political strife and frequent mass shootings. Because of all this negative news, we were braced for a hostile and aggressive environment.
While we didn't fear being shot because, let's face it, the chances of that are small, we expected hostility on the roads and anger in the general population.
We were happy to find the opposite. Everywhere we went, we were greeted with the same friendliness we'd been enjoying during our travels.
What Shocked Us
I must have looked quite the fool when Steve and I were in Publix, a popular Florida supermarket chain. Several times I called Steve over to look at the price of something. The worst was just over two ounces of Boar's Head cooked bacon for almost $8.
We knew that the U.S. was experiencing high inflation, but until we were face to face with the prices, we really didn't grasp it. Luckily, we only had to live with those prices for a month.
Frustration on Florida's Highways
Okay, venting time.
Florida, especially Orlando, is a hot tourist destination. As such, you would think the state would make travel easy for visitors. Even having lived in Florida for thirty years, Steve and I found the highways and toll system in Florida absurd.
Florida's toll system sucks
Sorry to be so blunt, but it does.
Our flight from Casablanca landed in Orlando around midnight. After getting our luggage and breezing through customs, it took two hours to get our rental car. When asked if we wanted a transponder for tolls, we said no, we would pay the tolls ourselves.
We had decided to spend our first night in a hotel in Orlando and drive to Jacksonville the next day. As we drove to our hotel, we came across an unmanned toll booth. Our choices were to proceed with an Easy Pass (which we didn't have) or pay a fifty-cent toll by tossing coins in a basket (which we also didn't have).
We then got a SunPass (this site will only work if you are connected to a U.S. location). The pass allows you to put funds on your account to cover tolls. We stuck it on our rental car's windshield, and we were good to go.
Then it was time to return our rental car. We left our hotel for a short drive to the airport and encountered another unmanned toll booth. Again we had the choice of the EasyPass lane or paying the toll with coins.
We were unsure if EasyPass and SunPass were interchangeable (they are), so I had the pleasure of tossing six quarters into a basket and one on the ground. See, Florida highways can be fun.
We removed the EasyPass from our rental car when we returned it, only to find out a few days later that this was not enough. Because our pass was linked to the rental car's license plate, we had the pleasure of paying for someone else's tolls for four days until I discovered I needed to remove the license plate number from my SunPass account.
Enough with "This Lane Ends"
Google Maps made it easy to find our way around. However, it drove me crazy how often lanes ended or were marked exit only. It seemed like we were constantly changing lanes, first to the left, then to the right (or maybe just to the left again for fun), then back again. Given how busy the roads are, this constant lane changing adds to the stress of driving in an unfamiliar place.
Why We Still Don't Want to Settle in the U.S.
Despite our pre-trip apprehension, Steve and I enjoyed our time in Florida. Even so, this trip reinforced our view that when we finally settle down, we prefer it not to be in the U.S.
In addition to the high cost of living, we experienced once again how car-dependent the U.S. is. Even visiting the sprawling St. John's Town Center open-air mall involves driving from one section to another.
Steve and I have been enjoying a lower cost of living in general while out of the U.S. We also love living in walkable cities with great public transportation.
Until Next Time
I hope you enjoyed this look into our trip "home". Now it's time for me to get back to my blog so I can share more travel-related posts with you.
Happy traveling,
Linda
Featured image by Derick McKinney on Unsplash.com (enhanced by author)