In this post, I will share some of our Airbnb experiences and the lessons we learned from them. If you are in a hurry, you can scroll to the last section, All Five Tips, in the table of contents (below).
If you use Airbnb, you probably do what we do: read the reviews and study the photos and map. Unfortunately, this isn't always enough to ensure you'll find the best Airbnb for your needs.
Below are five additional things we do when searching for an Airbnb and the stories of how we came to adopt them. Hopefully, they can help you have the best Airbnb experiences possible too.
All money is in U.S. dollars.
A Bumpy Start
Steve and I began our full-time travels in 2018. That year we traveled for eight months and stayed in seventeen accommodations, including twelve Airbnbs. Three years later, we still rely on Airbnb for our longer stays. However, it was not without some bumps in the beginning.
One host misrepresented his apartment, leaving us with a curtain in place of a bathroom door. Another host canceled our reservation eleven days before our arrival. But possibly the strangest thing was the solid block of ice in the freezer in our rental in Croatia.
Our First Curve Ball
We got off to a less than promising start when we booked an apartment in Barcelona a year before we began our travels. We decided on one and pushed the instant book key. Then we posted this milestone to Facebook.
The next day we got a message from Manuel, the host, saying the price was wrong. He didn't name a new price but asked us to make an offer. We said no and asked him to cancel the reservation.
We didn't want to cancel it because, as a guest, if you cancel an Airbnb reservation of 28 days or more (long-term in Airbnb land), you are liable for the first month's fee. But Manuel wouldn't budge.
After waiting several days for Manuel to cancel the reservation, I called Airbnb. They said the best thing was for us to cancel and there would be no penalty.
With that taken care of, we were able to book another apartment in Barcelona for $500 more than the first one. It had two bedrooms, a kitchen, a small balcony, and a washing machine. We were surprised to find that the washing machine was on the rooftop patio.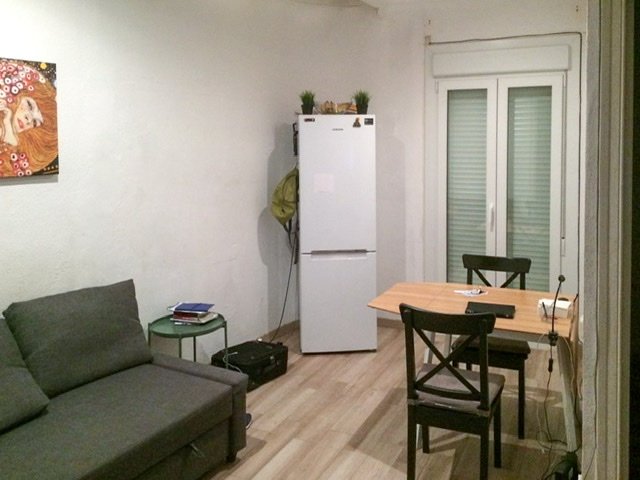 Lesson #1 – Do not instant book.
We now communicate with the host before booking. We verify the dates and price and ask questions about the accommodation.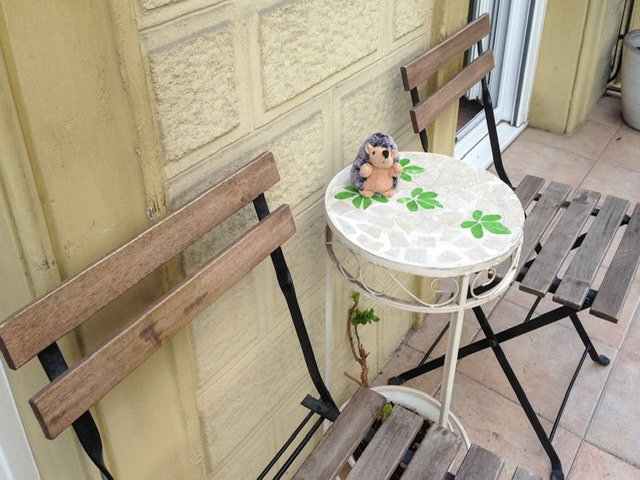 We're Staying in a Closet?
We were excited to find a studio in Paris for $1,000 per month. From the description, we knew it was small, and we knew that this was very inexpensive for Paris. We planned to spend two months in Paris, so we grabbed this baby.
The minute we walked in, we knew that there was no way we could spend two months there. There is small, and there is microscopic. The whole place was about 100 square feet. In addition, two things in the posting were misleading.
First, there was a picture of a Murphy bed with shelving on either side. There was a Murphy bed but no shelving because there wasn't room for any.
Second, there was a review stating that the bathroom didn't have a door, with a reply from the host saying there was a door. Unless door has a different meaning in France, this was a lie. There was a curtain separating the bathroom/kitchen area from the living/sleeping area. And it didn't even go all the way across.
Because of these two issues, the host agreed to let us out of the second month without penalty.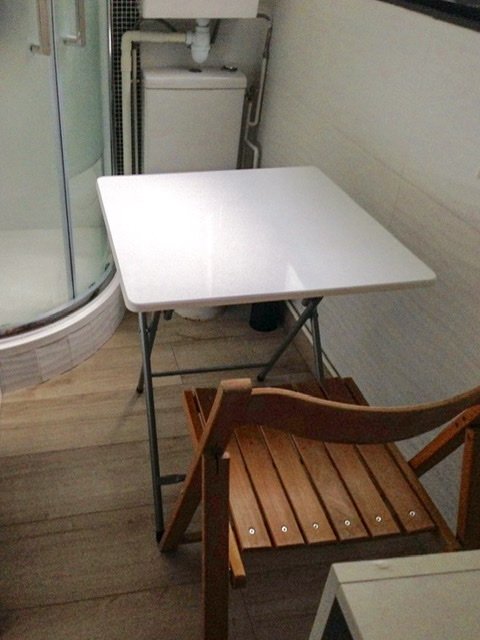 Lesson #2 – We never book a place for more than one month. We can tolerate most places for that long.
Lesson– #2B -Always verify that there is a door on the bathroom. Only half kidding here.
Now What?
With the second month's Paris lodging canceled, we decided to spend that month in Strasbourg, France. We had to scramble because it was tourist season, but we found a place. We practiced the first lesson by communicating with the host before booking.
Eleven days before we were scheduled to arrive, she asked for an increase of 54%. We said no. She replied by saying we should cancel the booking. Apparently, she wanted to avoid the penalties Airbnb imposes on hosts when they cancel a booking. We held firm, and she eventually canceled it.
We ended up finding a place in Strasbourg that turned out to be nearly perfect. It was clean, spacious, and uncluttered. It was a little higher than our budget, but we were happy to pay the difference because the bathroom had an actual door, even if it was a sliding door that tended to open on a whim, requiring the use of a doorstop to guarantee privacy.
Lesson #3 – Do not book with any host whose comments show that they canceled a reservation unless the host provides a good reason.
We realize that emergencies happen. Airbnb gives hosts the option of responding to a cancellation post. If they don't respond, we can only assume that they did not have a good reason to cancel on a past guest.
Airbnb in Our Future
During this time, we had three more reservations booked through Airbnb, two of them long-term. We were feeling trapped but knew we had to make the best of it. I am happy to report that all these apartments had good, solid bathroom doors. But that doesn't mean there weren't other issues.
The next stay was three nights in London. We found what appeared to be a lovely two-bedroom flat, but it turned out to be quite dirty. The problems included food left in the sink, odor in the refrigerator, mold in the shower, stains on a curtain, and cooking supplies that belonged in the garbage.
I messaged the host to let him know that the apartment wasn't clean and suggested he might want to see it for himself since he worked only two doors away. He did not respond to this. He did offer to have the cleaning crew come back.
We only had two full days in London, and we didn't want to spend them waiting for cleaners. Nor did we trust them with our belongings, so we declined.
Because of the condition of the kitchen, we ate all meals out. Oh, darn! We were amused that his review of us included that "the apartment was returned clean and tidy." What?
No new lesson here. Sometimes you just chalk it up to experience and move on.
On to Zagreb, Croatia
Our next stop was Zagreb, Croatia. We booked a spacious apartment for only $813 US. It had air conditioning and was clean and comfortable. And again, the bathroom had a good, solid door. There was only one problem, a solid block of ice in the freezer.
We were shown into the apartment by Mladen, a friend of our host. He did not speak English, and we don't speak Croatian. Steve set about looking around the apartment. He opened the freezer door and saw the ice. Mladen quickly ran over signally "no" and firmly shut the door. OK, so we didn't have use of the freezer, no big deal.
Shortly after he left, we had a message from our host telling us that we must not use the freezer to cool the apartment, and if the refrigerator breaks, we will be charged for it.
The next day Steve offered to defrost the freezer. Our host's response was quite chilly. She told Steve not to touch it. She ended up sending Mladen over to take care of it. It turned out the entire freezer was a block of ice, so this problem had been going on for a while. We couldn't understand why it wasn't taken care of earlier.
Aside from this issue, we had a great stay in this apartment and managed to put this issue behind us when dealing with our host.
Lesson #4 – Take pictures of any problem areas as soon as you arrive, and discuss the big ones with the host.
We've been doing this from the beginning. The other thing we do is take pictures before we move any items so we can put them back where they were before we leave.
Discovering Superhosts
While in Zagreb, we took a side trip to Split, a small beach town on the Adriatic Sea. This time we rented from a Superhost for the first time. This was our best Airbnb experience up to that point.
Superhosts are Airbnb hosts who have met several requirements, including receiving high scores from guests, having no cancelations by the host except in extreme cases, and having a high rate of response to inquiries.
Lesson #5 – Rent from Superhosts whenever possible. You may still encounter a problem, but it is less likely.
Even though we put stock in the Superhost label, there were times when we did not choose a Superhost and had a wonderful experience like at Ryan's place in Jacksonville, Florida. When we rented from Ryan, he was not a Superhost because his listing was too new. He is now.
Smoother Sailing
During the rest of the year, we stayed in six more Airbnbs, including a sailboat in Lisbon. All but one host was a Superhost. Except for some mild seasickness on the boat, all these stays were comfortable and problem-free.
A word of warning if you stay on a boat. Check before you book to make sure it has snubbers. These are devices that prevent the boat from violently jerking while it is docked. The boat we stayed on did not have them. This wasn't a problem until our last night. The strong winds caused the boat to jerk hard enough that it kept us awake all night. Luckily we didn't get seasick, but it was a real threat.
Getting Our Groove
We spent most of 2019 in Latin America and didn't have any problems with our Airbnb rentals except for renting one that was so close to perfect that it spoiled us for all others. We loved Sara's Apartment in Medellin. It is spacious and has floor-to-ceiling windows that slide open to a huge balcony with a beautiful view.
During 2020 and 2021, we've continued to use Airbnb, but for much longer stays because of the pandemic. Like in 2019, they have all been very good.
Our Main Reasons for Using Airbnb
As of this writing we have stayed in twenty-eight Airbnbs. We plan to continue booking through Airbnb because:
We can get a comfortable apartment with a full kitchen for much less than a hotel would cost.
Most hosts offer discounts for stays of 28 days or longer.
The few times we have had issues Airbnb offered support.
The quality of accommodations on Airbnb is impressive.
We find the platform easy to use.
What We Spend
Our original budget allowed for accommodation costs of $1,000 for four weeks. After our Paris experience, we upped it to $1,400. We usually find a perfectly acceptable place close to attractions for less than this.
In a few cases, we have had to go a little over budget, with $1,600 being the highest. The average amount we spent for a 28-night stay before the pandemic was $1,200.
The Medellin apartment (above) was $1,400 for four weeks. This was our view from our 19th floor rental in San Jose, Costa Rica:
The building also had an indoor hot tub with a view of the mountains, a great deal at $1,200 for four weeks.
Our Personal Preferences
We are proponents of slow travel who often stay in one city for four weeks or more. As full-rime travelers we are not on vacation, but rather setting up house in a new place. For that reason we look for apartment with these things:
A well-stocked kitchen
A separate bedroom
Comfortable looking furniture in the living room
A table and chairs where we can take care of business (and write this blog)
Good internet
A clothes washer (we don't really need a dryer). See "Laundry on the Road" to learn about some of the challenges of doing laundry while traveling full-time.
All Five Tips
Through trial and error, we learned to make Airbnb work for us, and you can too by using these five rules:
1. Do not instant book. Communicate with the host before booking to verify the dates and price and get answers to any questions or concerns you have.
2. Only book a place for the period of time for which you can deal with a less than ideal situation. For us it's one month, for you it might be different.
3. Avoid hosts who have unexplained cancellations.
4. Document problems upon arrival.
5. Book with Superhosts whenever possible.
More Information
For even more ways to find the best Airbnbs check out this article by dreamstays.com. You might also be interested in our post "12 Ways To Be An Amazing Airbnb Host."
As always, Steve and I would love to hear about your travel experiences.
Stay safe and healthy,
Linda
Featured photo by Deborah Cortelazzi on Unsplash.com
This post is an update of Lessons From Airbnb, originally published on March 27, 2019.